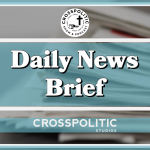 This is Garrison Hardie with your CrossPolitic Daily News Brief for Wednesday, July 26th, 2023.
PUB MEMBERSHIP PLUG:
Summer has been great here at CrossPolitic, and we want you to join us on this ride… First, we're no longer calling it the Fight Laugh Feast club… it's now called the Pub! Second, we are launching a new line of content, focused on family entertainment. We will have our new show "This America" and our exciting new "Rowdy Christian Guides" highlighting the practical guides to fun and godly life! Additionally, we will have the live streaming of our conferences, and our past conference talks, all bundled within our new polished Fight Laugh Feast App. Sign up today! Head on over to fightlaughfeast.com, and join the Pub! that's fightlaughfeast.com.
https://thepostmillennial.com/breaking-biden-admin-launches-permanent-pandemic-preparedness-office?utm_campaign=64487
Biden admin launches PERMANENT pandemic preparedness office
President Joe Biden has created a permanent office for pandemic response. Called the Office of Pandemic Preparedness and Response Policy, the new office within the executive branch replaces the Covid-19 response team that Biden ushered in during his first days in the White House.
This new office will ensure that the Biden administration can continue to implement so-called pandemic mitigation strategies for any new communicable disease that comes down the pike.
"This will be a permanent office in the Executive Office of the President (EOP)," the White House offers in a briefing, "charged with leading, coordinating, and implementing actions related to preparedness for, and response to, known and unknown biological threats or pathogens that could lead to a pandemic or to significant public health-related disruptions in the United States."
This office replaces those set up for both Covid and the oddly named Mpox, so called because its original name, Monkey Pox, was deemed to be racist by Democrats who believe that in some way "monkey" is racist against black people.
The new team, led by retired Major General Paul Friedrichs, will "continue to coordinate and develop policies and priorities related to pandemic preparedness and response."
This office will be primarily responsible to the executive branch, and will "drive and coordinate federal science and technology efforts related to pandemic preparedness." What this entails in specific is the overseeing of "efforts to develop, manufacture, and procure the next generation of medical countermeasures, including leveraging emerging technologies and working with HHS on next generation vaccines and treatments for COVID-19 and other public health threats."
The administration also took the opportunity to tout its efforts during the Covid pandemic, which began when a virus created through gain-of-function research leaked from a Wuhan, China lab that was funded in part by the National Institutes of Health.
It was also during the Biden administration's pandemic response that Americans were encouraged to not leave their homes, to shut down churches and schools while leaving casinos, liquor stores, and Walmarts open, and to mandate the wearing of face coverings that later studies revealed were steeped with bacteria. Under Biden's watch, newly-created vaccines were mandated both for federal employees and the employees of companies that contracted with the federal government.
This is the kind of pandemic response the new Office of Pandemic Preparedness and Response Policy will be ready to implement as soon as the next potential pandemic comes along.
https://www.theguardian.com/environment/2023/jul/24/greta-thunberg-fined-for-disobeying-swedish-police-at-climate-protest
Greta Thunberg fined for disobeying Swedish police at climate protest
Greta Thunberg has been fined by a Swedish court after she was found guilty of disobeying a police order to leave a climate protest.
The 20-year-old climate activist, who from 2018 became the face of the youth climate movement, had admitted taking part in the protest in Malmö in June, but pleaded not guilty on the grounds she had acted out of necessity.
"My actions are justifiable," Thunberg told the court in Malmö, according to local media. "I believe that we are in an emergency that threatens life, health and property. Countless people and communities are at risk both in the short term and in the long term."
Five years ago, Thunberg, then 15, began skipping school each Friday and staging solo climate protests outside the Swedish parliament in Stockholm, holding up a sign reading: "Skolstrejk för klimatet" (school strike for climate).
Her weekly demonstrations snowballed into a global wave of youth climate protest, as she gained fame for her youth and her blunt speaking on the dire future faced by young people staring down the barrel of the climate crisis.
Although the school strikes movement lost some of its momentum with the outbreak of the coronavirus pandemic, Thunberg has continued to travel the world joining climate protests and speaking at international summits, urging world leaders to act on the climate crisis.
It is believed that Monday's trial is her first conviction for climate protest.
Thunberg was part of a group of protesters that blocked the road for oil trucks in Malmö harbour. She was charged for failing to leave when ordered to do so by police.
The fine will be based on Thunberg's reported income and it was not immediately clear how much she would have to pay, Reuters reported.
https://newsbusters.org/blogs/nb/tim-graham/2023/07/24/solvency-dies-darkness-washington-post-pace-lose-100-million-year
Washington Post On Pace to Lose $100 Million This Year
The New York Times buried the lede in a story about Amazon billionaire Jeff Bezos owning The Washington Post. It isn't quite profitable, you learn in the eighth paragraph: "The Post is on a pace to lose about $100 million in 2023, according to two people with knowledge of the company's finances."
The headline doesn't include that eye-grabbing detail. It's just this:
A Decade Ago, Jeff Bezos Bought a Newspaper. Now He's Paying Attention to It Again.
The Amazon founder, who purchased The Washington Post for $250 million in 2013, has taken a more active role in the paper's operations this year.
Yes, you can imagine he'd take a "more active role" with this nagging problem. Post employees were delighted a liberal billionaire bought the paper, so they didn't have to be too worried about profits. "Prestige journalism" for the liberals isn't working out right now, even as the paper extends its Trump obsession forward.
https://www.newsmax.com/world/globaltalk/russia-lgbtq-transgender-procedures-banned/2023/07/24/id/1128275/
Russian President Signs Legislation Marking the Final Step Outlawing Gender-affirming Procedures
Russian President Vladimir Putin signed new legislation Monday which marked the final step in outlawing gender-affirming procedures, a crippling blow to Russia's already embattled LGBTQ+ community.
The bill, which was approved unanimously by both houses of parliament, bans any "medical interventions aimed at changing the sex of a person," as well as changing one's gender in official documents and public records. The only exception will be medical intervention to treat congenital anomalies.
It also annuls marriages in which one person has "changed gender" and bars transgender people from becoming foster or adoptive parents.
The ban is said to stem from the Kremlin's crusade to protect what it views as the country's "traditional values." Lawmakers say the legislation is to safeguard Russia against "Western anti-family ideology," with some describing gender transitioning as "pure satanism."
Russia's crackdown on LGBTQ+ people started a decade ago when Putin first proclaimed a focus on "traditional family values," supported by the Russian Orthodox Church.
In 2013, the Kremlin adopted legislation that banned any public endorsement of "nontraditional sexual relations" among minors. In 2020, Putin pushed through constitutional reform that outlawed same-sex marriage, and last year signed a law banning "propaganda of nontraditional sexual relations" among adults as well.
https://www.breitbart.com/latin-america/2023/07/24/brazil-lula-limits-gun-rights-by-decree-hoping-for-disarmed-country/
Brazil: Lula Limits Gun Rights by Decree, Hoping for a 'Disarmed Country'
Brazilian radical leftist President Luiz Inácio Lula da Silva signed a "Responsible Gun Control" decree this weekend to further restrict civilian access to firearms, rolling back policies implemented by former President Jair Bolsonaro.
The executive order, signed on Friday at the presidential Planalto Palace, forbids civilians from having access to certain types of firearms, reduces the total legal number of firearms a citizen may own, greatly reduces the annual amount of ammunition that civilians can legally buy, and imposes restrictions on shooting clubs and firearms for hunters, marksmen, and collectors.
The decree also establishes guidelines to transfer authority over the regulation and inspection of civilian firearms from the Brazilian army to the federal police, which will now exercise exclusive power over civilian activities involving weapons and ammunition in cooperation with the nation's Justice and Public Security Ministry.
In a speech announcing the new regulations, Lula said, "we cannot allow there to be arsenals of weapons in the hands of people."
"That is why we will continue to fight for a disarmed country," Lula said. "It is the Brazilian police who have to be well armed, it is the Brazilian armed forces who have to be well armed. What we need to lower is the prices of books, and the price of access to cultural things that our children do not have access to."
Brazil's Minister of Justice Flávio Dino said that the new set of rules ends "irresponsible armamentism" as a result of Bolsonaro's gun rights reforms.
Civilians are now only allowed to purchase up to two firearms for self-defense, down from four, and must comply with a series of requirements to demonstrate proof of self-defense use. The total amount of ammunition that Brazilian citizens can buy per year has been reduced from 200 to 50 bullets.
The decree rolled back reforms Bolsonaro implemented that allowed civilians to purchase 9mm, .40, and .45 Automatic Colt Pistols (ACP), as well as semi-automatic smoothbore firearms. Brazilian citizens can no longer legally obtain these types of firearms.
The decree also reduces the duration of firearm registry permits from ten years to three to five years depending on the firearm's intended use. Active members of Brazil's police and other government security officials, meanwhile, no longer have to abide by any time limit on their permits.
Lula further imposed restrictions on firearms for hunters, marksmen, and collectors, reducing the total number of firearms and ammunition permitted in each category, introducing new required authorization permits for hunters, establishing new sub-categories for sports shooters, and reducing the number of firearms legally allowed for collectors from five of each model down to one weapon of each model, type, brand, variant, caliber, and origin.
While the decree "guarantees" legal possession of these types of firearms if previously obtained and properly registered, the Brazilian government announced that it will implement a buyback program for these firearms this year.
The decree also imposes restrictions on sport shooting clubs, prohibiting 24-hour establishments and limiting operating hours from 6 a.m. to 10 p.m. Shooting clubs and instructional businesses must now be located at least one kilometer away from public or private schools, giving existing locations an 18-month grace period to comply with the new ruling.
The new gun control decree is the first part of a broader "Security Action Program" launched by Lula's administration on Friday. In addition to gun control, the Security Action Program, according to the Brazilian government, seeks to combat school violence, protect the Amazon region, and change regional public fund financing.
The program will also greatly increase penalties for crimes "committed against the democratic rule of law," including longer prison sentences for those who organize, finance, or lead "anti-democratic movements." It will also reportedly provide for the blocking of bank accounts and seizure of assets of people in whose cases law enforcement finds "sufficient evidence of authorship or financing of crimes against the democratic state of law."
Now, to my favorite topic, sports!
https://thepostmillennial.com/breaking-lebron-james-18-year-old-son-suffers-heart-attack-on-basketball-court?utm_campaign=64487
Lebron James' 18-year-old son suffers heart attack on basketball court
During a basketball workout at the University of Southern California, basketball legend Lebron James' son, Bronny, was rushed to the hospital after suffering cardiac arrest.
A family spokesperson told TMZ Sports, "Yesterday while practicing Bronny James suffered a cardiac arrest. Medical staff was able to treat Bronny and take him to the hospital. He is now in stable condition and no longer in ICU. We ask for respect and privacy for the James family and we will update media when there is more information."
"LeBron and Savannah wish to publicly send their deepest thanks and appreciation to the USC medical and athletic staff for their incredible work and dedication to the safety of their athletes," the spokesperson added.
Sources with direct knowledge told the outlet that a 911 call was made at 9:26 am on Monday morning from USC's Galen Center, where the 18-year-old had fallen unconscious. He was taken by ambulance to a nearby hospital.
Sources said that it was a Code 3, in which first responders use lights and sirens during transport, indicating the seriousness of the incident.
Bronny had recently committed to the USC Trojans and is expected to play for the NBA like his father.