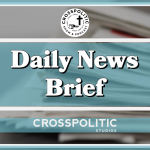 CrossPolitic Daily News Brief for Wednesday July 27, 2022
Trump touring like his is running for President, Fauci can't remember what he said last year…seems to be a problem with the Biden administration, and Da Bears moving out of Chicago.
Dropwave
Do you have a podcast, or thinking about starting one? Does your church have a podcast feed for sermons? The Dropwave.io is for you. Cancel culture is like walking on a thin glass bridge over the Grand Canyon. Every step you take could get you killed, I mean canceled. Since the beginning CrossPolitic has been working on being antifragile, so no matter what happens, our content can still be delivered to your tv and to your podcast. This past year, the Waterboy and his friend Jeremi, have been working on building a podcast hosting solution for rowdy platforms like CrossPolitic, so that you can be confident your podcast will never fall through that glass bridge. Dropwave offers seamless onboarding for shows that have been around for years to easy to use solutions for starting your own podcast. Dropwave will track all your show's downloads by city, state, and country, and it offers network and enterprise packages for solutions like the Fight Laugh Feast Network. Free to speak, Free to podcast, free to start your journey now at www.Dropwave.io.
Some good old fashion standup from Trump. He would take LeBron:
https://twitter.com/SlowToWrite/status/1552032596107972608?s=20&t=RvDl37Qaeq8bDdY2XY7tHw
Roll Clip
Trump at the America First Policy Institute Summit in DC:
https://twitter.com/TPostMillennial/status/1552028765458497549?s=20&t=RvDl37Qaeq8bDdY2XY7tHw
Roll Clip
Chicago Mayor Proposes $2.2 Billion Plan To Entice NFL Team To Stay; Bears Moving On To Safer Suburb
https://www.dailywire.com/news/chicago-mayor-proposes-2-2-billion-plan-to-entice-nfl-team-to-stay-bears-moving-on-to-safer-suburb
According to DailyWire:
"On Monday, Chicago Mayor Lori Lightfoot proposed a $900 million to $2.2 billion Hail Mary offer to convince the Bears to stay in their home stadium of over 50 years.
However, the Chicago Bears stated in a press release earlier this month that they wouldn't consider any other offers, even for their home stadium, Soldier Field. The NFL team reaffirmed that sentiment to ESPN this week, noting that they were set on moving to another location over 30 miles away.
"As part of our mutual agreement with the seller of that property, we are not pursuing alternative stadium deals or sites, including renovations to Soldier Field, while we are under contract," stated the team.
The Bears plan to move to Arlington Park, the longtime site of Churchill Downs' thoroughbred racing in Arlington Heights. That area experiences well below the national median of crime levels, according to multiple crime statistic analyses. Census data reports that the area has a median household income of over $100,200, and just over four percent of residents were in poverty.
Comparatively, the city of Chicago suffers from high crime rates characterized by record numbers of shootings. Census data revealed that the city had a median household income of nearly $62,100, and over 17 percent of residents were in poverty.
Along with the Bears' definitive statement, Lightfoot revealed to AP News that the team refused to meet with her.
Even so, Lightfoot hasn't slowed on her attempts to further negotiations. Lightfoot explained in Monday's press release that the $900 million to $2.2 billion would cover three different renovation options that could result in either a fully-enclosed stadium, a dome stadium, or a multi-purpose stadium suitable for soccer games and concerts.
Lightfoot noted that the first two options were proposed with the Bears in mind. She asserted that the Bears would save an estimated $1 to $1.5 billion in costs if they remained with Soldier Field rather than moving on to Arlington Park.
The mayor also launched a website, "Re-Imagine Soldier Field," as part of her last-ditch effort to win back the Bears. The site offers downloadable digital renderings of desired renovations.
The Bears are one of the latest to leave the city. As The Daily Wire reported, several multibillion-dollar companies have left or are planning on leaving, including the major multinational hedge fund company Citadel."
Redballoon
Not so long ago, the American dream was alive and well. Employees who worked hard were rewarded, and employers looked for people who could do the job, not for people who had the right political views. RedBalloon.work is a job site designed to get us back to what made American businesses successful: free speech, hard work, and having fun. If you are a free speech employer who wants to hire employees who focus on their work and not identity politics, then post a job on RedBalloon. If you are an employee who is being censored at work or is being forced to comply with the current zeitgeist, post your resume on RedBalloon and look for a new job. redballoon.work, the job site where free speech is still alive!
Fauci Can't Remember What He Said Last Year:
https://twitter.com/townhallcom/status/1551944711060987907?s=20&t=sdFGjibJaFpn4itjwHTvlA
Roll Clip
Top Federal Reserve Officials With Known Links To China Still Have Their Jobs, Senate Republican Report Says
https://www.dailywire.com/news/top-federal-reserve-officials-with-known-links-to-china-still-have-their-jobs-senate-republican-report-says
According to the DailyWire:
"The Chinese government carried out a decade-long information theft campaign against the Federal Reserve, a report released Tuesday from Republican members of the Senate Committee on Homeland Security and Governmental Affairs revealed.
The Federal Reserve, charged with executing a dual mandate of maximum employment and stable prices, is presently determining policy to navigate the United States economy through the highest inflation rates in four decades. The report found that China — which holds nearly $1 trillion in Treasury securities — has used talent plan recruitment and promises of academic positions in an effort to gain influence and glean information from the central bank.
"The Chinese government makes no secret of wanting to be the world superpower," the report said. "No sector or institution is off limits, and China has shown that it will use any means necessary to achieve its goals."
China has been conducting its campaign against the Federal Reserve since at least 2013, according to the report, with investigators identifying 13 "persons of interest" at eight of the 12 regional Federal Reserve Banks as of 2015, based on their international travel patterns and other factors. The report details five more recent case studies of China seeking sensitive information from American economists, with four of the mentioned individuals retaining their employment at the central bank, a committee aide told CNN."
Michigan Wolverines' Jim Harbaugh is standing up for the unborn!
says he'd help raise baby if member of family, program involved with unplanned pregnancy
https://www.espn.com/college-football/story/_/id/34295976/michigan-wolverines-football-coach-jim-harbaugh-says-help-raise-baby-member-family-program-involved-unplanned-pregnancy
Roll Clip
This is Gabriel Rench with the CrossPolitic Daily News Brief. Please support our work by joining our club, subscribing to our magazine, coming to our conference, and becoming corporate sponsor. Have a great day and Lord bless.