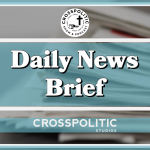 Wednesday Daily News Brief: 07/28/2021
Friends of the show. Before I get started, I want to bring you backstage behind the CrossPolitic scenes on some things. We started CrossPolitic in 2016, and never could have imagined the world we are living in now. Men can magically become penguins…I mean women…I mean uh democrats are going insane, abortion is infrastructure, and conservatives are racist because we think voter ID is a good thing. The left/right divide use to be cordial, but now it has entered into Cold War era. You see this in cancel culture, the sexualization of politics (thinking of required cake baking scenarios), and partisan voting fraud investigations. And now that cancel culture has leaped from the government/university setting into the business world, the cold war is shifting into gorilla games. I am grateful for the voice God has given CrossPolitic, and I hope God continues to bless the road we are on. Our goal for CrossPolitic and the network is really two fold: First is to speak with courage the truth in such away that it creates space for you to do the same. Courage begets courage, and when we push back effectively that creates room for thriving Christian communities to grow. This is what shepherds do, they create room for the sheep to run, to eat, and to sleep, so we hope we are doing this at a national level. Our second goal is to create a thriving Chrisitan economy. We have mentioned before, that the Babylon Bee was canceled from Mailchimp's services, Trump was kicked of Stripe, our friends over at Gab have been kicked off 5 banks. As our platform grows, we hope to bring more and more businesses together that are like minded in our walk with God and the mission of Fight Laugh Feast. The next 20 years, I believe, are going to be quite the fight, and this is why I think building our own platform is so important. Antifragil/Cancel free. The world has their platforms, think of ABC/FOX, etc…, we need to build ours. Why doesn't FOX host their own conferences/events? We are the only network, that I know of, that host our own events. We have to build, we have to be in community, we have to map out a game plan that hits back at a political culture that is hostile to Christ and His Church. So here are some ways you can help us build:
Share the show. Send a text. Email a friend. Get the word out.
Join the club
Come to our events.
If you own a business or are just wealthy, support our efforts, either behind the scenes or as a sponsor.
If you have talents that could help our efforts and want to volunteer, email me at Waterboy@CrossPolitic.com.
We are in the process of beginning to build out our club platform that will create a social media like experience for our club members. Our club members are invaluable, and we want to build a community platform for our club members to network with. We want our businesses to have access to our club platform, so we can all network together, hire each other, consult with each other, and become the dark web of resistance against our godless culture. Jesus is King, and of course we labor in vain if God does not build our house, and so as we make plans for an antifragile family network, club portal, business network, events, more shows on the network, etc… We lift them all up to God, and trust in Him to bless what directions, what plans He wants to bless. So, please consider reaching out to me, and we can't thank you enough for you tuning in. Lord bless
The White House tells staff to start wearing masks again, as coronavirus cases rise in Washington, D.C.
CDC wants vaccinated Americans to wear masks indoors in Covid hot spots
https://www.politico.com/news/2021/07/27/cdc-vaccinated-masks-indoors-500838
According to Politico:
The Centers for Disease Control and Prevention recommended Tuesday that Americans wear masks indoors again, particularly in crowded indoor settings.
The new indoor mask recommendations apply to vaccinated and unvaccinated people who live in areas where the CDC has classified Covid-19 transmission as "high" or "substantial," a health official said — a category that includes much of the South as well as western states like Arizona and Wyoming.
The announcement marks a sharp change in policy for the nation's leading health agency. In May, the CDC said vaccinated Americans no longer needed to wear masks outdoors or indoors in most circumstances. Internal deliberations about encouraging Americans to yet again wear masks indoors came to a head Sunday when senior officials from the White House and the CDC met to discuss new data that supported changing those guidelines, a person with knowledge of that meeting said.
"This weighs heavily on me," CDC Director Rochelle Walensky told reporters Tuesday. "Not only are people tired, they are frustrated. We have mental health challenges in this country. We have a lot of sickness and death. Our health systems are being overrun. In the context of all that this, I know this is not welcome news. I just want to convey that this was not a decision that was taken lightly."
Fauci Video on Masks:
Roll Gov. Cuomo creepy pick you up in a car video:
Steelers unvaccinated players will wear yellow wristbands
According to NBC Sports:
"The Pittsburgh Steelers have a high vaccination rate among players. Those who have yet to get the shot will stick out like a proverbial sore thumb.
Per the team, Steelers players who haven't been vaccinated will be wearing yellow wristbands at practice.
The Steelers have been among the most successful at getting players to choose to take the vaccine. That's a testament to the persuasive powers of coach Mike Tomlin, who realizes the competitive advantage of getting it — and disadvantage of not getting it.
It won't be a surprise if, come September, every player remaining on the roster has gotten it."
Plug:
"In the beautiful town of Moscow, ID, Erber Automotive is looking for Christians to join forces and wage war together on broken cars. Since Adam's fall, cars have been suffering at the hand of the second law of thermodynamics, starting with that very first Eden Model 1 that Adam puttered out of the garden. Paul said that all creation groans, and he'd never even heard a poor car owner on the side of the road with a steaming engine! At Erber Auto, you'll work to make auto repair fun for customers with bouncy castles, motorcycle cruises, and honest service. Most importantly, you'll work alongside Christians to show entropy the Uno reverse card! Erber Auto is looking for service advisors, shop managers, and repair technicians, who are ready to do battle with the forces of evil, or at least metal fatigue. They have 4 positions to fill at competitive salaries. Please send your resume to business@erberauto.com."
Morning Joe Military Vaccine video:
Role clip
Biden plans to require federal workers to be vaccinated or undergo repeated tests
https://www.washingtonpost.com/business/2021/07/27/biden-vaccine-mandate-federal-employees
According to The Washington Post:
President Biden will announce Thursday that all federal employees will be required to be vaccinated against covid-19 or face repeated testing mandates, a White House official said, a dramatic escalation of the administration's effort to combat the spread of the delta variant.
The new rules will closely align with policies recently put in place for government officials in California and New York City, the person said, speaking on condition of anonymity because they weren't authorized to disclose the plan. The White House is not planning on firing government employees who aren't vaccinated but will impose a number of restrictions on them as a way to encourage them to receive one of the government-approved vaccines.
The plan is is part of a change in tack by the White House in recent days as the delta variant has spread markedly through parts of the United States, particularly among unvaccinated Americans. Public health experts have long said that getting at least 70 percent of the public vaccinated is the single most important tool in controlling the pandemic, but some parts of the United States have fallen far short of that target. And some authorities are urging an even higher rate of vaccinations now, given the increased virulence of the variant.
On Monday, California and New York City said they would require government employees to either be vaccinated or face repeated testing requirements, and Biden was asked on Tuesday whether the federal government would impose similar requirements.
"That's under consideration right now," Biden said in response to a reporter's question after an appearance at a government intelligence facility. "If you're not vaccinated, you're not nearly as smart as I thought you were."
Rand Paul sends official criminal referral on Anthony Fauci to DOJ
https://thehill.com/changing-america/well-being/prevention-cures/564803-rand-paul-sends-official-criminal-referral-on
Fauci said he would not retract the statement and was adamant that he has never lied before Congress.
Well last week, and sorry I did not get this to you sooner, but last week we covered Rand Paul's and Fauci's interaction. Sen. Paul challenged Fauc's statement that the National Institue of Allergy and Infectious Diseases did not fund "gain of function research", and Sen. Paul is claiming that Fauci lied. Fauci of course balked at that, so last Wednesday
The Washington Examiner reported that "Kentucky senator officially sent a request to Attorney General Merrick Garland to open a criminal investigation of Fauci's statement.
"I write to urge the United States Department of Justice to open an investigation into testimony made to the United States Senate Committee on Health, Education, Labor, and Pensions by Dr. Anthony Fauci, Director of the National Institute of Allergy and Infectious Diseases, on May 11, 2021," Paul wrote in the referral obtained byThe Examiner.
According to The Examiner, Paul also informed Garland of comments made by molecular biologist Richard Ebright, who said in May that research conducted by the Wuhan lab "matches, indeed, epitomizes the definition of 'gain-of-function research of concern' for which federal funding was 'paused' in 2014-2017."
"He's lying about whether or not he funded gain-of-function research, and yes, he should be punished," Paul told Fox News on Saturday.
Garland can approve or deny the referral, which only requests the investigation."
'My Last Term': Tim Scott Won't Run For Senate After 2022, Stays Mum On 2024 Presidential Race
https://dailycaller.com/2021/07/25/tim-scott-wont-run-after-2022-2024-presidential-race/
Senator Tim Scott, you know the Senator of South Carolina, well he gave an ambiguous answer that peaked my interest: Roll clip.
Closing
This is Gabriel Rench with Crosspolitic News. Support Rowdy Christian media by joining our club at fightlaughfeast.com, downloading our App, and head to our annual Fight Laugh Feast Conference next fall. With your partnership, together we will fight outdated and compromised media, engage news and politics with the gospel, and replace lies and darkness with truth and light. Go to fightlaughfeast.com to take all these actions. Have a great day. Lord bless