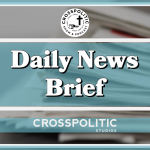 Daily News Brief for Wednesday, July 7, 2021
Your magazine has been shipped! Thanks for your patience as we work out the kinks! So, check your mailbox, as it should arrive in the next couple of weeks!
Some quick snippets on what I am not going to report on, but you can download the app and read more about them on Deft Wire news:
-Majority of Americans Don't Believe Joe Biden Is Calling the Shots in the White House
https://www.dailywire.com/news/majority-of-americans-believe-that-others-not-biden-are-calling-the-shots-in-the-white-house-poll
-Public Preschool and Kindergarten Enrollment Drops 13 Percent Nationally
https://www.theepochtimes.com/preschool-and-kindergarten-enrollment-drops-13-percent-nationally_3888714.html
-Oil Prices Touch Six Year High
https://www.cnbc.com/2021/07/05/oil-prices-jump-to-multiyear-highs-after-opec-talks-yield-no-production-deal-.html
Plug: Fight Laugh Feast Conference in Lebanon, TN, just outside of Nashville.
Sex is inherently political. What you do in the privacy of the bedroom never stays there. It always impacts the world. A culture is either built on the fruitfulness of a godly union between one man and one woman, or else it dies from self-inflicted fruitlessness and sexual rebellion against God. Worldview matters, the nuclear family matters, definitions of male and female matter, godly children matter. Our sexual choices and values are building and cultivating a particular kind of public square. Join us in Lebanon, TN with Pastor Douglas Wilson, Voddie Baucham, Doug TenNapel, David Bahnsen, and then on Saturday will have 9 SWAT talks with over 20 speakers arming you to go out into the world to take dominion with your gifts and abilities. Registration is live now: flfnetwork.com/politics-of-sex/ Seating is limited!
National Debt
https://www.pgpf.org/national-debt-clock#the-national-debt
From the Peter G. Peterson foundation:
"When the federal government spends more than it takes in, we have to borrow money to cover that annual deficit. And each year's deficit adds to our growing national debt.
Historically, our largest deficits were caused by increased spending around national emergencies like major wars or the Great Depression.
Today, our deficits are caused mainly by predictable structural factors: our aging baby-boom generation, rising healthcare costs, and a tax system that does not bring in enough money to pay for what the government has promised its citizens.
The coronavirus crisis has accelerated an already unsustainable fiscal trajectory, both because of its devastating effect on the economy and the necessary legislative response. Once we have emerged from the pandemic, it will be critical for America's leaders to address our rising debt, and its structural factors, which are described below."
So, according to the Peter G. Peterson Foundation:
"EVERY DAY, WE SPEND NEARLY $1 BILLION ON INTEREST"
All this to say is that our National debt is now just north of $28 Trillion dollars. That is $86,000 per person, which includes your two year old.
Speaking of play stupid games, win stupid prizes:
Santa Clara County Revises Official COVID-19 Death Toll Down by 22 Percent
According to CBS KPIX channel 5 out of the Bay area:
"On Friday, Santa Clara County health leaders announced a drop in its COVID-19 death toll by nearly a quarter after it refined its approach in reporting the data.
The county reported that it had reviewed each COVID-19 fatality and was only counting those whose cause of death was from the virus and not those who tested positive for COVID-19 at the time of death but did not necessarily die from the virus.
The new approach meant that the death toll dropped by 22%, specifically from 2,201 to 1,696 deaths.
"It is important to go back and do this accounting to see if COVID was actually the cause of death," said University of California San Francisco Prof. of Medicine and Infectious Disease expert Dr. Monica Gandhi. "I think that transparent communication is an upside, I mean, in the sense that it's true that if we did this across the nation, it would bring our death rate lower. A downside of that, could be that people will say, 'Well, it wasn't as serious as you said.'"
The refined approach in Santa Clara County comes as county officials try to figure out the true impact of the virus on the community. Last month, Alameda County health leaders refined their approach to reporting COVID-19 deaths as well and also registered a drop in that county's death toll by about a quarter.
"In the midst of everything COVID people were sort of putting down that cause of death as COVID," Gandhi said. "It is important to go back and do this accounting to see if COVID was actually the cause of death."
Gandhi believes the Centers for Disease Control and Prevention may soon ask all counties to do the same as Alameda and Santa Clara Counties and that the nation could also see a drop in its COVID-19 death toll.
Plug
Thanks to all our club member support. This past Fourth of July we had our first annual club member liberty bash at my house and it was a blast. Over 250 club supporters showed up, and a friendly deputy stopped by, because the liberals like to harass us in my town. We hope to do this next year, but I wanted to make sure, for those club members who could not make it, thank you. Thank you for all your support both in your prayers and financially. We hope to meet many of you at our conference in September in Tennessee! Thank you.
If you go to a Mariners baseball game there is now separate fountains for the vaccinated and the unvaccinated…oops I meant separate sections:
This from MLB Mariners website:
Vaccinated Fan Sections FAQ
https://www.mlb.com/mariners/tickets/single-game-tickets/vaccinated-sections/faq
What do I need to be considered "Fully Vaccinated" to enter T-Mobile Park?
For fans 16+, Fully Vaccinated is defined as having received a final vaccination dose at least two weeks prior to game date (i.e., second dose of Pfizer/Moderna or single dose of Johnson & Johnson).
How can I buy tickets in fully vaccinated sections?
Find the game you would like to purchase on the Events page and add your selected tickets to your cart. There are two events to choose from on this page. Select the 'Vaccinated Only Sections' Event to purchase tickets in the fully vaccinated seating sections or the 'Social Distance POD Seating' Event if you would like socially distant pod seating.
What are acceptable forms of proof of a vaccination?
The following are acceptable as proof of full vaccination (if 16 years or older):
-Vaccination card (which includes name of person vaccinated, type of vaccine provided and date last dose administered)
-A photo of a vaccination card as a separate document
-A photo of the attendee's vaccine card stored on a phone or electronic device
-Documentation of vaccination from a healthcare provider electronic health record or state -Immunization Information System record.
*Self-reported vaccination records that are not verified by a health care provider cannot be accepted.
How do I enter T-Mobile Park with tickets in a fully vaccinated section?
Fans can enter at any gate. Designated "Fully Vaccinated Lanes" are available to Fully Vaccinated fans at the *Home Plate** and Left Field Gates. These gate entrances will open 2 hours prior to first pitch. Wristbands will be administered upon entry. Fans may exit at any available exit upon leaving the ballpark.
Do I still need to follow social distancing guidelines when not in my fully vaccinated seating section?
Yes. Concourses, restrooms, concessions and merchandise outlets located adjacent to a vaccinated seating section will still operate under social distancing protocols. However, concourses, restrooms, concessions and merchandise outlets located in The T-Mobile 'Pen will NOT have any social distancing guidelines.
Biden to Outline 5 Steps to Vaccinate More Americans, Psaki Says
Closing
This is Gabriel Rench with Crosspolitic News. Support Rowdy Christian media by joining our club at fightlaughfeast.com, downloading our App, and head to our annual Fight Laugh Feast Conference next fall. With your partnership, together we will fight outdated and compromised media, engage news and politics with the gospel, and replace lies and darkness with truth and light. Go to fightlaughfeast.com to take all these actions. Have a great day. Lord bless