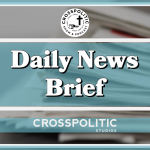 This is Garrison Hardie with your CrossPolitic Daily News Brief for Wednesday, June 14th, 2023.
Accountable2You
Jesus is Lord. In public and in private, every area of life must be subject to his Lordship—and our use of technology is no exception. What captures our attention on the screen either glorifies or dishonors our Lord. That's why Accountable2You is committed to promoting biblical accountability in our families and churches. Their monitoring and reporting software makes transparency easy on all of your devices, so you can say with the Psalmist, "I will not set anything worthless before my eyes." Guard against temptation with Accountable2You, and live for God's glory! Learn more and try it for free at Accountable2You.com/FLF
In other news, Accountable2You is hiring! If you'd like more information, and would be interested in relocating to beautiful Kentucky, to fight against a lust-filled culture, visit accountable2you.com/careers for more information. That's https://accountable2you.com/careers.
https://apnews.com/article/trump-classified-documents-indictment-miami-court-e9412bb71b63ab1b7cfb8e8b122e9809
Trump pleads not guilty to federal charges that he illegally kept classified documents at Florida estate
Donald Trump became the first president to face a judge on federal charges as he pleaded not guilty in a Miami courtroom Tuesday to dozens of felony counts that he hoarded classified documents and refused government demands to give them back.
The history-making arraignment, centering on charges that Trump mishandled government secrets that as commander-in-chief he was entrusted to protect, kickstarts a legal process that will unfold at the height of the 2024 presidential campaign and carry profound consequences not only for his political future but also for his own personal liberty.
Trump approached his arraignment with characteristic bravado, posting social media broadsides against the prosecution from inside his motorcade and insisting as he has through years of legal woes that he has done nothing wrong and was being persecuted for political purposes. But he sat scowling inside the courtroom with his arms crossed as a lawyer entered a not guilty plea on his behalf in a brief arraignment that ended without him having to surrender his passport or otherwise restrict his travel.
But the gravity of the moment was unmistakable as he answered to 37 felony counts that accuse him of willfully retaining classified records that prosecutors say could have jeopardized national security if exposed, and the trying to hide them from investigators who demanded them back.
The case is loaded with political implications for Trump, who currently holds the dominant spot in the early days of the 2024 Republican presidential primary. Beyond that, it carries the prospect of a years-long prison sentence. Even for a defendant whose post-presidential life has been dominated by investigations, the documents probe has stood out for both the apparent volume of evidence amassed by prosecutors and the severity of the allegations.
Trump appeared in federal court Tuesday on dozens of felony charges accusing him of illegally hoarding classified documents and thwarting the Justice Department's efforts to get the records back.
It's also a watershed moment for a Justice Department that until last week had never before brought charges against a president. Attorney General Merrick Garland, an appointee of President Joe Biden, sought to insulate the department from political attacks by handing ownership of the case to a special counsel, Jack Smith, who on Friday declared, "We have one set of laws in this country, and they apply to everyone."
The arraignment, though largely procedural in nature, is the latest in an unprecedented public reckoning this year for Trump, who faces charges in New York arising from hush money payments during his 2016 presidential campaign as well as ongoing investigations in Washington and Atlanta into efforts to undo the results of the 2020 race. He's sought to project confidence in the face of unmistakable legal peril, attacking Smith as "a Trump hater," pledging to remain in the race and scheduling a speech and fundraiser for Tuesday night at his Bedminster, New Jersey, club.
"They're using this because they can't win the election fairly and squarely," Trump said Monday in an interview with Americano Media.
https://www.newsweek.com/tucker-carlson-departure-fox-news-ratings-msnbc-1799153
Fox News Ratings Fall Off a Cliff After Tucker Carlson's Departure
Fox News' ratings for primetime slots among key demographics of cable television viewers have declined sharply since the departure of Tucker Carlson, with the latest figures showing rival MSNBC overtaking the conservative juggernaut.
Cable news ratings show that in the two weeks since the host was fired, figures for Carlson's former spot have dropped by around 50 percent, while the network's audience among 25- to 54-year-olds had shrunk by two thirds.
The previously successful news presenter left the network after it settled a defamation case brought against it by Dominion Voting Systems over claims by Trump allies that the 2020 presidential election was rigged, Fox News announced on April 24. In a statement, it said the two parties had "agreed to part ways" and thanked Carlson for "his service to the network."
Carlson has said little about his departure as yet. According to a report by news website Axios on Sunday, his team is "preparing for war." His lawyer, Bryan Freedman, told the outlet: "The idea that anyone is going to silence Tucker and prevent him from speaking to his audience is beyond preposterous."
According to viewing figures produced by Adweek, a trade publication, for the evening of May 5, Carlson's former 8 p.m. ET slot attracted an audience of 90,000, while at the same time MSNBC's All In with Chris Hayes was seen by 145,000, among viewers aged 25-54.
In the other primetime slots at 9 p.m. and 10 p.m. on May 5, Fox News' offering was outpaced in viewership among the key demographic by MSNBC by 44,000 and 31,000 respectively.
By comparison, Carlson's final show on Friday, April 21 attracted more than 2.6 million viewers—270,000 in the 25-54 age bracket—while nearly 1.4 million watched the same slot on MSNBC. His departure was only publicly announced the following Monday.
According to Fortune magazine, his 8 p.m. ET slot averaged just over 3 million viewers across 2022, and was the second most popular program on cable TV.
Viewers aged 25-54 are seen as an important target market for advertisers, making the age group valuable to a network. Representing a wide range of ages, they are seen by marketers as tending to have higher incomes.
Sean Davis, co-founder of The Federalist, a conservative online media outlet, commented on Twitter that Fox News was "suffering a cataclysmic primetime ratings drop following its firing of Tucker Carlson."
https://www.foxnews.com/politics/white-house-condemns-trans-activist-going-topless-pride-month-event-inappropriate-disrespectful
White House condemns trans activist for going topless at Pride Month event: 'inappropriate and disrespectful'
The White House condemned trans activist Rose Montoya for going topless at a President Biden's Pride Month event on Saturday, after video went viral on social media.
Montoya and others featured in the video posted by the trans model will not be invited to future events, a White House spokesperson said in a statement.
"This behavior is inappropriate and disrespectful for any event at the White House. It is not reflective of the event we hosted to celebrate LGBTQI+ families or the other hundreds of guests who were in attendance. Individuals in the video will not be invited to future events," the statement read.
Montoya, a TikTok influencer and biological male who is transgender, originally posted the video from Saturday's event. It shows Montoya and another unnamed transgender activist, a biological female, baring their breasts on the South Lawn with the White House in view behind them
Biden is then seen holding the camera in an attempt to take a selfie with Montoya and other attendees, but the camera was set to video mode.
The video caused widespread outcry on social media, with many users saying Montoya and the group had disgraced the White House.
The White House has not released specific names of those who are barred from future events, but there were at least two individuals who were filmed removing their clothing on the South Lawn.
Montoya doubled down on the display of nudity in a follow-up video on TikTok, arguing that going topless is "legal" in Washington, D.C.
https://www.washingtonexaminer.com/restoring-america/courage-strength-optimism/biden-state-department-wants-76-million-push-dei
Biden State Department wants $76 million to push DEI
The Biden State Department is asking Congress for $76 million to fund its diversity, equity, and inclusion initiatives.
Gina Abercrombie-Winstanley, the State Department's first chief diversity and inclusion officer, testified before Congress Tuesday morning asking for $76 million to increase her staff, track race and gender demographics in the department, and track employee reports of discrimination, harassment, and bullying.
"The Department needs an inclusive workforce with equitable opportunities to ensure our foreign policy is as strong, smart, and creative as it can be," her written testimony states.
Abercrombie-Winstanley's office audited State Department employees to gain demographic information on "race, ethnicity, gender, status of disability, grade, rank, and job series skill codes." She said her office plans to release an annual report tracking "trend lines" for department employees.
Rep. Brian Mast (R-FL), chairman of the Subcommittee on Oversight and Accountability, opened the committee by telling Abercrombie-Winstanley directly, "Ma'am, I believe that your office is mandating division within the State Department."
DEI initiatives will also be pushed abroad, as Abercrombie-Winstanley said State Department employees "experience discrimination by foreign customs and immigration officials." Her office encourages reporting the conduct to host nation governments, adding that they have already secured "official apologies and commitments to new training procedures."
Taking the DEI case abroad does not stop at harassment from foreign customs officers, as the Biden administration has made a point of flying Black Lives Matter and gay Pride flags at embassies across the globe, including at the Holy See.
In her office's 2022-2026 strategic plan is a picture of Abercrombie-Winstanley attending a "Progress Pride" flag raising outside the State Department's Harry S. Truman Building.
In a statement to the Washington Examiner, a State Department spokesperson said DEI is a "national security imperative," adding that "diversity is one of our greatest national strengths" that gives the United States a "comparative advantage" over other countries.
The State Department recently began tracking its spending but established a "budget code." Abercrombie-Winstanley said 10% of her requested $76 million would go to her office, and the rest would be distributed to the other bureaus in the department for DEI use.