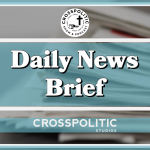 CrossPolitic Daily News Brief for Wednesday June 15th, 2022
Plug #1:
Club Membership Plug:
Let's stop and take a moment to talk about Fight Laugh Feast Club membership. By joining the Fight Laugh Feast Army, not only will you be aiding in our fight to take down secular & legacy media; but you'll also get access to content placed in our Club Portal, such as past shows, all of our conference talks, and EXCLUSIVE content for club members that you won't be able to find anywhere else. Lastly, you'll also get discounts for our conferences… so if you've got $10 bucks a month to kick over our way, you can sign up now at flfnetwork.com/product/fightlaughfestclub.
Suspect in Kavanaugh attempted murder texted sister, who convinced him to call 911, investigators say
https://www.foxnews.com/politics/kavanaugh-suspect-sister-text-convinced-call-911
Nicholas Roske, who authorities say plotted to kill Supreme Court Justice Brett Kavanaugh, texted his sister before abandoning his plans and calling 911, police said.
Roske was carrying a gun, ammunition, a knife, pepper spray, a screwdriver, zip ties, and other gear when he was arrested by Montgomery County Police Department officers Wednesday morning near Kavanaugh's Maryland home, according to a criminal complaint.
"The suspect arrived by taxi and observed the U.S. marshals, and he turned around to contemplate his next move," Montgomery County Police Chief Marcus Jones said in a statement to the Washington Post. "This is when he texted his sister and told her of his intentions, and she convinced him to call 911, which he did."
During the call, which lasted approximately 15 minutes, Roske could be heard saying that he was "having thoughts" and came from California in order to "act on them." When asked if he had access to weapons, he said he had a firearm that was unloaded and in a suitcase that was "ziptied shut."
When asked if he needed medical attention, he replied, "I need psychiatric help."
Police arrived on the scene soon after Roske placed the 911 call.
It is currently unknown what Roske and his sister said to each other in their text conversation, but police believe it is what led to him abandoning his plans to murder the Supreme Court justice.
Caterpillar to move global headquarters to Texas
https://www.reuters.com/business/caterpillar-move-global-headquarters-texas-2022-06-14/
Caterpillar Inc (CAT.N) said on Tuesday it would move its global headquarters to Irving, Texas, from its current location in Deerfield, Illinois, marking an end to the company's century-long presence in the Land of Lincoln.
It was not immediately clear why Caterpillar was making the move. It said in an emailed statement it did not seek or receive incentives for relocation.
The construction equipment maker is the latest big manufacturer to exit Illinois. Last month, aerospace giant, Boeing (BA.N) announced that it would move corporate headquarters from Chicago to Arlington, Virginia.
A company spokesperson said most of its 230 employees based in Deerfield will transition to the new headquarters over time, though the company will maintain its presence in Illinois where it has more than 17,000 employees.
CAT hosted its bi-annual Investor's Day in Grapevine, Texas, last month. Currently the machinery maker's electric power division operates out of its Irving office.
Texas Governor Greg Abbott said on Twitter the state is a "perfect fit for this international brand."
N.Y. Governor Approves Abortion Safe Haven Laws
https://www.oann.com/n-y-governor-approves-abortion-safe-haven-laws/
New York Governor Kathy Hochul (D) signed a bill expanding abortion access in the Empire State. She approved six bills to make her state a "safe haven" for the procedure in case the Supreme Court rules Roe v. Wade to be unconstitutional.
"Our heart goes out to the women in those other states, we'll be there for the women of other states," stated the governor. "And mark my words, just never, never, here in the state of New York because New York has always been a beacon for those yearning to be free. And I want the world to hear that that will never change".
The laws are intended to provide legal protections for both abortion participants and providers from outside states where the operation may be outlawed, including the prevention of New York authorities from cooperating with outside law enforcement agencies in abortion-related investigations as well as restricting out-of-state medical malpractice insurance claims against New York abortion providers. Additionally, Empire State abortion providers will be immune to professional misconduct charges while institutions that refuse to perform abortions may be sued.
Under one of the provisions, abortion providers may even obscure their addresses in order to evade legal action. The governor also announced the formation of a task force that will research the effects of pro-life pregnancy centers. Hochul alleged these protections for abortion are by extension protection for so-called "bodily autonomy."
"Because as the first female governor of New York, I take this personally and that's a fight I'm willing to take on," she continued. "Not just on behalf of the women of New York, but for women all across this nation. I refuse to go backwards and I promise you, as long as I'm governor, we will not because these are rights that have been fought for, for generations. And New York State has led every step of the way."
Despite championing bodily autonomy, Hochul maintained former Governor Andrew Cuomo's health care worker COIVD-19 vaccine mandate,. On top of that, New Yorkers were required to be vaccinated to participate in various indoor activities earlier this year.
Plug #2:
Armored Republic
The Mission of Armored Republic is to Honor Christ by equipping Free Men with Tools of Liberty necessary to preserve God-given rights. In the Armored Republic there is no King but Christ. We are Free Craftsmen. Body Armor is a Tool of Liberty. We create Tools of Liberty. Free men must remain ever vigilant against tyranny wherever it appears. God has given us the tools of liberty needed to defend the rights He bestowed to us. Armored Republic is honored to offer you those Tools. Visit them, at ar500armor.com
Trump slams Democrats' Jan. 6 hearings: 'desperate to change the narrative of a failing nation'
https://justthenews.com/politics-policy/all-things-trump/trump-releases-12-page-response-focused-2020-election-january-6
Former President Trump has released a 12-page response to the Democrat-led House committee's investigation and now public hearings on the Jan. 6 Capitol riots – saying they are an attempt to divert Americans' attention from a "failed nation" under Democratic Party leadership.
Trump issued the wide-ranging rebuttal Monday, when the panel held its second televised hearing, that also included his continuing belief that the 2020 election that he lost was rife with voting fraud and vows to replace Democrats with Republicans of his choice in the midterm elections.
Democrats "are desperate to change the narrative of a failing nation, without even making mention of the havoc and death caused by the Radical Left just months earlier," Trump wrote in the message sent through his Save America PAC. "Make no mistake, they control the government. They own this disaster. They are hoping that these hearings will somehow alter their failing prospects."
In the statement, Trump continues to push his long-held stance that the 2020 election was stolen from him. Much of the committee's focus during its Monday hearing centered on aides and those in Trump's inner circle telling the former president that the election was not stolen or rigged.
Trump, in the statement, also reiterates some of his most popular election 2020 refrains, including zeroing in on the extra time it took after Election Day for Pennsylvania and Michigan to count ballots – citing evidence from the recently released Dinesh D'Souza Documentary "2000 Mules."
"As we near the midterm elections, we're watching the Swamp creatures circle the drain as true Americans step up to replace the corrupt Establishment with patriots who will fight for our freedoms," Trump also wrote, suggesting he will likely continue to focus on the issue of the 2020 election through the midterm and possibly beyond.
"Americans are struggling to fill their gas tanks, feed their babies, educate their children, hire employees, order supplies, protect our border from invasion, and a host of other tragedies that are 100% caused by Democrats who obtained power through a rigged election, and the people of our country are both angry and sad," he continued.
Today's Christian Almanac (written by George Grant and gregory Wilbur)
This is Gabriel Rench with Crosspolitic News. Support Rowdy Christian media by joining our club at fightlaughfeast.com, downloading our App, and head to our annual Fight Laugh Feast Events. If this content is helpful to you, would you please consider becoming a Fight Laugh Feast Club Member? We are trying to build a cancel-proof media platform, and we need your help. Join today and get a discount at the Fight Laugh Feast conference in Knoxville, TN and have a great day. Have a great day. Lord bless