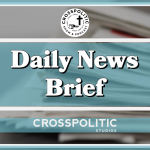 This is Waterboy with your CrossPolitic Daily News Brief for Wednesday, June 16, 2021.
Tooben back on the air, President Kamala Harris?, Fun COVID updates, and more but first:
Plug: Fight Laugh Feast Conference in Lebanon, TN, just outside of Nashville.
We have been taught to stay out of the bedroom and leave people's sexual preferences alone. But the truth is that sex affects everything, and because the church has only spoken about sex in the areas the world has given her permission too, we now can lose our jobs, our livelyhoods, our way of life. Because the church has not unashamedly preached the gospel into our perverted and sexualized culture, as a result we have given the definition of marriage over to the world, men "can" claim the status of women and you have to go along with it, and cancel culture now lurks at everyone corner. Join us in Nashville (Lebanon) as we gather to sing, fellowship, and grow in God's word. We will have tried and true, cancel free speakers, including Pastor Wilson, Voddie Baucham, Pastor Toby, Doug TenNapel, David Bahnsen, and then on Saturday we will have an Academy full of 9 workshops with over 20 speakers arming you to go out into the world to take dominion with your gifts and abilities. So sign (when the link is out)at https://flfnetwork.com/coming-soon/. Seating is limited! 
Oh Canada
This video captures the arrest of Pastor Tim Stephens, and is hard to watch. It is amazing to me that the cops are just acting as mindless agents in all this. I know they know better in the hearts, but this is what it looks like to care more about your job than the truth:
Early multidrug treatment of SARS-CoV-2 infection (COVID-19) and reduced mortality among nursing home (or outpatient/ambulatory) residents
https://www.sciencedirect.com/science/article/pii/S0306987721001419
"We identified nine reports of early treatment outcomes in COVID-19 nursing home patients. Multi-drug therapy including hydroxychloroquine with one or more anti-infectives, corticosteroids, and antithrombotic anti-blood clotting agents can be extended to seniors in the nursing home setting without hospitalization. Data from nine studies found hydroxychloroquine-based multidrug regimens were associated with a statistically significant > 60% reduction in mortality. Going forward, we conclude that early empiric treatment for the elderly with COVID-19 in the nursing home setting (or similar congregated settings with elderly residents/patients e.g. LTF or ALF) has a reasonable probability of success and acceptable safety."
It is absolutely criminal that governors band HCQ, doctors were silenced and fired for promoting it, and social media joined the lunacy. The CDC, the Democratic Party, and the industrial medical complex has lost all COVID credibility and social media supported their ignorance.
Marjorie Taylor Greene pushes 'Fire Fauci Act' in light of new email revelations
https://thepostmillennial.com/marjorie-taylor-greene-introduces-fire-fauci-act
On Tuesday afternoon, Representative Marjorie Taylor Greene re-introduced the "Fire Fauci Act," which would cut Dr. Anthony Fauci's pay to $0, and would have the Senate confirm a replacement for him.
This comes after revelations that Fauci contradicted himself multiple times in emails obtained through a FOIA.
Greene pushed the act that was first introduced on April 1 in a new press conference Tuesday afternoon, standing with fellow Republican colleagues in front of a sign stating: "Fauci lied, people died."
"The American people have endured terrible things over the past year due to the shutdowns from COVID-19. I'm very proud to sponsor the Fire Fauci Act, and I'm grateful to my colleagues here for co-sponsoring this bill because the American people deserve answers," said Greene.
Fourth of July Club Member Liberty Bash
Join us at our first annual 4th of July Club Member Liberty Bash! We are so grateful to our club members, and can't think of a better way to celebrate America, than a joyous, raucous, party with our club members at Waterboy's farm.
Unfortunately, space is limited, so sign up ASAP. Ok pay attention, here is how you register: Go to www.FightLaughFeast.com and login into the club portal and you will find the 4th of July event. Click on it and follow the registration steps from there. If you have forgotten your password, just go through the fast and easy password reset process. If you get stuck, email us at [email protected].
The event is free, though we would gladly accept donations to cover some costs. Our software is a little funny, so just note that you have to put in a 0 (zero) into the price box at checkout to move forward.
Location details will be emailed out to all who register.
Jon Stewart on the COVID:
The World's Most Awkward Interview for 2021. Tooben:
Mexico's López Obrador says he called Harris 'president' after meetings on migration
https://www.foxnews.com/politics/mexicos-lopez-obrador-harris-president-after-meetings-migration
Mexican President Andrés Manuel López Obrador said this week that in-person meetings on the migration crisis with Vice President Kamala Harris went so well that he called her "president."
"It's a completely new phase," López Obrador said during a news conference about the meetings on Wednesday, according to Reuters. "It was such a good meeting that I called her 'president.'"
Harris was in Mexico earlier this week as part of a two-day trip to the region to solve what the White House has described as the "root causes" behind the crisis at the southern border — including poverty, violence and climate change in Central America.
Harris too declared her visit a success, claiming she had been "successful in making progress."
In Mexico, after the meetings with López Obrador, she highlighted a $130 million U.S. investment in Mexican workers' protections and labor reform, as well as further partnering to address human trafficking and smuggling organizations and a strategic partnership to address root causes of migration in Guatemala, Honduras and El Salvador.
However, when asked if she had got an agreement from Mexico to take back more migrant families turned back from the U.S. due to Title 42 public health protections, Harris said, "We didn't discuss Title 42."
Plug:
Fight Laugh Feast University is offering two new classes starting this July! Get the whole family involved and participate in live online classes via Zoom. Hangout with fellow friends of the network, and learn together with the whole family. We have two classes beginning in July, and I don't even want to miss these classes. The first class is with Comedian John Branyan called: Life is Hardy Har Hard: A Comedy Workshop for Christians
Jesse: Education is Warfare: How to Start a School
So go to https://flfnetwork.com/flf-edu/ to sign up now. Classes are limited to only 25 spots!