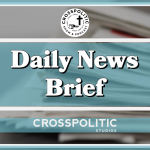 CrossPolitic Daily News for Wednesday June 1st 2022
We are extending early bird registration through June 30th!
Gold River Trading Co.
Are you tired of buying sugary drinks and coffee from large woke corporations? Throw a tea party!
Gold River Trading Co. is an American company that offers premium alternatives for Americans who enjoy a delicious cup of tea. Start your day with Gold River's invigorating American Breakfast Blend, cool down with a pitcher of crisp & refreshing Iced Tea, or unwind with Chamomile Herbal tea. Explore a variety of high-quality blends and enjoy a healthy, flavorful alternative from an American company that shares your values.
Go to goldriverco.com and save 10% off all orders using discount code CROSSPOLITIC at checkout.
Former Clinton campaign lawyer Michael Sussmann acquitted in Trump Russia collusion case
Or a better headline:
Jury That Includes Three Clinton Donors Fails to Find Ex-Clinton Lawyer Sussmann Guilty of Lying to FBI
https://thepostmillennial.com/breaking-former-clinton-campaign-lawyer-michael-sussmann-acquitted-in-trump-russia-collusion-case?utm_campaign=64487
J. Hogan Gidley
@JHoganGidley
It should also be noted the trial was in DC. 92.1% of residents there voted for Biden. And…the jury in this trial included:
– 3 Clinton donors
– 1 AOC donor
– 1 Person whose daughter is on the same sports team as Sussmann's daughter
Kayleigh McEnany jury pool tainted: DC Joury poll starts at 1:46 mark to the end.
link:https://video.foxnews.com/v/6307048820112
Boniface Woodworking LLC:
Boniface Woodworking exists for those who enjoy shopping with integrity; who want to buy handmade wooden furniture, gifts, and heirloom items that will last for generations. From dining tables and church pulpits to cigar humidors and everything in between; quality pieces that you can give your children's children, tie them to their roots, and transcend the basic function of whatever they are!
So, start voting with your dollars, and stop buying cheap crap from people who hate you! Visit www.bonifacewoodworking.com to see our gallery, learn our story, and submit your order for heirloom quality wood items.
Pornography should be banned to save families, Ohio Senate candidate says
https://www.deseret.com/u-s-world/2022/5/31/23148731/jd-vance-ohio-senate-candidate-pornography-should-be-banned-to-save-families-birth-rate-marriage-us
How can America bounce back from low birthrates? Ban pornography, said Ohio Senate candidate J.D. Vance.
What's happening: According to HuffPost, Vance — a Republican Senate candidate and author of the best-selling memoir "Hillbilly Elegy" — said in a "newly unearthed" interview with a Catholic magazine in August 2021 that he wants to ban pornography.
Trudeau bans the sale of guns in Canada:
Roll Clip:
https://twitter.com/CBSNews/status/1531621582413697029?s=20&t=qD_jJl7ou4oQRWhvlM9miw
Trudeau clarifying on his gun legislation:
Roll Clip:
https://twitter.com/CPAC_TV/status/1531635633537847302?s=20&t=qD_jJl7ou4oQRWhvlM9miw
He tramples citizens with horses and takes their guns away…what is another name for Blackface
@JustinTrudeau?
This is Gabriel Rench with Crosspolitic News. Support Rowdy Christian media by joining our club at fightlaughfeast.com, downloading our App, and head to our annual Fight Laugh Feast Events. If this content is helpful to you, would you please consider becoming a Fight Laugh Feast Club Member? We are trying to build a cancel-proof media platform, and we need your help. Join today and get a discount at the Fight Laugh Feast conference in Knoxville, TN and have a great day. Have a great day. Lord bless.