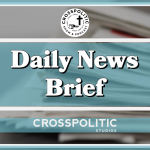 This is Waterboy with your CrossPolitic Daily News Brief for Wednesday, June 2, 2021.
Texas hospital staff standing up to the mandatory vaccine, Bruce (Caytlin) Jenner flip-flops, MLB getting sued, and a new study out that says lockdowns and masks dont work.
Happy Birthday to my brother.
Texas Hospital Staff Says Vaccine Mandate Breaks Nuremberg Code
https://www.bloomberg.com/news/articles/2021-05-28/texas-hospital-staff-says-vaccine-mandate-breaks-nuremberg-code?utm_content=business&utm_medium=social&utm_campaign=socialflow-organic&utm_source=facebook&cmpid=socialflow-facebook-business
A Houston hospital will become the first in the U.S. to fire workers for refusing Covid-19 vaccinations starting on June 7, unless a state judge intervenes.
About 117 staffers sued Houston Methodist Hospital Friday in Texas state court, claiming the facility's vax-or-pink-slip mandate violates World War II-era ethics codes designed to prevent medical experimentation on unwilling human subjects. The so-called Nuremberg Code was developed in response to Nazi atrocities conducted on concentration camp victims.
About 99% of the 26,000 employees of the hospital, a cornerstone of the famed Texas Medical Center, are already in compliance with its vaccination mandate, according to an email sent by Marc Boom, the hospital's chief executive officer, to all employees and physicians. The remaining staffers were reminded they have until June 7 to get the jab or face the consequences.
The lawsuit represents an escalation by Jennifer Bridges, an outspoken Houston nurse, who took her complaints to social media shortly after her employer's vaccination policy was announced. Her April 17 Facebook post attracted 94 comments and encouragement to hire a lawyer. Her name is listed first among the plaintiffs in Friday's complaint filed in Montgomery County, about an hour north of downtown Houston.
Boom's internal email makes no mention of the hospital's policy to exempt employees who are pregnant, have underlying medical conditions or strongly held religious convictions from vaccine mandates. "It is legal for health care institutions to mandate vaccines, as we have done with the flu vaccine since 2009," Boom said in his note. "The Covid-19 vaccines have proven through rigorous trials to be very safe and very effective and are not experimental," he added.
Jared Woodfill, a lawyer for the holdouts, disagrees. Covid vaccines authorized for emergency use aren't fully approved by federal regulators, he said, and aren't allowed to be mandatory under U.S. Centers for Disease Control current rules.
"Methodist Hospital is forcing its employees to be human 'guinea pigs' as a condition for continued employment," Woodfill said in court papers asking a state judge to temporarily block the planned firings. "This, as a matter of fact, is a gene modification medical experiment on human beings, performed without informed consent. It is a severe and blatant violation of the Nuremberg Code and the public policy of the state of Texas."
The holdouts also accuse Methodist of wrongful discharge and violating Texas's at-will employment laws.
Even if the judge sides with workers refusing the shots, the concept of forcing employees to get vaccinated or lose their jobs is already spreading as fast as the virus itself among other large hospitals.
"CEOS of other health care institutions are calling nearly every day to ask how we are doing it," Boom said in an April note to staffers. "I hope other health care systems and employers will quickly join Houston Methodist in making the vaccine mandatory for staff. The sooner we're able to end this pandemic, the fewer lives we will continue to lose to it and the closer we can get to normal."
Caitlyn Jenner Flip-Flops: Boys Who Started Trans Treatment Young 'Should Be Able To Compete In Girls' Sports'
https://thefederalist.com/2021/05/27/caitlyn-jenner-flip-flops-boys-who-started-trans-treatment-young-should-be-able-to-compete-in-girls-sports/
"Republican California gubernatorial candidate Caitlyn Jenner contradicted a previous claim that biological boys should not be permitted to compete in girls' sports. Jenner said on Fox News Wednesday that boys who identified as girls at "a very young age" ought to be able to do so.
"I'm not running as a trans activist, I'm running as a California citizen that has lived there for 48 years," said Jenner. "What I would do as governor is I would put together a commission. Trans women compete in the Olympics, they compete in the NCAA, but when it gets down to the high school level, there's no guide rules, there's no rules and regulations how they can."
"And trans women who are truly trans, who at a very young age, you know, started proper medical treatment, they've grown up as girls — of course, they should be able to compete in girls' sports," Jenner said. "But yeah, some guy who hasn't done any therapy, hasn't done anything, there has to be a review board. And I would be the first governor to put together a review board to review each case," Jenner added. "Such a small issue. It's like a nonissue that's out there. And I would be surprised if there's 30 trans athletes in the entire state."
Fourth of July Club Member Liberty Bash
Join us at our first annual 4th of July Club Member Liberty Bash! We are so grateful to our club members, and can't think of a better way to celebrate America, than a joyous, raucous, party with our club members at Waterboy's farm.
Unfortunately, space is limited, so sign up ASAP. Ok pay attention, here is how you register: Go to www.FightLaughFeast.com and login into the club portal and you will find the 4th of July event. Click on it and follow the registration steps from there. If you have forgotten your password, just go through the fast and easy password reset process. If you get stuck, email us at [email protected].
The event is free, though we would gladly accept donations to cover some costs. Our software is a little funny, so just note that you have to put in a 0 (zero) into the price box at checkout to move forward.
Location details will be emailed out to all who register.
'No Pay For Those Who Abandon Their Responsibilities': Abbott Will Dock Pay Of Texas Dems Who Walked Out To Block GOP Voting Rights Bill
https://www.dailywire.com/news/no-pay-for-those-who-abandon-their-responsibilities-abbott-will-dock-pay-of-texas-dems-who-walked-out-to-block-gop-voting-rights-bill
After Texas Democrats stalked off the floor of the Texas House chamber on Sunday night in order to break quorum and prevent the Texas GOP from passing Senate Bill 7 (Among the changes this bill would implement are stricter mail-in voting requirements and the barring of drive-thru voting.), the GOP voting rights bill, Texas Republican Governor Greg Abbott fired back that he would veto the state legislature's budget, thus preventing the members from getting paid.
"I will veto Article 10 of the budget passed by the legislature," Abbott tweeted. "Article 10 funds the legislative branch. No pay for those who abandon their responsibilities. Stay tuned."
I don't have a problem with a governor doing this, but what I do have a problem with is a governor who shutdown his own state earlier in the year, and then turn around does this. He did this same thing to small businesses. He vetoed them and told them to shutdown. And now he is doing the same thing to the Democrats. We want principled leadership, not willy-nilly leaders that will do anything given the right temperature and pressure.
MLB sued for $100M after pulling All-Star Game from Atlanta
https://abc3340.com/news/nation-world/mlb-sued-for-millions-of-dollars-for-pulling-all-star-game-from-atlanta
A small business advocacy organization filed a lawsuit Tuesday against Major League Baseball, MLB Commissioner Rob Manfred, the Major League Baseball Players Association and executive director Tony Clark.
The lawsuit was filed in U.S. District Court for the Southern District of New York by the Job Creators Network.
The suit demands the Major League Baseball All-Star Game return to Atlanta immediately or the "defendants pay $100 million in damages to local and state small businesses."
"MLB robbed the small businesses of Atlanta – many of them minority-owned – of $100 million, we want the game back where it belongs," said Alfredo Ortiz, president and CEO of the Job Creators Network.
Ortiz said MLB requires identification in order to collect will-call tickets at ballparks across the country; Ortiz said this requirement makes the decision to move the All-Star Game a "knee-jerk, hypocritical and illegal reaction to misinformation."
Last story!
https://www.medrxiv.org/content/10.1101/2021.05.18.21257385v1.full.pdf
Methods: We calculated total COVID-19 case growth and mask use for the continental United States with data from the Centers for Disease Control and Prevention and Institute for Health Metrics and Evaluation. We estimated post mask mandate case growth in non-mandate states using median issuance dates of neighboring states with mandates.
Results: Case growth was not significantly different between mandate and non-mandate states at low or high transmission rates, and surges were equivocal. Mask use predicted lower case growth at low, but not high transmission rates. Growth rates were comparable between states in the first and last mask use quintiles adjusted for normalized total cases early in the pandemic and unadjusted after peak Fall-Winter infections. Mask use did not predict Summer 2020 case growth for non-Northeast states or Fall-Winter 2020 growth for all continental states.
Conclusions: Mask mandates and use are not associated with slower state-level COVID-19 spread during COVID25 19 growth surges. Containment requires future research and implementation of existing efficacious strategies.
Magazine Plug
Have you signed up for our Magazine? Next issue ships in early June. Our magazine is a quarterly, mini-book-like experience that includes the best of authors and topics for a theological roundhouse kick to the face of our cultural gods. Read your magazine like you drink your scotch, and let the kick warm your belly. We don't water down our theology, why would we water down our scotch? Annual subscriptions are $60 – that's for four issues. So sign up and enjoy our Fight Laugh Feast theme park.
Closing
This is Gabriel Rench with Crosspolitic News. Support Rowdy Christian media by joining our club at fightlaughfeast.com, downloading our App, and head to our annual Fight Laugh Feast Conference next fall. With your partnership, together we will fight outdated and compromised media, engage news and politics with the gospel, and replace lies and darkness with truth and light. Go to fightlaughfeast.com to take all these actions. Have a great day. Lord bless