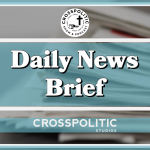 This is Garrison Hardie with your CrossPolitic Daily News Brief for Wednesday, June 21st, 2023.
Story Real Estate:
Home. It's where you build your legacy. Where traditions are started, seeds are planted, meals are shared, and stories are told. Home is where you prepare to go out into the world. Finding the home that's perfect for your family is a big job.
Story Real Estate is Moscow's top real estate team. They give people real estate advice all over the country. Family homes, investments, land, new construction, or commercial— they know real estate.
If you've thought about a move to Moscow or anywhere in the country, reach out to get connected with a Story Real Estate agent. Wherever you're going, they can help guide you Home. Visit storyrealestate.com.
https://www.cnbc.com/2023/06/20/its-official-student-loan-payments-will-restart-in-october.html
It's official: Student loan payments will restart in October, Education Department says
Over the three-year-long pause on student loan payments, the U.S. Department of Education has repeatedly told borrowers their bills were set to resume, only to take it back and provide them more time.
This time, however, the agency really means it.
The Education Department posted on its website that "payments will be due starting in October," and a recent law passed by Congress will make changing that plan difficult.
It will likely be a big adjustment for borrowers when the pandemic-era policy expires. Around 40 million Americans have debt from their education. The typical monthly bill is roughly $350.
"For many borrowers, the payment pause has been life altering — saving many from financial ruin and allowing others to finally get ahead financially," said Persis Yu, deputy executive director at the Student Borrower Protection Center.
President Donald Trump first announced the stay on federal student loan bills and the accrual of interest in March 2020, when the coronavirus pandemic hit the U.S. and crippled the economy.
The pause has since been extended eight times.
Nearly all people eligible for the relief have taken advantage of it, with less than 1% of qualifying borrowers continuing to make payments on their education debt, according to an analysis by higher education expert Mark Kantrowitz.
As a result of the policy, the average borrower likely saved around $15,000 in student loan payments, Kantrowitz said.
The Education Department notes on its financial aid website that "Congress recently passed a law preventing further extensions of the payment pause."
It is referring to the agreement reached between Republicans and Democrats to raise the nation's debt ceiling, which President Joe Biden signed into law in early June.
In exchange for voting to increase the borrowing limit, Republicans demanded large cuts to federal spending. They sought to repeal Biden's executive action granting student loan forgiveness, but the Biden administration refused to agree to that.
However, included in the deal was a provision that officially terminates the pause at the end of August.
Even before that agreement, the Biden administration had been preparing borrowers for their payments to resume by September.
The Education Department says borrowers will be expected to make their first post-pause payment in October. Meanwhile, interest will start accumulating on borrowers' debt again on Sept. 1, the department says.
As the Biden administration tries to ready millions of Americans to restart their student loan payments, there's one big open question that may make that preparation difficult: Most borrowers don't know what they'll owe in the fall.
That's because the Supreme Court has yet to issue a verdict on the validity of Biden's plan to cancel up to $20,000 in student debt for borrowers. A decision is expected this month.
Around 37 million people would be eligible for some loan cancellation, Kantrowitz estimated.
Roughly a third of those with federal student loans, or 14 million people, would have their balances entirely forgiven by the president's program, according to an estimate by Kantrowitz. As a result, these borrowers won't owe anything come October.
For those who still have a balance after the relief, the Education Department has said it plans to "re-amortize" borrowers' lower debts. That's a wonky term that means it will recalculate people's monthly payment based on their lower tab and the number of months they have left on their repayment timeline.
Kantrowitz provided an example: Let's say a person currently owes $30,000 in student loans at a 5% interest rate.
Before the pandemic, they would have paid around $320 a month on a 10-year repayment term. If forgiveness goes through and that person gets $10,000 in relief, their total balance would be reduced by a third, and their monthly payment will drop by a third, to roughly $210 a month.
Education Department Undersecretary James Kvaal recently warned that if the administration is unable to deliver on Biden's loan forgiveness, delinquency and default rates could skyrocket.
The borrowers most in jeopardy of defaulting are those for whom Biden's policy would have wiped out their balance entirely, Kvaal said.
https://townhall.com/tipsheet/madelineleesman/2023/06/19/ny-post-teacher-called-a-student-despicable-after-questioning-her-classmate-who-identifies-as-a-cat-n2624666
Teacher Reportedly Calls Student 'Despicable' for Challenging Peer Who 'Identifies As a Cat'
A 13-year-old girl and her friend were reportedly called "despicable" by one of their schoolteachers last week after one of them challenged their classmates about "how she identifies as a cat" after a lesson about gender ideology.
The 13-year-old girl and her friend are reportedly students at Rye College in the United Kingdom. The school is affiliated with the Church of England, according to the New York Post. The students were in their end-of-year lesson on "life education" where they were told they can"be who you want to be and how you identify is up to you."
After the lesson, one of the students asked her classmate: "How can you identify as a cat when you're a girl?"
As a result, the schoolteacher reprimanded the student and her friend and said that they were being reported to school officials. And, the teacher reportedly said that they would no longer be welcome at the school if they "continued to express the view that only boys and girls exist"
The girls informed the teacher that their parents would agree with their views on gender ideology, that someone's gender is not different than their biological sex.
"Well that's very sad as well then," the teacher reportedly said in response, adding that "if you don't like it you need to go to a different school."
A parent of another student at the school told The Telegraph that "what bothers me is the shutting down of debate in such a threatening and aggressive manner, which I don't believe is appropriate in an educational setting."
"Regardless of the subject, education should serve to build awareness of differing points of view to widen the understanding of a subject. It shouldn't be a case of indoctrination," the parent added.
https://thepostmillennial.com/crime-so-out-of-control-in-san-francisco-stores-are-locking-up-candy?utm_campaign=64487
Crime so out of control in San Francisco, stores are locking up candy
https://www.youtube.com/watch?v=78gt7pfjlCU – Play Video – 1:26-1:4
San Francisco residents that are looking to satisy a sweet tooth will have to go through a series of extra steps as candy is now being locked up in stores amid rising crime in the not so 'golden' city.
While Butterfingers, Reese's Peanut Butter Cups, Starbursts, and M&M's are locked up behind bars, illegal drugs are readily available for consumers as they flow rampant down the city's streets that are plagued by urine, human feces, and homeless vagrants looking for their next hit.
In order to fend off thieves, San Francisco store owners have taken extra measures to combat rampant retail theft and are locking up merchandise up and down store aisles, which now includes candy.
A photo taken by the Daily Mail at a Walgreens store shows a mixture of America's favorite chocolate and gummy candies confined behind a sheer box with a lock on it. If consumers want to purchase a KitKat or a Hershey's Kiss, they will have to ring an alarm for a store associate to come and assist them in grabbing the item off of the shelf.
A security guard at the Walgreens on Powell Street which is home to San Francisco's famous cable cars told Daily Mail that, "Theft is constant."
He told the outlet that a homeless man who stole from the store earlier in the day appeared a few hours later only to commit another theft.
Major businesses and retailers have recently announced that they are shuttering their locations in the once-booming downtown corridor, with all citing similar reasons for the departures: rampant retail theft, loss of foot traffic, homeless vagrants attacking employees, and other safety concerns.
These businesses include Nordstroms, Whole Foods, T-Mobile, Walgreens, Old Navy, and now the entire Westfield shopping center.
While the San Francisco City Council has weaponized the local criminal justice system, turning it into a revolving door for repeat offenders and enacting laws that prevent police making arrests for petty theft, a Muslim immigrant and business owner, whose store was recently ransacked by a pack of thieves, said that crime in the city is now worse than it is in both Afghanistan and Iraq.
https://freebeacon.com/latest-news/biden-admin-gave-university-over-2m-for-monitoring-microaggressions/
Biden Admin Gave University Over $2M For 'Monitoring Microaggressions'
The National Institutes of Health has, since September 2021, been funding a $2.2 million program at the University of Miami examining how "microaggressions" affect "Black cisgender queer women" who have HIV.
According to a grant listing from the Department of Health and Human Services, the program, known as Monitoring Microaggressions and Adversities to Generate Interventions for Change, seeks to discover how "comments, jokes, and behaviors that are demeaning to a marginalized group" affect health outcomes.
Queer black women with HIV "live at the intersection of multiple marginalized identities and within social structures that take a daily toll," the grant description states. However, the impact of microaggressions on this group has "largely been ignored."
The program is supervised by Sannisha Dale, an associate professor of psychology, who chairs the department's Diversity and Equity Committee.
Dale's first contact with the project was in 2019, according to the University's website. Through text messages and regular visits, the grant team monitored 151 women to understand how microaggressions affected their daily levels of distress and consumption of medication.
"[Microagressions] can be someone saying, 'She doesn't look like she's positive,' as if HIV has a face," Dale said. "Or 'I'm HIV negative, I'm clean,' as if someone else is dirty."
The Biden administration has shown a willingness to shell out cash for LGBT initiatives. Biden's most recent budget proposal included a $400 million State Department program to help LGBTQ Africans access the internet. In January, the National Endowment for the Humanities awarded a grant to translate a gay dictionary into Spanish.