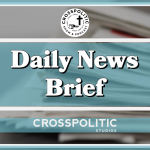 Fight Laugh Feast Magazine
Our Fight Laugh Feast Magazine is a quarterly issue that packs a punch like a 21 year Balvenie, no ice. We don't water down our scotch, why would we water down our theology? Order a yearly subscription for yourself and then send a couple yearly subscriptions to your friends who have been drinking luke-warm evangelical cool-aid. Every quarter we promise quality food for the soul, wine for the heart, and some Red Bull for turning over tables. Our magazine will include cultural commentary, a Psalm of the quarter, recipes for feasting, laughter sprinkled through out the glossy pages, and more. Sign up today, at flfnetwork.com/product/fight-laugh-feast-magazine/
Uvalde shooting could have been stopped in 'three minutes': Texas police
https://thepostmillennial.com/breaking-uvalde-shooting-could-have-been-stopped-in-three-minutes-texas-police?utm_campaign=64487
The head of the Texas State Police Steven C. McCraw spoke to the state's Senate committee on Tuesday, where he heavily condemned the response by police during the Robb Elementary massacre that saw 19 children and two teachers killed. He also said that officers on-scene could have stopped gunman Salvador Ramos's rampage within "three minutes," reports the Associated Press.
During his testimony, he said that it was the teachers of Robb Elementary and not law enforcement who should be given praise for their heroic actions one month ago.
He said that police could have acted faster than they did, having enough firepower and protection to do so.
TX DPS Director Steve McCraw:
'The officers had weapons … [they] had body armor. The children had none.' and… the
"response to the Uvalde shooting was an 'abject failure,' as the on-scene commander waited for things like a key 'that was never needed.'
"There is compelling evidence the law enforcement response to the attack at Robb elementary was an abject failure and antithetical to everything we've learned over the last two decades since the Columbine massacre,"…
Megan Rapinoe Tells Girls, Parents To Suck It Up Over Trans Athletes: 'Your Kid's' 'Volleyball Team Just Isn't That Important'
https://www.dailywire.com/news/megan-rapinoe-tells-girls-parents-to-suck-it-up-over-trans-athletes-your-kids-volleyball-team-just-isnt-that-important
Soccer superstar and political activist Megan Rapinoe argued in an interview published Sunday that female athletes and their parents need to suck it up over advantages biologically male transgender athletes might have over girls.
The forward told Time magazine she is "100% supportive" of "trans inclusion" in girls sports, dismissing concerns about fairness while emphasizing that people "need to understand that sports is not the most important thing in life."
Rapinoe also argued that high-level sports are all about "regulation," which the athlete apparently believes can erase trans athletes' advantages. A recent study published in the British Journal of Sports Medicine suggests that's not true.
"I would also encourage everyone out there who is afraid someone's going to have an unfair advantage over their kid to really take a step back and think what are we actually talking about here," the 36-year-old said. "We're talking about people's lives. I'm sorry, your kid's high school volleyball team just isn't that important."
"And I think people also need to understand that sports is not the most important thing in life, right?" she continued. "Life is the most important thing in life."
"We're talking about kids," Rapinoe said. "We're talking about people's lives. We're talking about the entire state government coming down on one child in some states, three children in some states."
The ESPY award-winner claimed without evidence that gender-confused children are committing suicide at higher rates "because they are being told that they're gross and different and evil and sinful and they can't play sports with their friends that they grew up with. Not to mention trying to take away health care."
"I think it's monstrous," she added.
Rapinoe went on to argue that not many girls have been shortchanged by transgender athletes, yet, anyway.
"Show me the evidence that trans women are taking everyone's scholarships, are dominating in every sport, are winning every title. I'm sorry, it's just not happening," she said. "So we need to start from inclusion, period. And as things arise, I have confidence that we can figure it out. But we can't start at the opposite. That is cruel. And frankly, it's just disgusting."
"We need to really kind of take a step back and get a grip on what we're really talking about here because people's lives are at risk," Rapinoe added. "Kids' lives are at risk with the rates of suicide, the rates of depression and negative mental health and drug abuse."
"We're putting everything through God forbid a trans person be successful in sports. Get a grip on reality and take a step back," she said.
DeSantis Expected To Sign Bill Making All Religious Services 'Essential'
https://www.dailywire.com/news/desantis-expected-to-sign-bill-making-all-religious-services-essential
Florida Governor Ron DeSantis (R) is expected to sign a bill passed by the state's legislature that declares all religious services "essential."
Senate Bill 254 was sent to DeSantis on Friday, with signing expected by June 30, according to the governor's office. The bill was approved in the state's Senate in January.
"An emergency order authorized by this part may not directly or indirectly prohibit religious services or activities," the bill's text reads.
"However, a general provision in an emergency order which applies uniformly to all entities in the affected jurisdiction may be applied to a religious institution if the provision is in furtherance of a compelling governmental interest and is the least restrictive means of furthering that compelling governmental interest," it added.
The bill's sponsor, state Sen. Jason Brodeur (R), said in January that the legislation would prevent future closures of houses of worship under a state of emergency, such as the COVID-19 pandemic.
"It would basically say if Publix is open, so is your place of worship," Brodeur said. "What it doesn't seek to do is what we've seen in some of the other states, where churches, synagogues, and mosques were singled out for congregated activities."
The controversy regarding religious services deemed as "essential" arose during the pandemic when some states forced churches to stop holding worship services. DeSantis signed an executive order in April 2020 to allow religious services to continue.
According to Florida Politics, the order followed the arrest of a Brandon, Florida, pastor after he held services in violation of a Hillsborough County public ordinance.
"Hillsborough County Sheriff Chad Chronister and State Attorney Andrew Warren issued a warrant for Pastor Rodney Howard-Browne's arrest earlier this week after he hosted a Sunday morning worship service with 300-500 partitioners despite 'educational' outreach from the Sheriff's office urging him not to and cautioning that such a gathering would violate the county's safer at home order," the outlet reported.
DeSantis also clarified his support of religious institutions after signing the executive order.
"I don't think the government has the authority to close a church," DeSantis said, according to WUFT. "I'm certainly not going to do that."
Arizona Governor Doug Ducey (R) signed a similar bill in April, declaring all religious services essential in times of state emergencies.
Boniface Woodworking LLC:
Boniface Woodworking exists for those who enjoy shopping with integrity; who want to buy handmade wooden furniture, gifts, and heirloom items that will last for generations. From dining tables and church pulpits to cigar humidors and everything in between; quality pieces that you can give your children's children, tie them to their roots, and transcend the basic function of whatever they are!
So, start voting with your dollars, and stop buying cheap crap from people who hate you! Visit www.bonifacewoodworking.com to see our gallery, learn our story, and submit your order for heirloom quality wood items.
Joe Biden's administration is now recommending babies six months and above get the vaccine! This is scary. Roll Clip:
But here is the deal, and as we have said before, the Biden administration does not care about science. Listen to Rand Paul's challenge to Fauci…Roll Clip.
Fauci does not care about science either apparently.
End with George Grant's Christian Almanac:
This is Gabriel Rench with Crosspolitic News. Support Rowdy Christian media by joining our club at fightlaughfeast.com, downloading our App, and head to our annual Fight Laugh Feast Events. If this content is helpful to you, would you please consider becoming a Fight Laugh Feast Club Member? We are trying to build a cancel-proof media platform, and we need your help. Join today and get a discount at the Fight Laugh Feast conference in Knoxville, TN and have a great day. Have a great day. Lord bless