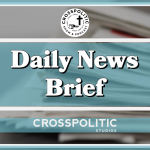 Daily News Brief for Wednesday, June 23, 2021
Fourth of July Club Member Liberty Bash
Join us at our first annual 4th of July Club Member Liberty Bash! We are so grateful to our club members, and can't think of a better way to celebrate America, than a joyous, raucous, party with our club members at Waterboy's farm.
Unfortunately, space is limited, so sign up ASAP. Ok pay attention, here is how you register: Go to www.FightLaughFeast.com and login into the club portal and you will find the 4th of July event. Click on it and follow the registration steps from there. If you have forgotten your password, just go through the fast and easy password reset process. If you get stuck, email us at contact@FightLaughFeast.com.
The event is free, though we would gladly accept donations to cover some costs.
US seizes Iran's state TV website, two other Iran-linked media websites
"This week the U.S. Justice Department seized the websites of multiple Iranian media sites, including Iran's state-run Press TV.
Currently, the websites for Press TV, the Islamic Republic of Iran Broadcasting's (IRIB) Al-Alam TV channel and the Yemeni Al-Masirah TV — which is operated by the Iran-linked Yemeni Houthi movement — all have a Department of Justice disclaimer image announcing the website seizures.
The DOJ disclaimer on each website states the particular domain "has been seized by the United States Government in accordance with a seizure warrant issued pursuant to the 18 U.S.C. §§ 981, 982, and 50 U.S.C. 1701-1705 as part of a law enforcement action by the Bureau of Industry and Security, Office of Export Enforcement and Federal Bureau of Investigation."
It was not immediately clear when the websites were seized. The DOJ did not respond to an American Military News request for comment at the time this article was published.
This is not the first time the DOJ has seized websites linked to Iran. In November, the department announced the seizure of 29 websites linked to Iran's Islamic Revolutionary Guard Corps (IRGC), a U.S.-designated Foreign Terrorist Organization. The DOJ announced at the time, "Each of the domains was fraudulently registered because each is being used by or on behalf of the IRGC and this critical information was omitted from the registration if any of the U.S. service providers had known that the domains were to be used by or on behalf of the IRGC, they would not have been able to provide the domain name registration services due to U.S. sanctions."
Speaking of Iran…
Pastor Tim Stephens arrested illegally again
"The most recent arrest of Pastor Stephens relates to an alleged incident on June 6, 2021 in Calgary. Pastor Stephens is alleged to have been conducting an outdoor church service with about 200 congregants of Fairview Baptist church. A police helicopter was deployed to search for and detect this gathering, and to collect evidence against Pastor Stephens of non-compliance with public health restrictions. The Pastor is now charged with an offence under s.127 of the Criminal Code of Canada, alleging failure or refusal to comply with a Court Order.
The CPS justifies its arrest of Pastor Stephens on the 13 May Order of Associate Chief Justice Rooke, which applies only to Whistle Stop Café, its owners, and other "John Does" and "Jane Does" working in concert with Whistle Stop or under Whistle Stop's instructions. The May 13 Order does not apply to Pastor Stephens, and cannot be used to justify the two arrests of Pastor Stephens on May 16 and June 14.
Pastor Stephens is currently at the Calgary Remand Centre and the next court hearing takes place on June 28, 2021. Pastor Stephens has been ticketed several times for allegedly breaching Dr. Deena Hinshaw's public health orders. The Justice Centre is representing Pastor Stephens regarding those tickets and intends to argue that they must all be thrown out because of the unlawful arrest of Pastor Stephens on May 16, which breached several of his Charter rights.
"The May 13 court order does not apply to the public broadly and it is our position that AHS is engaged in an intentional act of public deception and abuse of authority in arresting Pastor Stephens and others. Further, it appears that Premier Kenney's government is targeting its enemies, those who are speaking out against lockdown restrictions and for Charter freedoms," states lawyer Jay Cameron, Litigation Director at the Justice Centre.
"Locking out Fairview Baptist congregants and arresting Pastor Tim Stephens has everything to do with punishing dissent, and nothing to do with public safety. Just yesterday, UCP MLA for Lac Ste. Anne – Parkland, Shane Clayton Getson, was photographed at an event, Air Tour 2021, with at least a dozen people pictured not wearing masks or social distancing at Villeneuve Airport," notes Mr. Cameron."
SBC presidents
Speaking of Iran:
California 'assault weapons' ban repeal blocked by 9th Circuit
https://www.foxnews.com/politics/california-assault-weapons-ban-repeal-blocked-9th-circuit
According to Fox News:
"The 9th Circuit Court of Appeals temporarily blocked a federal district court ruling that would have repealed California's assault weapons ban.
In a Monday panel decision in Miller v. Bonta, the appellate court put the June 4 order from District Court Judge Roger Benitez old hold as the court awaits the outcome of another case. Benitez had ruled that the ban violated the Second Amendment.
"The district court's June 4, 2021 order and judgment are stayed pending resolution of Rupp v. Bonta," the court said. "The stay shall remain in effect until further order of this court."
The Rupp case, which also deals with the assault weapons ban and has already been briefed before the Ninth Circuit, had also been put on hold as the court handles other Second Amendment cases that could effect it.
Benitez's district court order had ruled the assault weapons ban to be unconstitutional, stating that people had a right to possess modern weapons. Benitez likened the AR-15 rifle to a Swiss Army Knife as being "a perfect combination of home defense weapon and homeland defense equipment," in contrast to militaristic, "extraordinary" weapons like bazookas and machineguns.
"Under no level of heightened scrutiny can the law survive," Benitez said.
While the court awaits a decision in the Rupp case, briefing in the Miller case is put on hold, although the Ninth Circuit did grant a request by the State of Arizona to file an amicus brief opposing California's motion to stay Benitez's ruling for the entire duration of the Miller appeal.
For now, the 9th Circuit is telling the parties to stand by and file a status report 14 days after the court issues a ruling in the Rupp case."
Plug:
Fight Laugh Feast University is offering two new online classes starting this July! Get the whole family involved and participate in live online classes via Zoom. Hangout with fellow friends of the network, and learn together with the whole family. We have two classes beginning in July: The first class is with Comedian John Branyan called: Life is Hardy Har Hard: A Comedy Workshop for Christians and Jesse Sumpter: Education is Warfare: How to Start a School
So go to https://flfnetwork.com/flf-edu/ to find out more and to sign up now. Classes are limited to only 25 spots!
For just about the most creepy marketing video the COVIDinsanity has released:
"The ad features former Democratic governors Jerry Brown and Gray Davis, as well as former Republican governors Arnold Schwarzenegger and Pete Wilson, urging Californians to wear a mask."
Don't like wearing a face mask? Schwarzenegger and Newsom say 'Just do it.'
Play Video: https://www.sacbee.com/news/politics-government/capitol-alert/article243705097.html
California to Use Federal Money to Pay All Back Rent 'on a Scale Never Seen Before'
https://www.breitbart.com/economy/2021/06/22/california-to-use-federal-money-to-pay-all-back-rent-for-low-income-residents/
The State of California will use federal "COVID relief" money to pay all of the back rent owed to landlords by qualifying residents during the coronavirus pandemic — plus electricity and water bills that may have gone unpaid.
The state enjoys a $75.7 billion budget surplus — before counting the $26.6 billion it has received from the federal government.
The New York Times reported Monday:
A $5.2 billion program in final negotiations at the State Legislature would pay 100 percent of unpaid rent that lower-income Californians incurred during the pandemic and would be financed entirely by federal money. The state is also proposing to set aside $2 billion to pay for unpaid water and electricity bills.
When California became the first state to shut down its economy last year, Gov. Gavin Newsom predicted dire shortfalls in the state's budget. But a year later, the state finds itself with so much money that it is poised to not only cover 100 percent of unpaid rent for low-income tenants, but also to give an additional $12 billion back to taxpayers, by sending state stimulus checks of at least $600 to millions of middle-class Californians.
The state's separate rental relief program would be available to residents who earn no more than 80 percent of the median income in their area and who can show pandemic-related financial hardship. In San Francisco, a family of four would have to earn less than $146,350 to qualify.
State legislators are also planning to extend a moratorium on evictions past the current June 30 expiration date.
Plug: Fight Laugh Feast Conference in Lebanon, TN, just outside of Nashville.
We have been taught to stay out of the bedroom and leave people's sexual preferences alone. But the truth is that sex affects everything, and because the church has only spoken about sex in the areas the world has given her permission too, we now can lose our jobs, our livelyhoods, our way of life. Because the church has not unashamedly preached the gospel into our perverted and sexualized culture, as a result we have given the definition of marriage over to the world, men "can" claim the status of women and you have to go along with it, and cancel culture now lurks at everyone corner. Join us in Nashville (Lebanon) as we gather to sing, fellowship, and grow in God's word. We will have tried and true, cancel free speakers, including Pastor Wilson, Voddie Baucham, Pastor Toby, Doug TenNapel, David Bahnsen, and then on Saturday we will have an Academy full of 9 workshops with over 20 speakers arming you to go out into the world to take dominion with your gifts and abilities. So sign up now at https://flfnetwork.com/coming-soon/. Seating is limited!
Closing
This is Gabriel Rench with Crosspolitic News. Support Rowdy Christian media by joining our club at fightlaughfeast.com, downloading our App, and head to our annual Fight Laugh Feast Conference next fall. With your partnership, together we will fight outdated and compromised media, engage news and politics with the gospel, and replace lies and darkness with truth and light. Go to fightlaughfeast.com to take all these actions. Have a great day. Lord bless