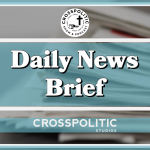 This is Garrison Hardie with your CrossPolitic Daily News Brief for Wednesday, June 28th, 2023.
Armored Republic
The Mission of Armored Republic is to Honor Christ by equipping Free Men with Tools of Liberty necessary to preserve God-given rights. In the Armored Republic there is no King but Christ. We are Free Craftsmen. Body Armor is a Tool of Liberty. We create Tools of Liberty. Free men must remain ever vigilant against tyranny wherever it appears. God has given us the tools of liberty needed to defend the rights He bestowed to us. Armored Republic is honored to offer you those Tools. Visit them, at ar500armor.com
Before we get to the news, how about a little on this day in history?
On this day in history June 28th:
1776 Final draft of Declaration of Independence submitted to Continental Congress

1778 Battle of Monmouth, New Jersey (General Washington beats Clinton)

1820 Tomato is proven to be non-poisonous by Colonel Robert Gibbon eating a tomato on steps of courthouse in Salem, New Jersey

1838 Coronation of Queen Victoria in Westminster Abbey, London

1870 U.S. Congress creates federal holidays (New Year's Day, Independence Day, Thanksgiving Day, and Christmas Day), initially applicable only to federal employees

1894 Labor Day established as a holiday for US federal employees

1902 Germany, Italy, and the Austro-Hungarian Empire renew their Triple Alliance for six more years

1910 1st airship with passengers makes its maiden voyage; the Zeppelin LZ7-Deutscheland and gets stuck in some trees in Mount Limberg, Lower Saxony, injuring one crew member

1919 Treaty of Versailles, ending WWI and establishing the League of Nations, is signed in France

1965 1st US ground combat forces in Vietnam authorized by President Lyndon B. Johnson

1996 Remake of "The Nutty Professor" starring Eddie Murphy opens in theaters in the USA

2000 NBA Draft: Cincinnati power forward Kenyon Martin first pick by New Jersey Nets
https://dailycaller.com/2023/06/27/nyc-shelters-homeless-people-migrants/
NYC Is Housing More Illegal Migrants Than Homeless People
The number of migrants in New York City's care has outpaced the homeless population in local shelters, according to NBC4 New York.
As of Sunday, the city had 50,000 migrants in its care, including in local hotels and temporary shelters, and 49,700 local homeless residents, NBC4 reported. The influx of migrants crossing the southern border illegally has led to more migrants arriving in the Big Apple, some of whom have been bused in by Republican Texas Gov. Greg Abbott.
The city has turned the historic Roosevelt Hotel, which closed three years ago, into a migrant shelter.
"My heart breaks a little bit, and I have these conflicting feelings," Deputy Mayor Anne Williams-Isom said during a tour of the hotel, according to NBC4.
Democratic New York City Mayor Eric Adams has floated asking his residents to help shelter migrants in their homes, he said in early June.
"It is my vision to take the next step to this, to go to the faith-based locales and then move to private residents, there are residents who are suffering right now because of economic challenges," Adams said at the time.
"They have spare rooms, they have locales and if we can find a way to get over the 30-day rule and other rules that government has in its place, we can take that $4.2 billion, $4.3 maybe now, that we potentially will have to spend, and we can put it back in the pockets of everyday New Yorkers, everyday houses of worship, instead of putting it in the pockets of corporations," Adams added.
Adams has also taken matters into his own hands by busing some of the arriving migrants to New York suburbs, including an area near the northern border, where the Daily Caller News Foundation previously observed some of them crossing into Canada illegally. Adams has also transported dozens of migrants to Republican-run states, like Florida and Texas, South America and one to China, Politico reported Friday.
Adams' office didn't immediately respond to a request for comment.
https://dailycaller.com/2023/06/26/fox-news-fires-remaining-tucker-staffers/
Fox News Fires Remaining Tucker Staffers In Show's Final Stroke
Fox News has fired the remaining staffers from Tucker Carlson's show as the network announces a new primetime lineup, Daily Caller confirmed Monday.
The network let go of at least nine remaining staffers, including long-standing producers, in a move described as "shockingly callous" by one former Fox News producer who spoke to the Daily Caller.
"Some of the producers fired have been at Fox for well over a decade," the producer told the Daily Caller.
Another former Fox producer told the Daily Caller that staffers on Carlson's team were repeatedly told following his departure that their jobs were safe, including as recently as last week when two of Carlson's producers left the network.
The remaining staffers were told they could apply for any jobs throughout the company, the former producer told the Daily Caller, noting that employees who once staffed Bill O'Reilly and Dan Bongino's show were simply reassigned on other shows after both hosts left the network.
Staffers told the former producer the terminations were clearly an "anti-Tucker move to purge any of his remaining stamp he had on the network as Fox begins this new lineup change."
The news comes after Fox News announced that Jesse Watters will replace Carlson in the 8:00 p.m. time slot.
Watters, who originally started his career at the 8:00 p.m. time slot hosting a Man on the Street segment during Bill O'Reilly's program, is slated to take over the hour, Fox News said in a press release.
Laura Ingraham will take over Watters' 7:00 p.m. time slot while Greg Gutfeld will move his show to the 10:00 p.m. time slot. Sean Hannity will remain in his 9:00 p.m. slot.
Fox announced in late April it was parting ways with Carlson just days after the network announced it was also parting ways with Dan Bongino. Carlson has since started hosting his own show on Twitter, prompting a public legal battle between Fox News and the Daily Caller co-founder.
Fox News issued a "cease and desist" to Carlson in mid-June after accusing him of breaching his contract by violating its non-compete clause when he posted the first episode of his show on Twitter.
https://www.npr.org/2023/06/27/1149982782/julian-sands-dead-a-room-with-a-view
Actor Julian Sands found dead in California after going missing on hike
The San Bernardino County Sheriff's office has confirmed the death of Julian Sands after human remains were found on Southern California's Mount Baldy. He was 65 years old.
He was hiking Mount Baldy when his family reported him missing on January 13, 2023.
Sands had a wide and varied career but was best known for his role in the 1985 movie A Room with a View, starring opposite Helena Bonham Carter.
Sands learned acting at the Central School of Speech and Drama in London. In A Room with a View, he played George Emerson, a love interest to the young upper-class Lucy Honeychurch, played by Carter. In 1986, he told NPR in an interview that he was well aware of the class dynamics at play in the movie. "Nobody's actually seen to do anything other than live some leisurely life which allows them to pursue their own indulgences," he said.
Sands' acting career brought him an eclectic array of roles. His film credits include Arachnophobia, Leaving Las Vegas, and the Jackie Chan movie The Medallion. On TV, he appeared in small roles on shows such as Castle, Smallville and Dexter. In Season 5 of the action drama 24, he played the main villain Vladimir Bierko, a terrorist in possession of a deadly nerve gas.
He loved the outdoors. In a 2020 interview with The Guardian, he was asked when he was happiest. His answer was: "Close to a mountain summit on a glorious cold morning."
Now in entertainment news…
https://boundingintocomics.com/2023/06/26/the-flash-collapses-in-its-second-weekend-at-the-box-office-with-massive-72-drop-analyst-predicts-film-will-lose-at-least-150-million/
'The Flash' Collapses In Its Second Weekend At The Box Office With Massive 72% Drop, Analyst Predicts Film Will Lose At Least $150 Million
Ezra Miller's The Flash completely collapsed at the box office with an enormous 72% drop from its opening weekend.
The Flash had a long row to hoe after it's extremely poor opening weekend of $55 million at the domestic box office. And it does not look like it's going to be reaping anything but losses following its second weekend collapse of 72%.
The-Numbers reports the film only grossed $15.2 million in its second weekend despite adding another 22 more theaters compared to its first weekend. The per theater gross declined from $13,000 in its opening weekend to $3,587 in its second weekend.
The film's second weekend much like its first underperformed predictions. Box office tracking website Box Office Pro predicted the film would have a 69% drop and bring in $17.3 million.
The-Numbers predicted the film would only have a 59% decline and would bring in $22.5 million.
Comparing the film to other DCEU films, The Flash is one of the worst performing films as it stands right now. The only films it's outperformed at the worldwide box office are Birds of Prey, The Suicide Squad, Wonder Woman 1984, and Shazam! Fury of the Gods.
Following this second weekend, box office analyst OMB Reviews predicts The Flash will only bring in a total gross between $300 million to $400 million worldwide in its entire theatrical run.
However, he goes on to note, "roughly between $300 and $350 million dollars if the film performs as a typical bad movie." That means it will likely stay in the same position it is on the DCEU list given Shazam! grossed $363.5 million and Black Adam brought in $391.2 million.
OMB Reviews then points to the reported cost of the film being between $200 million and $220 million. He notes this means the film will likely lose around $150 million due to his estimated predictions that the film's total cost with marketing is approximately $330 million. Factoring in the film's split with theaters, he predicts the film's break even point is $550 million.
Thus if the film performs at the top of his estimates at $400 million, it would lose $150 million.