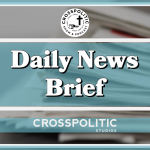 Happy Hump Day y'all! This is Garrison Hardie with your CrossPolitic Daily News Brief for Wednesday, June 29th. 2022… I'm going to start the same exact way as I started yesterday, and the day before! The early bird pricing for our conference ends on June 30th, so this Thursday!
Lies, Propaganda, Story Telling, and the Serrated Edge:
This year our national conference is in Knoxville, TN October 6th-8th. The theme of this year's conference is Lies, Propaganda, Storytelling and the Serrated Edge. Satan is the father of lies, and the mother of those lies is a government who has rejected God. We have especially been lied to these last two years, and the COVIDpanic has been one of the central mechanisms that our government has used to lie to us and to grab more power. Because Christians have not been reading their bibles, we are susceptible to lies and weak in our ability to fight these lies. God has given us His word to fight Satan and his lies, and we need to recover all of God's word, its serrated edge and all. Mark your calendars for October 6th-8th, as we fight, laugh and feast with fellowship, beer and Psalms, our amazing lineup of speakers, hanging with our awesome vendors, meeting new friends, and more. Early bird tickets are available now, but will be gone before you know it! Sign up now at flfnetwork.com/knoxville2022
Louisiana and Utah trigger laws banning abortions temporarily blocked by courts
https://www.nbcnews.com/news/us-news/louisiana-trigger-law-banning-abortions-temporarily-blocked-court-rcna35528
So, yesterday on CrossPolitic, the guys discussed how Federal Lands could be used to host abortion clinics according to health & human services secratary, Xavier Beccera… That's the same guy who believes he should be able to take your kids away if you don't let them go through the mameing of a sex change if they want it…
Judges in Louisiana and Utah on Monday temporarily blocked prohibitions on abortion in their states following last week's U.S. Supreme Court ruling that ends a national right to the procedure.
The high court on Friday overturned Roe v. Wade, which for nearly 50 years had granted women the constitutional right to abortions. More than a dozen states set so-called trigger laws to take immediate effect banning or severely limiting abortions in the event Roe v. Wade was overturned.
Trigger laws were also being challenged in Arizona, Idaho, Kentucky, Mississippi and Texas.
A state judge in Louisiana issued a temporary restraining order Monday barring the state from enforcing its ban, leading to the immediate resumption of the procedure.
Orleans Parish Civil District Judge Robin Giarrusso granted the request of plaintiffs Hope Medical Group for Women and Medical Students for Choice.
Hours later, Utah Third District Judge Andrew Stone halted that state's trigger law effective immediately under a 14-day temporary restraining order requested by the Planned Parenthood Association of Utah.
"There is irreparable harm that has been shown," Stone said in granting the order. "Affected women are deprived of safe, local medical treatments to terminate pregnancies."
Planned Parenthood lawyer Julie Murray argued that because patients had access to abortion for five decades, halting the procedure with such short notice had reverberating impacts for Utah women.
The nonprofit organization's facilities in Utah had more than 55 patients scheduled for abortion appointments this week, it said in its emergency request Saturday for a temporary restraining order.
​​Utah Solicitor General Tyler Green argued that nothing in the state's constitution specifically protects a right to abortion and that the interest of the unborn weighs as heavily as the harm to would-be patients under prohibition.
Providers in Louisiana stopped performing abortions Friday, unsure of the legality of the practice because of the vagueness of the bill, reproductive rights groups said.
Attorney General Jeff Landry said Monday that his office will go to court to support the abortion ban, which he said was "enacted by the people" of Louisiana.
"We are fully prepared to defend these laws in our state courts, just as we have in our federal courts," Landry said in a statement.
In a statement Friday, Democratic Gov. John Bel Edwards declared that he is "unabashedly pro-life and opposed to abortion" but said he is seeking changes to Louisiana's trigger law — first put in place in 2006 — because it has no exceptions for rape and incest.
"As I have said many times before, I believe women who are survivors of rape or incest should be able to determine whether to continue with a pregnancy that is the result of a criminal act," Edwards said Friday.
Ladiess and gentleman, we need to be praying for our nation, because the devil and his minions are still at work. We need to keep fighting, and taking ground.
We now shift our eyes to the Lone Star state, as:
Austin City Council Members Propose Local Resolution to 'Decriminalize' Killing a Child
https://texasscorecard.com/local/austin-city-council-members-propose-local-resolution-to-decriminalize-killing-a-child/
After the U.S. Supreme Court overturned Roe v. Wade last week—allowing states to outlaw the practice of dismembering, poisoning, or using any other means to kill a baby in the womb—the Democrat-run Austin City Council wants to retaliate.
Councilmembers Vanessa Fuentes and Jose "Chito" Vela have proposed the "Guarding the Right to Abortion Care for Everyone (GRACE)" Act, a resolution aiming to effectively "decriminalize" abortion in Austin. The document recommends the Austin Police Department not store reports of soon-to-be-illegal abortions, give related information to other government agencies, nor investigate the businesses exterminating the preborn children.
Ironically, the resolution refuses to recognize women, instead labeling them as "pregnant people."
Texas has a coming state law (to be activated within 30 days) to ban the abortion practice statewide, and similar existing laws were already on the books before the 1973 Roe v. Wade decision. However, district attorneys across Texas and the Austin City Council are trying to find ways to avoid enforcing the upcoming ban.
KJP on San Antonio horror: It's a fact that the border is closed
https://hotair.com/ed-morrissey/2022/06/28/kjp-on-san-antonio-horror-its-a-fact-that-the-border-is-closed-n479296
Fact checkers, start your engines. Or at least those fact checkers who still check facts on claims made by government officials, who seem to be a dying breed these days. After the deaths of at least 46 illegal immigrants in San Antonio, Texas and the worst human-trafficking disaster in recent memory, Governor Greg Abbott blamed Joe Biden and the 17-month border crisis that is still raging in his state and others along the border.
The official response from the White House is: Border crisis, you say? What border crisis?
https://twitter.com/i/status/1541774525985132544 – Play all audio
It is not a fact that the border is closed, and it's not a fact that this smuggling attempt proves it. We'll get to both in a moment, but this is one strategy of many for breaching the border, and in this case it worked. The truck got through the border, didn't it? How did that happen?
The ongoing crisis at the U.S.-Mexico international border continues to worsen. Evidence from U.S. Customs and Border Protection's (CBP) recent data release shows that Border Patrol encountered the highest number of illegal immigrants this past May compared to previous months.
Agents working along the southern border encountered 239,416 illegal immigrants, a historic record. To accommodate the staggering number, CBP had to increase the Y-axis on its line graph detailing border encounters. This is the second time this has happened during Joe Biden's presidency.
Out of the over 200,000 migrants who illegally crossed the border, 100,699 of them were removed from the U.S. under Title 42. Over 177,000 people encountered by Border Patrol were first time crossers, a 15 percent jump compared to April.
A couple of weeks before that, Julio noted that the recent wave has been fueled in part by Biden's effort to end pandemic-related Title 42 enforcement at the border. A judge forced the administration to keep it in place, but word hasn't gotten to the wave of migrants hoping to take advantage of the opening:
While many have decided not to illegally cross at this time, other groups of people decided that since they have made it this far in their journey, they will make the final step and illegally enter the United States. In the late afternoon, Border Patrol was processing a large group that turned themselves in.
Does that sound like the border is "closed," and that it's a "fact"? Or does it sound more like Biden and his team keep signaling a reluctance to enforce border security and a desire to allow people to flood across into the US?
Dropwave
Do you have a podcast, or thinking about starting one? Does your church have a podcast feed for sermons? The Dropwave.io is for you. Cancel culture is like walking on a thin glass bridge over the Grand Canyon. Every step you take could get you killed, I mean canceled. Since the beginning CrossPolitic has been working on being antifragile, so no matter what happens, our content can still be delivered to your tv and to your podcast. This past year, the Waterboy and his friend Jeremi, have been working on building a podcast hosting solution for rowdy platforms like CrossPolitic, so that you can be confident your podcast will never fall through that glass bridge. Dropwave offers seamless onboarding for shows that have been around for years to easy to use solutions for starting your own podcast. Dropwave will track all your show's downloads by city, state, and country, and it offers network and enterprise packages for solutions like the Fight Laugh Feast Network. Free to speak, Free to podcast, free to start your journey now at www.Dropwave.io.
Sex trafficker Ghislaine Maxwell sentenced to 20 years in prison
https://thepostmillennial.com/breaking-ghislaine-maxwell-sentenced-to-20-years-in-prison?utm_campaign=64487
Ghislaine Maxwell was sentenced to 20 years in prison on Tuesday for her roll in aiding former financier and prolific sex trafficker Jeffrey Epstein in abusing young girls. She faced a maximum sentence of up to 80 years.
Maxwell was convicted in December of recruiting and trafficking four teenage girls for sexual abuse by her then-boyfriend Jeffrey Epstein.
Epstein's life famously ended under suspicious circumstances in a New York prison after being placed on suicide watch. He never faced trial.
According to the New York Post, Maxwell's lawyer, Bobby Sternheim, said Saturday that "Ghislaine Maxwell is on suicide watch — but isn't really suicidal." Sternheim claims Maxwell was put in solitary confinement on placed on suicide watch "without justification," adding "She [Maxwell] is not suicidal."
He adds that Maxwell's June 28th sentencing, where she will face the possibility of up to 55 years in prison, may need to be delayed.
That's gunna do it for this CrossPolitic Daily NewsBrief. If you liked the show, hit that share button for me will ya? If you want to become a club member, sign up for our conference, or get a magazine subscription, you can find all of that at flfnetwork.com, and as always, if you want to talk corporate partnerships with CrossPoltiic, let's talk. Email me, at garrison@fightlaughfeast.com. For CrossPolitic News, I'm Garrison Hardie. Have a great day, and Lord bless.