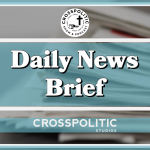 Email news articles to news@CrossPolitic.com and don't forget to check out www.DeftWire.com.
Before we get started, you don't want to miss out on our conference Tennessee. Talks include:
Session 1: Toby: Molotov Monogamy: The Political Power of Marriage & Family
Session 2: Voddie Baucham Critical Sex Theory: How to keep Marx and Freud out of your bedroom
Session 3: TenAppel: Sex, Lies, and the Prophetic Poet
Session 4: David Bahnsen Punk Rock Home Ec
Session 5: Doug Wilson Gay Pulpits: Politics of feminism, homosexuality, unfaithful children
Non-club members go to www.FightLaughFeast.com to sign up, and if you are a club member, just login to the club portal to sign up. Early bird registration ends August 9th, if the conference does not sale-out beforehand.
Also, Booth and sponsorships are now available. Get your products and services in front of thousands of Christians at our conference.
On June 30th of last year my Mayor signed the infamous mask mandate. If you were sitting in a restaurant you did not have to wear a mask, but if you were standing you could be fined $1000 and six months in jail. I was arrested under this order the following September for exercising my 1st amendment rights. Scmience
Play clip: https://www.krem.com/article/news/health/coronavirus/face-masks-required-in-moscow-as-covid-19-cases-increase/293-46676a35-e5fc-4d15-9ef1-7d9f28181ba9
Speaking of silly mask mandates:
LA just re-shutdown:
Play Clip of Tim Pool: https://youtu.be/TKuUI1UQDvE
California bans state-funded travel to 5 states due to anti-LGBTQ laws
https://www.axios.com/california-anti-lgbtq-laws-5a38d847-6043-4536-ad3b-40c5c243da7a.html
This is from Axios:
"California has banned state-funded travel to five more states because of laws that discriminate against the LGBTQ community, Attorney General Rob Bonta announced Monday, bringing the total number of banned states to 17.
Why it matters: The move comes as Republicans in at least 25 states have introduced legislation targeting trans people this year.
State of play: California employees are now unable to pursue state-funded travel to Florida, North Dakota, Montana, West Virginia and Arkansas, Bonta said.
What they're saying: "Make no mistake: We're in the midst of an unprecedented wave of bigotry and discrimination in this country — and the State of California is not going to support it," Bonta said.
The big picture: Lawmakers first banned non-essential state employee travel to states with anti-LGBTQ laws in 2016, AP reports.
The 12 other states on the list are: Texas, Alabama, Idaho, Iowa, Oklahoma, South Carolina, South Dakota, Kentucky, North Carolina, Kansas, Mississippi and Tennessee."
Pastor Ed Litton Removes Over 140 Video Sermons After Being Accused of Plagiarism
https://www.newsweek.com/pastor-ed-litton-removes-over-140-video-sermons-after-being-accused-plagiarism-1604707
Three videos have now surfaced with Pastor Litton significantly quoting JD Greare's sermons, and according to News Week:
"Pastor Ed Litton has removed dozens of videos from his church's YouTube channel after he was accused of plagiarizing sermons.
Newsweek found more than 140 videos were either unavailable or hidden across several playlists on the Redemption Church YouTube page as of Monday morning.
It comes after Alabama pastor Litton, who was recently elected as president of the Southern Baptist Convention (SBC), came under fire for using segments in 2020 from sermons delivered by Summit Church Pastor J.D. Greear in 2019."
According to Ed Litton, he was just "borrowing" from JD's sermons…without even once citing his sources. Plagiarism?
Sign up to become a club member. Seriously. This is the best way to support us, we fight to take over main stream media. Join now at FightLaughFeast.com
Kansas governor vetoes ban for transgender school athletes
https://www.pbs.org/newshour/nation/kansas-governor-vetoes-ban-for-transgender-school-athletes
According to PBS:
"TOPEKA, Kan. (AP) — Democratic Gov. Laura Kelly on Thursday vetoed a Republican measure that would have made Kansas the latest state with a GOP-controlled legislature to ban transgender athletes from girls' and women's school sports.
Kelly's action was widely expected because she had labeled the bill "regressive" and said it would hurt the state's ability to recruit businesses. Conservative Republican lawmakers did not have the two-thirds majorities necessary in both chambers to override a veto when they pushed it to passage earlier this month.
Kansas is among more than 20 states that have considered such a ban this year, pushing back against an executive order from Democratic President Joe Biden aimed at preventing discrimination against transgender students. Idaho enacted such a ban last year, and Republican governors in Arkansas, Mississippi and Tennessee have signed measures this year.
Sen. Roger Marshall, a Kansas Republican, has been vocal in supporting legislation in Congress. Supporters of such bans argue that that they ensure fair competition for "biological" girls and women and preserve decades of hard-won opportunities for them, including college athletic scholarships.
Kelly's veto is likely to be an issue in her race for reelection in 2022. Both of her main GOP rivals, state Attorney General Derek Schmidt and former Gov. Jeff Colyer, said earlier this week that they would have signed the measure.
Supporters of the bill still could try to override her veto and try to persuade a handful of moderate Republicans who either voted against the bill or abstained to switch. Supporters needed to pick up only one more vote in the Senate but were eight short in the House. No Democrat voted for it."
Stung by pandemic and JBS cyberattack, U.S. ranchers build new beef plants
https://www.reuters.com/world/the-great-reboot/stung-by-pandemic-jbs-cyberattack-us-ranchers-build-new-beef-plants-2021-06-17/
According to Reuters:
"CHICAGO, June 17 (Reuters) – U.S. cattle ranchers and investors are sinking hundreds of millions of dollars into new beef plants after temporary closures of massive slaughterhouses at the start of the COVID-19 pandemic left farmers with nowhere to send animals destined to be turned into meat.
A cyberattack against the U.S. unit of Brazilian meatpacking giant JBS SA (JBSS3.SA) that idled nearly a quarter of America's beef production earlier this month again highlighted vulnerabilities in the country's meat supply chain and caused more headaches for farmers.
Ranchers, as well as the U.S. Agriculture Department (USDA), say the sector is too consolidated and therefore reliant on a handful of large processors and their industrial meatpacking plants.
Four industry behemoths – JBS USA, Tyson Foods Inc (TSN.N), Cargill Inc (CARG.UL) and National Beef Packing Company (NBEEF.UL) – slaughter 85% of grain-fattened cattle carved into steaks, ribs and roasts for consumers.
Smaller startup meat plants are aiming to provide local ranchers with more places to slaughter cattle, particularly those raised to produce higher-quality beef. They say adding plants can ensure some meat production continues if large facilities close.
When large meat plants close, meat supplies tighten while ranchers get stuck with cattle that would otherwise have been slaughtered. That means the price of cattle generally falls, while the price of meat in supermarkets rises.
Extended shutdowns of some of the biggest U.S. slaughterhouses due to COVID-19 outbreaks hobbled meat production in spring 2020, leading to limits on consumers' purchases at grocery stores and a decline in frozen inventories that processors have yet to replenish."
Plug:
Fight Laugh Feast University is offering two new online classes starting this July! Get the whole family involved and participate in live online classes via Zoom. Hangout with fellow friends of the network, and learn together with the whole family. We have two classes beginning in July: The first class is with Comedian John Branyan called: Life is Hardy Har Hard: A Comedy Workshop for Christians and Jesse Sumpter: Education is Warfare: How to Start a School
So go to https://flfnetwork.com/flf-edu/ to find out more and to sign up now. Classes are limited to only 25 spots!
Closing
This is Gabriel Rench with Crosspolitic News. Support Rowdy Christian media by joining our club at fightlaughfeast.com, downloading our App, and head to our annual Fight Laugh Feast Conference next fall. With your partnership, together we will fight outdated and compromised media, engage news and politics with the gospel, and replace lies and darkness with truth and light. Go to fightlaughfeast.com to take all these actions. Have a great day. Lord bless