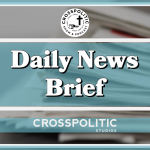 Daily News Brief Wednesday June 08, 2022
Lies, Propaganda, Story Telling, and the Serrated Edge:
This year our national conference is in Knoxville, TN October 6th-8th. The theme of this year's conference is Lies, Propaganda, Storytelling and the Serrated Edge. Our conference is not your typical conference. We fight, laugh and feast with fellowship, beer and Psalms, our amazing lineup of speakers, hanging with our awesome vendors, meeting new friends, and more. Early bird tickets are available now, but will be gone before you know it! Sign up now at flfnetwork.com/knoxville2022
How to follow Tuesday's primary election
https://www.cnn.com/2022/06/07/politics/follow-tuesday-primary-election-june-7/index.html
According to CNN
It's election day in New Jersey, Mississippi, South Dakota, Iowa, New Mexico, Montana and California.
A number of House primary races have captured national attention, especially in California, where redistricting after the 2020 census shook up the traditional political playing field. A former Trump administration Cabinet member is running for a new House seat in Montana, there's a high-profile Democratic Senate primary in Iowa, and incumbent governors in California, Iowa, New Mexico and South Dakota are up for reelection.
Here's everything you need to know:
California Gov. Gavin Newsom, less than a year after beating back an attempt to recall him, is seeking a second term. Democratic Sen. Alex Padilla, whom Newsom appointed to now-Vice President Kamala Harris' seat last year, is running for a full term as well as in a special election for the remainder of Harris' term. Beyond House primary races, there is a special general election to replace former GOP Rep. Devin Nunes in California's 22nd Congressional District. Under the state's primary system, all candidates run on the same ballot, and the top two vote-getters, regardless of party, advance to the general election.
In Los Angeles, developer Rick Caruso has emerged as a top contender to US Rep. Karen Bass in the race to succeed term-limited Democratic Mayor Eric Garcetti. LA City Council Member Kevin de Leon is also running. If no one takes a majority Tuesday, the top two candidates will advance to a November runoff. In San Francisco, District Attorney Chesa Boudin is facing a recall election. If a majority of voters support the recall, San Francisco Mayor London Breed would appoint an interim district attorney.
In Iowa, former US Rep. Abby Finkenauer faces retired Navy Vice Adm. Mike Franken and Minden City Council Member Glenn Hurst in the Democratic primary to take on Republican Sen. Chuck Grassley in November. Republican Gov. Kim Reynolds and Democrat Deidre DeJear, who ran for Iowa secretary of state in 2018, are running unopposed in their gubernatorial primaries. And three of the state's four US House members face competitive races this fall.
Montana is hosting two US House races for the first time in decades after the state gained a second seat in reapportionment following the 2020 census. Former Interior Secretary Ryan Zinke, who was Montana's member at-large before joining the Trump administration, is running for the new 1st District.
In Mississippi, Republican Rep. Steven Palazzo, who is under a congressional ethics investigation, faces a competitive GOP primary.
In New Jersey, Democratic Rep. Tom Malinowski is vulnerable in the 7th Congressional District after his seat became more Republican in redistricting. And Rob Menendez, a Port Authority commissioner and the son of Sen. Bob Menendez, is the front-runner for the Democratic nomination to succeed retiring Democratic Rep. Albio Sires in the 8th District.
In New Mexico, five Republicans are vying for the chance to face Democratic Gov. Michelle Lujan Grisham in the fall. Two Democrats are challenging GOP Rep. Yvette Herrell in the state's 2nd Congressional District, which became more Democratic in redistricting.
And in South Dakota, Republican Gov. Kristi Noem, a potential 2024 presidential contender, is running for reelection in the reliably red state. She faces a primary challenge from state Rep. Steven Haugaard, a former state House speaker.
Los Angeles and San Francisco voters may rebuke left in primaries
nbcnews.com/politics/2022-election/los-angeles-san-francisco-voters-may-rebuke-left-primaries-rcna31877
Two of America's most famously progressive cities may take right turns Tuesday, when California and six other states hold primary elections.
In Los Angeles, long-simmering frustrations with issues like homelessness and crime have made an ex-Republican billionaire the unlikely front-runner to be the next mayor of the heavily Democratic megacity.
Rick Caruso, a major real estate developer who only recently joined the Democratic Party and received a rare endorsement from Tesla CEO Elon Musk, has spent more than $34 million on his campaign — nearly 10 times more than his main opponent, six-term Democratic Rep. Karen Bass.
While the money helps, Caruso has tapped into growing resentment about the state of the city and the perception that its Democratic leaders have been unable to do much about it.
Homelessness continues to rise while housing has become even less affordable. Crime is up, traffic is worse, and high gas prices come with extra sting in a city infamous for its long commutes.
Los Angeles County, which has for decades been a magnet for Americans dreaming of a fresh start, saw more people leave during the first year of the pandemic than any other in the U.S., according to census data released in March.
With TV ads promising to "clean up LA" and to be "a doer … not just a talker," Caruso has portrayed himself as an ideological outsider with the ability and willingness to do what the city needs, even if it angers activists or unions. His plan to hire 1,500 new police officers, for instance, has earned rebukes from other candidates focused more on the LAPD's civil rights issues.
Bass and her allies, meanwhile, have compared Caruso to another party-switching billionaire real estate developer — former President Donald Trump — and highlighted Caruso's past donations to GOP candidates like Senate Minority Leader Mitch McConnell and to anti-abortion causes.
"He's a fraud," says the narrator of an ad from a pro-Bass super PAC, calling Caruso "a lifelong Republican."
L.A.'s recent mayoral elections have been relatively sleepy affairs where only around 1 in 5 registered voters bothered to turn out. But analysts say that could be different this year, as term-limited Mayor Eric Garcetti leaves office with low approval ratings and polls showing a growing number of voters concerned about the direction of the city.
The contest, however, will likely continue into the fall since none of the candidates are expected to clear the 50 percent threshold necessary to avoid a runoff, which is scheduled to coincide with the general election in November.
It's a similar story in San Francisco, another famously progressive city that has been suffering from familiar urban plights — it had an even bigger exodus recently than L.A. on a per-capita basis. But crime has become the central flashpoint here, as polls suggest voters are poised to fire their reformist district attorney in a recall election Tuesday.
Idaho Property Taxes
With reports that property taxes are increasing around 25% on average here in Idaho, and that is my anecdotal average, it is long past due that we overhaul our taxation system. It should be no surprise to you that I believe property taxes are legitimate theft, that mechanism of connecting taxes to your property ownership is just plain wicked, and this is not to take away from the fact that I believe the government does have real authority to tax its citizens. But to tie taxes to the ownership of your property is to in effect turn your ownership of your own property into a rental, with the government as your benevolent landlord. Now think about this. Imagine if the government taxed your local grocery store the same way they tax your property, the economic damage that would come from this, would be horrendous. So, the government taxes your house by telling you how much your house is worth, and unlike sales tax, you get taxed for the mere fact that you own the house. At least with a gallon of milk, it does not even get taxed until it sales, but with your house you get taxed on the very ownership of it, based off what the government says you owe…based off the value they determine and assess that your house is worth. Imagine if milk was taxed daily before it was sold off the shelf? Every day that gallon is taxed on the shelf just sitting there doing nothing. Do you think your local grocery store will be incentivised to keep more milk on the shelf or less? This is why the housing market is so egregious right now. We assess monthly taxes on the ownership of your house, which dissisentivieses builders to build houses and keep them as inventory, you know on the shelf like a gallon of milk, and then when the government artificially shutdowns the economy, the housing market was already limited (the stocked shelves of the housing market was limited), and then add government driven inflation, wooola, you get this awful cycle all driven by government intervention driven by all these various mechanisms.
Boniface Woodworking LLC:
Boniface Woodworking exists for those who enjoy shopping with integrity; who want to buy handmade wooden furniture, gifts, and heirloom items that will last for generations. From dining tables and church pulpits to cigar humidors and everything in between; quality pieces that you can give your children's children, tie them to their roots, and transcend the basic function of whatever they are!
So, start voting with your dollars, and stop buying cheap crap from people who hate you! Visit www.bonifacewoodworking.com to see our gallery, learn our story, and submit your order for heirloom quality wood items.
Gun debate:
With all the talk of gun violence and red flag laws happening since the Uvalde shooting, and we need to clear up some fake news that is going around. Joe Biden and various news outlets have been claiming that before 2020, the number one way children die is due to auto accidents annually. After 2020, and Joe Biden just claimed this five days ago, the number one killer of children is now through guns. Google and you will see a number of mainstream outlets cover this "fact" or is it? Here is a snippet from Forbes to prove this point:
The lie:
Forbes:https://www.forbes.com/sites/ninashapiro/2022/04/18/the-leading-cause-of-death-in-children-and-youths-is-now-guns/?sh=25d16ffe1705
"In 2000, over 13,000 young people died due to motor vehicular-related injuries. In 2020, just over 8,000 deaths in the young population were recorded, which is a reduction of over 40% over the past two decades. In contrast, there were just under 7,000 firearm-related deaths in those ages 1- to 24-years in 2000, and over 10,000 deaths in 2020. In this time period, while motor vehicle safety measures have increased, in concert with increased federal funding to reduce these injuries and deaths, there was little, if any, federal funding for firearm safety research between 1996 and 2019."
The Truth, and surprisingly this is coming from NBC:
NBC:
https://www.nbcnews.com/data-graphics/child-gun-deaths-car-deaths-data-rcna31617
"While gun and motor vehicle deaths increased substantially in 2020, the latest year for which final numbers were available, claims that more children and teenagers die due to guns than motor vehicles only hold up when 18- to 19-year-olds are included, a group that accounts for nearly as many gun deaths as 1- to 17-year-olds combined do, according to an NBC News analysis of data from the Centers for Disease Control and Prevention. The gap between vehicular deaths and firearm deaths is narrowing among 1- to 17-year-olds, and may close entirely, according to the CDC's provisional and incomplete 2021 data."
Now you need to tune in to last night's CrossPolitic Show to hear Choc Knox talk about the racist history of gun laws and gun permits. Don't miss it!
Rand Paul unveils plan to slash federal spending over next 5 years to balance budget
https://www.foxbusiness.com/politics/rand-paul-unveils-plan-slash-federal-spending-balance-budget
According to Fox Business:
Sen. Rand Paul on Monday unveiled a new bill that includes trillions in budget cuts over the next five years in order to bring about a balanced budget.
The Kentucky Republican's proposal would yield a $65.8 billion surplus by fiscal year 2027. Collectively, the plan spends about $4.2 trillion less than the nonpartisan Congressional Budget Office estimated during that time period, a person familiar with the matter said.
"Five years ago, we could balance our budget with a freeze in spending. Not cut anything. Since then, our debt has skyrocketed to $30 trillion with $2 trillion just from this past year," Paul said in a statement. "We cannot keep ignoring this problem at the expense of taxpayers, and my budget will put our nation on track to solve this crisis that Congress created."
The plan calls for cuts across the budget, excluding Social Security, which is racing toward insolvency. What is cut will be determined at a later time through the normal spending process. The goal is to set a parameter that Congress must fit its spending agenda within, rather than identifying specific cuts now.
This is Gabriel Rench with Crosspolitic News. Support Rowdy Christian media by joining our club at fightlaughfeast.com, downloading our App, and head to our annual Fight Laugh Feast Events. If this content is helpful to you, would you please consider becoming a Fight Laugh Feast Club Member? We are trying to build a cancel-proof media platform, and we need your help. Join today and get a discount at the Fight Laugh Feast conference in Knoxville, TN and have a great day. Have a great day. Lord bless