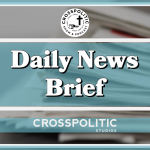 This is Waterboy with your CrossPolitic Daily News Brief for Wednesday June 9th, 2021.
Supreme Court what?, more duh science when it comes to COVID, Trump run for Congress?, Fight Laugh U is back, more info on the Fight Laugh Feast Conference in TN, Fourth of July Liberty Bash, and public reinstated a teacher!
Fight Laugh Feast University is offering two new classes starting this July! Get the whole family involved and participate in live online classes via Zoom. Hangout with fellow friends of the network, and learn together with the whole family. We have two classes beginning in July, and I don't even want to miss these classes. The first class is with Comedian John Branyan called: Life is Hardy Har Hard: A Comedy Workshop for Christians
About
Life on Earth is not for sissies. Every day presents you with trials and tribulations that can rob your joy and make laughter impossible. But that's not how it's supposed to be for Christians.
As heirs to the Kingdom of God, Christians ought to be jolly folks. This 7 week course is jam-packed with practical information for how to sharpen your sense of humor and find funny, even in tragedy.
Laughter is a learned behavior and with over 30-years of comedy experience, I can teach you how to do it. The course contains information that will help you:
Speak more effectively.
Encourage others when they suffer.
Overcome depression.
Stand up to bullies.
Brainstorm zillions of ideas whenever you feel like it.
Laugh more often.
Comedy is a weapon for destroying suffering. Learn to wield that weapon like a pro. It will make your whole life better!
(This course is fun too.)
The second class is with the Managing editor of our Magazine: Jesse Sumpter and is titled Education is Warfare: How to Start a School
About
Education is warfare. The time to build schools is here. Christian parents need to recover the job of educating the next generation. Christians made education great because education has been at the heart of the Christian mission. The Great Commission is to teach all nations what Jesus commands and in order to do that we need schools. Learn the big picture and history of Christian education and learn how to start a school. Be part of live discussiones with experienced educators who have started schools: Doug Wilson, Larry Stephenson, Toby Sumpter, and others. Start your own school today.
Objectives:
Know Christian Education and its Importance
Understand Classical Education
Know Basic Ingredients Needed to Create a School
Learn from Seasoned Educators on how to Build
So go to https://flfnetwork.com/flf-edu/ to sign up now. Classes are limited to only 25 spots!
No point vaccinating those who've had COVID-19: Findings of Cleveland Clinic study
https://www.news-medical.net/news/20210608/No-point-vaccinating-those-whoe28099ve-had-COVID-19-Findings-of-Cleveland-Clinic-study.aspx
According to News Medical/Life Sciences
"Scientists from the Cleveland Clinic, USA, have recently evaluated the effectiveness of coronavirus disease 2019 COVID-19) vaccination among individuals with or without a history of severe acute respiratory syndrome coronavirus 2 (SARS-CoV-2) infection.
The study findings reveal that individuals with previous SARS-CoV-2 infection do not get additional benefits from vaccination, indicating that COVID-19 vaccines should be prioritized to individuals without prior infection. The study is currently available on the medRxiv* preprint server." (medRxiv publishes preliminary scientific reports that are not peer-reviewed and, therefore, should not be regarded as conclusive, guide clinical practice/health-related behavior, or treated as established information.) (https://www.medrxiv.org/content/10.1101/2021.06.01.21258176v2)
The conclusion from the actual study:
Conclusions: Individuals who have had SARS-CoV-2 infection are unlikely to benefit from COVID-19 vaccination, and vaccines can be safely prioritized to those who have not been infected before.
Could Donald Trump run for Congress, then House speaker in 2022? Former president says idea is 'very interesting'
https://www.theblaze.com/news/could-donald-trump-run-for-congress-then-house-speaker-in-2022-former-president-says-idea-is-very-interesting
According to the Blaze:
It sounds like a far-fetched idea, but the former president appeared to express interest in starting his political comeback in the U.S. House during an interview with radio host Wayne Allyn Root on Friday afternoon. Root pitched Trump on the idea of running for a U.S. House seat from Florida next year and then seeking to become House Speaker should Republicans win the majority in the 2022 midterm elections.
From that position, Root said, Trump could "wipe" Biden out as the Republican leader and then run for president again in 2024.
"Why not, instead of waiting for 2024, and I'm hoping you'll run in 2024, but why not run in 2022 for the United States Congress? A House seat in Florida. Win big. Lead us to a dramatic landslide victory. Take the House by 50 seats," he told Trump.
"Then you become the Speaker of the House, lead the impeachment of Biden and start criminal investigations against Biden. You'll wipe him out for this last two years," continued the radio host.
Trump appeared to like what he was hearing.
"That's so interesting," the former president said. "You know, It's very interesting."
He added that other people have suggest he run for Senate, "but you know what, your idea might be better."
Root isn't the first person to float the idea of Trump running for Congress. Back in February, 2016 Trump campaign strategist Steve Bannon told a group of Republicans in Boston that Trump should unseat Speaker Pelosi and launch an impeachment investigation against Biden."
Fourth of July Club Member Liberty Bash
Join us at our first annual 4th of July Club Member Liberty Bash! We are so grateful to our club members, and can't think of a better way to celebrate America, than a joyous, raucous, party with our club members at Waterboy's farm.
Unfortunately, space is limited, so sign up ASAP. Ok pay attention, here is how you register: Go to www.FightLaughFeast.com and login into the club portal and you will find the 4th of July event. Click on it and follow the registration steps from there. If you have forgotten your password, just go through the fast and easy password reset process. If you get stuck, email us at [email protected].
The event is free, though we would gladly accept donations to cover some costs. Our software is a little funny, so just note that you have to put in a 0 (zero) into the price box at checkout to move forward.
Location details will be emailed out to all who register.
Supreme Court won't hear challenge to male-only military draft
https://www.cnn.com/2021/06/07/politics/supreme-court-military-draft/index.html
According to CNN:
"The Supreme Court on Monday declined to hear a constitutional challenge to the male-only registration requirement for the draft filed by a group called the National Coalition for Men.
The court's order means that for now even though the draft is not implemented, only men will still be required to register for the selective service.
Justices Sonia Sotomayor, Stephen Breyer and Brett Kavanaugh wrote to explain their vote noting that Congress may take up the issue in the short term.
"At least for now," Sotomayor wrote, "the court's longstanding deference to Congress on matters of national defense and military affairs cautions against granting review while Congress actively weighs the issue."
In court papers, the ACLU argued that the "male-only military draft is unlawful sex discrimination" and that the registration requirement "has no legitimate purpose and cannot withstand the exacting scrutiny sex-based laws require."
"By burdening only men while excluding women, the Military Service Act sends a message that women are not vital to the defense of the country," the ACLU argued.
The Department of Defense lifted the ban on women in combat in 2013, and now a group of retired military officers are supporting the ACLU's efforts. They include Gen. Michael Hayden, Gen. Stanley McChrystal, Lt. Gen. Claudia Kennedy and others."
Judge orders Virginia school district to reinstate teacher who said he wouldn't use transgender students' preferred pronouns
https://www.washingtonpost.com/local/education/loudoun-teacher-transgender-pronouns-cross/2021/06/08/567edf5e-c7b5-11eb-a11b-6c6191ccd599_story.html
According to the Washington Post:
"A Virginia judge said Tuesday that a Loudoun County teacher suspended for refusing to address transgender students with their preferred names and pronouns should return to work immediately.
In a seven-page ruling, 20th Circuit Judge James E. Plowman Jr. sharply rebuked the Loudoun County Public Schools system for its treatment of the teacher, Tanner Cross. Plowman called Loudoun's attempts to discipline Cross "an unconstitutional action … which has silenced others from speaking publicly on the issue."
Per Virginia law, Loudoun County Public Schools can petition for a review of the judge's ruling within 15 days of its issuance.
School officials had barred Cross from performing his job as a physical education instructor at Leesburg Elementary School — and from setting foot on campus — after he declared at a late-May school board meeting that he would never "affirm that a biological boy can be a girl, and vice versa." Cross said his Christian faith and determination to always tell the truth meant he could not use a transgender child's selected name and pronoun if it did not agree with their biological sex as determined at birth."
British Woman May Find Herself in Jail over 'Transphobic' Tweets
https://www.nationalreview.com/corner/british-woman-may-find-herself-in-jail-over-transphobic-tweets/
"A Scottish woman named Marion Millar was recently charged under the Malicious Communications Act — which makes it illegal to send or deliver letters or articles that purposely cause "distress or anxiety" — for posting "transphobic" and "homophobic" tweets in 2019 and 2020. The feminist activist, and mother of two autistic children, faces two years in jail if she's convicted. Now, it should be noted that even if Millar's tweets were "transphobic" — a highly expansive concept — putting someone into prison for unsettling speech is authoritarian. In fact, unsettling speech is the kind of expression that most often needs protection. Yet, one of Millar's offending tweets was reportedly nothing more than a picture of a ribbon representing the suffragette movement."
Plug: Fight Laugh Feast Conference in Lebanon, TN, just outside of Nashville.
We have been taught to stay out of the bedroom and leave people's sexual preferences alone. But the truth is that sex affects everything, and because the church has only spoken about sex in the areas the world has given her permission too, we now can lose our jobs, our livelyhoods, our way of life. Because the church has not unashamedly preached the gospel into our perverted and sexualized culture, as a result we have given the definition of marriage over to the world, men "can" claim the status of women and you have to go along with it, and cancel culture now lurks at everyone corner. Join us in Nashville (Lebanon) as we gather to sing, fellowship, and grow in God's word. We will have tried and true, cancel free speakers, including Pastor Wilson, Pastor Toby, Doug TenNapel, David Bahnsen, and a speaker I cannot name yet all packed in on Friday, and then on Saturday we will have an Academy full of 9 workshops with over 20 speakers arming you to go out into the world to take dominion with your gifts and abilities. So sign (when the link is out) up now at https://flfnetwork.com/coming-soon/. Seating is limited!
Bipartisan group of senators release report on Capitol attack, make recommendations
https://www.foxnews.com/politics/bipartisan-group-of-senators-release-report-on-capitol-attack-make-recommendations
According to Fox News:
"A bipartisan group of senators on Tuesday released its report on the deadly Capitol riot on Jan. 6 and offered recommendations to help prevent a similar breach in the future.
The Homeland Security and Governmental Affairs Committee and the Senate Rules Committee announced the investigation two days after the riot broke out. The months-long investigation included two hearings and committees reviewed thousands of documents, a press release said. Members interviewed workers from the Capitol Police and various law enforcement agencies.
The report released on Tuesday was compiled by Democrat Sens. Gary Peters, Amy Klobuchar and Republicans Rob Portman and Roy Blunt. The investigation found breakdowns at nearly every step of the way, from the FBI and Department of Homeland Security failing to raise the adequate alarm about the threat of violence to the lack of preparation by Capitol Police and other agencies.
It included new details about the police officers on the front lines who suffered chemical burns, brain injuries and broken bones and who told senators that they were left with no direction when command systems broke down, according to the Associated Press. The report recommended immediate changes to give the Capitol Police chief more authority, to provide better planning and equipment for law enforcement and to streamline intelligence gathering among federal agencies.
There were no functional incident commanders, and some senior officers were fighting instead of giving orders. "USCP leadership never took control of the radio system to communicate orders to front-line officers," the investigation found.
"I was horrified that NO deputy chief or above was on the radio or helping us," one officer told the committee in an anonymous statement. "For hours the screams on the radio were horrific(,) the sights were unimaginable and there was a complete loss of control. … For hours NO Chief or above took command and control. Officers were begging and pleading for help for medical triage."
The report blamed an "opaque" process for delaying the request for National Guard assistance and pointed out that these troops were not activated or staged appropriately to respond to the emergency."
Closing
This is Gabriel Rench with Crosspolitic News. Support Rowdy Christian media by joining our club at fightlaughfeast.com, downloading our App, and head to our annual Fight Laugh Feast Conference next fall. With your partnership, together we will fight outdated and compromised media, engage news and politics with the gospel, and replace lies and darkness with truth and light. Go to fightlaughfeast.com to take all these actions. Have a great day. Lord bless