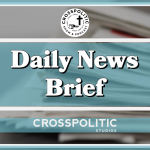 This is Garrison Hardie with your CrossPolitic Daily News Brief for Wednesday, March 15th, 2023.
We've got a lot to talk about today, so let's get to it:
But first… CBS NCAA March Madness Theme (2021)– Play 0:00-0:11
It's that time of year again folks… March Madness! And that means it's time for you to fill out your March Madness Brackets in our Fight Laugh Feasters bracket group. Here's the deal. You don't have to know a darn thing about basketball. That's why they call it March Madness. So if you'd like to compete, you can find our group on social media, or here in the show notes. It's ESPN's tournament challenge, and our bracket group is Fight Laugh Feasters 2023. You only get one entry, so make it good! Whoever wins gets a prize from Rowdy Christian Merch!
https://fantasy.espn.com/tournament-challenge-bracket/2023/en/group?redirect=tcmen%3A%2F%2Fx-callback-url%2FshowGroup%3FgroupID%3D5538514&ex_cid=tcmen2023_clipboard&groupID=5538514&groupp=ZmlnaHRsYXVnaGZlYXN0&inviteuser=ezQ1N0NBOUYyLTc0MjAtNDFCOC1BN0I2LTE3Q0UxRjMxODYxN30%3D&invitesource=clipboard
https://abcnews.go.com/Politics/wireStory/biden-expected-sign-new-executive-order-gun-control-97844286
Biden issues order to strengthen gun background checks
President Joe Biden signed an executive order on Tuesday aiming at increasing background checks to buy guns, promoting more secure firearms storage and ensuring U.S. law enforcement agencies get more out of a bipartisan gun control law enacted last summer.
The Democratic president was to address his latest efforts to curb gun violence in a speech in this suburban Los Angeles community, where a gunman stormed a dance hall and shot 20 people, killing 11, following a Lunar New Year celebration in January. He was also meeting with families of victims and with first responders from that day.
Biden's rhetoric has grown ever stronger about guns — he routinely calls for banning assault weapons — in pushing a vocal gun-control platform even tougher than during the Obama administration when he was vice president. He has been emboldened by the midterm electiions when his regular talk of gun control didn't result in massive losses, and he's expected to continue to argue for strong changes as he inches toward a 2024 reelection run, his aides say.
Biden was greeted at the Los Angeles airport Tuesday by Brandon Tsay, the 26-year-old who wrestled the semiautomatic pistol away from the gunman in Monterey Park. The two shook hands; Biden had invited Tsay to his State of the Union address in January where he praised the young man's heroism.
But the president has only limited power on guns to go beyond bipartisan legislation passed by Congress last summer after the killings last year of 10 shoppers at a Buffalo, New York, grocery store and 19 students and two teachers at a Uvalde, Texas, elementary school.
Tuesday's action does not change U.S. government policy. Rather, it directs federal agencies to ensure compliance with existing laws and procedures — a typical feature of executive orders issued by presidents when they confront the limits of their own power to act without cooperation from Congress.
Biden, in the order, acknowledged Congress' opposition, but said, "In the meantime, my administration will continue to do all that we can, within existing authority, to make our communities safer."
The order directs the Cabinet to work on a plan to better structure the government to support communities suffering from gun violence. The plan calls on Attorney General Merrick Garland to shore up the rules for federally licensed gun dealers so they know they are required to do background checks as part of the license.
Biden is also mandating better reporting of ballistics data from federal law enforcement for a clearinghouse that allows federal, state and local law enforcement to match shell casings to guns. But local and state law enforcement agencies are not required to report ballistics data, and many do not, making the clearinghouse less effective.
And the president is asking the Federal Trade Commission to issue a public report analyzing how gun manufacturers market to minors and use military images to market to the general public.
The bill passed last year, known as the Safer Communities Act, is viewed by gun control advocates as a good start but one that doesn't go far enough. After the law was signed, there were 11 other mass shootings, according to a database of mass killings since 2006 maintained by The Associated Press, USA Today and Northeastern University. Those killings don't include shootings in which fewer than four people were killed — and gun violence is also rising nationwide.
Pro-gun groups said the order would do little to stop growing gun violence.
"The reality is that nothing in the president's executive order today would have done anything to prevent the recent mass shootings in California, Michigan or elsewhere," said Katie Pointer Baney who is the Managing Director of Government Affairs for the U.S. Concealed Carry Association. "It's time for the president and political leaders across the country to have an honest conversation with the American people and acknowledge there is no legislative fix that will permanently solve the issue of gun violence."
Biden will also direct his Cabinet to make sure law enforcement agencies understand the benefits of the new law, particularly around red-flag laws, also known as extreme risk protection orders, which are intended to temporarily remove guns from people with potentially violent behavior and prevent them from hurting themselves or others.
Last month, the Justice Department sent out more than $200 million to help states and the District of Columbia administer red-flag laws and other crisis-intervention programs.
https://dailycaller.com/2023/03/14/desantis-admin-liquor-license-sexually-explicit/
DeSantis Admin Moves To Revoke Liquor License From Hotel That Hosted Sexually Explicit Show For Kids
Republican Florida Gov. Ron DeSantis' administration is moving to revoke a hotel's liquor license after it ignored a warning and proceeded to host a sexually explicit show with children present, according to a Tuesday administrative complaint.
On Dec. 27, the Hyatt Regency Miami hosted "A Drag Queen Christmas" advertised for "all ages" where performers allegedly wore "sexually suggestive clothing" and "prosthetic female genitalia" while displaying "simulated sexual activity" in front of children, according to an administrative complaint. Prior to the show, the Florida Department of Business and Professional Regulation warned the hotel it would lose its liquor license unless the venue ensured that children were not permitted at the event.
Under Florida law, sexual organs cannot be exposed in public in a vulgar or indecent manner and obscene content cannot be shown to minors, the complaint stated. Violation of the law can result in the loss of a license for the sale and consumption of alcoholic beverages.
"On December 27, the Florida Department of Business and Professional Regulation warned the Hyatt Regency Miami against hosting a sexually explicit show with children present," Griffin told the DCNF. "The venue proceeded with their plans and, according to an investigation by the Department, the venue (Respondent in the complaint) violated Florida statutes as outlined in the attached complaint."
https://thepostmillennial.com/zuckerberg-sacks-10000-more-meta-workers-during-year-of-efficiency?utm_campaign=64487
Zuckerberg sacks 10,000 more Meta workers during 'Year of Efficiency'
On Tuesday, Meta CEO Mark Zuckerberg announced that the tech giant would be laying off around 10,000 workers, with some set to find out whether or not they still have a job as early as tomorrow.
The move is just the latest in Zuckerberg's quest to make 2023 the "Year of Efficiency" as he and other top executives work to restructure the company.
Tech groups, he added, would find out in late April, with those in business groups being informed in late May.
Zuckerberg noted that in certain cases, such as for those on international teams, layoffs could take until the end of the year to be finalized.
"Overall," he said, "we expect to reduce our team size by around 10,000 people and to close around 5,000 additional open roles that we haven't yet hired."
Zuckerberg justified the decision by explaining that "every layer of a hierarchy adds latency and risk aversion in information flow and decision-making," thus a "flatter" organization would be faster and more capable of creating, maintaining, and delivering the products and services customers want.
"People will be more productive, and their work will be more fun and fulfilling," he said. "We will become an even greater magnet for the most talented people. That's why in our Year of Efficiency, we are focused on canceling projects that are duplicative or lower priority and making every organization as lean as possible."
The latest round of layoffs come just months after Meta reduced its workforce by around 11,000 workers, or 13 percent of the workforce.
https://redstate.com/kiradavis/2023/03/13/point-of-no-return-nyc-in-policing-crisis-as-resignations-reach-record-numbers-n715750
'Point of No Return': NYC in Policing Crisis as Resignations Reach Record Numbers
As Democrat-run cities across America continue to descend into criminal chaos, the nation's largest city is hemorrhaging police officers.
In an exclusive story last week, The New York Post published data that shows New York City (NYC) police officers are resigning from their duties at a shocking rate. Police Benevolent Association President Patrick Lynch called it a "staffing emergency" that is "approaching the point of no return."
The statistics show a 117% increase in retiring officers since 2021.
The shocking stats show 239 officers tapped out in January and February, a 36% spike from the 176 who fled in the same period last year and a disturbing 117% jump from the 110 in 2021, NYPD pension data show.
That's the highest number of resignations for the first two months of a year since 250 members quit in 2007 during a contentious contract dispute.
According to the report, there seem to be a number of converging factors contributing to the massive loss of personnel in the Big Apple.
The Black Lives Matter-led movement to defund police departments across the country has almost certainly created a combination of shrinking budgets to retain employees and a strain on remaining resources. However, corruption and poor management also seems to be a debilitating issue.
A veteran Manhattan police officer told the Post that precinct cops have to work "an inhumane amount of overtime" that often includes their days off. At the same time, they are penalized by department bureaucrats for small breaches of uniform and/or administrative protocol. Meanwhile, some officers are being protected from necessary patrol duties by "high-ranking supervisors."
NYPD officers are fleeing to places like Florida, or suburban locations in New York and Connecticut. As the cost of living in NYC sky-rockets, pay remains stagnant. There is also the rapidly declining quality of life. Prolonged school closures, COVID vaccine mandates and unnecessary masking of small children has led to a learning crisis in government schools. A notoriously 'woke' agenda in those same schools has also begun to affect testing levels and education outcomes. Rampant homelessness and open-air drug use make for unsafe streets and public transportation.
According the report from The New York Post, 262 city cops retired in just the first two months of 2023, a 3% increase in retirements in the same time period last year. Perhaps the most alarming number uncovered in the report reveals that the NYPD lost 3701 officers in 2022 alone. It is the largest number of officers lost since 2002, following the 9/11 attacks. That year the city lost 3,846 police officers.
Things don't seem to be looking up any time soon.
Alps Precious Metals Group
The Word of God in Genesis 2:10-12b teaches this:
"…And a river went out of Eden to water the garden; and from thence it was parted, and became into four heads. The name of the first is Pison: that is it which compasseth the whole land of Havilah, where there is gold; And the gold of that land is good…"
Since the creation of the Federal Reserve and all of the other Central Planning Banks around the world, tumultuous modern financial markets have been the natural consequence. In the midst of these tempests, such as the one that is upon us now, Gold has maintained an impeccable record of preserving the labor and wealth of individuals, families and institutions.
Alps Precious Metals is a U.S.-based company formed for the purpose of re-establishing the essential role of Physical Precious Metals within investment portfolios. Whether as a compliment or replacement for bank/brokerage accounts and/or Retirement accounts, Physical Precious Metals allow the investor to own *the* bedrock asset that has weathered all financial storms.
Call James Hunter of Alps at 251-377-2197, and visit our website at www.alpspmg.com to begin the discussion of the trading and Vaulting of Physical Precious Metals.
https://www.19fortyfive.com/2023/03/1-3-million-guns-sold-last-month-firearms-sales-still-near-record-levels/
1.3 Million Guns Sold Last Month: Firearms Sales Still Near Record Levels
U.S. Gun Sales Pass One Million Mark for 43rd Month in a Row in February – Though sales are down from their record highs of 2020 and 2021, guns are still in hot demand based on the latest retail data and FBI background checks.
According to the National Shooting Sports Foundation (NSSF), the firearm industry trade association, sales of firearms surpassed 1.3 million units in February – even with fewer days on the calendar.
Moreover, sales had declined just 0.6 percent compared to February 2022 – based on NSSF-adjusted data from the FBI's National Instant Criminal Background Check System (NICS). Though not a direct correlation to gun sales, the NSSF-adjusted NICS data provide an additional picture of current market conditions.
February was the 43rd month in a row to see gun sales exceed a million units.
Last week, Visa, Mastercard, American Express, and Discover announced they would pause their plan to implement a new merchant category code for the nation's gun retailers after political pressure from Republicans, CNN reported.
https://www.breitbart.com/sports/2023/03/13/after-resigning-over-bible-quote-texas-tech-settles-for-4-1m-payout-for-coach-mark-adams/
After Resigning Over Bible Quote, Texas Tech Settles for $4.1M Payout for Coach Mark Adams
Now former Texas Tech basketball coach Mark Adams and the university have come to terms with a $4.1 million payout after Adams resigned for using a Bible quote about slaves and masters during a training session with a student.
The Red Raiders coach resigned after using a Bible quote, Ephesians, 6:5-9, to encourage a player during a training session. The passage begins, "Slaves, obey your earthly masters with respect and fear, and with sincerity of heart, just as you would obey Christ."
It is not known if Adams actually used the word "slaves" when he quoted the verse, but it was quickly deemed offensive, and the school suspended him for using it as a training tool.
Adams seemed to feel it was not a big deal and that it was all blown up out of proportion. He was suspended, regardless. But, despite that the school said he apologized, he later contradicted that and said he did not apologize.
Ultimately, Adams resigned only a few days after the incident was first reported.
The Bible quote was not the only issue Adams was facing with school officials. He was also accused of spitting on a player, but he fully denied that claim.
Whatever the veracity of the accusations against him, Adams and Texas Tech have now settled on his separation package.
The school has agreed to pay Adams $4.1 million in thirty days. The payout will include all bonuses and salaries earned during the fiscal year.
The two also agreed to forego any legal actions over the incident and to hold each other blameless going forward.
"Adams hereby agrees to the release of any and all claims against TTU and Texas Tech University System and their employees, appointees, regents and representatives relating to his employment, whether known or unknown, as of the date of this Agreement and TTU agrees to release any and all claims against Adams," the school's settlement reads, according to USA Today.
"This Agreement is not, and shall not in any way be construed, as an admission by the Parties of wrongdoing whatsoever against each other or that the Parties violated any federal, state or local law, which both Parties deny," the statement added.