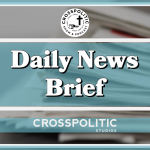 This is Garrison Hardie with your CrossPolitic Daily News Brief for Wednesday, March 1st, 2023.
Fight Laugh Feast Conference – Ark Encounter
This year, our Fight Laugh Feast Conference is at the Ark Encounter in Kentucky on The Politics of Six Day Creation. The politics of six day creation is the difference between a fixed standard of justice and a careening standard of justice, the difference between the corrosive relativism that creates mobs and anarchy and the freedom of objectivity, truth, and due process. The politics of six day creation establishes the authority and sufficiency of God's Word for all of life: from what is a man or a woman, when does human life begin, and how is human society best organized?
Come hear Ken Ham, Pastor Doug Wilson, Dr. Ben Merkle, Dr. Gordon Wilson, me and more, and of course a live CrossPolitic show! Mark your calendars for October 11th-14th, as we fight, laugh, and feast, with beer & psalms, our amazing lineup of speakers, our Rowdy Christian Merch, and a Sabbath Feast to wrap up the occasion. Maybe an infant baptism while we're at it! Visit fightlaughfeast.com for more information!
https://www.washingtonexaminer.com/policy/education/price-tag-biden-loan-forgiveness-plan-supreme-court
$500 billion question: The real cost of Supreme Court decision on Biden student loan plan
The gargantuan price tag for President Joe Biden's student loan forgiveness plan is garnering renewed scrutiny as the Supreme Court prepares to hear oral arguments on the constitutionality of the policy Tuesday.
In August, Biden announced a plan to eliminate $10,000 in student loan debt to borrowers who make less than $125,000 a year and $20,000 in loan forgiveness to Pell Grant recipients.
The policy, which has been blocked by federal courts prior to the Supreme Court's review, would cost $400 billion over the next decade, according to the Congressional Budget Office, which said it was "highly uncertain" about the estimate. Meanwhile, a study from the University of Pennsylvania's Wharton School of Business said the cost could easily exceed $500 billion.
In January, Biden's Department of Education unveiled new proposed regulations that substantially overhauled the department's income-driven repayment program, which allows low-income borrowers to make lower monthly payments than their loan would otherwise provide. The Penn-Wharton model estimated that the total cost of the proposed changes to the income-driven repayment program, coupled with the widespread forgiveness plan, could push the cost beyond $1 trillion.
The plan, despite its eye-popping price tag, has drawn praise from members of the president's party, who blasted Republicans for attempting to block the policy.
In contrast, Republican politicians have blasted the policy as an unfair redistribution of wealth from noncollege-educated workers to educated elites and raised alarms about the policy's cost to the taxpayer.
Sen. Bill Cassidy (R-LA) noted in a statement to the Washington Examiner the plan's accompanying price tag and added that the administration's continued extension of a pause on collecting payments had cost "taxpayers $195 billion."
House Education and Workforce Committee Chairwoman Virginia Foxx (R-NC) told the Washington Examiner that she was optimistic that the court would strike down the administration's policy and called on the president to work with Congress to reform the federal student loan program.
https://www.forbes.com/sites/markjoyella/2023/02/28/cnn-hits-10-year-low-in-prime-time-as-fox-news-glides-to-victory-in-february-cable-news-ratings/?sh=580e7cfa7d09
CNN Hits 10-Year Low As Fox News Glides To Victory In Cable News Ratings
February marked CNN's lowest-rated month in a decade, with the network's prime time lineup dropping 42% among viewers 25-54—the key demographic group valued by advertisers—compared to the same month one year ago. CNN drew an average prime time audience of 122,000 viewers in the key demo, compared to Fox News Channel's 299,000 viewers (down 33%). MSNBC was third overall with 119,000 viewers (down 15%).
Among total viewers, Fox News dominated prime time with 2.262 million viewers, followed by MSNBC (1.165 million viewers) and CNN (587,000 viewers). All of the networks saw year-over-year declines, with CNN down the most at 24%. Fox News was down 14% and MSNBC declined the least, down 2%.
Fox News had 94 of the 100 most-watched telecasts in February, which marked two consecutive years as the highest-rated network in cable news, among both total viewers and viewers in the key demo.
The most-watched show in cable news for the month was FNC's The Five, which drew an average total audience of 3.310 million viewers, followed by Tucker Carlson Tonight (3.303 million viewers), Jesse Watters Primetime (2.833 million viewers), Hannity (2.684 million viewers), and Special Report with Bret Baier (2.439 million viewers)—all airing on the Fox News Channel.
In the key demo, Tucker Carlson Tonight finished the month in first place with an average audience of 461,000 viewers, followed by The Five (371,000 viewers), Hannity (355,000 viewers), Gutfeld! (322,000 viewers), and Jesse Watters Primetime (314,000 viewers)—all airing on Fox News.
https://www.dailywire.com/news/biden-admin-asks-congress-to-reauthorize-fisa-surveillance-powers
Biden Admin Asks Congress To Reauthorize FISA Surveillance Powers
Ahead of an expiration date at the end of the year, the Biden administration formally requested on Tuesday that Congress reauthorize Title VII of the Foreign Intelligence Surveillance Act (FISA), a controversial spy program used to combat threats around the world.
Attorney General Merrick Garland and Director of National Intelligence Avril Haines sent a letter to congressional leaders arguing that maintaining Title VII is a "top legislative priority" for the Biden administration. The letter places particular emphasis on Section 702, which was enacted in 2008 and is used to monitor non-U.S. citizens abroad, but Title VII also contains other sections that concern procedures and protections for surveillance of U.S. persons abroad.
Garland and Haines argue Section 702 has been critical in identifying and protecting against national security threats to the United States and its allies, including "conventional and cyber threats" posed by China, Russia, Iran, and North Korea.
They listed some examples touting Section 702's usefulness, including noting that it contributed to the operation that led to a CIA drone strike in Afghanistan killing Al Qaeda leader Ayman Al-Zawahiri in 2022.
Privacy and civil liberty advocates have raised concerns about warrantless surveillance due to the mass incidental collection of data, including the communications of Americans in contact with a foreign target, and the mishandling of surveillance powers, such as the FBI's targeting of a Trump 2016 campaign aide using an unverified dossier.
Some lawmakers on both sides of the aisle have already signaled opposition to FISA as it stands. Among them are Rep. Pramila Jayapal (D-WA), who this month called for "meaningful reforms" to protect Fourth Amendment rights, and Rep. Andy Biggs (R-AZ), who sent a letter to FBI Director Christopher Wray two weeks ago demanding answers about "backdoor searches" sifting through FISA data that appear to have targeted politicians.
Members of Congress will have a chance to grill the Biden administration about the FISA program, as Garland and Haines are set to appear before key committees in the coming days.
https://www.dailyfetched.com/toxic-chemical-waste-from-ohio-is-now-headed-to-other-states/
Toxic Chemical Waste from Ohio Now Headed to Other States
Contaminated waste from the toxic train derailment in East Palestine, Ohio, is being shipped to Indiana and could also be heading to other states in the wake of the ongoing cleanup.
There have already been fifteen truckloads of toxic waste disposed of in Michigan, while five truckloads carrying 280 tons had been in East Palestine, according to an update from Ohio Governor Mike DeWine's office.
The report added that liquid waste had been disposed of at a Texas treatment site, while 02,000 gallons of liquid waste remains in East Palestine.
EPA's regional administrator, Debra Shore, said that solid waste would be sent to an incinerator operated by Ross Environmental Services in Grafton, Ohio, and also a Heritage hazardous waste landfill in Roachdale, Indiana, which also operates the facility in East Liverpool.
The two facilities in Ohio, which began taking in shipments on Monday, "don't have enough capacity to handle all the liquid and solid waste from this cleanup," Shore explained. This means the agency had to look for other disposal locations.
Meanwhile, a demonstration held by local Republicans and residents in Michigan said: "Stop these shipments. Do not bring these shipments to Michigan."
Texas officals said they were unaware that toxic materials from the crash were being sent to a site near them until they heard about it from the press.
"That's unacceptable," Harris County Judge Lina Hidalgo said. "I know our community was taken aback by the news just as much as I was."
The Ohio derailment saw 38 rail cars containing hazardous material go off the tracks earlier this month.
Ohio residents have since complained of mysterious symptoms after being exposed to the toxic chemicals
Officials have since discovered toxic chemicals in the soil surrounding the derailment site and in nearby waterways.
Last week, an attorney representing more than 30,000 people impacted by 9/11, warned East Palestine residents not to trust what the EPA says about water quality.
Accountable2You
Jesus is Lord. In public and in private, every area of life must be subject to his Lordship—and our use of technology is no exception. What captures our attention on the screen either glorifies or dishonors our Lord. That's why Accountable2You is committed to promoting biblical accountability in our families and churches. Their monitoring and reporting software makes transparency easy on all of your devices, so you can say with the Psalmist, "I will not set anything worthless before my eyes." Guard against temptation with Accountable2You, and live for God's glory! Learn more and try it for free at Accountable2You.com/FLF
https://www.boundingintosports.com/2023/02/after-being-removed-from-super-bowl-coverage-michael-irvin-and-attorneys-demand-marriott-release-super-bowl-surveillance-video/
After Being Removed From Super Bowl Coverage, Michael Irvin and Attorneys DEMAND Marriott Release Super Bowl Surveillance Video
Throughout his Hall of Fame playing career with the Dallas Cowboys and even since Michael Irvin has been no stranger to controversy. Or, for that matter? Brushes with the law here and there.
Irvin has been arrested multiple times over the years for everything from drug possession charges to assault. Always volatile, the former University of Miami Hurricane has been known to display an explosive temper. One that he displayed quite often.
In an incident that took place at the Cowboys' training facility in 1998, he stabbed teammate Everett McIver in the neck with a pair of scissors when the younger player refused to get up from a barber chair. Though McIver survived the attack, the wound could have been fatal.
Irvin's checkered history also includes multiple allegations of sexual misconduct that date back to the early days of his playing career.
In 1996, a woman alleged that she was sexually assaulted by Irvin and his Cowboys teammate Erik Williams. Authorities concluded that her allegations were fabricated. The accuser later recanted her story. In 2007, Irvin was accused of sexual battery by a woman who said he got her drunk and raped her at a Florida hotel. Criminal charges were never filed, but she filed a civil lawsuit in 2010.
Fort Lauderdale, Florida, police investigated Irvin for an alleged sexual assault on March 22, 2017. Then, on July 24, the Broward County State Attorney's Office announced they had closed the investigation and would not charge Irvin in the case.
Flash forward to 2023. Prior to this year's Super Bowl coverage, Irvin was pulled from his duties as a commentator for the NFL Network, due to more allegations. This time, it was for an exchange at a Marriott hotel between the Hall of Famer and the accuser. However, details both then and now regarding their interaction remains unclear.
Irvin immediately denied any wrongdoing, saying that his only interaction with the woman included nothing more than a mere handshake.
"We shook hands. Then, I left. … That's all I know," Irvin explained to The Dallas Morning News when the story broke.
From the beginning, Irvin has professed his innocence, and he is now asking for surveillance video to be released to clear him of any wrongdoing. The Playmaker is also now pursuing legal action against the woman and the hotel chain, and he got a big win in the matter late last week.
Irvin's lawyers had been arguing that he had the right to view the video, as the accusations involved could jeopardize not only his public persona but his potential to earn millions as a television personality, as well. In essence, they are looking to clear the star's name completely.
It must have worked because it appears now that Marriott hotels and their parent company won't have much choice in the matter. A federal judge ordered Marriott to release the Michael Irvin security video.
On Friday, things came to a head in the matter when Judge Amos Mazzant III ruled in the East District of Texas that Marriott has until 5 p.m. on Tuesday to answer the request for "any and all video recordings, written reports, and/or witness statements gathered that pertain to Michael Irvin's stay at the Renaissance Phoenix Downtown Hotel in February 2023."
This is not a notice to produce the video and other materials, it's merely setting a deadline for Marriott's response. It's still not clear how this will all play out. And unless someone decides to fold, this could be a long standoff between the parties involved. In most legal situations such as these, it is essentially the 'smoking gun,' the evidence that will make or break a case. Marriott's only argument here could be claiming that the footage is private property.
However, it's looking more and more like the corporation will be forced to give up any pertinent material they have in relation to the complaint.