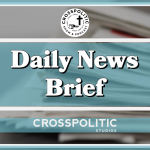 This is Garrison Hardie with your CrossPolitic Daily News Brief for Wednesday, March 22nd, 2023.
Hi Contrast Hymn Books
If you don't teach your kids the Lord's songs, the world will teach them its songs.
The brand-new Hi-Contrast Hymn Book is designed to help you teach your children the most beloved songs of the Christian faith.
Its captivating illustrations will create special moments of truth, goodness, and beauty in your home every day.
To get a copy for your family, go to www.hicontrasthymnbooks.com/FLF.
That's www. "H" "I" contrasthymnbooks.com/FLF.
Now to the news… First in world news…
https://www.foxnews.com/world/vladimir-putin-xi-jinping-sign-economic-deal-latest-demonstration-friendship-limits
Vladimir Putin, Xi Jinping sign economic deal in latest demonstration of 'friendship without limits'
Chinese President Xi Jinping and Russian President Vladimir Putin signed an agreement to expand their economic ties during a bilateral meeting in Moscow on Tuesday.
Xi is in Moscow for a multiday series of meetings with his Russian counterpart, aimed at demonstrating the two countries' new "friendship without limits." Xi and Putin emphasized the importance of jointly safeguarding their countries' energy security.
Putin touted plans for a gas pipeline from Siberia to China ahead of the meeting, saying the agreement was all-but finalized.
"We were just discussing a good project, the new Power of Siberia 2 pipeline via Mongolia. Practically all the parameters of that agreement have been finalized," Putin told Xi at the beginning of the meeting, according to the Financial Times.
Beijing has grown increasingly friendly with Moscow over the past year as Putin's invasion of Ukraine left the country largely ostracized on the world stage.
Xi's visit comes just days after the International Criminal Court issued a warrant for Putin's arrest for war crimes committed in Ukraine. Nevertheless, the pair called each other "dear friend" when they first shook hands on Monday.
Putin alleged during Monday's meeting that the Western world is conspiring to stifle Russia and China by "persistently working to split the common Eurasian space into a network of 'exclusive clubs' and military blocs that would serve to contain our countries' development."
The exact details of Russia and China's Tuesday economic agreement have yet to be released.
Over to Paris…
https://nationalpost.com/pmn/news-pmn/crime-pmn/macrons-government-faces-moment-of-truth-over-pension-reform
Protesters set rubbish on fire as French govt barely survives no-confidence vote
Protesters set piles of rubbish on fire in central Paris on Monday after President Emmanuel Macron's government narrowly survived a no-confidence motion in parliament on Monday over a deeply unpopular pension reform.
The failure of the no-confidence vote will be a relief to Macron. Had it succeeded, it would have sunk his government and killed the legislation, which is set to raise the retirement age by two years to 64.
But the relief proved short-lived.
In some of Paris' most prestigious avenues, firefighters scrambled to put out burning rubbish piles left uncollected for days due to strikes as protesters played cat-and-mouse with police.
Earlier on Thursday, a Reuters reporter saw police fire tear gas and briefly charge at protesters after the no-confidence vote barely fell short of enough votes to pass.
Unions and opposition parties said they would step up protests to try and force a u-turn.
The vote on the tripartisan, no-confidence motion was closer than expected. Some 278 MPs backed it, just nine short of the 287 needed for it to succeed.
As soon as the failure of the no-confidence vote was announced, lawmakers from the hard left (LFI, France Unbowed) shouted "Resign!" at Prime Minister Elisabeth Borne and brandished placards that read: "We'll meet in the streets."
In the southwestern city of Bordeaux, about 200-300 people, mostly youngsters, gathered against the reform and chanted: "Macron, resign!" A couple of trash bins were lit on fire as the crowd chanted: "This will blow up."
Over the past three nights, clashes over the pension reform, in Paris and throughout the country, have been reminiscent of the Yellow Vest protests that erupted in late 2018 over high fuel prices.
A ninth nationwide day of strikes and protests is scheduled on Thursday.
"Nothing undermines the mobilization of workers," the hardline CGT union said after the vote, calling on workers to step up industrial action and "participate massively in rolling strikes and demonstrations."
Opposition parties will also challenge the bill in the Constitutional Council, which could decide to strike down some or all of it – if it considers it breaches the constitution.
A second motion of no confidence, tabled by the far-right National Rally (RN), also failed, after it gathered only 94 votes. Other opposition parties said they would not vote for it.
Far-right leader Marine Le Pen said Borne should go. She said Macron should call a referendum on the reform but was unlikely to do so. "He's deaf to what the French people want," she told reporters.
https://townhall.com/tipsheet/katiepavlich/2023/03/20/this-is-insane-mexican-government-seizes-assets-of-american-company-n2620887
'This Is Insane': Mexican Military Just Seized Assets of an American Company
Over the weekend, the Mexican military seized a number of assets belonging to American company Vulcan Materials.
"The seizure of a US company's marine terminal in Mexico has drawn criticism from a US senator and risks sparking more tension between the two nations amid spats over energy and security," Bloomberg reports. "US construction firm Vulcan Materials alleges that armed forces, including from the Mexican government, launched a takeover of its facility in the country's southeast on Tuesday. The company says a federal judge in Mexico has ordered a stay on any government effort to confiscate the property."
The move prompted national security experts to sound the alarm, calling the situation "insane."
Former Director of National Intelligence John Ratcliffe is also weighing in, noting President Joe Biden's continued weakness on the world stage.
Last week, Mexican President Andrés Manuel López Obrador lashed out after Republicans called for additional tools to use military force against Mexican cartels.
https://www.cnbc.com/2023/03/21/february-home-sales-spike.html
Home sales spike 14.5% in February as the median price drops for the first time in over a decade
Sales of previously owned homes rose 14.5% in February compared with January, according to a seasonally adjusted count by the National Association of Realtors. That put sales at an annualized rate of 4.58 million units.
It was the first monthly gain in 12 months and the largest increase since July 2020, just after the start of the Covid-19 pandemic. Sales were, however, 22.6% lower than they were in February of last year.
These sales counts are based on closings, so the contracts were likely signed at the end of December and throughout January, when mortgage rates had fallen sharply. The average rate on the popular 30-year fixed loan hovered in the low 6% range throughout January after reaching a high of 7% last fall.
The relative drop caused a jump in sales of newly built homes, before rates jumped back toward 7% in February. They now stand at 6.67%, according to Mortgage News Daily.
"Conscious of changing mortgage rates, home buyers are taking advantage of any rate declines," said Lawrence Yun, chief economist for the Realtors, in a release. "Moreover, we're seeing stronger sales gains in areas where home prices are decreasing and the local economies are adding jobs."
Higher mortgage rates have been cooling home prices since last summer, and for the first time in a record 131 consecutive months — nearly 11 years — prices were lower on a year-over-year comparison. The median price of an existing home sold in February was $363,000, a 0.2% decline from February 2022.
That lower median price could be a sign that homes on the more affordable end of the market are selling.
Sales might have been even higher were it not for what is still very low supply. There were just 980,000 homes for sale at the end of February, according to the Realtors, flat compared with January. At the current sales pace, that represents a 2.6-month supply. A balanced market between buyer and seller is considered a 4- to 6-month supply.
"Inventory levels are still at historic lows," Yun added. "Consequently, multiple offers are returning on a good number of properties."
This could start to heat prices again, but with mortgage rates now higher than they were in January it will be harder for some buyers to compete.
All-cash sales accounted for 28% of transactions in February, down from 29% in January but up from 25% in February 2022. Individual investors returned, making up 18% of buyers, up from 16% in January but down from 19% in February 2022.
When looking at sales at different price points, they were all down in the range of 20% from February last year, with sales down the most in the top, million-dollar-plus segment.
https://www.cnn.com/2023/03/21/politics/idaho-firing-squad-bill/index.html
Idaho lawmakers approve bill that would allow execution by firing squad
Idaho lawmakers approved a bill Monday that would allow execution by firing squad, according to the legislature's website.
State Rep. Bruce D. Skaug confirmed the move in a statement to CNN.
"H186 has now passed the Idaho Senate and House with a veto proof majority," Skaug wrote in an email to CNN. "Upon signature of the Governor, the state may now more likely carry out justice, as determined by our judicial system, against those who have committed first degree murder."
A total of 24 officials voted for the bill, while 11 voted against it.
House Bill 186 will move to Republican Gov. Brad Little's desk next.
The bill stipulates that firing squads will be used only if the state cannot obtain the drugs needed for lethal injections. Several states have struggled to source the drugs required for lethal injection, causing them to pause executions and triggering lawsuits from inmates who argue the injections are inhumane.
Additionally, the bill permits Idaho to use firing squads if lethal injections are deemed unconstitutional by a court.
A fiscal note tied to the bill explains that refurbishing the Department of Correction to meet "safety and execution requirements for the firing squad" will cost around $750,000.
If the bill is signed into law, Idaho will follow South Carolina, which approved the usage of firing squads in March 2022. Three other states permit firing squads, according to the Death Penalty Information Center: Mississippi, Utah and Oklahoma.
A firing squad was last used in the US in 2010 to execute convicted murderer Ronnie Lee Gardner in Utah.