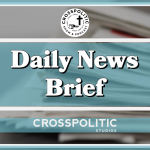 Daily News Brief for Wednesday March 23rd, 2022
It is good to be back home in Idaho, but man we sure had a fun time at our first stop on our Liberty Tour in Fort Worth, Texas…The Promise Land. You can catch the recording on our app, but don't miss our next live show April 7th in Rapid City with Larry Elder and Uncle Gary. We will have a full day workshop on God and Government, and then that night comedian John Branyan will open our live show, and then we will go right into CrossPolitic's ESPN meets Johnny Cash meets Larry Elder meets Uncle Gary wrestling match. Sign up here: https://crosspolitic.com/rapid-city/ and we will see you there. And if you want to sponsor the event, reach out to us at contact@FightLaughFeast.com and we will connect you with the event planner. It could potentially land you tickets to having dinner with us and Larry Elder.
Idaho primaries are May 17th and we need to oust our current liberal Republican Governor Brad Little. He is Joe Biden lite, and even the Democrats in Idaho want Brad Little as governor. Make no mistake, RINOs are liberals, and in Idaho the only way to win the governorship, is to run as a Republican.
The Democrats are switching parties in the Idaho primaries to vote for Brad Little (Joe Biden lite), and so Republicans need to step up and not let the Democrats win May 17th.
Brad Little is the Democrats choice for Governor, which means he is no conservative and bad for Idaho. Get Joe Biden lite out of office, and vote for Janice McGeachin May 17th!
"Brad Little, for instance, is the Democrat choice for governor," https://www.idahotribune.org/news/democrats-switch-parties-to-subvert-idaho-elections-cda-press-writers-democrat-committee-members-among-long-list-of-culprits
I will be hosting a big political event on April 28th at 7pm here in Moscow. Actually see the Facebook link in the show notes for details: https://fb.me/e/2U5FyeJeP I will have the candidates I have endorsed for: Govern (Janice McGeachin), Lt. Governor (Priscilla Giddings), Scott Herndon (State Senate), and Sheriff Wheeler speaking on what is happening at the executive, legislative, and county levels. Other local candidates that I will be endorsing will also be present. We cannot let the Democrats take over Idaho. Get involved, get engaged, and let's get Brad Little and his Joe Biden lite policies out of Idaho.
Speaking of Joe Biden lite policies, here is a good example why Conservatives can't own anything nice:
Idaho Paving the Way for Full-Day Kindergarten?
https://www.bigcountrynewsconnection.com/idaho/new-full-day-kindergarten-bill-fast-tracked-through-idaho-house/html_7cf78634-a97a-11ec-aaf2-9b8371e625eb.html
According to Big Country News:
"A reworked bill to steer $72 million into early literacy programs passed the House Monday — moving the state one step closer to expanded optional full-day kindergarten.
A web of competing proposals, cross-rotunda negotiations and struggles to reach a consensus have followed efforts to funnel part of a record state budget surplus into full-day kindergarten. As the 2022 legislative session could be heading into its final week, Monday's development marks significant progress toward inking a proposal into law.
The new-look House Bill 790 gives "school districts more flexibility on how they spend their money so they can get the kids to read," said sponsor Rep. Ryan Kerby, R-New Plymouth.
Lawmakers quickly introduced HB 790 Friday after the original version appeared to be in jeopardy in the House days earlier. Passed Monday, on a 40-29 vote, HB 790 is a mix of two proposals: an earlier Senate bill, changing how K-3 literacy funding is divided between schools; and another bill, requiring school districts to disclose how they plan to spend supplemental property tax levy money.
The resulting legislation has now passed what could be its toughest legislative test in the House, keeping alive Gov. Brad Little's goal of funneling an additional $46.6 million into early literacy. The Senate Education Committee is scheduled to take up the fast-moving bill Tuesday afternoon."
Beware of "fast moving bills". But here is the real issue, and the one Republicans are either to dumb to know about or to cowardly to do anything about. The public school system is training grounds for raising up liberals. So, when Republicans throw money at education, they are literally paying for the opposition to take their kids and convert them into Democrats. This is a losing strategy, and Republicans are not serious about the long term health of their party, unless they stop funding government schools.
Again, come to my event on April 28th.
CWWI:
Cornerstone Work & Worldview Institute's vision is to see a community of businesses, churches, mentors, and instructors working together to provide our young people options beside the credentials game of our current culture. They desire to see confident students with integrity and a godly backbone that understand all things are subject to Christ and are trained to be competent on the job. Their mission is to build Kingdom culture in the workplace by equipping their Christian students with a Trinitarian worldview and vocational competencies. Visit their website: cornerstonework.org to learn how to enroll in their program or partner with them in their mission.
File this next article under "I dont trust you, so no thanks".
Experts say physical banks could be a thing of the past if the US created a digital dollar
https://www.krem.com/article/money/us-digital-dollar-banks/269-0ce14a53-5561-4b35-b064-a07be5531134
According to KREM:
"If the U.S. moved forward with creating its own digital dollar, banks, as we know them, could be a thing of the past.
Last Wednesday, President Joe Biden ordered the Treasury Department to consider creating a government-regulated digital dollar.
"It would be probably as simple as opening up an app, and you can have some banking services, including loans," said Peter Rodriguez, dean at Rice University's School of Business.
Rodriguez said digital currency likely wouldn't replace the physical dollar, but it would cut out the middle man, banks.
"If there's another way that we can buy and sell stuff without putting our money in the bank, where are the banks going to get the money to lend?" asked University of Houston finance professor Craig Pirrong. "So that's one of the concerns that the fed has expressed."
Both educators said Bitcoin and the digital dollar are similar but different in many ways. Perhaps one of the biggest differences is Bitcoin is unregulated and U.S. digital money would be regulated.
"But the difference with Bitcoin, Bitcoin comes in a limited, capped quantity. The government could create as much as it wants," said Craig Pirrong (University of Houston finance professor).
And there you go. Socialist University professor says what the Department of Treasure wont say out loud. Our government does not like to be restrained by God's economic laws, which means to our government, gravity does not exist.
In Pandemic news, Psaki Tests Positive for COVID Again, Will Miss Biden Europe Trip
Maybe she just needs a couple more boosters, our triple masks.
This week the confirmation hearings for udge Ketanji Born Jackson's, and here is what the Republicans plan is for her hearings:
Roll whole clip: https://twitter.com/MarshaBlackburn/status/1506323513002635277?ref_src=twsrc%5Etfw%7Ctwcamp%5Etweetembed%7Ctwterm%5E1506323513002635277%7Ctwgr%5E%7Ctwcon%5Es1_&ref_url=https%3A%2F%2Fwww.foxnews.com%2Flive-news%2Fbrown-jackson-hearings-03-22-2022
So, no baseless rape allegations, no slandering, no antics, just a good old fashion hearing. Make sure you follow these hearings throughout the week.
Lies, Propaganda, Story Telling, and the Serrated Edge
This year our national conference is in Knoxville, TN October 6th-8th. The theme of this year's conference is Lies, Propaganda, Storytelling and the Serrated Edge. Satan is the father of lies, and the mother of those lies is a government who has rejected God. We have especially been lied to these last two years, and the COVIDpanic has been one of the central mechanisms that our government has used to lie to us and to grab more power. Because Christians have not been reading their bibles, we are susceptible to lies and weak in our ability to fight these lies. God has given us His word to fight Satan and his lies, and we need to recover all of God's word, its serrated edge and all. Mark your calendars for October 6th-8th, as we fight, laugh and feast with fellowship, beer and Psalms, our amazing lineup of speakers, hanging with our awesome vendors, meeting new friends, and more. Early bird tickets will be available starting in the middle of March.
Suburbs switch to Trump, and he leads Biden 45%-42% in 2024 clash
https://www.washingtonexaminer.com/opinion/washington-secrets/suburbs-switch-to-trump-leads-biden-45-42-in-2024-clash
According to the Washington Examiner:
"In a blow to his political base, suburban America is abandoning President Joe Biden after giving him his 2020 victory over then-President Donald Trump.
In new 2022 and 2024 election polling, Emerson College found that Trump leads Biden by a huge 47%-38% among suburban voters.
The shift is notable and worrisome for Democrats and Biden's reelection campaign. After the 2020 election, the liberal Brookings Institution declared that suburbs won it for Biden and predicted that they would become the party's backbone."
Economists expect elevated inflation, declining GDP growth
https://justthenews.com/nation/states/center-square/economists-expect-elevated-inflation-projected-us-gdp-plummets
According to Just the News:
"Economists across the U.S. expect ongoing inflation as the growth projections for the U.S. economy have plummeted, according to a newly released survey.
The National Association for Business Economics released a survey of 234 economic experts Monday that highlights major concerns about the U.S. economy. The report found inflation ranks as a top worry for economists.
"Inflation continues to be of prominent concern for a majority of the NABE Policy Survey panel," said NABE Policy Survey Chair Juhi Dhawan, Wellington Management. "More than three out of four (78%) panelists expect inflation to stay above 3% through the end of 2023. When asked about what can be done to mitigate high gasoline prices, 31% recommend releasing oil from the Strategic Petroleum Reserve and almost a quarter (24%) believe no response is necessary."
The latest economic data showed the highest inflation in about four decades. At the same time, gas prices have risen to new highs in recent weeks.
The report comes after the Federal Reserve recently projected 2.8% GDP growth, a sharp dive from their prediction of 4% growth in December.
Economists also said Russia's invasion of Ukraine will only worsen these economic problems.
"Nearly all respondents believe that the war in Ukraine and the sanctions on Russia will have a negative impact on global GDP," the report said. "Forty-five percent of panelists suggest that global GDP will decline by 0.5% or less, while 47% believe that global GDP will decline by more than 0.5%. More than three-fourths of the panelists (78%) expect the escalating conflict in Ukraine will worsen supply-chain bottlenecks, and a majority of panelists also anticipates renewable sources of energy (66%) and fossil fuels (60%) will get a boost as the Russia-Ukraine conflict escalates.""
Closing
This is Gabriel Rench with Crosspolitic News. Support Rowdy Christian media by joining our club at fightlaughfeast.com, downloading our App, and head to our annual Fight Laugh Feast Events. With your partnership, together we will fight outdated and compromised media, engage news and politics with the gospel, and replace lies and darkness with truth and light. Go to fightlaughfeast.com to take all these actions. Have a great day. Lord bless