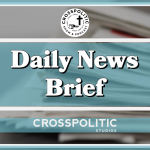 This is Garrison Hardie with your CrossPolitic Daily News Brief for Wednesday, March 29th, 2023.
Let's get right into the news…
https://thepostmillennial.com/breaking-nashville-police-release-body-cam-footage-showing-officers-neutralizing-school-shooter?utm_campaign=64487
Nashville police release body cam footage showing officers 'neutralizing' school shooter
The Nashville Police have released bodycam footage of the school shooting that took place at Covenant Christian school in Nashville, Tennessee on Monday.
The attack resulted in the deaths of six individuals, including three nine-year-old children.
GRAPHIC WARNING: Officials Release Bodycam Footage From Nashville Elementary School Shooting-Play 5:00-6:00
The footage showed the heroism of police officers who quickly responded to the situation and took down the shooter Audrey Hale.
Hale had gained entry by shooting through the glass panes of the front door, which was seen on surveillance footage that was released on Monday night by the Nashville police. Hale would go on to shoot and kill three students and three teachers.
Surveillance footage released last night shows Hale's car driving through the school's parking lot.
Hale can be seen walking through a hallway as the alarm goes off, gun drawn.
"Hale fired a number of rounds inside the Covenant Church/School building. She was armed with these 3 guns and significant ammunition," Nashville PD said in a report.
Hale, a transgender shooter, identified as male using the name 'Aiden' and 'he/him' pronouns. Hale killed head teacher Katherine Koonce, church custodian Mike Hill, and substitute teacher Cynthia Peak in an "assassination" style shooting.
Hale was a former student of Covenant Christian school and was found with multiple firearms. A search of the family home in Nashville uncovered maps and a manifesto detailing the attack, according to police at a Monday press conference.
Armored Republic
The Mission of Armored Republic is to Honor Christ by equipping Free Men with Tools of Liberty necessary to preserve God-given rights. In the Armored Republic there is no King but Christ. We are Free Craftsmen. Body Armor is a Tool of Liberty. We create Tools of Liberty. Free men must remain ever vigilant against tyranny wherever it appears. God has given us the tools of liberty needed to defend the rights He bestowed to us. Armored Republic is honored to offer you those Tools. Visit them, at ar500armor.com
https://thepostmillennial.com/biden-to-issue-new-mandates-to-reduce-emissions-by-50-on-cars-trucks-by-2030-climate-czar?utm_campaign=64487
Biden to issue new mandates to reduce emissions by 50% on cars, trucks by 2030
Biden's climate czar, John Kerry, told Yahoo News that Joe Biden plans on pushing more mandates, especially on cars and trucks in the US, to help attain the goal of cutting US greenhouse gas emissions by up to 50 percent by 2030 and for transportation vehicles to produce zero carbon emissions by 2050.
Kerry was asked about Biden's $739 billion Inflation Reduction Act, which allocated $369 billion on climate change goals and promised a 40 percent reduction in carbon emissions by decade's end and Kerry said, "Well, we're doing a lot more than just the IRA. The IRA is a package that in and of itself can get the 40%. But in addition to that, the president is issuing executive orders."
https://rumble.com/v25zusw-john-kerry-praises-select-group-of-human-beings-at-wef-coming-together-to-s.html – Play Video
The Biden white house has pushed for consumers to move to electric vehicles and have offered tax credits for those who purchase expensive vehicles.
During the Trump administration, Kerry said, 70 percent of new energy came from renewables but he only speaks of Trump "reluctantly."
Kerry addressed what would happen if a new, Republican, administration took office in 2024 and undid Biden's dictates.
Kerry said people will have to change their lifestyles to accommodate Biden's climate goals, especially when it comes to the use of gas for a utility.
https://www.cnsnews.com/blog/craig-bannister/aoc-warns-what-predatory-cisgender-and-often-straight-men-do-when-left
AOC Warns of What 'Predatory Cisgender and Often Straight Men Do When Left in the Presence' of Women and Children
Conservatives, straight men, and "predatory cisgender" people are attacking transgender and LGBT people, in an effort to turn Americans against "gender expressiveness," Rep. Alexandria Ocasio-Cortez (D-NY) says.
Ocasio-Cortez introduces one of her recent Instagram video commentaries by vilifying heterosexual men as sexual abuses and praising the LGBT+ community for standing up to them:
Ocasio-Cortez begins her video by claiming that conservatives are using "culture wars" to turn Americans against LGBT people who are "challenging the institutions of power":
https://twitter.com/therecount/status/1640768226136039424?s=20 – Play Video
That darn patriarchy…
https://www.cnn.com/2023/03/28/politics/mike-pence-grand-jury-testimony/index.html
Mike Pence must testify about conversations he had with Donald Trump leading up to January 6, judge rules
A federal judge has decided that former Vice President Mike Pence must testify to a grand jury about conversations he had with Donald Trump leading up to January 6, 2021, according to multiple sources familiar with a recent federal court ruling.
But the judge said – in a ruling that remains under seal – that Pence can still decline to answer questions related to his actions on January 6 itself, when he was serving as president of the Senate for the certification of the 2020 presidential election, according to one of the sources.
The ruling from chief judge James Boasberg of the US District Court in Washington, DC, is a major win for special counsel Jack Smith, who is spearheading the Justice Department investigation. Pence still has the ability to appeal.
In the lead-up to the congressional certification vote, Pence faced enormous pressure from Trump and his allies to disrupt lawmakers' plans to validate Joe Biden's win. As president of the Senate, Pence was tasked with presiding over the certification proceedings.
Trump's conversations with Pence in the days surrounding the insurrection have been of keen interest to investigators probing the attack. Though Pence declined to testify before the House January 6 committee that investigated the insurrection, people in Trump's orbit told the committee about a heated phone call he had with Pence the day of the attack in which he lobbed insults at his vice president.
Pence and Trump did not speak during the attack on the Capitol itself, in which many of Trump's supporters angrily sought him out, and Pence narrowly escaped the mob heading to the Senate floor.
Nicholas Luna, a former special assistant to Trump, told the committee he remembered Trump calling Pence a "wimp." Luna said he recalled something to the effect of Trump saying, "I made the wrong decision four or five years ago."
And Julie Radford, Ivanka Trump's former chief of staff, said she recalled Ivanka Trump telling her that "her dad had just had an upsetting conversation with the vice president."
Radford said she was told that Trump had called Pence "the P-word," referencing a derogatory term.
For Pence's part, many of his public comments about his conversations with Trump in the days before and after the insurrection have come in a memoir he published last year.
In the book, Pence wrote that Trump told him in the days before the attack that he would inspire the hatred of hundreds of thousands of people because he was "too honest" to attempt to overturn the results of the election.
Over lunch on December 21, Pence wrote, he tried to steer Trump to listen to the White House counsel's team's advice, rather than outside lawyers, a suggestion the then-president shot down.
Hi Contrast Hymn Books
If you don't teach your kids the Lord's songs, the world will teach them its songs.
The brand-new Hi-Contrast Hymn Book is designed to help you teach your children the most beloved songs of the Christian faith.
Its captivating illustrations will create special moments of truth, goodness, and beauty in your home every day.
To get a copy for your family, go to www.hicontrasthymnbooks.com/FLF.
That's www. "H" "I" contrasthymnbooks.com/FLF.
https://www.cnn.com/2023/03/28/politics/joe-biden-social-security-gop-kfile/index.html
Joe Biden attacks Republicans for positions he once held about Social Security
President Joe Biden and the White House have attacked Republicans in recent months for positions the president himself once held on Social Security and entitlement programs including sunset bills and raising the retirement age, a CNN KFile review of Biden's record shows.
In his State of the Union address earlier this year, and in the months since, Biden has hammered Republicans over entitlements, saying they want to cut Social Security and Medicare. The president zeroed in on Florida Sen. Rick Scott's sunset plan – though Biden himself introduced a similar proposal in 1975 – which would have sunset all legislation without exemptions for the two entitlement programs. Once Biden started attacking Scott for the lack of exemptions for the entitlement programs, Scott added that his sunset provisions would not apply to Social Security or Medicare.
Biden first introduced a proposal in 1975 that would have ceased funding all federal programs – including Social Security and Medicare – unless they were reauthorized by Congress. In fact, Biden's bill was the first so-called federal sunset bill, something the president later boasted about in his 1978 Senate reelection campaign.
Biden has also attacked Republicans, saying congressional Republicans want to cut the two entitlement programs and raise the retirement age to 70. The White House vowed to not support any increase in the retirement age in any future negotiations with Republicans even though Biden himself once proposed raising the retirement age as life expectancy went up.
Biden, in one exchange pushing back against plans by then-President George W. Bush to partially privatize Social Security in 2005, said he was open to discussing benefit cuts to guarantee the solvency of the program.
Joe Biden in 1987: 'Change' retirement age for Social Security– Play 0:00-1:08