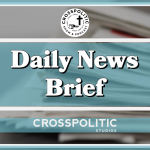 Daily News Brief For Wednesday March 2nd, 2022
As you know, we are going to be in Rapid City for our Liberty Tour April 7th, and special guests include comedian John Branyan, Uncle Gary DeMar, and Larry Elder. Go to https://crosspolitic.com/libertytour/ to register.
So now that you have already signed up for Rapid City, save the dates for our national conference in Knoxville, TN October 6th-8th. The theme of this year's conference is Lies, Propaganda, Storytelling and the Serrated Edge. Satan is the father of lies, and the mother of those lies is a government who has rejected God. We have especially been lied to these last two years, and the COVIDpanic has been one of the central mechanisms that our government has used to lie to us and to grab more power. Because Christians have not been reading their bibles, we are susceptible to lies and weak in our ability to fight these lies. God has given us His word to fight Satan and his lies, and we need to recover all of God's word, its serrated edge and all. Mark your calendars for October 6th-8th, as we fight, laugh and feast with fellowship, beer and Psalms, our amazing lineup of speakers, hanging with our awesome vendors, meeting new friends, and more. Early bird tickets will be available starting in the middle of March.
House passes bill making lynching a federal hate crime
https://thehill.com/homenews/house/596219-house-passes-bill-making-lynching-a-federal-hate-crime
According to the Hill:
"The House passed legislation on Monday that would classify lynching as a federal hate crime.
Lawmakers easily passed the bill, which is named after Emmett Till, a 14-year-old African American boy who was lynched in 1955, on a 422-3 vote.
While the bill sailed through with bipartisan support, three Republicans — Reps. Andrew Clyde (Ga.), Thomas Massie (Ky.) and Chip Roy (Texas) — voted against it.
The legislation's passage comes more than 120 years after the first federal anti-lynching legislation was introduced by then-Rep. George Henry White, who was the only Black member of Congress at that time.
The House previously passed the bill in 2020, but Sen. Rand Paul (R-Ky.) objected to clearing it by unanimous consent in the upper chamber.
Paul's objection came even though the Senate had previously passed a version of the bill in 2018 by unanimous consent.
Paul said that he was concerned it might "conflate lesser crimes" like minor assaults as lynching.
Paul is now indicating that he supports the latest iteration of the bill after working with senators leading the effort in the upper chamber.
"I'm pleased to have worked with Senators Cory Booker and Tim Scott to strengthen the final product and ensure the language of this bill defines lynching as the absolutely heinous crime that it is, and I'm glad to cosponsor this bipartisan effort," Paul said in a statement on Monday."
The bill, authored by Rep. Bobby Rush (D-Ill.), would designate lynching as a hate crime punishable by up to 30 years in prison."
Note that lynching is already illegal, so the bill doesn't really do anything to make lynching illegal, it just labels lynching as a hate crime.
Most republicans get suckered into these virtue signaling bills, because they are cowards. I really appreciate Massie and Chip Roy on their principled stances. Just because it has the word "anti-lynching" as the name of the bill, does not mean it is a good bill.
Massie Tweeted out a thread explaining why he voted against this bill:
https://twitter.com/RepThomasMassie/status/1498451879029837830
'(1) The Constitution specifies only a handful of federal crimes, and leaves the rest to individual states to prosecute.
(2) This bill expands current federal "hate crime" laws. A crime is a crime, and all victims deserve equal justice. Adding enhanced penalties for "hate" tends to endanger other liberties such as freedom of speech.
(3) Lynching a person is already illegal in every state. Passing this legislation falsely implies that lynching someone does not already constitute criminal activity.
(4) The bill creates another federal crime of "conspiracy," which I'm concerned could be enforced overbroadly on people who are not perpetrators of a crime.
And Chip Roy released this statement:
https://roy.house.gov/media/press-releases/rep-roys-statement-hr-55
"Lynching is an unspeakably heinous crime. But This bill doesn't have anything to do with lynching, other than its name.
It does not make lynching a federal offense. In fact it creates no new federal offenses. It simply raises the punishment for things that are already federal crimes, including those that are unrelated to lynching — such as gender identity — in an effort to advance a woke agenda under the guise of correcting racial injustice.
Congress and the media should be honest with the American people about what bills do and don't do. As much as I favor harsher penalties for violent offenders, this is a matter for the states and I will not vote for legislative deception. I will also not support enhancing the power of a federal government that so often abuses it."
Dime Payments DNB:
Dime Payments is a Christian owned processing payment business. Every business needs a payment process system, so please go to https://dimepayments.com/flf and sign your business up. Working with them supports us. They wont cancel you, like Stripe canceled President Trump. They wont cancel you, like Mailchimp canceled the Babylon Bee. Check them out. At least have a phone call and tell them that CrossPolitic sent you. Go to https://dimepayments.com/flf.
School Closures Were a Catastrophic Error. Progressives Still Haven't Reckoned With It.
https://nymag.com/intelligencer/article/progressives-must-reckon-with-the-school-closing-catastrophe.html
Over at the Intelligencer (NY Mag), liberal Jonathan Chait is speaking a breath of fresh air:
This whole article started out with a tweet from Nate Silver that apparently triggered the leftist mob against Nate (who is a leftist). Here is what the tweet suggested: that school closures were a "disastrous, invasion-of-Iraq magnitude (or perhaps greater) policy decision."
Jonathan picks up where Nate left off and says:
"The furnace-hot backlash seemed to be triggered by Silver's assumption that school closings were not only a mistake — a possibility many progressives have quietly begun to accept — but an error of judgment that was sufficiently consequential and foreseeable that we can't just shrug it off as a bad dice roll. It was a historic blunder that reveals some deeper flaw in the methods that produced it and which demands corrective action."
Jonathan goes on to say:
"That unnerving implication has a mounting pile of evidence to support it. It is now indisputable, and almost undisputed, that the year and a quarter of virtual school imposed devastating consequences on the students who endured it. Studies have found that virtual school left students nearly half a year behind pace, on average, with the learning loss falling disproportionately on low-income, Latino, and Black students. Perhaps a million students functionally dropped out of school altogether. The social isolation imposed on kids caused a mental health "state of emergency," according to the American Academy of Pediatrics. The damage to a generation of children's social development and educational attainment, and particularly to the social mobility prospects of its most marginalized members, will be irrecoverable.
It is nearly as clear that these measures did little to contain the pandemic. Children face little risk of adverse health effects from contracting COVID, and there's almost no evidence that towns that kept schools open had more community spread."
I actually recommend the article and found it refreshing. But it is important to note that we live in a time where truth does not matter, facts don't matter, it is all a power play and that is all that matters. As Christians, we need to resist the urge to participate and try and fight power with power. Stand on truth, trust that God is moving through you as you stand on truth, and proceed with eyes of faith. Don't fret because it looks like liberals have all the political power right now, God's economy does not compute with democratic power plays, it never has. Jesus became King when it looked like He had lost everything, and that is why we need to put on eyes of faith, and know that God is moving.
Teen who tracked Elon Musk's plane launches Russian Oligarch Jets account
https://www.bloomberg.com/news/articles/2022-02-28/why-russian-oligarchs-can-t-escape-the-twitter-teen-who-tracked-elon-musk-s-jet
According to Bloomberg:
Jack Sweeney is now doing to Russian oligarchs what he did to Elon Musk.
After soaring to internet fame — and drawing the ire of the world's richest person — with his viral Twitter account "Elon's Jet," Sweeney is now tracking the planes of some of Russia's richest people, as they come under increasing international pressure over the country's invasion of Ukraine.
Sweeney, for his part, says he started the accounts after receiving numerous requests to track the aircrafts of Russia's oligarchs. Using a list of planes being tracked by a blog called "Radar Spots," the teen was able to quickly set up yet another Twitter account. It's garnered more than 53,000 followers in just a matter of days.
Russian Oligarch Jets has tracked the helicopters, private jets and commercial-sized airplanes of prominent Russians, including Chelsea Football Club owner Roman Abramovich, the nation's wealthiest person, according to Bloomberg.
"The aircrafts these oligarchs have are absolutely crazy," Sweeney, 19, told Bloomberg, saying that Russia's wealthy love to fly in commercial-sized aircraft such as the Airbus A319 and Boeing 737.
"Their planes are huge compared to other jets," he added."
This got me thinking about how the free market can help fight tyranny in other countries. Turn the lights on and use your entrepreneurial creativity and see what dust you can stir up. Just be careful that you dont end up the Clinton's bad side.
According to CNN, here are some updates on the Russia/Ukraine war:
https://www.cnn.com/europe/live-news/ukraine-russia-putin-news-03-01-22/index.html
Ukrainian President Volodymyr Zelensky was met with a standing ovation from diplomats as he addressed the European Parliament, telling those in attendance that his country is "fighting for survival."
"We are fighting just for our land and our freedom," Zelensky said, causing the EU translator on the English language feed to choke up with emotion. "We desire to see our children alive. I think it's a fair one."
"We are fighting for our life … We are fighting for survival. This is the highest of our motivation,"
"But we are fighting also to be equal members of Europe," "I believe that today we are showing everybody that's exactly what we are."
Zelensky requested for Ukraine to be added to the EU on an expedited process on Monday.
He received a standing ovation across the chamber both before and after his speech.
Now as of Tuesday:
-3 missiles have hit a sacred memorial in Kyiv
-A maternity clinic near Kyiv hit by a missile
-Ford suspends operations in Russia until further notice
-Britain introduces new sanctions against Russia and bans Russian ships from UK ports
-UN says more than 675,000 people have fled Ukraine during Russia's ongoing invasion
-Mexico's president says he will not impose sanctions on Russia, citing: "We're not going to take any kind of economic reprisal because we want to have good relations with all the governments in the world, and we want to be able to talk with the parties in conflict,"
-and…Ukraine's President Zelensky urges Biden to give "useful" message in State of the Union
Well tune in to Toby's News Brief tomorrow for an update on how Biden's SOTU address went.
Closing
This is Gabriel Rench with Crosspolitic News. Support Rowdy Christian media by joining our club at fightlaughfeast.com, downloading our App, and head to our annual Fight Laugh Feast Events. With your partnership, together we will fight outdated and compromised media, engage news and politics with the gospel, and replace lies and darkness with truth and light. Go to fightlaughfeast.com to take all these actions. Have a great day. Lord bless