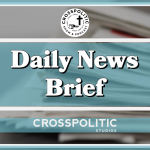 Daily News Brief for Wednesday March 30th, 2022
As you share this news brief and join our club at FLFNetwork.com, make sure you tell your friends about us. Sending a magazine subscription to the Whitehouse would be a big help to us:)
Iron Apples DNB:
The world in which we live is moving towards total techno tyranny at an incredible rate. This tyranny includes spying, censorship, data theft all through electronic means. Iron Apples is a small cybersecurity consultancy firm seeking to give churches, organizations, businesses, schools and individuals the education, resources and tools needed to be able to circumvent techno tyranny. Over the next year, Iron Apples will be hosting a series of virtual meetings to inform, educate and equip attendees with actual solutions to the problem we find ourselves in. Visit ironapples.com, and click events, in the bottom right corner of their site, to sign up today! That's ironapples.com.
NFL To Require All 32 Teams To Hire Minority Offensive Assistant Coach For 2022 Season
https://www.dailywire.com/news/report-nfl-to-require-all-32-teams-to-hire-minority-offensive-assistant-coach-for-2022-season
"On Monday, the NFL announced that every team will be required to hire a minority assistant coach on the offensive staff, according to NFL.com. The individual can be a minority or a female, and will be signed to a one-year deal, partially paid from a league-wide fund.
"It's a recognition that at the moment, when you look at stepping stones for a head coach, they are the coordinator positions," said Pittsburgh Steelers owner Art Rooney II, chairman of the NFL Diversity, Equity and Inclusion committee. "We clearly have a trend where coaches are coming from the offensive side of the ball in recent years, and we clearly do not have as many minorities in the offensive coordinator [job]."
Earlier in the day, Pittsburgh Steelers Head Coach Mike Tomlin — who hired Flores to his staff during the offseason — expressed doubt that the new measures would have an impact on increasing the number of diversity hires in the NFL coaching ranks.
"I haven't been in any discussions, and, no, I don't have a level of confidence that would lead me to believe that things are going to be better," Tomlin said. "I'm more of a show-me guy as opposed to a guy that sits around and talks about things."
Also on Monday, the league announced the creation of the NFL Diversity Advisory Committee.
"Today, the National Football League (NFL) announced the creation of the NFL Diversity Advisory Committee, following its pledge last month to retain outside experts to review the league's diversity policies and practices," the NFL said in a press release. "The six-member committee will lend its expert, external perspective on industry best practices and will evaluate league and club diversity, equity and inclusion (DEI) strategies and initiatives, including all hiring processes, policies and procedures, with a primary focus on senior-level coach and front office personnel positions."
Let me just say this. All this diversity and inclusion stuff has not solved any of the problems that they originally set out to solve. Also, how insulting and belittling is this forced hire. How do they know they got the job based on their abilities and not based on the color of their skin.
Judgment in Finnish MP's Bible-tweet trial expected on 30th March
https://adfinternational.org/aviso-judgment-in-finnish-mps-bible-tweet-trial-expected-on-30th-march/
According to ADF International:
"A Finnish court is expected to rule on the Finnish MP Päivi Räsänen and Bishop Juhana Pohjola's free speech case on 30th March. Both stand accused of having engaged in "hate speech" for publicly sharing their faith-based beliefs. The former Minister of the Interior had voiced her convictions on marriage and sexual ethics, in a 2019 tweet, a 2019 radio debate, and a 2004 pamphlet. The bishop faces charges for publishing Räsänen's pamphlet. Their case garnered global media attention this year, as human rights experts voiced concern over the threat this case poses to free speech in Finland.
"In a free society, everyone should be allowed to share their beliefs without fear of censorship. This is the foundation of every free and democratic society. We hope the Helsinki District Court will uphold this fundamental freedom when it rules on this case. Criminalizing speech through so-called 'hate-speech' laws shuts down important public debates and poses a grave threat to our democracies," said Paul Coleman, Executive Director of ADF International and author of 'Censored: How European Hate Speech Laws are Threatening Freedom of Speech'.
In the last two years, Räsänen attended several lengthy police interrogations about her Christian beliefs – including being frequently asked by the police to explain her understanding of the Bible. In April 2021, Finland's Prosecutor General had brought three criminal charges against Räsänen. Two of the three charges Räsänen faced had come after the police made strong recommendations not to continue the prosecution. Räsänen's statements also did not violate the policies of Twitter or the national broadcaster, which is why they remained freely available on their platforms.
ADF International will host a press conference after the verdict is announced on 30th March at 16:00 CEST. Dr. Päivi Räsänen, MP, Paul Coleman, Executive Director of ADF International, and Lorcán Price, Legal Counsel for ADF International will be available for questions after their statements. Please register here to access the Zoom link: https://adfinternational.org/paivi-press-conference-invitation/ "
In other news President Biden identifies himself as a capitalist and his capitalist pronouns are Greed/2+2=5.
Roll whole clip: https://twitter.com/Breaking911/status/1508545216927735814
"Pay your fair share". Why is it that a billionaire is greedy and our federal government, who oversees a four Trillion dollar budget, is not greedy?
Rapid City Plug
We hope to see you at our live show April 7th in Rapid City with Uncle Gary, and our opener Comedian John Branya. We will have a full day workshop on God and Government, and then that night comedian John Branyan will open our live show, and then we will go right into CrossPolitic's ESPN meets Johnny Cash meets Uncle Gary wrestling match. Sign up here: https://crosspolitic.com/rapid-city/ and we will see you there. And if you want to sponsor the event, reach out to us at contact@FightLaughFeast.com and we will connect you with the event planner. It could potentially land you tickets to having dinner with us.
Washington state plans to ban most non-electric vehicles by 2030
https://www.nbcnews.com/news/us-news/washington-state-plans-ban-non-electric-vehicles-2030-rcna21683
File this article under, please liberals do more of this.
According to NBC News:
"Washington state plans to ban most non-electric vehicles by 2030, according to a newly signed bill by Gov. Jay Inslee.
The bill says that all vehicles of the model year 2030 or later that are sold, purchased, or registered in the state must be electric.
The bill covers a lot of transportation issues in the state and is a part of a larger $16.9 billion transportation package called "Move Ahead Washington," which Inslee described as a way to create more efficient transportation options.
"Transportation is our state's largest source of greenhouse gas emissions. There is no way to talk about climate change without talking about transportation," Inslee said. "This package will move us away from the transportation system our grandparents imagined and towards the transportation system our grandchildren dream of."
Also included in the transportation package is funding for four new hybrid-electric ferries, thousands of electric vehicle charging stations, 25 transit electrification projects across the state, as well as free fares for riders 18 and younger on public transportation systems, according to a Medium post the governor wrote on Friday."
As Garrison reported on yesterday, the Don't Say Gay Bill Drama Continues…
Roll Clip: https://www.dailywire.com/news/gay-florida-kindergarten-teacher-worries-on-msnbc-he-wont-be-able-to-share-his-love-life-with-kids-anymore
A couple things here. Of course you are not to be trusted. You are going against God and against creation, and what you are doing is harming your soul. Secondly, The left are absolutely lying and misrepresenting this bill. This bill is not outlawying you from talking about paddle boarding trips. This bill is outlawing you from grooming students. The word "gay" is not even mentionened in the bill. This is how the left are the liars we deserve, and anything that touches up to their worldview, they will attack, malign, and even slap you in the face like Will Smith.
File this next one under Republican Governors are cowards:
Utah's Republican Governor Vetoes Bill Banning Men From Women's Sports, Utah Legislature Overturns The Veto
https://notthebee.com/article/utahs-republican-governor-vetoed-a-bill-banning-men-from-womens-sports-utah-legislature-overturns-the-veto
According to the Bee:
"After Utah Governor Spencer Cox, who included his pronouns in his Instagram account, cowardly vetoed a bill that would prevent men from competing in women's sports under the guise of transgenderism, the Utah legislature stood up and defied the RINO governor."
From the Washington Times:
"The Utah State Legislature voted Friday to override Republican Gov. Spencer Cox's veto of a bill barring male-born athletes from girls' scholastic sports, becoming the 12th state to pass legislation to address rising concerns over transgender competitors in female athletics.
The Senate voted 21-8 and the House voted 56-18 to override the governor's veto, clearing the required threshold of a two-thirds majority in both chambers in what was a widely anticipated outcome.
The bill sponsored by Republican state Rep. Kera Birkeland requires public schools and private schools that compete against public schools to designate sports as male, female or co-ed. Male-born students are banned from competing on girls' teams."
"The Democrat opposition to the bill, as cited in the Washington Times, shows how far detached from reality the left is:
Democratic state Rep. Brian King argued that "things are simply not black and white in terms of gender orientation, sexual orientation, gender identification."
"It's simply not accurate to say that girls are girls and boys are boys, and never the two shall meet," he said. "There is in fact a lot that is unknown."
Closing
This is Gabriel Rench with Crosspolitic News. Support Rowdy Christian media by joining our club at fightlaughfeast.com, downloading our App, and head to our annual Fight Laugh Feast Events. With your partnership, together we will fight outdated and compromised media, engage news and politics with the gospel, and replace lies and darkness with truth and light. Go to fightlaughfeast.com to take all these actions. Have a great day. Lord bless