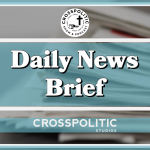 This is Gabriel Renchs with your CrossPolitic Daily News Brief for Wednesday March 31st 2021
Intro: Biden is going to spend more money? Gov. Noem signs esecutive orders, coercive free speech is not free speech, and more…
Plug:
AD
Do you have a guitar at home that's calling out to you? Do you long to discover or rediscover your voice as a guitarist? Maybe you're overwhelmed and you don't know where to start. Well, you need to check out GuitarSuccess4U. GuitarSuccess4U is a unique, online membership, founded by David Harsh, a fellow Cross Politic listener who has been touring nationally as a Christian artist, worship leader and guitar workshop clinician for the last 20 years. He knows his stuff!
You can learn guitar at your own pace, from anywhere, alongside a community of guitarists. Through a fun, inspiring approach to the guitar, David shares from his decades of experience, and takes you step-by-step towards becoming the musician you want to be. Learn more and join at GuitarSuccess4U.com. That's Guitar Success, the number "4" and the letter "U," dot com.
And if you or your business would like to advertise with CrossPolitic, send inquiries to ads @ fightlaughfeast dot com.
3 Days and 3 Nights
This is Passion week, you know Easter. And I have a curve ball for you in how to think about this week. First off, me and my wife have struggled for years trying to come up with ways to encourage the same excitement and energy for the Easter Holiday season, that Christmas has in our family. Maybe our kids will figure it out better than we have, but as Chrisitans we really need to make this week a glorious week, culminating in Resurrection Sunday. So, I don't really have any tips or tricks for you regarding this, as I am still trying to figure that out, but I do have theological insite, passed down from Pastor Wilson, that I have found helpful in organizing my thoughts about this week. First, Jesus rode into Jerusalem on Sunday, He then rose again on Sunday (more on that later), and after that, each time he appeared to His disciples and others, He appeared on Sunday (on the first day of the week). This is the fundamental reason why we worship God on Sunday now, and not on Saturday. Jesus rose again on Sunday, the first day of the week, and so we worship in the God who is recreating the new heavens and new earth! The second thing I would like to point out is that Jesus most likely died on Wednesday, and not Friday. There are a number of reasons for thinking this, but let me just give you my most basic reason…numbers. Scriptures teach us that Jesus was dead for three days and three nights. Well, lets just do the math. If Jesus died Friday, how do you get three days and three nights into Sunday, the day He rose? Here is how I breakdown the math. Jesus died on Wednesday afternoon, so that gives us Wednesday night, Thursday night, and Friday night (three days/three nights), which means Jesus would have risen on Saturday night, which was the start of Sunday under the Jewish calendar.
News
Once Held Hostage By Teachers' Unions, West Virginia Just Passed The Nation's Broadest School Choice Law
https://thefederalist.com/2021/03/25/once-held-hostage-by-teachers-unions-west-virginia-just-passed-sweeping-school-choice-legislation/?fbclid=IwAR1h43GJMzg-gw6n_sYPLZ5ap4xxhqeorlJtyhcN7ufDZPpfpYeSaVvnNJY#.YGKwWKlW1AQ.facebook
According to the Federalist:
"In February 2018, public school teachers brought West Virginia to its knees. Seeking pay raises and better health plans, unions had declared a "work stoppage" in all 55 counties, shuttering every public school in the state. The "stoppage" — which was in fact an unlawful strike — dragged on for nine school days, costing children nearly two weeks of instruction. Under pressure, the Republican legislature rushed through a pay raise to pacify the unions.
Flush with victory, West Virginia teachers' unions got bolder. The next year, they went on strike again, taking aim at broader education policy. The Republican Senate had passed a bill granting teachers their second pay raise in two years, but they tied it to something for parents: school choice.
The 2019 strike lasted only two days. The West Virginia House of Delegates quickly caved, scuttling school choice and passing a "clean" pay raise for teachers. But 18 Republicans in the state Senate stood firm. No school choice, no second pay raise, they said. Their stand forced the governor's hand. A special session in June resulted in the passage of modest school choice measures. Open enrollment survived; so did the three charter schools. ESAs did not.
For Republicans, it seemed a small win in exchange for two costly, bruising strikes. Unions were confident that the vast majority of West Virginians were on their side.
Last week, with very little noise or fanfare, the West Virginia legislature passed the most expansive Education Savings Account program in America. While ESAs in most states are only open to a small percentage of children, the new West Virginia Hope Scholarship will be available to 90 percent of schoolchildren in the state. Every child currently enrolled in public school is eligible, plus those newly aging in.
Applicants for the Hope Scholarship will receive 100 percent of their state education dollars — $4,600 annually — in lieu of public schooling. (County and federal funds will remain in the system.) The scholarship is usable for private school tuition, homeschool curriculum, or other education expenses. Gov. Jim Justice, a vocal opponent of ESAs as recently as 2019, has signaled he's likely to sign."
Court Rules Professor Can't Be Forced to Endorse an Ideology Against His Beliefs
https://adflegal.org/blog/court-rules-professor-cant-be-forced-endorse-ideology-against-his-beliefs?fbclid=IwAR1JAoYGXB4WaWN16au-aw0EDmFmIAfVswLnoWbD88zGS924yRujjBEHtgs#close
"Dr. Meriwether has served as a philosophy professor at Shawnee State University for over 20 years, and get this, is a Christian. One day, a male student approached Dr. Meriwether after class, informed him that he identified as transgender, and demanded that Dr. Meriwether refer to him as a woman, with feminine titles and pronouns. When Dr. Meriwether did not immediately agree, the student became aggressive, physically circling him, getting in his face, using expletives, and even threatening to get Dr. Meriwether fired.
The student then filed a complaint with the university, which launched a formal investigation.
As a philosopher and as a Christian, Dr. Meriwether believes that God has created human beings as either male or female, and that a person's sex cannot change. To call a man a woman or vice versa endorses an ideology that conflicts with his beliefs. So Dr. Meriwether offered a compromise: He would refer to this student by a first or last name only. That way, he would not call the student something the student did not like, but he would also not say anything that contradicts what he believes is real and true.
This compromise was not enough for university officials; they formally charged Dr. Meriwether—claiming he "created a hostile environment" and discriminated against the student. Later, they placed a written warning in his personnel file that threatened "further corrective actions" if he does not refer to students using pronouns that reflect their self-asserted gender identity.
ADF filed a lawsuit on Dr. Meriwether's behalf in November 2018. In February 2020, a federal judge dismissed the case, but we appealed that decision. In November, ADF attorneys argued Dr. Meriwether's case before the 6th Circuit.
And today, we got some great news! The 6th Circuit issued its decision in favor of Dr. Meriwether, ruling that he shouldn't be forced to speak a message that violates his beliefs."
Plug
Have you registered for the Fight Laugh Feast Rally in Rapid City, South Dakota, April 29, 30, May 1? Excited to see many of you as we learn to Love God, Sing Psalms, Defy Tyrants. Come hear talks from Pastor Doug Wilson, Ben Merkle, Steve Deace, Sheriff Daryl Wheeler from Bonner County, Idaho, myself – Pastor Joe Boot, and now the very latest: Mr. Nate "N.D." Wilson. Gather with likeminded Christians who love freedom, confess Jesus Christ is Lord over all, and be equipped to stand firm in these insane days. Go to flfnetwork dot com forward slash rally and register today.
But wait – there's more. Did you hear about our Pre-Conference? Warriors in the Garden: A Practical Theology of Violence, Protection, and Self-Defense. Come to Rapid City, South Dakota 2 days early for a 2 day intensive with Nathan Spearing. Nathan Spearing is a highly decorated combat veteran with 14 years and 12 deployments in Army Special Operations. Nathan has a broad range of experiences domestically and overseas and has spent his entire professional life walking out a theology of violence as a Christian in war. This training will provide a Biblically-informed framework for understanding the role of violence, protection, and self-defense in the Christian's life. In addition, participants will be introduced to fundamental concepts and techniques for securing and protecting their home, church, and community at large. Sessions will include Ballistics, Rifle and Long Range Marksmanship, Close Quarter Tactics, Concealed Carry Fundamentals, Combat Medicine, and Top Shot Competition on the last day. There are only 11 spots available to join Gabe, Knox, and myself with Nathan for this 2 day intensive before the Fight Laugh Feast Rally in South Dakota. If you are interested, send an email to contact at fight laugh feast dot com today.
Biden administration gives NYC green light to study congestion pricing
https://thehill.com/policy/energy-environment/545555-biden-administration-gives-nyc-green-light-to-study-congestion
According to the Hill:
"The Biden administration gave New York City the green light to study the nation's first "congestion pricing" plan.
New York Gov. Andrew Cuomo (D) said in a statement shared to Twitter that the Department of Transportation is allowing the state to proceed with a federally-required environmental assessment and public outreach for the program.
Cuomo said the plan is expected to help generate $15 billion to fund the Metropolitan Transit Authority's (MTA) $51.5 billion plan for transforming the system and making it more accessible.
"We thank President Biden and U.S. Secretary of Transportation Pete Buttigieg for advancing this important program, and we look forward to continuing to work together to further advance our nation-leading $306 billion infrastructure plan, which is preparing the State to be globally competitive for generations to come," Cuomo said.
Under congestion pricing, officials could charge a once-daily variable toll for vehicles entering the "Central Business District," 60th Street in Midtown to Battery Park, the Federal Highway Administration (FHA) said in a separate statement.
It's unclear what the price range for the program would be, but Politico reported that previous proposals have recommended a range of $12 to $14 for cars, and $25 for trucks, though these would fluctuate."
Biden to announce up to $4 trillion infrastructure plan with massive tax hikes
https://nypost.com/2021/03/30/biden-to-announce-up-to-4-trillion-infrastructure-plan-with-tax-hike/
According to the New York Post:
President Biden will outline his massive $3 to 4 trillion infrastructure plan Wednesday, which will create four tax increases worth around $1.8 trillion, the White House revealed.
The first, the White House said, will focus on infrastructure investments specifically.
The second will focus on funding domestic policy areas of Democratic concern, such as providing universal pre-kindergarten and tuition-free community college, as well as health care.
As for the taxes, Biden's main priority will be to raise the corporate rate from 21 percent to 28 percent.
In addition, Biden's proposal would impose a global minimum tax on profits from foreign organizations, increasing capital gains taxes for the wealthy, and returning to the Bush-era individual rate of 39.6 percent for those making over $400,000.
When pressed about raising corporate tax rates, Psaki replied that the president "thinks it's the responsible thing to do to propose a way to pay for that over time, and he also believes that there's more that can be done to make the corporate tax code fair."
Gov. Kristi Noem issues executive orders after refusing to sign women's sports bill
https://www.christianpost.com/news/noems-executive-orders-only-girls-will-play-girls-sports.html?utm_source=dlvr.it&utm_medium=facebook
According to the Christian Post: "After facing backlash for refusing to sign a bill banning biological males who identify as female from competing in women's sports, South Dakota Gov. Kristi Noem has signed executive orders designed to ensure that "only girls" will "play girls' sports."
The Republican-controlled South Dakota legislature passed House Bill 1217, which banned trans-identified females from competing in women's sports at both the K-12 and collegiate level. While Noem, also a Republican, initially expressed support for the legislation, she ended up asking the legislature to make "style and form" revisions to parts of the bill, including the portion banning trans-identified males from competing in girls' college athletics.
According to the Family Research Council noted in a press release Monday, "the South Dakota House of Representatives by an overwhelming vote of 67-2 soundly rejected Governor Noem's 'style and form' veto of HB 1217, the Fairness in Women's Sports Act. … Noem quickly responded today by again refusing to sign HB 1217, effectively killing the bill."
After the legislature failed to adopt her revisions Monday, Noem took to Twitter to announce her executive orders. "Given the legislature's failure to accept my proposed revisions to HB 1217, I am immediately signing two executive orders, one to protect fairness in K-12 athletics, and another to do so in college athletics," she said.
The first executive order declares that "In South Dakota, only females, based on their biological sex, as reflected on their birth certificate or affidavit provided upon initial enrollment … shall participate in any girls' or women's athletic sanctioned by a public school" or a school district. The second executive order mirrors the first, but it applies to any "women's athletic event sanctioned by an institution of higher education under the control of the Board of Regents."
In addition to providing links to the executive orders, Noem indicated her plans to work with legislative leaders to "schedule a special legislative session in late May or early June" to "address this important issue." Conservative groups, including the Family Research Council, did not react favorably to her veto of House Bill 1217."