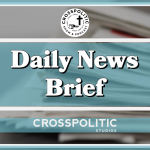 This is Gabriel Rench with your CrossPolitic Daily News Brief for Wednesday March 3rd, 2021
We are going to talk more Godfather MeToo Cuomo, Math is Racist, and my Moscow is still acting like soviet Moscow.
You guys have been great sending all your news articles to N[email protected], and don't forget a lot of those articles end up on our amazing Drudge replacement: www.DeftWire.com. Lastly, if your company would like to advertise on our Daily News Brief, please reachout to [email protected] for options.
Andrew Cuomo Fights for the MeToo cause only to be MeToo'd.
Now bring in MeToo. Apparently there are three ladies who have publicly made statements that Gov. Cuomo has in one form or another sexually assaulted them. In fact enough pressure has been placed on Cuomo to even issue some sort of an apology:
"At work sometimes I think I am being playful and make jokes that I think are funny. I do, on occasion, tease people in what I think is a good natured way. I do it in public and in private. You have seen me do it at briefings hundreds of times," Cuomo said in his statement. "I have teased people about their personal lives, their relationships, about getting married or not getting married. I mean no offense and only attempt to add some levity and banter to what is a very serious business.
"I acknowledge some of the things I have said have been misinterpreted as an unwanted flirtation. To the extent anyone felt that way, I am truly sorry about that," he said.
But Bill "hotdog" DeBlasio is not going to let him off the hook that fast:
According to: https://www.usatoday.com/story/news/politics/2021/03/01/new-york-gov-andrew-cuomo-scandals-what-we-know/6872482002/
New York City Mayor Bill de Blasio said that with his statement, Cuomo looked as if he was "letting himself off the hook."
"That's not an apology," de Blasio said in a news conference Monday, adding that Cuomo "seemed to be saying he was just kidding around."
"Sexual harassment is not funny," he said.
So, here is the deal. As Christians we believe in witnesses, evidence, fair trials, and so forth, and which all needs to happen. But I actually think this is just a distraction from Gov. Cuomo as he has been by far the most deadliest Governor in the nation. By deadly, I mean he sent hospital patients who had COVID back into the nursing homes, by deadly- I mean he would not allow patients in nursing homes to get access to that naval portable hospital boats (that were empty BTW, by deadly- I mean he covered up the amount of COVID deaths in nursing homes by underreporting to upwards of 50%.
But this is really a distraction. The real issue is NY nursing home deaths.
If New York was a country, they would rank 15th behind South Africa for most deaths world wide, coming in at 50,077 deaths.
According to Reuters: https://www.reuters.com/article/us-health-coronavirus-new-york/cuomo-acknowledges-withholding-new-york-nursing-home-pandemic-death-toll-from-lawmakers-public-idUSKBN2AF1XW
"More than 15,000 people have died in New York state's nursing homes and long term care facilities from COVID-19, but as recently as last month, the state reported only 8,500 deaths."
Is CrossPolitic a blessing to you? We hope so, and we would appreciate your support. We are excited to be building out an army of club members, and there are now literally thousands of you, so join the Fight Laugh Feast army and follow these steps below:
First, one of the most significant ways you can help us (and we need a LOT of help!) is by sharing this news brief or your favorite show with someone you think would appreciate it. Tell someone about the Fight Laugh Feast App.
Secondly, become a Fight Laugh Feast Club Member. We are building a platform that Lord-willing cannot be cancelled by big media. And your support is helping to make that possible.
Thirdly, subscribe to our Fight Laugh Feast Magazine. Our goal here, is to give you a quarterly mini-book-like experience with various authors, one them, a Psalm of the quarter, a recipe of the quarter, and something to place on your coffee table that would drive Tim Keller crazy. Thanks to all of you who have already taken these steps, and we are excited for what God has in store for 2021.
Fourthly, and more on this below, come Fight Laugh Feast with us at our events.
Building Walls Around the Capital, but not on the border:
On January 20,2021, Resident Biden signed an executive order, undoing Trump's executive order, halting the construction of the border wall between Mexico and Texas. So, as Resident Biden is halting border wall between Mexico and Texas, he is fortifying the border wall around the Capitol. Well finally Dem Congresswoman Eleanor Holmes Norton wants to do something about it.
Roll Video: https://rumble.com/veas15-dem-congresswoman-shocks-flips-stance-on-capitol-barricade-optics.html?mref=23gga&mc=8uxj1
Speaking of building walls, Math is Racist:
https://youtu.be/7wIvXxCwcuI?t=250
Now on to Moscow:
Remember back on September 23rd, I was arrested for singing Psalms and in what would be also known as a peaceful protest. Something foreign in 2020. Well on January 9th, a Saturday may I remind you, the judge dismissed my case because the city prosecutor, the city council, and the cops all forgot about the 1st Amendment. I got more plays coming regarding the city council's egregious dedication of the oath they took to uphold and defend the constitution, but more on that later.
Right now I want to bring your attention to my friend Nate Wilson and his two sons. After my arrest, Nate designed a sticker with a hammer and sickle with text that read "Soviet Moscow Enforced Because We Care" . Well one late night Rory, Nate's 18 year old, and Nate's 14 year old son (who shall remain anonymous) went around town at about 3am in the morning posting these stickers on business (friendly businesses I might add), and while they were at it, tagged a couple city poles with stickers. Cops came-a-whistling and handcuffed Rory without reading his Miranda rights, and interrogated Nate's 14 year old son without his dad's permission and with no lawyer present. Days later our city prosecutor, you know the one that lost in my case, told the cops to cite Nate, Rory, and his juvenile son. Nate, who is not an idiot, connected the dots immediately, and any one reading the story correctly, knows that the city of Moscow got absolutely embarrassed by my situation, and so they are looking for anyone from my community to punish.
In walks stickers. Apparently it is illegal to post stickers on city poles, even though our city poles are covered with them, but, and this is an important but, the city code allows for stickers with free speech messages… unless our message condemns the the tyrannical-nazi-like actions of our city prosecutor and police. During discovery, Nate's lawyer, requested audio and video of all the cops involved with interrogating Nate's sons. And would you believe it, all six cops audio and video failed, during that time. In addition to this, again during discovery, the city prosecutor handed over evidence that included a picture of the hammer and sickle sticker, and write above that sticker was a garage sale sign with name, address, and phone number. Which is actually illegal. There is a lot more shenanigans going, that include illegal judge maneuvers, lying cops, and more.
Nate's agent wrote a press release, which you can find here: https://dougwils.com/books-and-culture/books/for-immediate-release.html
But I will leave you with this quote from Nate found in his press release:
"You know, just prior to this incident," Wilson added. "The city was actually looking into partnering with me to help them with PR for their mask mandate. How funny is that? Surprise. They decided to prosecute me instead, forming more of an involuntary partnership. I guess I should take this opportunity to go ahead and share my PR hot tips: If people are feeling unheard and have begun protesting because they think you are acting like little soviets, don't try to prove them wrong by acting like little soviets! Put away the handcuffs! Don't arrest kids without mirandizing them or lie or interrogate minors alone! Don't fudge police reports or magically disappear all audio and video recordings of encounters. Understand and empathize with all your constituents the way you would like them to try to understand and empathize with you. All for now. Expect a bill later."
The one thing I have learned this last year, is that when Christians go through silly stuff like this, it is important to fight, but it is just as important to rid your heart of all malice. It is easy go get angry and fight, but it is much harder to remain joyful and fight. Jesus did this, and so should I.
Two National Events: Fight Laugh Feast Rally in Rapid City, South Dakota, April 29, 30, May 1 & the Fight Laugh Feast Conference in Nashville, TN, October 14-16. Why a rally in South Dakota in April? Because we want to stand with Kristi Noem "" the only Governor in the Union to not overstep her authority. And we also want to encourage you wherever you are. Many churches are not meeting, many Christians feel all alone. But you're not alone. So the theme of the Rally in South Dakota is Love God, Sing Psalms, Defy Tyrants. Gather with likeminded Christians who love freedom, confess Jesus Christ is Lord, and be equipped to stand firm in these insane days. Go to FLFNetwork.com/Rally
Closing
This is Gabriel Rench with Crosspolitic News. Support Rowdy Christian media by joining our club at fightlaughfeast.com, downloading our App, and head to our annual Fight Laugh Feast Conference next fall. With your partnership, together we will fight outdated and compromised media, engage news and politics with the gospel, and replace lies and darkness with truth and light. Go to FightLaughFeast.com to take all these actions. Have a great day. Lord bless