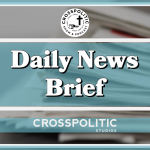 Daily News Brief for Wednesday March 9th, 2022
Next week will be in Fort Worth at our live show, so Garrison and Anna will be handling most of the Daily News Briefs.
Since our show is sold out in Fort Worth, join us in Rapid City for a workshop on God and Government featuring Pastor Toby, Uncle Gary (you know Gary DeMar), and yours truly. And then a live show that night with Larry Elder and Uncle Gary, and Comedian John Branyan opening up with some chuckles! Go to CrossPolitic.com/libertytour to sign up!
Well the news cycle is just crazy, up and down, and all around, but our God is steadfast. Some trust in chariots, some trust in horses, but we trust in the Lord our God.
So, yesterday Knox reported on how the Florida Department of Health advised against vaccinating healthy children. Well Jen Psaki and the Whitehouse responded that they were deeply disturebed, and trotted out their lame data.
Roll clip: start at 14 second mark through the end.
https://thehill.com/homenews/administration/597181-white-house-calls-florida-advice-against-vaccinating-health-kids
But Psaki neglected to point out that only kids between the ages of 5-17 with pre-existing conditions died from COVID. Another way of saying this, is that ZERO healthy children, you know the ones that Florida Department of Health advised against getting the vaccine, did not die from COVID. ZERO.
How is your gas budget looking today, what about tomorrow, next week? Well lets make some sense out of all of this.
My friend David Bahnsen pointed out that:
https://thebahnsengroup.com/the-dc-today/monday-mar-7-2022/?utm_source=the-dc-today-social&utm_medium=social&utm_campaign=the_dc_today
"Two years ago this very weekend The Bahnsen Group was a sponsor at the Hoag Classic Golf tournament in Newport Beach, CA. This thing called the "coronavirus" had been disrupting markets for a couple weeks, but all hell had not yet broken loose in markets. That would all change starting the week that began today. Oil dropped overnight to $30 as many of us sat at that golf tournament late Sunday afternoon. Last night, oil spiked to $125. What a difference two years makes."
Now when Biden got elected, you know the 80 million people who voted for Biden, the average gas price was about $2.40 a gallon (Neil throw the chart up), and now the average gas price is $4.12 per gallon and climbing to who knows what. This is the highest average price in 14 years. Mmm who was president 14 years ago? Just a little over a year into Biden's presidency and he manages to double our gas prices? Remember 80 million people voted for him, I can't say that with a strait face.
Here is what Stephen Colbert had to say about the high gas prices:
https://notthebee.com/article/stephen-colbert-on-rising-oil-prices-a-clean-conscience-is-worth-a-buck-or-two-ill-pay-15-a-gallon-because-i-drive-a-tesla
So sympathetic to those who can't afford a Tesla or the high gas prices. Next time Colbert says love your neighbor, just respond with a horse laugh.
Let me help you make some sense out of the gas shenanigans. First, inflation is soring and it is both the republicans and democrats fault. Right now the Republicans are trying to blame all the inflation on Biden and the Democrats. This is patently false. Fact check false. Under the Republicans they voted for about $3 trillion in COVID stimulus money, then when Biden got into office, they voted for an additional $1.9 trillion in COVID stimulus. COVID stimulus money, coming off an artificial economic down turn, is the driver of our out of control inflation. And your gas prices are being affected by that.
Secondly, we went from Trump, who had American functioning energy independent, to Biden who had America buying 10% of our oil from Russia, until he nixed that today. This all happened in less than one year. This part of the gas prices is Biden's fault, and so when Republicans point that out, that part is true. Fact check true. The government needs to get out of the regulation business. Period. End of story.
Plug:
Cornerstone Work & Worldview Institute's vision is to see a community of businesses, churches, mentors, and instructors working together to provide our young people options beside the credentials game of our current culture. They desire to see confident students with integrity and a godly backbone that understand all things are subject to Christ and are trained to be competent on the job. Their mission is to build Kingdom culture in the workplace by equipping their Christian students with a Trinitarian worldview and vocational competencies. Visit their website: cornerstonework.org to learn how to enroll in their program or partner with them in their mission.
Freedom Convoy organizer Tamara Lich wins review, granted bail
https://www.rebelnews.com/freedom_convoy_organizer_tamara_lich_wins_review_granted_bail
According to Rebel News:
Tamara Lich, one of the organizers behind the Freedom Convoy, has won an appeal and will now be granted bail.
Initially taken into custody by police in Ottawa on the evening of Feb. 17, Lich has remained behind bars since. At a previous bail hearing on Feb. 22, Lich had her request for bail denied by Justice Julie Bourgeois, a former Liberal Party candidate who Lich accused of holding a political bias in the case.
Late week, Lich was back in front of a judge requesting a bail review, a hearing that was documented by Ottawa-based lawyer David Anber.
Today, a judge reversed the original decision and granted Lich bail.
And according to Ottawa-based lawyer David Anber, here is what the conditions of her release is: https://twitter.com/DavidAnber/status/1500930917027696657?s=20&t=wjRGFOJ-IhbzRjgPfOCKgg
✅Surety is required
✅Cash bail deposit not required
✅$20,000.00 bond (Surety)
✅$5,000 bond (Tamara)
✅Leave ottawa in 24 hours
✅Leave Ontario in 72 hours
✅Report to police
✅Reside as directed
✅No contact with co accused
✅No social media
✅No protesting COVID
✅Surety to monitor devices
✅Not to allow people to post messages on behalf
✅Attend Court as required
✅Not attend Ontario except for Court and meetings with counsel
And the Crown is providing names of co-accused with whom Lich may have no contact.
Russia will stop 'in a moment' if Ukraine meets terms – Kremlin
https://www.reuters.com/world/kremlin-says-russian-military-action-will-stop-moment-if-ukraine-meets-2022-03-07/
According to Reuters:
"Russia has told Ukraine it is ready to halt military operations "in a moment" if Kyiv meets a list of conditions, the Kremlin spokesman said on Monday.
Dmitry Peskov said Moscow was demanding that Ukraine cease military action, change its constitution to enshrine neutrality (NATO), acknowledge Crimea as Russian territory, and recognise the separatist republics of Donetsk and Lugansk as independent states."
I could see Crimea, Donetsk and Lugansk being acceptable terms, as the southern territories are already basically Russia and I believe they would poll favorably in that direction. But enshrine in their constitution "neutrality", that is a deal killer and would only setup Russia to rinse and repeat this invasion all over again, and Ukraine would have even less protection.
In Leaked Audio Former NIH Director/New Biden Science Adviser Laughs Over Threatening Unemployment to Force Vaccines, Blames Trump For Covid Deaths
https://www.dailywire.com/news/exclusive-in-leaked-audio-former-nih-director-new-biden-science-adviser-laughs-over-threatening-unemployment-to-force-vaccines-blames-trump-for-covid-19-deaths
According to the Daily Wire:
"Former head of the National Institutes of Health (NIH), Francis Collins, appointed as President Biden's new science adviser on February 17, has consistently maintained that he plays a nonpartisan role in the federal government. Collins told NPR, for example, that he and his former employee, Anthony Fauci, are "not political figures," and expressed frustration over criticism directed toward them as being driven by "a very strong political overtone." Their COVID policy recommendations, he insists by contrast, have been based solely on scientific data.
But a leaked audio recording obtained by The Daily Wire calls Collins' claims of political neutrality into question.
During a private October 26 event at the University of Chicago, the physician wandered far afield of medical opinion, offering legal arguments for federal vaccine mandates and maintaining that the threat of job loss should be used to pressure citizens into getting the shots. He also took aim at former President Trump over COVID deaths that occurred early in the pandemic and admitted to greenlighting controversial research that relied on organs harvested from aborted infants.
'My Employer Made Me Do It'
The event, which included an interview portion along with a question-and-answer session, was hosted by Christianity Today theologian Russell Moore on behalf of the Institute of Politics, an organization founded by senior Obama adviser, David Axelrod.
He then argued that intimidation tactics should be used to motivate the resistant to take the vaccine.
"The US government does have the authority to mandate vaccinations if there is an outbreak that is threatening people, because it's not just about you, it's about the people you're going to infect," Collins claimed, even though science journals were already reporting by that point that vaccinated people were just as likely to spread the then-dominant Delta variant as those who were unvaccinated.
Collins went on to ask rhetorically, "Do [mandates] convince people who otherwise wouldn't get them?" He answered himself, "Oh yeah, especially if it means losing your job."
As evidence, he described how successful the threat of unemployment was at persuading vaccine-hesitant NIH employees and contractors to get vaccinated. When Collins made it clear to the 2,000 out of 46,000 workers who had still declined to take the jabs that they were "in serious danger of being fired in the next month if they [didn't] do something about it," Collins said he got a "big response."
"Reality [was] sinking in," he explained, so that even the "pretty darn resistant" elected to get vaccinated. He then chuckled, "You get the feeling that their resistance was not maybe quite that deeply seated," and he speculated that deep down, many unvaccinated people may actually want to get the vaccine but resist doing so out of peer pressure. "They're sort of thinking to themselves, you know, maybe I really should do it, but if I do, I lose my credibility with my peeps," Collins said.
Mandates, he argued, can give such individuals a way to save face because they can tell their social circle, "'Well, my employer made me do it. I didn't really want to get them.' They get, you know, bonus points, because they're now a victim. But they've also gotten the mandated vaccine that they kind of wanted anyway."
Collins said evangelicals, in particular, over-emphasize notions of personal liberty when it comes to mandates, saying they have so "wrapped themselves in the flag and wrapped themselves in this concept of personal freedom, that public health just grates on them."
Closing
This is Gabriel Rench with Crosspolitic News. Support Rowdy Christian media by joining our club at fightlaughfeast.com, downloading our App, and head to our annual Fight Laugh Feast Events. With your partnership, together we will fight outdated and compromised media, engage news and politics with the gospel, and replace lies and darkness with truth and light. Go to fightlaughfeast.com to take all these actions. Have a great day. Lord bless