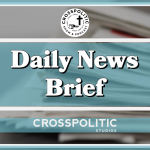 CrossPolitic Daily News Brief for Wednesday May 11th, 2022.
Intro this clip: https://twitter.com/johnwesleyreid/status/1524032799501697037
Justice Alito's neighbor decided to blast "Tis So Sweet To Trust in Jesus" as pro-abortion protestors, outside of Alito's home, shout something about wanting justice?
Have you signed up for our show in Arizona…it is next week, what are you waiting for!
Folks- we got some exciting news for the happenings going around here at CrossPolitic and the Fight Laugh Feast Network. First, starting May 30th, CrossPolitic will be moving to a daily show, airing every day at 6pm and of course dropping podcasts. Knox has been pushing us to do this for two years, and he has finally won that argument. So, get ready to tune into you number one nightly news and commentary source! Secondly, to make room for all this new production, the Daily News Brief will be going back to audio, which is where a bulk of our Daily News listeners were at anyways. Thirdly, we have a bunch of new club member benefits we are working on, including an updated website club portal and club only social media platform. So, those listeners who have been lingering in the background, join the club, the party is just getting started. And for our thousands of club members, thank you for staying with us, your continued support, and your prayers. We have a lot of work ahead of us, and this very much feels like a further up and further in moment.
Now where was I. Oh that is right, the bloodlust for the abortion crowd is insanity, and you will be seeing unleashed insanity if Roe is overturned. After calling the LGBT to arm themselves, the Mayor of Chicago also promised that Chicago would become and abortion sanctuary. The call of violence is spreading and this pass Sunday a molotov cocktail was thrown into the Wisconsin Family Action offices. As the pro-abortion community found out about it, they decided to leave messages, and here is a compilation of some of those messages: https://notthebee.com/article/pro-life-wisconsin
"​​(A) radical pro-abortion group named Jane's Revenge is saying it was responsible and is threatening increasingly violent attacks that extend beyond Wisconsin if its demands are not met, writing, "Wisconsin is the first flashpoint, but we are all over the US, and we will issue no further warnings." https://www.lifenews.com/2022/05/10/pro-abortion-group-says-it-firebombed-pro-life-office-promises-more-violence-nationwide-our-last-warning/
Plug
Did you know that more than 75% of those raised in evangelical, Presbyterian, and Reformed churches don't pursue any kind of Christian higher education? Surprising isn't it. Cornerstone Work & Worldview Institute is seeking to provide a new, exciting, and affordable option for Christians.
Their mission is to build Kingdom culture in the workplace by equipping their students in a Trinitarian worldview and vocational competencies. Their low-cost full-time program offers integrative course modules, internships, and mentoring so their students can finish debt-free with vocational preparation, a robust faith, and financial potential to build strong godly families and homes rooted in their communities and churches long-term.
Visit their website at www.cornerstonework.org to find out more about enrolling.
Elon Musk would let President Trump back on Twitter and cited the ban was "foolish to the extreme".
Roll clip: https://twitter.com/disclosetv/status/1524085282366177283
Friends, we have tons of military personnel that listen to our shows, and they keep us in the loop about what is going on, on the inside as they fight for their careers against the forced vaccination policies. Well right now there is an important court case in front of a federal district court judge in Omaha, that if the judge would rule in favor of religious exemptions, it would apply to the Air Force nationwide.
According to the Omaha World Herald: https://omaha.com/news/state-and-regional/offutt-airmen-ask-judge-to-block-covid-vaccine-mandate-citing-religious-beliefs/article_8e96601c-cd89-11ec-b0a7-1f525a4310d5.html
"Three current or former Offutt airmen who have refused the COVID-19 vaccine on religious grounds asked a federal district court judge in Omaha on Monday to stop the Air Force from discharging or otherwise punishing them.
Capt. Ian McGee, an RC-135 instructor pilot with the Offutt-based 55th Wing, said he applied for a religious exemption eight months ago but hasn't received a response from his chain of command. He expects it to be denied, as the Air Force has denied nearly all of the more than 7,800 airmen who have applied for them under the Religious Freedom Restoration Act, known as RFRA.
McGee said he would give up his nine-year military career rather than be injected with a vaccine tested with cell lines taken many years ago from aborted fetuses.
"It goes against my sincerely held religious beliefs as a born-again Christian," McGee testified. "My resolve is to stay with my relationship with Jesus Christ."
The three airmen are part of a larger group of 36 — including active-duty, National Guard and reserves — who filed suit in U.S. District Court in Nebraska in March seeking to overturn the mandate issued by the Pentagon last August. They argue it is a violation of their First Amendment rights.
They are represented by former Kansas Attorney General Kris Kobach and a team of lawyers from the America First Policy Institute, a conservative think tank organized last year by several top advisers in the administration of former President Donald Trump.
Kris Kobach "blasted the elaborate multi-level review of the applications for religious exemptions, alleging that more than 7,500 have been denied and only 46 granted. And the ones granted were only for airmen who were within six months of retirement."
Be praying for our people in the military. This is stressful on their families, careers, and the mainstream media is giving them no voice. CrossPolitic is glad to do our part!
Meanwhile, the Republican Senate is making some chess moves on behalf of our friends fighting in the military.
According to the Military Times: https://www.militarytimes.com/news/coronavirus/2022/05/10/bill-would-mandate-honorable-discharge-for-all-troops-who-refuse-covid-vaccine-mandate/
A "proposal — led by Texas Sen. Ted Cruz and backed by 13 other GOP colleagues"
Would require Defense officials "to grant honorable dismissals to nearly all troops who refuse the COVID-19 vaccine and grant waivers to troops with "natural immunity" to the virus under new legislation introduced by Republican senators on Tuesday."
It "would also mandate that military leaders "make every effort to retain members of the Armed Forces who are not vaccinated" and broaden religious exemptions for the vaccine mandate."
Cruz said:
""It is absolutely unacceptable that [President Joe Biden's] administration is trying to coerce our men and women in uniform to violate their conscience and religious beliefs, let alone on an issue as polarizing as the COVID-19 vaccine."
Last month, defense officials told Congress that about 3,400 troops have been involuntarily separated from service for refusing to get the COVID-19 vaccine, mandated last fall for all military members.
Of that group, about 70% have received general discharges, a designation that allows them to receive most veterans benefits and potentially rejoin the military at a later date.
The other 30% have received honorable discharges. Congress last year forbade military leaders from issuing dishonorable discharges for vaccine refusal."
Lies, Propaganda, Story Telling, and the Serrated Edge:
This year our national conference is in Knoxville, TN October 6th-8th. The theme of this year's conference is Lies, Propaganda, Storytelling and the Serrated Edge. Satan is the father of lies, and the mother of those lies is a government who has rejected God. We have especially been lied to these last two years, and the COVIDpanic has been one of the central mechanisms that our government has used to lie to us and to grab more power. Because Christians have not been reading their bibles, we are susceptible to lies and weak in our ability to fight these lies. God has given us His word to fight Satan and his lies, and we need to recover all of God's word, its serrated edge and all. Mark your calendars for October 6th-8th, as we fight, laugh and feast with fellowship, beer and Psalms, our amazing lineup of speakers, hanging with our awesome vendors, meeting new friends, and more. Early bird tickets sale now!.
Lastly, and I actually like this play here. DeSantis Signs Bill Requiring High Schools to Observe 'Victims of Communism Day'
https://www.ntd.com/desantis-signs-bill-requiring-high-schools-to-observe-victims-of-communism-day_776951.html
According to the NTD:
"Florida Republican Gov. Ron DeSantis signed a bill Monday that requires "Victims of Communism Day" to be observed annually in public high schools across the state.
The bill, known as HB 395, requires public schools to tell students about genocides, famines, and persecutions under communist regimes, including the Chinese Communist Party (CCP) and the Soviet Union. The bill passed the Florida House and Senate unanimously earlier this year.
"We want to make sure that every year folks in Florida, but particularly our students, will learn about the evils of communism, the dictators that have led communist regimes, and the hundreds of millions of individuals who suffered and continue to suffer under the weight of this discredited ideology," DeSantis said Monday morning.
The Victims of Communism organization has estimated that communist regimes have caused the deaths of at least 100 million people via political purges, religious persecutions, mass starvation, and other crimes against humanity during the 20th century. Chief among those regimes is the CCP, which is believed to have left around 80 million Chinese people dead."
This is Gabriel Rench with Crosspolitic News. Support Rowdy Christian media by joining our club at fightlaughfeast.com, downloading our App, and head to our annual Fight Laugh Feast Events. If this content is helpful to you, would you please consider becoming a Fight Laugh Feast Club Member? We are trying to build a cancel-proof media platform, and we need your help. Join today and get a discount at the Fight Laugh Feast conference in Knoxville, TN and have a great day. Have a great day. Lord bless