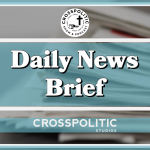 This is Gabriel Rench with your CrossPolitic Daily News brief for Wednesday, May 12, 2021.
Have you signed up for our Magazine? Next issue ships in early June. Our magazine is a quarterly, mini-book-like experience that includes the best of authors and topics for a theological roundhouse kick to the face of our cultural gods. Read your magazine like you drink your scotch, and let the kick warm your belly. We don't water down our theology, why would we water down our scotch? Annual subscriptions are $60 – that's for four issues. So sign up and enjoy our Fight Laugh Feast theme park.
Michigan Bureaucrats Want Permanent COVID Regulations
https://www.mackinac.org/michigan-bureaucrats-want-permanent-covid-regulations
According to Michael Van Beek over at Mackinac Center for Public Policy, he says "Michigan Occupational Safety and Health Administration wants to transform these emergency rules (you know the ones that Gov. Whitmer put in place as temporary emergency orders) into permanent ones."
"In the department's filings, required by state law to create new administrative rules, MIOSHA admits that only one other state in the country has created permanent COVID-19 regulations like these — Virginia. This means Michigan is one of the first states where unelected bureaucrats are seeking permanent COVID regulations on businesses.
The department says in its filings with the state's Office of Administrative Hearings and Rules that these regulations are needed because "Michigan's experience with COVID-19 demonstrates that the disease can spread rapidly without protective measures and standards in place.""
But, but what? Michigan has had their emergency order in place, and as Michael points out, the current emergency order has gone through two spikes in COVID cases. Two, not just one.
Senator Rand Paul goes after Fauci regarding "gain of function research"
Play: Start to 3:42
Dr. Fauci is slicker than Joel Osteen, more progressive than Rick Warren, and more squishy than a presbyterian pastor. Did you notice he is going against 200 doctors regarding the definition of gain of function research?
A Misleading C.D.C. Number
This is according to the New York Times:
"When the Centers for Disease Control and Prevention released new guidelines last month for mask wearing, it announced that "less than 10 percent" of Covid-19 transmission was occurring outdoors. Media organizations repeated the statistic, and it quickly became a standard description of the frequency of outdoor transmission.
But the number is almost certainly misleading.
It appears to be based partly on a misclassification of some Covid transmission that actually took place in enclosed spaces (as I explain below). An even bigger issue is the extreme caution of C.D.C. officials, who picked a benchmark — 10 percent — so high that nobody could reasonably dispute it.
That benchmark "seems to be a huge exaggeration," as Dr. Muge Cevik, a virologist at the University of St. Andrews, said. In truth, the share of transmission that has occurred outdoors seems to be below 1 percent and may be below 0.1 percent, multiple epidemiologists told me. The rare outdoor transmission that has happened almost all seems to have involved crowded places or close conversation.
Saying that less than 10 percent of Covid transmission occurs outdoors is akin to saying that sharks attack fewer than 20,000 swimmers a year. (The actual worldwide number is around 150.) It's both true and deceiving."
Club/Conference Plug
All the talks at the Rally are now in the Club portal. Become a club member today so you don't miss any of them. And by becoming a club member, you will get a discount at our conference in Lebenon, TN The Politics of Sex. We have Doug TenNapel, David Bahnsen, Pastor Wilson, Pastor Toby, and more. We will also have 15 breakout sessions! So, get ready to join thousands of us in Tennessee to Fight Laugh and Feast Sept. 9th-11th.
Biden admin reverses Trump rule, will force hospitals to provide sex-change procedures
https://www.theblaze.com/news/biden-force-hospitals-sex-changes
"The Biden administration took action Monday to require hospitals to perform sex-change procedures and offer other other transgender medical services or face anti-discrimination lawsuits, restoring an Obama-era policy that had been ended by President Donald Trump.
The Department of Health and Human Services announced that its Office of Civil Rights will interpret and enforce laws that prohibit discrimination based on sex to include sexual orientation and gender identity, in line with the recent Supreme Court decision in Bostock v. Clayton County.
"The Supreme Court has made clear that people have a right not to be discriminated against on the basis of sex and receive equal treatment under the law, no matter their gender identity or sexual orientation. That's why today HHS announced it will act on related reports of discrimination," HHS Secretary Xavier Becerra said. "Fear of discrimination can lead individuals to forgo care, which can have serious negative health consequences. It is the position of the Department of Health and Human Services that everyone — including LGBTQ people — should be able to access health care, free from discrimination or interference, period.""
This is what Dr. Rachel Levine had to say about this reversal (assistant secretary for health):
"The mission of our Department is to enhance the health and well-being of all Americans, no matter their gender identity or sexual orientation. All people need access to healthcare services to fix a broken bone, protect their heart health, and screen for cancer risk. "No one should be discriminated against when seeking medical services because of who they are."
But you are a dude wearing a dress, you are the one with a massive health problem.
Senator Ted Cruz is talking like a conservative today:
Roll video: 19-39 and 58-2:37
Nevermind republicans oversaw two stimulus packages during the COVID shutdown, but regardless, glad to see Ted push back on this. If the government starts funding campaigns, we will get into a big ugly mess.
Closing
This is Gabriel Rench with Crosspolitic News. Support Rowdy Christian media by joining our club at fightlaughfeast.com, downloading our App, and head to our annual Fight Laugh Feast Conference next fall. With your partnership, together we will fight outdated and compromised media, engage news and politics with the gospel, and replace lies and darkness with truth and light. Go to fightlaughfeast.com to take all these actions. Have a great day. Lord bless