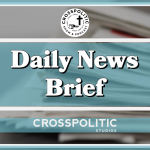 This is Garrison Hardie with your CrossPolitic Daily News Brief for Wednesday, May 17th, 2023.
Concordis Education Partners:
Classical Christian education has reminded us to aim education at truth, but the trivium has been used as a formula rather than a way of training students in discernment.
To teach well, you must coach.
Concordis Foundation is offering their third annual BOOT CAMP – a faculty summit – July 11-13th in Moscow, Idaho. This is a three-day intensive teaching training where you learn to coach students, using the trivium, so that you can meet students at all learning levels.
Learn more at concordispartners.com
https://www.dailywire.com/news/tsa-rolls-out-facial-recognition-technology-test-at-several-major-airports
TSA Rolls Out Facial Recognition Technology Test At Several Major Airports
The Transportation Security Administration is testing the use of facial recognition technology at airports across the nation, a move that the federal agency claims will help employees more easily identify travelers.
Passengers may soon find themselves in a security screening line where they are asked to place their identification into a slot and look into a camera, after which a small screen will take their picture and flash the words "photo complete," permitting the traveler to continue through the security process without handing their identification to an employee.
The technology is currently in use at 16 airports throughout the country, such as those in Atlanta, Boston, Dallas, Detroit, Los Angeles, Miami, Orlando, Phoenix, and Salt Lake City, according to a report from the Associated Press. Passengers are allowed to opt out of the pilot program conducted by the TSA, which is a branch of the Department of Homeland Security.
TSA employees in the security lines with the technology, which examines whether the identification is real and whether the identification belongs to the traveler, will nevertheless be present to ensure that the system reaches correct conclusions.
The test of the technology comes despite a February letter from five members of the Senate, including Sen. Bernie Sanders (I-VT) and Sen. Jeff Merkley (D-OR), who expressed concern over reports that the system could be implemented across the United States as soon as this year if deemed successful. The lawmakers contended that facial recognition technology "represents a risk to civil liberties and privacy rights."
Federal entities already leverage facial recognition technology in various capacities despite the privacy and security concerns: a report published last year by the Government Accountability Office found that 18 out of 24 agencies reported using facial recognition systems in fiscal year 2020, largely for computer access and law enforcement activities, while 14 out of 42 agencies that employ law enforcement officers reported using the technology in criminal investigations.
Americans broadly support the "widespread use of facial recognition technology" by police officers who utilize the systems for law enforcement purposes, according to a survey from Pew Research Center, in which 27% of respondents said the policy was a "bad idea" and 46% said the policy was a "good idea."
Other state and local governments have indeed banned biometric recognition technology. Texas Attorney General Ken Paxton filed suit last year against Google and Meta for breaches of state laws which prohibit technology firms from using data such as iris scans, fingerprints, voiceprints, or records of hand and face geometry for commercial purposes without permission.
https://www.theepochtimes.com/anheuser-busch-announces-changes-company-amid-bud-light-boycott_5266255.html?utm_source=partner&utm_campaign=BonginoReport
Anheuser-Busch Makes Changes to Company Amid Bud Light Boycott
Anheuser-Busch revealed that it is making attempts to change its marketing structure in the midst of a backlash after Bud Light produced a can featuring a transgender activist's face for a social media promotion.
While the firm did not make mention of the controversy and boycott, a spokesperson for the brewing giant told Fox2Now in St. Louis that it held a meeting in the city and that "we have communicated some next steps with our internal teams and wholesaler partners."
"First, we made it clear that the safety and welfare of our employees and our partners is our top priority," the company spokesperson said before adding that a new executive was tapped to head a marketing division.
"Todd Allen was appointed Vice President of Bud Light added the spokesperson. "Third, we made some adjustments to streamline the structure of our marketing function to reduce layers so that our most senior marketers are more closely connected to every aspect of our brands activities. These steps will help us maintain focus on the things we do best: brewing great beer for all consumers, while always making a positive impact in our communities and on our country."
For the past month and a half, Bud Light's sales have taken a nosedive after transgender influencer Dylan Mulvaney posted a video with the namesake can on social media, writing "#budlightpartner" in the caption. That led many to believe the light beer was officially partnering with Mulvaney and would launch a campaign with the activist, who is a biological male.
Anheuser-Busch executive Brendan Whitworth said in an April 14 news release that the beverage firm had had no intention of sparking division or wading into a political debate. However, Whitworth made no mention of Mulvaney or the backlash.
Weeks later, Anheuser-Busch InBev CEO Michel Doukeris told investors in a call that there was no partnership with Mulvaney and that only "one can" was produced with Mulvaney's face. In a subsequent Financial Times interview, Doukeris claimed that the slumping Bud Light sales were sparked by social media-driven "misinformation."
Continuing, the CEO said that people believed it was a campaign. "It was not: it was one post. It was not an advertisement," he remarked, contradicting the #budlightpartner hashtag that Mulvaney had written.
Sales of the product dropped 26 percent year-over-year in the week ending April 22, according to Bump Williams Consulting based on Nielsen IQ data. Meanwhile, sales of rival beers Coors Light and Miller Light both saw their sales rise by about 10 percent each, according to the data.
In the midst of the backlash, two Bud Light executives—Alissa Heinerscheid and Daniel Blake—took a leave of absence, the company said. "Given the circumstances, Alissa has decided to take a leave of absence which we support. Daniel has also decided to take a leave of absence," the company said last month.
https://thepostmillennial.com/seattle-to-pay-out-2-3-million-to-whistleblowers-who-revealed-mayor-engaged-in-chaz-cover-up-by-deleting-texts?utm_campaign=64487
Seattle to pay out $2.3 MILLION to whistleblowers who revealed mayor engaged in CHAZ cover-up by deleting texts
The city of Seattle will be forced to pay $2.3 million to settle a lawsuit brought by city employees who were mistreated after they helped reveal that thousands of then-Mayor Jenny Durkan's text messages had been deleted during the violent riots that rocked the city and the deadly Capitol Hill Autonomous Zone in the summer of 2020.
A whistleblower complaint by the employees helped to reveal that the texts of Durkan, former Police Chief Carmen Best, Fire Chief Harold Scoggins, and other top officials from the summer of 2020 were intentionally deleted.
Though the King County Superior Court case was resolved last month, the terms of Seattle's settlement with Stacy Irwin and Kimberly Ferreiro weren't finalized until this week and the details were released to The Seattle Times through a public disclosure request on Friday.
The $2.3 million payout is in addition to over $770,000, as of April, spent by the city on attorneys to defend the case, the outlet reported.
According to the suit, Irwin and Ferreiro claimed that they resigned as public-records officers in Durkan's office due to hostile conditions and retaliation. The pair claimed they were "subjected to scorn, ridicule, abuse, and hostility … and the demand to perform illegal acts."
The pair sounded the alarm in 2021 when they complained to the Seattle Ethics and Elections Commission that the mayor's office was mishandling records requests.
An investigation by the SEEC determined that the mayor's legal counsel, Michelle Chen, had violated the state Public Records Act by using narrow interpretations of certain requests to exclude Durkan's missing texts and diverged from best practices by not informing requesters the texts were missing.
Under state law, texts and other communications about public businesses by local elected officials must be kept for at least two years and anyone who willfully destroys a public record that's supposed to be preserved is guilty of a felony, punishable by up to five years in prison.
The settlement agreement includes $25,000 in lost wages each to Irwin and Ferreiro, while the remainder of the $2.3 million is for general damages and attorneys' fees.
As part of the settlement, the plaintiffs are required to drop the case, destroy city documents in their possession, and never pursue jobs in the city again. Additionally, both parties are barred from talking publicly about the settlement amount.
Irwin told the Times that records disappeared and yet, "There's been no accountability. These officials basically got away with it and the taxpayers are paying."
Ferreiro said, "It's still a loss for the citizens of Seattle," because some questions about the actions of city officials "will never be answered."
In August 2022, then-King County Prosecutor Dan Satterberg requested that Sheriff Patti Cole-Tindall investigate the city officials' deleted texts, but Cole-Tindall's office has yet to announce the results.
Durkan's office previously claimed that an "unknown technology issue" caused the texts to go missing but a city-commissioned forensic report found that Durkan's phone was changed in July 2020 to delete texts automatically after 30 days as well as texts stored in the cloud.
Durkan also previously claimed that she dropped her phone in a tide pool on the July 4 weekend of that year.
A subsequent forensic report commissioned by business owners and residents suing the city over the deadly autonomous zone revealed that Durkan texts were manually deleted.
In February, the city settled that lawsuit for $3.65 million, including $600,000 in penalties for the deleted texts.
The settlement came swiftly after a judge sanctioned the city for destroying evidence and noted that Durkan's excuses "strained credibility."
Over 27,000 texts were deleted from Best's phone and the most recent forensic reports show that phones used by Scoggins and others were reset in October 2020.
In 2022, Seattle paid nearly $200,000 and pledged to improve its public records processes to settle a lawsuit brought by The Seattle Times that alleged the city had mishandled requests from reporters who asked for the messages between city officials.
In February, the owner of a Korean restaurant filed a federal lawsuit against the city for the loss of business and expenses incurred during the notorious autonomous zone.
Litigation against the city as a result of the zone has already cost Seattle over $11 million.
https://www.washingtonexaminer.com/policy/defense-national-security/bipartisan-bill-pentagon-mexican-drug-cartels-pushing-fentanyl
Bipartisan bill would empower Pentagon to take down Mexican drug cartels pushing fentanyl
Democrats and Republicans from the House and Senate will debut legislation that would declare fentanyl a national security threat and allow the Pentagon to take new action targeting Mexican drug cartels.
Senate Armed Services Committee members Joni Ernst (R-IA) and Tim Kaine (D-VA) shared exclusively with the Washington Examiner Tuesday morning their forthcoming bipartisan, bicameral bill to use their oversight authority of the Department of Defense to force the federal government to take stronger actions against Mexican transnational criminal organizations.
"The amount of lives lost in Iowa and across the country due to this deadly drug has far surpassed the federal government's response, and we must scale immediately to combat this national security threat," Ernst said in a statement provided to the Washington Examiner. "This bipartisan work will engage Mexico as an active partner to counter fentanyl trafficking and put the Pentagon's tools to use to save American lives."
The Disrupt Fentanyl Trafficking Act would require the Pentagon to develop a fentanyl-specific counterdrug strategy, including how to work directly with the Mexican military and to increase security operations with Mexico.
Fentanyl is largely moved into the U.S. from Mexico, and the ingredients to make the powerful drug originate in China and are then shipped to producers in Mexico.
Ernst and Kaine maintained that enlisting the Mexican government as an equal partner in the war on fentanyl is critical, given the southern neighbor has failed to get a hold of the problem over the past five years.
Between 2017 and 2021, fentanyl seizures at the U.S. border increased by 950% — most of which occurred under Mexican President Andres Manuel Lopez Obrador.
Fentanyl has become the leading cause of death in U.S. adults between 18 and 45. President Joe Biden, in his State of the Union address earlier this year, vowed to do more to tackle the epidemic.
Now before we end today, it's time for a new segment I like to call the rundown:
https://www.cnbc.com/2023/05/15/microsoft-activision-deal-eu-approves-takeover-of-call-of-duty-maker.html
European Union regulators on Monday approved Microsoft's proposed $69 billion acquisition of gaming firm Activision Blizzard, subject to remedies offered by the U.S. tech giant.

The European Commission, the EU's executive arm, said that Microsoft offered remedies in the nascent area of cloud gaming that have staved off antitrust concerns. These remedies centered on allowing users to stream Activision games they purchase on any cloud streaming platform.

Europe's green light is a huge win for Microsoft, after the U.K.'s top competition authority last month blocked the deal.
https://www.military.com/daily-news/2023/05/15/china-sentences-78-year-old-us-citizen-life-prison-spying-charges.html
China sentenced a 78-year-old United States citizen to life in prison Monday on spying charges, in a case that could exacerbate the deterioration in ties between Beijing and Washington over recent years.

Details of the charges against John Shing-Wan Leung, who also holds permanent residency in Hong Kong, have not been publicly released.

Such investigations and trials are held behind closed doors and little information is generally released other than vague accusations of infiltration, gathering secrets and threatening state security.
https://www.breitbart.com/entertainment/2023/05/15/81-year-old-martha-stewart-poses-for-sports-illustrated-swimsuit/
Martha Stewart, who is 81-years-old, posed for the cover of Sports Illustrated Swimsuit, making her the oldest cover model in SI swimsuit issue history.

That's it… that's all there is with that story.
https://www.foxnews.com/sports/horse-euthanized-churchill-downs-broken-leg-becomes-8th-thoroughbred-die-track-last-2-weeks
Another horse is dead after running at Churchill Downs, the site of the annual Kentucky Derby.

Rio Moon broke his leg on Sunday near the finish line and had to be euthanized.

The horse became the eighth to die in the last two weeks at the racetrack – seven died of multiple causes in the days, and hours, leading up to the May 6 Derby.
https://www.cbssports.com/nba/news/ja-morant-could-face-significant-suspension-to-start-2023-24-nba-season-over-latest-controversy-per-report/
In NBA news… The Memphis Grizzlies could start next season without their best player for a period of time. After an Instagram Live video circulated online that showed Grizzlies superstar Ja Morant holding what appeared to be a gun in a car, the All-Star guard was suspended by Memphis from all team activities.

But that's not the only suspension Morant could be facing. The franchise centerpiece could be facing a "significant suspension" from the league, according to Adrian Wojnarowski.

The video in question was from an Instagram Live on Saturday, and it shows Morant in a car with friends and for a brief second as the camera pans to him it appears that he is holding a gun. After the video made the rounds on social media, the Grizzlies suspended their star guard. The league then announced it was launching an investigation into the situation.