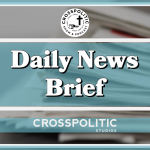 This is Garrison Hardie with your CrossPolitic Daily News Brief for Wednesday, May 24th, 2023.
https://www.zerohedge.com/covid-19/who-warns-unusual-surge-severe-myocarditis-babies
WHO Warns Of 'Unusual' Surge in Severe Myocarditis in Babies
On Tuesday, the WHO issued an alert that there had been a rise in "severe myocarditis" in newborns and infants between June 2022 and March 2023 in Wales and England.
It said that this was associated with the enterovirus infection, which rarely affects the heart.
A UK Health Security Agency (UKHSA) spokesperson confirmed to The Epoch Times that 10 babies have been diagnosed in Wales and five have been diagnosed in England.
The WHO said that "although enterovirus infections are common in neonates and young infants, the reported increase in myocarditis with severe outcomes in neonates and infants associated with enterovirus infection is unusual."
It said that in the same hospital (covering the South Wales region) over the previous six years, "only one other similar case has been identified."
WHO assessed the public health risk as low, but added that in certain situations, it "may be advisable to close child-care facilities and schools to reduce the intensity of transmission."
However, the WHO took down the alert on Wednesday. The Epoch Times understands that this could be because some of the numbers were not correct.
The WHO did not respond to The Epoch Times' request for comment.
Dr. Shamez Ladhani, Consultant Paediatrician at UKHSA, told The Epoch Times by email that "given a higher than average number of cases in Wales in the autumn/winter months in very young babies, UKHSA is investigating the situation in England to see if any similar cases have been observed here and whether there are any factors driving the increase in cases."
The UKHSA did not respond to questions about ruling out any links to the effects of the COVID-19 vaccine.
Public Health Wales at the start of May announced that it was investigating a cluster of severe enterovirus infections with myocarditis occurring in very young babies from the South Wales region.
The cases occurred from June 2022 with a peak in November 2022 involving babies under 28 days old.
Ten babies have developed myocarditis within this cluster. One baby remains in hospital, eight are being managed as outpatients, and one baby has died.
Consultant pathologist and HART member Dr. Clare Craig told The Epoch Times that there's "a massive question about whether or not these babies or the mums are vaccinated."
HART is an organisation that was set up to share concerns about policy and guidance recommendations relating to the COVID-19 pandemic.
https://www.washingtonexaminer.com/restoring-america/community-family/nebraska-governor-signs-ban-abortion-and-child-transitions
Nebraska governor signs ban on abortion and child transitions
Nebraska became the latest state to enact bans on abortion and child gender transitions as Gov. Jim Pillen (R-NE) signed a dual measure Monday afternoon.
Nebraska 's legislature passed the measure Friday, which will prohibit abortion at 12 weeks of pregnancy and ban genital and nongenital mutilation surgeries on children. The bill also gives the state's chief medical officer, Dr. Timothy Tesmer, the authority to determine restrictions on puberty blockers and cross-sex hormones.
Pillen called child gender transitions "Lucifer at its finest" at the signing ceremony.
"All children deserve a chance to grow and live happy, fruitful lives," Pillen said in a press release before the signing. "This includes pre-born boys and girls, and it includes children struggling with their gender identity. These kids deserve the opportunity to grow and explore who they are and want to be, and they can do so without making irreversible decisions that should be made when they are fully grown."
While the abortion ban goes into effect immediately upon Pillen's signature, the ban on transgender procedures will go into effect on Oct. 1.
The abortion ban includes exceptions for rape, incest, and instances in which the life of the mother is at risk. Eighty-six percent of abortions in Nebraska occur before 12 weeks, according to state statistics.
Primary sponsor state Sen. Joni Albrecht, fighting through tears, said, "I look forward to the day when every child is protected from elective abortions in our state."
Nebraska joins a growing list of states that have passed abortion restrictions since the overturn of Roe v. Wade. Twenty-seven states have attempted to pass such laws, but some states have been either held up by courts or hindered by a divided government.
Last week, North Carolina and South Carolina took action to restrict abortion.
From Nebraska to Texas we go…
https://townhall.com/tipsheet/madelineleesman/2023/05/23/texas-bans-diversity-offices-at-colleges-n2623589
Texas Moves a Step Closer to Banning Diversity Programs in Higher Education
On Monday, Texas lawmakers passed a bill to end Diversity, Equity and Inclusion (DEI) programs at state colleges and universities. If the bill were to become law, it would be the second state in the nation with such legislation, following Florida.
According to The Hill, the measure requires the governors of each state university to ensure that there is no DEI office at the school and that preferential treatment is not given for "diversity hires."
Rep. John Kuempel, a Republican, said that "DEI is present in some form in almost every Texas campus" and that schools "must recruit the best people in every field regardless of race and gender," according to the Dallas Morning News. The Texas House voted 83-60 in support of S.B. 17. The legislation heads back to the Senate, where it will decide to accept or deny changes made by members of the House.
Last month, when the Senate passed its version of the bill, Lt. Gov. Dan Patrick described the legislation as the "strongest pushback on woke policies in higher education."
"For far too long, academia has been poisoned by woke policies and faculty seeking to indoctrinate our students. Professors did not believe we would push back on their advances, but they were wrong. Students should be taught how to think critically, not what to think," Patrick said in a statement.
https://freebeacon.com/energy/majority-of-united-states-faces-elevated-risk-of-summer-power-blackouts-amid-green-energy-push/
Majority of United States Faces 'Elevated Risk' of Summer Power Blackouts Amid Green Energy Push
America's increased reliance on green energy in favor of coal and gas has a majority of the United States facing an "elevated risk" of summer power blackouts, according to a leading grid reliability watchdog.
The North American Electric Reliability Corporation (NERC) last week published its 2023 summer reliability assessment, which found that two-thirds of North America could face power shortages this summer during periods of extreme heat. That vulnerability, the watchdog group said, stems from America's increase in green power generation and decrease in fossil fuel power plants. While coal and natural gas plants can be turned on and off at the flip of a switch, green alternatives such as wind and solar rely on favorable weather conditions to operate at full capacity. If those conditions aren't met, power demand can outpace supply.
"The system is closer to the edge," NERC director of reliability assessment and performance analysis John Moura said last week. "More needs to be done."
Moura is far from the only expert sounding the alarm on America's unreliable power grid. Both state and federal officials in recent weeks have warned that high summer temperatures, combined with low nightly winds, could bring power blackouts across the country. "I'm afraid to say it, but I think the United States is heading towards a catastrophic situation," Federal Energy Regulatory Commission member Mark Christie said during a May Senate hearing.
Despite those warnings, President Joe Biden has moved forward with plans to accelerate U.S. coal plant retirements. With nearly half of America's coal power already set to disappear by 2030, Biden's Environmental Protection Agency earlier this month unveiled new standards that force coal and gas power plants to slash their carbon emissions by a whopping 90 percent between 2035 and 2040. In order to meet the near-impossible standards, those plants will have to spend big on infrastructure upgrades—costs that may prompt the plants to shut down rather than comply.
"Coal is more than five times as dependable as wind and more than twice as dependable as solar when electricity demand is greatest," America's Power CEO Michelle Bloodworth said in a statement, "yet bad public policy and EPA regulations are forcing the closure of coal plants."
In addition to his far-reaching fossil fuel regulations, Biden has spent hundreds of billions of dollars on tax breaks and subsidies aimed at increasing electric car use. And in April, Biden's Environmental Protection Agency announced a new rule that imposes strict tailpipe emission limits on vehicles sold—so strict that it effectively forces automakers to ensure that two-thirds of the cars they sell are electric by 2032.
Those moves could also put strain on the nation's power grid. As more Americans plug in their cars instead of filling them up with gasoline, grids across the country will need to put out more power to keep up. The issue has already plagued some U.S. states—in September, for example, California urged electric car drivers to stop charging their vehicles due to power grid strain. Still, the ordeal did not stop state officials from moving full steam ahead with plans to outlaw gas-powered vehicles and eradicate fossil fuel power plants.
https://www.washingtonexaminer.com/news/house/mccarthy-warns-nowhere-near-deal-on-debt-ceiling
McCarthy warns White House and GOP 'nowhere near a deal' on debt ceiling
House Speaker Kevin McCarthy (R-CA) warned Republican lawmakers that his team is "nowhere near a deal" with the White House on the debt ceiling, ramping up pressure on President Joe Biden just nine days before the default deadline.
In a closed-door meeting with GOP lawmakers on Tuesday, McCarthy told members a compromise on the debt ceiling was still far off, reiterating his position that he would not increase spending or raise the debt ceiling without conditions. Republicans emerged from the meeting wary of negotiators' progress, telling reporters the talks are not going well so far.
As part of the negotiations, the White House proposed late last week to limit next year's spending to 2023 levels — an idea that was rejected by Republicans, who wish to return to 2022 levels. McHenry and Rep. Garret Graves (R-LA), the top negotiators for McCarthy, emphasized that stance on Tuesday by calling on the White House to agree to cut spending.
Meanwhile, some Republicans remain skeptical of Treasury Secretary Janet Yellen's warnings that the country could default on its payments as soon as June 1, calling that date a manufactured deadline set by the Biden administration to accelerate a deal.
Gaetz argued the United States is not at risk of missing its payments, noting the country has strong revenue that will continue coming in over the next few weeks. Instead, the Florida Republican said Yellen should appear before Congress to present "receipts and deposits" that prove the country is on track to default.
McCarthy's warning comes after the speaker met with Biden on Monday evening, marking the third meeting the two have held since restarting negotiations earlier this month. McCarthy called the meeting "productive" but noted the two are still far apart on finalizing a deal.
Now for the rundown…
https://thepostmillennial.com/breaking-suspect-in-custody-after-allegedly-crashing-u-haul-truck-into-barriers-near-white-house?utm_campaign=64487
On Monday night, the driver of a U-Haul truck was taken into custody after allegedly slamming into security barriers near the White House. According to Secret Service spokesperson Anthony Guglielmi, the truck crashed on the northern side of Lafayette Square at around 10 pm.

Guglielmi said in a statement, "Shortly before 10:00 p.m. Monday, Secret Service Uniformed Division officers detained the driver of a box truck after the vehicle collided with security barriers on the north side of Lafayette Square at 16th Street."

He added that there were no injuries to any Secret Service or White House personnel and that the crash is under investigation but that the preliminary investigation reveals the driver may have intentionally crashed into the barriers.
https://thepostmillennial.com/uc-berkeley-holds-segregated-graduation-ceremony-for-black-students-only?utm_campaign=64487
The University of California Berkeley hosted a black-only graduation ceremony for its non-white students at Zellerbach Hall on Saturday. In March, UC Berkeley's African American Studies Department announced they would be holding their annual "Black Graduation" ceremony for students in May.

According to the announcement, "The Department of African American Studies plans on hosting our annual Black Graduation ceremony, which is open to all majors and degree programs across the campus."

https://twitter.com/i/status/1660362211636969473

– Play Video
https://redstate.com/mike_miller/2023/05/22/super-woke-target-partners-on-its-new-gay-pride-line-with-designer-who-insists-satan-loves-you-n749804
So let's check them off. By "them," I mean just the latest corporations to put their "woke" beliefs ahead of customer loyalty, profits, and shareholders: Disney, Nike, Bud Light, BlackRock, Ford, and Miller Lite. The complete list is long — and it just got longer with the addition of the super-woke Target Corporation.

Target has partnered with UK-based Satanist designer Abprallen on its new "Pride" collection, which features a "Cure Transphobia" sweatshirt, which bears the message "Cure transphobia, not trans people," and other related items. Did I mention that Abprallen insists "Satan loves you," "Satan respects pronouns," and other uplifting [sarc] trash for your shopping pleasure? As reported by Breitbart, Abprallen mixes its affinity for satanism with its pro-LGBT activism, boasting on its Instagram page: "Satan loves you and respects who you are; you're important and valuable in this world and you deserve to treat yourself with love and respect."