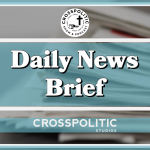 Daily News Brief for Wednesday May 25th, 2022
Wednesday Ads DNB:
Dropwave
Do you have a podcast, or thinking about starting one? Does your church have a podcast feed for sermons? The Dropwave.io is for you. Cancel culture is like walking on a thin glass bridge over the Grand Canyon. Every step you take could get you killed, I mean canceled. Since the beginning CrossPolitic has been working on being antifragile, so no matter what happens, our content can still be delivered to your tv and to your podcast. This past year, the Waterboy and his friend Jeremi, have been working on building a podcast hosting solution for rowdy platforms like CrossPolitic, so that you can be confident your podcast will never fall through that glass bridge. Dropwave offers seamless onboarding for shows that have been around for years to easy to use solutions for starting your own podcast. Dropwave will track all your show's downloads by city, state, and country, and it offers network and enterprise packages for solutions like the Fight Laugh Feast Network. Free to speak, Free to podcast, free to start your journey now at www.Dropwave.io.
Mass shooting at Texas elementary school, 14 children and one teacher dead, multiple injuries
https://thepostmillennial.com/breaking-mass-shooting-at-texas-elementary-school-two-children-dead-multiple-injuries?utm_campaign=64487
18 students are dead and two teacher following the shooting, and the shooter's grandma was also killed prior to the school shooting. This according to Governor Greg Abbott, who said the shooter "shot and killed horrifically, 14 students, and killed a teacher."
According to Ali Bradley, the suspect was wanted for murder and was being pursued by police when he exited his vehicle and ran into the grade school, where he began shooting.
"The shooter was Salvador Ramos, an 18-year-old male who resided in Uvalde, it is believed that he abandoned his vehicle and entered the Robb Elementary school with a handgun and he may have also had a rifle, but that is not yet confirmed… He shot and killed, horrifically, incomprehensibly, 14 students and killed a teacher. Mr. Romas… he himself is deceased and it is believed that responding officers killed him," said Gov. Abbott on Tuesday.
Mike Rowe Says Feds Revoked His Filming Permit, Received Call Claiming It Was Pulled For His 'Personal Politics'
https://www.dailywire.com/news/mike-rowe-says-feds-revoked-his-filming-permit-received-call-claiming-it-was-pulled-for-his-personal-politics
"Television host Mike Rowe said that the General Services Administration (GSA) recently revoked his permit to shoot a new episode of "Dirty Jobs" and wondered whether it was done for "political reasons" or as an attempt to "yank my chain," which he said the move failed to do.
In a lengthy message posted Monday on Facebook, Rowe explained why he didn't appear at the job site this week as scheduled to shoot an episode highlighting a woman-owned company in the boilermaker trade. Rowe said that to his both surprise and disappointment the shoot was canceled "at the last minute" when the GSA "suddenly revoked our permit."
"I just wanted to assure you guys that this decision had nothing to do with me, Discovery, or my production team," Rowe wrote. "This decision was made solely by the GSA, who oversees the location where you are currently working, and required us to apply for a permit months ago. Obviously, we did. The necessary permits were quickly issued, and we were assured several times over the last few months that everything was still good to go."
"Then, just two days before I was scheduled to arrive, we received a phone call from a woman at the GSA who informed us that our permits were being revoked," he added. "When we asked for an explanation, she said, 'security concerns.' When we asked her what kind of security concerns, she said she didn't know. She only told us that the decision had come down from 'the very highest levels within the GSA.'"
The TV host did not specify the location of the scheduled shoot but posted pictures of what appeared to be M&M Welding and Fabricators, the company his show had planned to feature in the episode. Rowe went on to reference other places where the show "has filmed in many sensitive environments under government control," citing previous permits obtained from the Army, Navy, Air Force, and NASA, adding, "We even got a permit to film inside the National Security Agency!"
"What's really going on here?" Rowe asked in his post.
Rowe said his crew later received a call from someone he said "sounded credible" who claimed the permit was revoked because of Rowe's viewpoints.
"According to this caller, someone at the highest levels of the GSA, 'doesn't like Mike Rowe's personal politics,' and used their power to deliberately string us along until the last possible second, for the express purpose of 'yanking my chain,'" Rowe wrote.
Rowe admitted he can't say for sure if what the caller told him was accurate."
Supreme Court to weigh Christian web designer's free speech argument against anti-discrimination law
https://www.washingtontimes.com/news/2022/may/18/supreme-court-weigh-christian-web-designers-free-s/
"Lorie Smith, a Colorado web designer who will have her case heard during the court's 2022 term, argues that the Colorado Anti-Discrimination Act forces her to create websites that celebrate same-sex marriages, which violates her faith.
Her case comes four years after a Christian baker from Colorado also took his First Amendment fight to the high court after refusing to bake a wedding cake for a same-sex wedding.
Ms. Smith said she observed Mr. Phillips' more-than-a-decade-long legal battle, but knew she couldn't live in fear of the government punishing her for her faith.
Like Mr. Phillips, she's also faced threats for challenging the law.
"I knew I couldn't live in fear," she told reporters in Washington, D.C., on Wednesday. "I am simply asking for the freedom for all of us to speak consistently with our beliefs."
The same state regulation is at issue in Ms. Smith's challenge. Her 303 Creative is based in Denver and is subject to Colorado's public accommodations law that is designed to protect certain groups from discrimination in business settings. One such group is LGBTQ people.
At least 29 states have added protection for LGBTQ individuals into their public accommodation laws — but some have protected speech from government interference, according to Ms. Smith's legal team.
Under the Colorado law, Ms. Smith claims she is unable to make a statement on her website about her view that marriage is only between a man and a woman.
A federal appeals court ruled against Ms. Smith, saying the state of Colorado can regulate a business's speech because it has an interest in ensuring equal access.
Ms. Smith said she loves using her talents to shape messages for her clients — so long as the messages do not violate her values.
"I do believe God has chosen me to represent him," she said. "Everything I do is consistent with my faith and running my business is a part of that."
Colorado Attorney General Phil Weiser, though, insists companies cannot discriminate.
"The U.S. Supreme Court has consistently held that anti-discrimination laws, like Colorado's, apply to all businesses selling goods and services. Companies cannot turn away LGBTQ customers just because of who they are. We will vigorously defend Colorado's laws, which protect all Coloradans by preventing discrimination and upholding free speech," he said earlier this year when the high court took the case.
A date for oral arguments in the legal battle has not yet been scheduled, but Kristen Waggoner, an attorney with Alliance Defending Freedom representing Ms. Smith, said they expect the justices to hear the case in October."
Lies, Propaganda, Story Telling, and the Serrated Edge:
This year our national conference is in Knoxville, TN October 6th-8th. The theme of this year's conference is Lies, Propaganda, Storytelling and the Serrated Edge. Satan is the father of lies, and the mother of those lies is a government who has rejected God. We have especially been lied to these last two years, and the COVIDpanic has been one of the central mechanisms that our government has used to lie to us and to grab more power. Because Christians have not been reading their bibles, we are susceptible to lies and weak in our ability to fight these lies. God has given us His word to fight Satan and his lies, and we need to recover all of God's word, its serrated edge and all. Mark your calendars for October 6th-8th, as we fight, laugh and feast with fellowship, beer and Psalms, our amazing lineup of speakers, hanging with our awesome vendors, meeting new friends, and more. Early bird tickets sale now!.
File this under conservatives are cowards, and not at the same time:
BOOM! Indiana's Legislature Just Overrode Their "Conservative" Governor's Veto Of Bill That Kept Men Out Of Women's Sports
https://notthebee.com/article/boom-indianas-legislature-just-overrode-their-conservative-governors-veto-of-bill-that-kept-men-out-of-womens-sports
Indiana is one of the many red states that have governors who are unwilling to actually stand up for conservative principles and unflinchingly state the reality that boys are boys and girls are girls.
With the opportunity to do just that a few weeks ago, Indiana's governor, Eric Holcomb, vetoed a bill that kept men out of women's sports.
Holcomb tried to compromise Indiana girls, but the legislature was not about to have it.
According to ABC News:
"The Indiana Legislature voted Tuesday to override the governor's veto of the anti-trans bill that bans transgender girls from participating in girls' sports in K-12 schools.
Republican Gov. Eric Holcomb vetoed the bill in March. He said the bill fell short in clarifying or creating policy to ensure "fairness" in school sports.
In his veto letter, he said he echoed the Indiana High School Athletic Association's concerns that the bill does not address inconsistencies about enforcement across different counties and school districts and will cause confusion and litigation against schools.
He also pointed to pending litigation seen in other states that have passed similar laws, where courts have enjoined or prohibited the laws from taking effect.
"Any bill brought forward should address the issues raised in these lawsuits," Holcomb's March letter read.
He also said there was no evidence of an issue of fairness in girls' sports and trans participation."
Just grateful for checks and balances.
The National Pulse Announces World Economic Forum Investigative Priority and Dedicated Site.
https://thenationalpulse.com/2022/05/23/new-the-national-pulse-announces-world-economic-forum-investigative-priority-and-dedicated-site/
According to the National Pulse:
"The National Pulse is announcing a new investigative priority surrounding the work of the World Economic Forum, as well as launching a new public information website: TakeDownTheWEF.com.
Founded in 1971 by German economist Klaus Schwab, the World Economic Forum (WEF) is an unaccountable, non-governmental organization which convenes meetings of world leaders in Davos, Switzerland, with a view to impacting policy decisions on behalf of its members: predominantly multi-national corporations and politicians.
The group has been criticized for its stated aims of transforming or "resetting" global society for the benefit of private corporations rather than the public.
Schwab himself has argued governments are no longer "the overwhelmingly dominant actors on the world stage" and "the time has come for a new stakeholder paradigm of international governance."
As a result, The National Pulse is announcing a new commitment to exposing the work of the World Economic Forum, and is calling on ordinary members of the public to help support this effort through our crowdfunding site: FundRealNews.com
Speaking on the subject, The National Pulse Editor-in-Chief Raheem Kassam said: "We're not just setting up a resource for members of the public to learn more about the World Economic Forum, we're also crowdsourcing information on the group. The World Economic Forum is the throbbing, blackened heart of globalism, and we intend to drive a stake in it. For those interested in taking the fight to this group journalistically, as well as politically, think about urgently supporting this initiative.""
This is Gabriel Rench with Crosspolitic News. Support Rowdy Christian media by joining our club at fightlaughfeast.com, downloading our App, and head to our annual Fight Laugh Feast Events. If this content is helpful to you, would you please consider becoming a Fight Laugh Feast Club Member? We are trying to build a cancel-proof media platform, and we need your help. Join today and get a discount at the Fight Laugh Feast conference in Knoxville, TN and have a great day. Have a great day. Lord bless