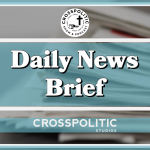 This is Waterboy with your CrossPolitic Daily News Brief for Wednesday, May 26th, 2021.
"Do you have a guitar at home that's calling out to you?  Do you long to discover or rediscover your voice as a guitarist?  Maybe you're overwhelmed and you don't know where to start.  But there's a way.  GuitarSuccess4U is a unique, online membership, founded by David Harsh, a fellow Cross Politic listener who has been touring nationally as a Christian artist, worship leader and guitar workshop clinician for the last 20 years.  You can learn at your own pace, from home, alongside a community of guitarists who range from beginner to intermediate, worship leaders, hobbyists, retirees, stay-at-home moms and more.  Through a fun, inspiring approach to the guitar, David shares from his decades of experience, and takes you step-by-step towards becoming the musician you were made to be. Learn more and join now at GuitarSuccess4U.com.  That's Guitar Success, the number "4" and the letter "U," dot com."
United Is Giving Away Free Flights To Vaccinated Travelers—And Delta, American And Southwest Should, Too
https://www.forbes.com/sites/suzannerowankelleher/2021/05/25/united-free-flights-vaccinated-sweepstakes/?sh=6e51ca8d1034
United Airlines just launched a sweepstakes that's open only to fully vaccinated travelers, and the prize is a humdinger.
Every day in June, the airline will give away a pair of roundtrip tickets for two, in any class of service, to anywhere in the world United flies. But wait, there's more. On July 1, United will dip back into the pool and randomly pick five winners for the amazing grand prize: Free flights for two, anywhere in the world, for an entire year.
Not only is this initiative good for United's business, it's going to be very good for the country.
Vaccine incentives work, and that's especially true for lottery-style campaigns that offer mega prizes. Ohio's Vax-a-Million sweepstakes, which is giving away five $1 million prizes to vaccinated residents, boosted the state's vaccine rate by more than 28% in its first three days. The first winner was pulled yesterday from a pool of 2.8 million entries.
Now, New York, Maryland and Oregon are also incentivizing unvaccinated residents to get their Covid-19 shots by offering the chance to win as much as $5 million through their own lotteries.
"We're proud to do our part to incentivize people to get their shot," said United CEO Scott Kirby. "Thanks to the vaccine, more and more destinations are opening up for travel – and we know our customers are eager to fly."
Idaho's COVID-19 vaccine rates still among lowest in the U.S.; state reports 6 deaths
https://www.idahostatesman.com/news/coronavirus/article251653873.html
According to the Idaho Statesman:
"Idaho health officials on Monday reported 329 new cases of COVID-19 and six deaths in a state that has one of the lowest vaccination rates in the country.
The 329 new cases reported since Friday are in line with case numbers in recent days, with a quarter of the new cases reported in Ada County (52,644 total).
Officials also reported six new deaths related to COVID-19. One new death was reported in each of the following counties: Bannock (110 total), Canyon (299 total), Jefferson (31 total), Kootenai (210 total), Lewis (10 total) and Owyhee (30 total). To date, 2,086 Idahoans have died of COVID-19.
The plateau in cases comes as the Centers for Disease Control and Prevention reports that Idaho is among the worst states in the country for vaccination rates per capita. The CDC shows about 67,900 vaccine doses administered in Idaho per 100,000 residents, the sixth-worst rate in the country. Only Mississippi, Alabama, Louisiana, Wyoming and Arkansas are worse.
Idaho has been falling behind national vaccination rates for some time. Health and Welfare data shows 42.4% of Idahoans 18 and older have been fully vaccinated versus 49.6% nationwide. About 70.5% of Idahoans 65 and older have completed their vaccinations. Nearly 74% of people in the same age category nationwide are fully vaccinated."
And all this is on the heels from our experts gaslighting us and telling us that lockdowns work. Well here is Representative Jim Jordan embarrassing Fauci:
Roll clip: https://twitter.com/aginnt/status/1383553315980464133
Club Plug/Update
Folks I cannot thank you enough for all the support you have showered on us since we started in 2016. Without you, and especially our club members, we would not have been able to get this far and build the reach God has given us. This is of course God's grace, God builds houses, and if we labor with that in mind, then we won't labor in vain. So, we have gained many new listeners over the last six months, and whether you are a legacy listener or a newbie, I wanted to give you an update on where we are at and where we are going. This is news, right?
CrossPolitic started in 2016 with the goal of proclaiming the Lordship of Christ into politics. As God has blessed us, we now have a growing podcast network in the US and Canada. CrossPolitis also airs on Youtube, Facebook, Twitch, Direct TV, Xfinity, and a couple local TV stations (Michigan/New Mexico). Our podcast downloads have been doubling every year, last year we were at about two million downloads, and at the end of 2020 we hit about four million downloads. 2021 eight million?
In addition to our studio efforts, we have launched events and tours. We now will be hosting our annual conference in the Nashville are every September/October, our annual Rally in April will move around to various states with the goal of poking someone in the eye, we also did our first east coast tour last year, and as we get the needed funding (I am talking to you), we will do more of that.
Whatever we are doing, and whatever doors God opens for us, our goal is to bring the Fight Laugh Feast vision of the gospel into, as we say, "muddle-America". America really is muddled, we have massive sin that needs to be uprooted and repented of, and this will only happen through a genuine work of the Holy Spirit (reformation and revival).
So, thanks for listening, thanks for sharing our shows with your friends, and thanks for your prayers and financial support. Because we are new media, competing against legacy media who has all the money, we need to crowdsource our funding. We need your business's support, your club membership support, sharing our content, etc… Club membership is the easiest way to support us, as it ranges from $5 to $100 per month, and it is also the best way to keep us financially healthy over the long haul. We have a couple thousand club members now, and our goal is to get that up to a hundred thousand club members. We are praying for an army of like-minded club members throughout the US that are behind our mission and want to see the gospel engage culture in every area of our lives. So, think of our club membership, perks and all, as joining arms with us to enable us to take over mainstream media and be a voice of truth in a media world that christians have largely left to liberals who believe men can be women, and compromised Fox News who, after the Sean Hanity interview also believe men can be women. Lastly, as a way of bringing our club members together, we are currently working on an internal network for our club members to chat with each other and with us, and should provide a wonderful like-minded fellowship with thousands of club members across the US, Canada, and really all our club members across the world. Stand by, we hope to have that solution rolled out soon. Thanks for joining the club, thanks for all the businesses that have stepped up to support us, and thanks for all your time you have dedicated to us through listening and praying.
The Pentagon's chosen leader to root out "extremism" in the military once tweeted that all Trump supporters are extremists
https://notthebee.com/article/the-pentagons-chosen-leader-to-root-out-extremism-in-america-once-tweeted-that-all-trump-supporters-are-extremists
According to Not the Bee:
"The leader of a Pentagon working group overseeing efforts to root out domestic extremists in the military tweeted in 2019 that any supporter of former President Donald Trump unequivocally supports extremism and racism."
Becerra tells WHO it 'must' launch more 'transparent' investigation into COVID origin
https://www.foxnews.com/politics/becerra-who-wuhan-covid-origin-investigation
Roll clip.
According to Fox:
"Health and Human Services Secretary Xavier Becerra on Tuesday told the World Health Organization (WHO) that it "must" launch a more "transparent" investigation into the origins of the coronavirus amid mounting evidence that the virus may have escaped from the Wuhan Institute of Virology lab in China.
After the WHO appeared complicit with China's efforts to cover up the severity of the virus's spread, former President Trump severed ties with the international organization. The Biden administration rejoined the WHO this year, but it has remained critical of the lack of transparency in the group's reports on the early spread of the virus in China.
"The COVID-19 pandemic not only stole a year from our lives, it stole millions of lives," Becerra said in an address to the World Health Assembly, a conference organized by the WHO. "Now we must honor our departed by taking urgent action this year — to strengthen health security and pandemic preparedness so that we are better prepared for the next global health crisis."
Republicans plan to send Biden nearly $1 trillion infrastructure counteroffer this week
https://www.cnbc.com/2021/05/25/biden-infrastructure-plan-capito-senate-republicans-to-send-counteroffer.html
According to CNBC:
"A group of Senate Republicans plans to send President Joe Biden an infrastructure counteroffer this week as the sides consider whether they can bridge an ideological gulf to craft a bipartisan bill.
The proposal could cost nearly $1 trillion, and Republicans aim to offset the spending without increasing taxes. The group of GOP lawmakers aims to deliver the plan as soon as Thursday morning.
Hopes for an agreement between the parties to revamp U.S. transportation and broadband appeared to dim last week. After the White House cut its infrastructure offer to $1.7 trillion from $2.3 trillion, an aide to Sen. Shelley Moore Capito, R-W.Va., said the plan's price tag was "well above the range of what can pass Congress with bipartisan support."
The Republican group initially put out a $568 billion infrastructure framework last month."
Democrats will have to decide whether they want to chop up their plan enough to win Republican votes, or try to forge ahead on their own using special budget rules. It is unclear if they would consider passing parts of the proposal with GOP support, then moving to approve other pieces on their own.
The Biden administration has said it wants to see whether it can make progress in bipartisan infrastructure talks before Memorial Day."
Magazine Plug
Have you signed up for our Magazine? Next issue ships in early June. Our magazine is a quarterly, mini-book-like experience that includes the best of authors and topics for a theological roundhouse kick to the face of our cultural gods. Read your magazine like you drink your scotch, and let the kick warm your belly. We don't water down our theology, why would we water down our scotch? Annual subscriptions are $60 – that's for four issues. So sign up and enjoy our Fight Laugh Feast theme park.
Closing
This is Gabriel Rench with Crosspolitic News. Support Rowdy Christian media by joining our club at fightlaughfeast.com, downloading our App, and head to our annual Fight Laugh Feast Conference next fall. With your partnership, together we will fight outdated and compromised media, engage news and politics with the gospel, and replace lies and darkness with truth and light. Go to fightlaughfeast.com to take all these actions. Have a great day. Lord bless