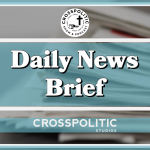 This is Garrison Hardie with your CrossPolitic Daily News Brief for Wednesday, May 3rd, 2023.
Club Membership Plug: (1/9)
Ladies and gentleman, it's never been a better time to become a club member at CrossPolitic. This year, CrossPolitic will be dropping exclusive content into our club portal for club members ONLY. Some of this content will include a pilot TV Show called This America, a Bible study series with Pastor Toby, a special with New Saint Andrew's President, Ben Merkle, our backstage content, and our conference talks! You can grab a club membership for 10 bucks per month… that's two cups of coffee. So again, head on over to fightlaughfeast.com to get signed up today! That's fightlaughfeast.com.
https://thefederalist.com/2023/05/02/in-reynosa-mexico-15000-haitian-immigrants-wait-for-key-biden-policy-to-end/
In Reynosa, Mexico, 15,000 Haitian Immigrants Wait For New Chaotic Biden Policy To Kick In
An estimated 15,000 mostly Haitian immigrants have packed into every crevice of this northern Mexican city on the Rio Grande across from McAllen, Texas, and won't leave. At least not until after 11:59 p.m. on May 11.
That's the moment when the pandemic-era "Title 42" rapid expulsion policy finally expires and is replaced by a new, untested Biden administration plan for keeping them in Reynosa as well as the "volatile logjam," as The New York Times recently termed them, of tens of thousands of other immigrants now waiting for the policy change all over Mexico.
But because of a powerful deterrent of Title 42 fairly unique to them, the 15,000 Haitians in Reynosa make for a good bellwether for if the administration's replacement strategy will hold them back as Title 42 has, or will invite the most chaotic rush on the U.S. southern border yet in this third long year of the most voluminous mass migration event in recorded American history.
The reason to watch Reynosa after May 12 is that most of its Haitians, long ago overflowing migrant camps all over town, will not dare cross the river while Title 42 is in effect, unlike other nationalities who have already disregarded it by crossing in large numbers. The Haitians of Reynosa won't go even as they enviously witness large numbers of Venezuelans nearby illegally cross in an overwhelming new surge despite Title 42 and see the American government admit them into the country.
Title 42's impact on them is why its ending makes Reynosa and its reticent population of Haitians almost the perfect bellwether to know if the Biden administration's plan for May 12 is going to work as sold. Either way, many hundreds of thousands, turning into millions by the end of the Biden term, will enter.
The question is whether it will be an orderly flow no one can see — or a schizophrenic rush that overflows border management preparations into towns and cities across the country, hurts the country, and poses a political liability for Democrats thinking about 2024 elections.
https://time.com/6276438/biden-troops-border-title42/
Biden Sending 1,500 Troops to Southern Border Ahead of Expected Migration Surge
The Biden Administration will send 1,500 troops to the southern border of the U.S. to support immigration authorities facing tens of thousands of migrants expected to surge into the country once COVID-19 restrictions are lifted, U.S. officials said.
At the request of the Department of Homeland Security (DHS), the U.S. service members will be sent on a 90-day temporary deployment assisting Customs and Border Patrol (CBP), the Pentagon announced on Tuesday. The troops will not carry out law enforcement work, but instead perform support duties that will free up CBP agents to detain and process migrants.
Homeland Security Secretary Alejandro Mayorkas said Sunday the government is bracing for a record tide of migration across the southwest border when pandemic restrictions, known as Title 42, end on May 11. The Trump-era authorities prevented migrants from requesting asylum and allowed U.S. border agents to quickly expel migrants out of public-health concerns.
Mayorkas emphasized the immigration system was stretched thin on resources and made a public case for federal relief."I just want to be clear that we are working within significant constraints," he said Sunday on "Meet the Press." "We need people. We need technology. We need facilities. We need transportation resources—all of the elements of addressing the needs of a large population of people arriving irregularly at our southern border."
Customs and Border Patrol (CBP) Commissioner Troy Miller told Congress last month his agency is preparing for about 10,000 migrant crossings every day once Title 42 ends. President Joe Biden signed an executive order April 27 to call-up active-duty troops to combat international drug trafficking, officials said. The DHS then formally asked for the Pentagon's support, which Defense Secretary Lloyd Austin approved on Tuesday.
Currently, there are about 2,500 troops—members of the National Guard on active-duty orders—deployed along the 2,000-mile-long southwest border supporting CBP's efforts. For years, U.S. forces have monitored "Mobile Surveillance Cameras" in all nine border sectors in each of the four states bordering Mexico. The devices are armed with infrared cameras, enabling service members to watch for illegal border crossings day or night.
https://thepostmillennial.com/breaking-jay-inslee-will-not-seek-4th-term-as-washingtons-governor-in-2024?utm_campaign=64487
Jay Inslee will not seek 4th term as Washington's governor in 2024
Washington state Governor Jay Inslee (D) announced Monday that he will not seek re-election in 2024.
In a statement, Inslee said:
"Today I announced I will not be running for a fourth term. We've made Washington a beacon for progress, and now it's time to pass the torch," Gov Inslee said on Twitter. "I'm proud of the progress we've made on so many fronts: climate, financial aid, paid family leave, legal justice system reforms, gun safety, reproductive freedom… Now is the time to intensely focus on all we can accomplish in the next year and a half. I intend to do just that."
Inslee's announcement follows the conclusion of an "intense" and "controversial" legislative session where the democrat-controlled House and Senate voted to ban semi-automatic firearms, make Washington a sanctuary state for minors seeking gender affirming care and abortions, and legalized possession of illicit drugs, to name a few.
Governor Inslee became the second governor in state history to serve three consecutive terms after he was re-elected in 2020, and in his announcement Inslee called his tenure a "dynamic success."
Under Inslee's governance, Washington state has succumbed to criminal lawlessness as well as an existential homeless crisis rippling throug the evergreen state. Immediately following the announcement, critics of the governor took to social media to praise Inslee's decision to step down from his post, saying "good riddance."
https://thenationalpulse.com/2023/05/01/carjackings-in-washington-dc-skyrocketing/
How Many Carjackings in Washington, D.C. in 2023? Here Are The Staggering Numbers…
Carjackings in Washington D.C. continue to skyrocket in line with a five-year trend that has the local police chief Robert Contee lamenting that crimes are happing "at a pace that I have not seen in my 30-plus year career here with the Metropolitan Police Department."
Since the beginning of the year, there have been a staggering 228 carjackings in the District, 78 of which occurred in April alone, with 23 in the last week, according to the Washington D.C. Metropolitical Police Department (MPD). Despite 74 percent of this year's carjackings featuring a firearm, less than 35 percent of carjacking offenses are prosecuted.
In 2018, there were 148 carjackings in D.C., and 152 in 2019. However, following the death of George Floyd, the D.C. city council announced its intention to slash $15 million from the MPD's annual budget. This resulted in an explosion in carjackings, amongst other crimes.
In 2020, there were 360 carjackings, followed by 425 in 2021, and 485 last year. If carjackings continue to occur at the current rate, there may be as many as 600 by the end of 2023.
Republicans from the U.S. House of Representatives were forced to intervene earlier this year after the D.C. council wanted to reduce penalties for violent crimes such as carjacking and gun possession.
The D.C. council thought it better to lower the maximum jail time for carjackings, and eliminate most mandatory minimum sentences for crimes in the capitol than addressing the problem as the MPD demanded. The Criminal Code Act of 2022 was, however, blocked by the U.S. Congress from coming into force, with 33 Democrat Senators even voting against the bill.
Andrew Clyde, a House Representative from Georgia's 9th District, led the charge against the Criminal Code Act, arguing that Congress had to "stop this insanity in its tracks."
The Democrat Mayor of Washington D.C., Muriel Bowser, has also promised free steering wheel locks for some cars after suggesting one of the reasons why carjackings are so common had something to do with a "recent social media challenge."
These actions, however, do not meet the demands of the local police force. A representative of the MPD Carjacking Task Force, Valkyrie Barnes, argues, "It's ridiculous… unless there is some kind of deterrent to this, it's not going to stop… we need more [detectives]."
The District of Columbia and many of its residents currently support the notion of adding D.C. as a fully-fledged state, arguing that residents are taxed as citizens, but do not receive commensurate representation as a result. Opponents of this cause point out that D.C. residents often have far more political sway than ordinary voters around the country, and that the purpose of the District, per the nation's founders, was to be separate from the Congress and its machinations. Many of the latter group believe that much of D.C. should be given back to Virginia and Maryland as a means to create a compromise over representation.
https://www.independent.co.uk/news/world/americas/vice-media-bankruptcy-journalism-layoffs-b2330554.html
Vice heading for bankruptcy after once being worth $5.7bn, reports say
Vice, once heralded as the insurgent leader of a new generation of media companies, is heading for bankruptcy, according to The New York Times.
Two people familiar with Vice operations told the paper the media company is looking for a buyer. Otherwise, the company will have to file for bankruptcy, the unnamed sources said.
"Vice Media Group has been engaged in a comprehensive evaluation of strategic alternatives and planning," Vice said in a statement on Monday to the Times. "The company, its board and stakeholders continue to be focused on finding the best path for the company."
The media company, which got its start as a Canadian alternative publication, eventually became a digital powerhouse known for its in-your-face, youth-focused stories about politics, music, and culture, told across a constellation of websites, films, podcasts, TV shows, the flagship magazine, and eventually a standalone TV network.
Vice News reporters filed memorable documentaries like a report from the Charlottesville "Unite the Right" rally in 2017, as well as reporting gonzo tales like chronicling NBA legend Dennis Rodman's visit to North Korea.
A 2017 investment round led by TPG once valued the company at $5.7bn. More recently, the company was thought to be worth less than $1bn, according to reports earlier this year about the company's potential search for a buyer.
Despite receiving acclaim for its unique style of storytelling, as well investments from marquee names like Disney and Fox, the company has continued to struggle financially.
Last week, the company announced it would cancel its flagship "Vice News Tonight" show and lay off dozens of employees amid a larger corporate restructuring, the latest in a bruising season of media layoffs that saw cuts at Insider, NPR, Paper magazine, and the demise of Buzzfeed News.
That follows reports that the Vice got an emergency $30m in financing to pay off a growing number of debts.
In February, Vice Media chief executive Nancy Dubuc left the company.
The company fell short of a 2022 revenue goal by more than $100m, The Wall Street Journal reported in December.
The previous year, the company scuttled plans to go public through a special purpose acquisition company.
In addition to its financial woes, Vice has been plagued by scandals, with critics charging the company's anti-establishment ethos at times covered up a corporate culture rife with abuse.