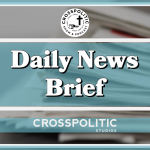 Daily News Brief for Wednesday May 4th, 2022
Plug
Do you have a podcast, or are you thinking about starting one? Does your church have a podcast feed for sermons? The Dropwave.io is for you. Cancel culture is like walking on a thin glass bridge over the Grand Canyon. Every step you take could get you killed, I mean canceled. Since the beginning CrossPolitic has been working on being antifragile, so no matter what happens, our content can still be delivered to your tv and to your podcast. This past year, the Waterboy and his friend Jeremi, have been working on building a podcast hosting solution for rowdy platforms like CrossPolitic, so that you can be confident your podcast will never fall through that glass bridge. Dropwave offers seamless onboarding for shows that have been around for years to easy to use solutions for starting your own podcast. Dropwave will track all your show's downloads by city, state, and country, and it offers network and enterprise packages for solutions like the Fight Laugh Feast Network. Free to speak, Free to podcast, free to start your journey now at www.Dropwave.io.
Supreme Court has voted to overturn abortion rights, draft opinion shows
https://www.politico.com/news/2022/05/02/supreme-court-abortion-draft-opinion-00029473
As you are aware by now, Politico released a leaked
"The Supreme Court has voted to strike down the landmark Roe v. Wade decision, according to an initial draft majority opinion written by Justice Samuel Alito circulated inside the court and obtained by POLITICO.
The draft opinion is a full-throated, unflinching repudiation of the 1973 decision which guaranteed federal constitutional protections of abortion rights and a subsequent 1992 decision — Planned Parenthood v. Casey — that largely maintained the right. "Roe was egregiously wrong from the start," Alito writes.
"We hold that Roe and Casey must be overruled," he writes in the document, labeled as the "Opinion of the Court." "It is time to heed the Constitution and return the issue of abortion to the people's elected representatives."
Deliberations on controversial cases have in the past been fluid. Justices can and sometimes do change their votes as draft opinions circulate and major decisions can be subject to multiple drafts and vote-trading, sometimes until just days before a decision is unveiled. The court's holding will not be final until it is published, likely in the next two months.
The immediate impact of the ruling as drafted in February would be to end a half-century guarantee of federal constitutional protection of abortion rights and allow each state to decide whether to restrict or ban abortion. It's unclear if there have been subsequent changes to the draft."
Was the Constitution silent on abortion and does tradition make room for abortion being legal?
More from Politico on this:
"The inescapable conclusion is that a right to abortion is not deeply rooted in the Nation's history and traditions," Alito writes.
Much of Alito's draft is devoted to arguing that widespread criminalization of abortion during the 19th and early 20th century belies the notion that a right to abortion is implied in the Constitution.
The conservative justice attached to his draft a 31-page appendix listing laws passed to criminalize abortion during that period. Alito claims "an unbroken tradition of prohibiting abortion on pain of criminal punishment…from the earliest days of the common law until 1973."
"Until the latter part of the 20th century, there was no support in American law for a constitutional right to obtain an abortion. Zero. None. No state constitutional provision had recognized such a right," Alito adds.
Alito who wrote the majority opinion in this draft, according to Politico, had a number of sharp things to say:
"At times, Alito's draft opinion takes an almost mocking tone as it skewers the majority opinion in Roe, written by Justice Harry Blackmun, a Richard Nixon appointee who died in 1999.
"Roe expressed the 'feel[ing]' that the Fourteenth Amendment was the provision that did the work, but its message seemed to be that the abortion right could be found somewhere in the Constitution and that specifying its exact location was not of paramount importance," Alito writes.
Alito declares that one of the central tenets of Roe, the "viability" distinction between fetuses not capable of living outside the womb and those which can, "makes no sense."
"The Constitution does not prohibit the citizens of each State from regulating or prohibiting abortion," the draft concludes. "Roe and Casey arrogated that authority. We now overrule those decisions and return that authority to the people and their elected representatives."
Here is my two cents on this:
First, leaks happen for a reason, and this leak is egregious intentional. The abortion culture will do anything to keep their blood sacrifice, and that is the whole point of this leak.
Secondly, since the leak was intentional, here are the chess pieces they are trying to influence. Option 1: Get one (or two, we dont know) Justices to change their position in the next two months. Option 2: If one of the Justices get suicided before the vote is finalized, then the decision will go in favor of the blood sacrifice crowd. Option 3: Try and get everyone to rally in the November elections, and stave off a Republican wave…sort of the COVID effect. Create chaos, which democrats just love, just look at their cities, and steal the election in November.
Third thing to consider here. Chief Justice John Roberts has ordered an investigation into the leak, so this letter is probably pretty accurate with the direction the ruling was/is going, and the word on the street was that it was Amit Jain clerks for Supreme Court Justice Sonia Sotomayor leaked the draft (https://twitter.com/MattWolking/status/1521303528421171203?ref_src=twsrc%5Etfw%7Ctwcamp%5Etweetembed%7Ctwterm%5E1521303528421171203%7Ctwgr%5E%7Ctwcon%5Es1_&ref_url=https%3A%2F%2Fwww.lifenews.com%2F2022%2F05%2F03%2Fif-justice-sonia-sotomayor-was-involved-in-supreme-court-leak-she-should-be-impeached%2F). Matt Woking, Republican advisor and strategist, connected some dots on Twitter last night and said that "As a Yale student, Jain blasted Yale for supporting Brett Kavanaugh's nomination. Jain was quoted in a 2017 Politico piece by Josh Gerstein. Today, Gerstein published the draft SCOTUS opinion on Roe." If this leak came from Sotomayor's office, she should be impeached after November, and replaced by a Republican House and Senate.
Well here is Biden's Statement on this leak and draft decision:
COVID Science has wrecked our industrial medical complex. No one trusts their "science" anymore and so guys like Dr. Jay and others are working hard to be trusted voices in the midst of all this confusion. Dr. Martin Kulldorf, Epidemiologist, Biostatistician, and Former Harvard Professor of Medicine released the "Twelve Forgotten Principles of Public Health", and they are:
#1 Public health is about all health outcomes, not just a single disease like #COVID19. It is important to also consider harms from public health measures.
#2 Public health is about the long term rather than the short term. Spring #COVID19 #lockdowns simply delayed and postponed the pandemic to the fall.
#3 Public health is about everyone. It should not be used to shift the burden of disease from the affluent to the less affluent, as the #COVID19 #lockdowns have done.
#4 Public health is global. Public health scientists need to consider the global impact of their recommendations.
#5 Risks and harms cannot be completely eliminated, but they can be reduced. Elimination and zero-COVID strategies backfire, making things worse.
#6 Public health should focus on high-risk populations. For #COVID19, many standard public health measures were never used to protect high-risk older people, leading to unnecessary deaths.
#7 While contact tracing and isolation is critically important for some infectious diseases, it is futile and counterproductive for common infections such as influenza and #COVID19.
#8 A case is only a case if a person is sick. Mass testing asymptomatic individuals is harmful to public health.
#9 Public health is about trust. To gain the trust of the public, public health officials and the media must be honest and trust the public. Shaming and fear should never be used in a pandemic.
#10 Public health scientists and officials must be honest with what is not known. For example, epidemic models should be run with the whole range of plausible input parameters.
#11 In public health, open civilized debate is profoundly critical. Censoring, silencing and smearing leads to fear of speaking, herd thinking and distrust.
#12 It is important for public health scientists and officials to listen to the public, who are living the public health consequences. This pandemic has proved that many non-epidemiologists understand public health better than some epidemiologists. / END
New study: Face mask usage correlates with higher death rates
https://www.israelnationalnews.com/news/326734
According to Israel National News:
A new peer-reviewed study entitled: "Correlation Between Mask Compliance and COVID-19 Outcomes in Europe" has demonstrated that use of face masks, even widespread, did not correlate with better outcomes during the COVID epidemic, based on data from 35 European countries with populations of over one million people each, encompassing a total of 602 million people.
The study noted that the average proportion of mask usage in the period investigated (October 2020 until March 2021) was 60.9% ± 19.9%.
Governments and advisory bodies have recommended and often mandated the wearing of face masks in public spaces and in many areas mandates or recommendations remain in place, despite the fact, the study notes, that randomized controlled trials from prior to and during the epidemic have failed to show a benefit to the wearing of such masks with regard to COVID transmission.
"Positive correlation between mask usage and cases was not statistically significant," the study also found, "while the correlation between mask usage and deaths was positive and significant (rho = 0.351, p = 0.039)." That is to say, more mask usage correlated with a higher death rate.
The study used a variety of statistical methods to study correlation but "none of these tests provided negative correlations between mask usage and cases/deaths … Surprisingly, weak positive correlations were observed when mask compliance was plotted against morbidity (cases/million) or mortality (deaths/million) in each country."
The study also noted that the public may have gained the impression that masks could be helpful due to the fact that mandates were usually implemented after the first peak of COVID cases had passed. However, it became evident that masks were not in fact helpful later that same year, when widespread mask usage does not appear to have mitigated the severity of the COVID wave of winter 2020.
"Moreover," the study concludes, "the moderate positive correlation between mask usage and deaths in Western Europe also suggests that the universal use of masks may have had harmful unintended consequences."
Elon Musk goes scorched-earth on NBC after Peacock host's attack, notes network's worst scandals
https://www.foxnews.com/media/elon-musk-scorched-earth-nbc-peacock-host-insults-notes-networks-worst-scandals?intcmp=fb_fnc
According to Fox News:
Tesla CEO Elon Musk took a scorched-earth approach to NBC on Monday after a left-wing Peacock host accused him of handing Twitter "to the far-right."
"NBC basically saying Republicans are Nazis …" Musk wrote in a Monday tweet, responding to a video clip posted by another user showing Mehdi Hasan railing against Musk, calling him a "not-so-bright billionaire," and complaining about his purchase of the social media giant.
"Same org that covered up Hunter Biden laptop story, had Harvey Weinstein story early & killed it & built Matt Lauer his rape office. Lovely people," Musk added in another tweet, listing some of the network's most notorious scandals in recent years.
This is Gabriel Rench with Crosspolitic News. Support Rowdy Christian media by joining our club at fightlaughfeast.com, downloading our App, and head to our annual Fight Laugh Feast Events. If this content is helpful to you, would you please consider becoming a Fight Laugh Feast Club Member? We are trying to build a cancel-proof media platform, and we need your help. Join today and get a discount at the Fight Laugh Feast conference in Knoxville, TN and have a great day. Have a great day. Lord bless