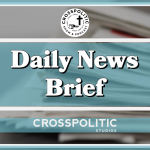 This is Gabriel Rench with your CrossPolitic Daily News Brief for Wednesday, May 5th, 2021. 
Huge thanks to everyone who attended and watched the Fight Laugh Feast Rally in Rapid City, South Dakota: all the talks were archived for Fight Laugh Feast Club Members in the club portal. Become a club member today so you don't miss any of them. And if you see some of the clips from the talks floating around on social media, don't forget to share them. That's a great way to share the love and encourage other folks to join.
We're already gearing up for the next conference back in Nashville: Sep. 9-11: the Politics of Sex. I hope many of you are planning to come. Registration will be opening soon.
State revises mask mandate for outdoor athletics after Summit HS runner collapses at finish line
According to KTVZ:
"Maggie Williams, a junior on the Summit High School track team, broke a school record in the 800-meter last Thursday. Her moment of glory has been somewhat overshadowed a by moment of concern – Williams passed out as she stumbled her way across the finish line. She and her coach say the mask is to blame, and now the Oregon Health Authority is updating its guidelines.
Williams ran the 800-meter race in 2:08:45, which beat the previous school record of 2:10:54 set in 2019.
"I found out a couple minutes after my race, when I had recovered from my fall," Williams told NewsChannel 21 Monday. "So super exciting for me."
The fall Williams is referring to happened during the last seven meters of the race, just as she was about to finish.
"I felt like I just wasn't being able to get a full breath," she said. "Multiple times of that happening, not being able to get enough air — I just felt super-dizzy, and then eventually passed out."
Williams said her lack of oxygen is a result of the mask she's been required to wear during competition, under OHA guidelines for outdoor sports.
"In the past, this has never happened," Williams said. "Then this race that I was wearing a mask, it did happen, which I don't think is a coincidence."
Her coach, Dave Turnbull, echoed that belief Monday morning.
"She just ran a 2:11 in Arizona without a mask on," Turnbull said. Three seconds faster from my experience isn't going to cause a kid to hit the track. When you're in a mask, it certainly does."
Turnbull said that after 31 years of experience, he's confident this wasn't a conditioning issue — it was a mask issue…
OHA released this statement Monday afternoon:
"The Oregon Health Authority regularly reviews COVID-19 guidance based on medical evidence and evolving science. We are revising the current guidance on the use of masks outdoors during competition. The guidance will allow people to take off face coverings when competing in non-contact sports outdoors and maintaining at least 6 feet of distance from others and the other virus protective protocols.
* The exception will not apply while training and conditioning for these sports or for competitions.
* The exception will not apply before and after competing.
"Oregon at present is facing a fourth wave of surging COVID-19 cases and hospitalizations and wider community spread of the virus. Mask wearing has proven to be effective at slowing spread of the virus – particularly in conjunction with other protective measures such as physical distancing, restricting gatherings, hand washing and getting a COVID-19 vaccine.
"As always, OHA will revise guidance as needed to protect public health during the pandemic."
Oregon Town Declares Emergency to Fight Gov. Brown's Lockdowns
https://pjmedia.com/news-and-politics/jeff-reynolds/2021/04/28/oregon-town-declares-itself-a-common-sense-sanctuary-city-to-fight-lockdowns-n1443326
According to PJ Media:
"In the small-ish burg of Baker City, way out in Eastern Oregon, far away from the capital city, a proposal among business leaders has ignited a movement. Now, the mayor says other towns across Oregon are looking to her city as a model to fight back against an out-of-control governor.
In an interview with PJ Media, Baker City Mayor Kerry McQuisten says the proposal began as an attempt to make their town a Common Sense Sanctuary. Serving in her first term, business leaders approached her the day after her swearing-in took place in January. "It was quite a process," she says. "After we were all sworn in back on January 12th, local businesses brought forth to [city] council an idea of a Common Sense Sanctuary City. The idea was pretty funny, actually. It was a good idea. They were asking for local businesses to be able to adhere, or not adhere to the mask mandates, the OSHA [Oregon Occupational Safety and Health Division] restrictions, as they saw fit individually."
McQuisten says the city council conducted a town hall meeting over the issue. "Business owners poured in to give testimony. Some questioned whether the city could protect them from state OSHA regulations and targeting by these agencies."
The town hall led to a workgroup to study the idea further. McQuisten says they chose a deliberate course of action that included a letter from the city to Governor Kate Brown telling her that business leaders and the Baker City community had been left out of the pandemic decision-making process. After that, they decided a resolution wasn't strong enough to convey their message.
"After we got no response from the governor," McQuisten says, "we brought forth the Emergency Declaration, and batted the language back and forth for a couple of weeks."
What resulted from this work in March was an official declaration by Baker City: "RESOLUTION DECLARING AN ECONOMIC, MENTAL HEALTH, AND CRIMINAL ACTIVITY CRISIS DUE TO THE CURRENT COVID-RELATED STATE EMERGENCY DECLARATION AND RELATING OSHA MANDATES AND GUIDANCE." The resolution passed a city council by a vote of 5-2 on March 23.
McQuisten says the governor, Oregon Health Authority, OSHA, and other agencies in charge of enforcing lockdowns have completely ignored the concerns of citizens and business owners. They even reject peer-reviewed studies and CDC guidelines.
"So there was a study that came out of Stanford University, a peer-reviewed study that was reported in Newsweek," she says. "I was on a mayor's call with the governor and some of the staff. I brought up that study and they summarily brushed it aside. They said, 'That's an outlier. It's an outlier.' It's a Stanford University, peer-reviewed study and they won't consider it. And then I pointed them to the CDC website where it says lockdowns should not be used as a primary method of controlling this disease and stopping the spread. That was the only question that they skipped over.""
FLF Magazine: Have you check out our Fight Laugh Feast Magazine yet? We are on our third magazine, and you are missing out. Our magazine is a quarterly, mini-book-like experience that includes the best of authors and topics for a theological roundhouse kick to the face of our cultural gods. Read your magazine like you drink your scotch, and let the kick warm your belly. We don't water down our theology, why would we water down our scotch? Order a yearly subscription for yourself and then send a couple yearly subscriptions to your friends who have been drinking luke-warm evangelical cool-aid. Every quarter we promise quality food for the soul, wine for the heart, and some Red Bull for turning over tables. Our magazine will include cultural commentary, a Psalm of the quarter, recipes for feasting, laughter sprinkled throughout the glossy pages, and more. Annual subscriptions are $60 – that's for four issues. So sign up and enjoy our Fight Laugh Feast theme park.
Chauvin juror on attending protest: 'It was a good opportunity to be a part of something'
https://thehill.com/homenews/state-watch/551624-chauvin-juror-on-attending-protest-i-just-thought-it-was-a-good
According to The Hill:
"A juror who voted to convict former Minneapolis police officer Derek Chauvin of murdering George Floyd is defending his decision to attend a social justice demonstration last year.
"I'd never been to D.C.," juror Brandon Mitchell told The Associated Press, referring to a march to commemorate Martin Luther King Jr.'s "I Have a Dream" speech.
"The opportunity to go to D.C., the opportunity to be around thousands and thousands of Black people; I just thought it was a good opportunity to be a part of something," he added.
A photo of Mitchell at the event was recently recirculated by critics who suggested he was not an impartial member of the jury panel.
During the jury selection process, the AP noted, all jurors were asked two questions as part of a jury selection questionnaire.
"Did you, or someone close to you, participate in any of the demonstrations or marches against police brutality that took place in Minneapolis after George Floyd's death?" the first asked, with the second asking: "Other than what you have already described above, have you, or anyone close to you, participated in protests about police use of force or police brutality?"
Mitchell reportedly answered "no" to both questions."
Texas Governor Calls On Democratic Official To Resign For Calling Black Republican Senator An 'Oreo'
https://www.dailywire.com/news/texas-governor-calls-on-democratic-official-to-resign-for-calling-black-republican-senator-an-oreo
According to the Daily Wire:
"On Wednesday, Senator Tim Scott slammed Biden as he delivered the Republican Party's rebuttal speech, saying Biden delivered only "empty platitudes."
"He promised to unite a nation. To lower the temperature. To govern for all Americans, no matter how we voted," Scott said of Biden. "That was the pitch. You just heard it again. But our nation is starving for more than empty platitudes. We need policies and progress that bring us closer together."
"Tonight we also heard about a so-called 'Family Plan.' Even more taxing, even more spending, to put Washington even more in the middle of your life — from the cradle to college. The beauty of the American Dream is that families get to define it for themselves," Scott said. "We should be expanding opportunities and options for all families — not throwing money at certain issues because Democrats think they know best."
Well then this happened:
"Texas Republican Gov. Greg Abbott on Saturday called for the resignation of a Texas Democratic Party official who called Sen. Tim Scott (R-SC) an "oreo."
Gary O'Connor, chairman of the Lamar County Democratic Party, wrote in a Facebook post that Scott — the lone black Republican in the Senate who delivered a scathing rebuttal on Wednesday following President Joe Biden's address to the nation — is "little more than an oreo with no real principles." The post has since been deleted.
"This is disgusting, hateful, and completely unacceptable," the Republican governor wrote on Twitter. "O'Connor must apologize to @SenatorTimScott & step down immediately." Abbott also said that the Texas Democratic Party should "censure him" for the racial slur."
Closing
This is Gabriel Rench with Crosspolitic News. Support Rowdy Christian media by joining our club at fightlaughfeast.com, downloading our App, and head to our annual Fight Laugh Feast Conference next fall. With your partnership, together we will fight outdated and compromised media, engage news and politics with the gospel, and replace lies and darkness with truth and light. Go to fightlaughfeast.com to take all these actions. Have a great day. Lord bless