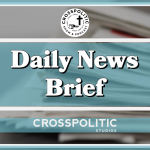 This is Garrison Hardie with your CrossPolitic Daily News Brief for Wednesday, November 15th, 2023.
Pub Membership Plug:
Public Houses, or Pubs, are not just places to drink beer, wine, cider or even something a little stronger. It is also a unique social centre, very often the focus of community life in villages, towns and cities throughout the length and breadth of the world. We here at CrossPolitic hope to emulate that for you and yours. That's why you should grab yourself a pub membership with CrossPolitic! We have a lot of big projects we're working on behind the scenes here at CrossPoltiic. Projects like This America, our rowdy Christian Guides, our new and improved Fight Laugh Feast App, with more to come… and we need you on this ride with us. So pull up a chair, grab a pint, and join us on this ride at fightlaughfeast.com – that's fightlaughfeast.com.
https://www.breitbart.com/middle-east/2023/11/14/iran-expects-10-billion-sanctions-waiver-gift-biden/
Iran Expects $10 Billion Sanctions Waiver Gift from Biden
The Iranian pro-regime propaganda site Tasnim News reported on Tuesday that the administration of President Joe Biden is likely to "agree with Iran's getting access to $10 billion" currently frozen under sanctions, adding to tens of billions in relief the White House has already processed.
"The Biden administration may approve a sanctions waiver on Tuesday that will allow Iran to access at least $10 billion in previously frozen funds held in Iraq," the outlet declared. "According to reports, Governor of the Central Bank of Iran (CBI) Mohammad Reza Farzin held talks with his Omani counterpart last month on the acceleration of Iran's access to its financial resources."
Tasnim News made the claim based on a report published on Monday by the Washington Free Beacon that described the $10 billion in question as already under a sanctions waiver, but one set to expire on Tuesday. The initial sanctions relief was reportedly issued in July, months before the unprecedented massacre of 1,200 civilians in Israel by the Iran proxy terrorist group Hamas on October 7.
That mass killing – in which Hamas slaughtered children as young as infants, extensively tortured victims and desecrated corpses on camera, and took about 250 hostages – has increased pressure on the Biden administration to end sanctions relief programs that unfreeze money for Iran, allowing the government to use the unfrozen funds on legitimate needs and freeing up other funding to share with terrorist organizations such as Hamas.
According to the original report, the money represents payments made by the government of Iraq to Iran in exchange for electricity services.
"The Trump administration first allowed Iraq to import electricity and gas from Iran, but only on the condition that the payments were kept in an escrow account in Baghdad," the Free Beacon explained. "The Biden administration continued to issue that waiver, and then broadened it in July so that Iraq could move more than $10 billion outside the country, enabling Tehran to draw on the funds for its budget and humanitarian needs."
The Iranian site Tasnim is sanctioned by the U.S. government for its close ties to the Iranian Islamist dictatorship. It was founded by members of the Islamic Revolutionary Guard Corps (IRGC), a U.S.-designated terrorist organization and a formal arm of the Iranian military, so it serves as an informal mouthpiece for the Iranian regime.
The October 7 Hamas attack, which the terrorists branded the "al-Aqsa flood," has renewed calls for the Biden administration to stop its policy of sanctions relief for Iran. Iran is the world's foremost state sponsor of terrorism and pours hundreds of millions of dollars a year into jihadist organizations threatening Israel. According to the U.S. State Department, Hamas itself receives about $100 million a year from the Iranian government. The Shiite terrorist group Hezbollah, based in Lebanon and vocally threatening attacks on Israel regularly, receives about $700 million a year from Iran.
Despite the overwhelming evidence of coordination between Iran and groups such as Hamas, according to the Foundation for the Defense of Democracies (FDD), the Biden administration has granted Iran over $50 billion in sanctions relief. A month before the Israel attacks, Biden approved an agreement that gifted Iran $6 billion in sanctions relief in a single spell. In exchange for the $6 billion, which had been frozen in South Korean banks and which Washington allowed to be transferred to Iran-friendly Qatar, Iran freed five Americans it had been holding hostage in its political prisons.
In October, shortly after the Hamas attack, the Biden administration "temporarily" lifted all oil and gas sanctions on socialist Venezuela, in response to dictator Nicolás Maduro's short-lived promise to allow a free and fair presidential election. Iran and Venezuela are close allies; Iran refines a significant percentage of its own crude in Venezuela and has helped Venezuela refurbish its dilapidated oil facilities. The two countries recently signed an agreement with the Syrian dictatorship to jointly build a new refining facility.
https://www.foxnews.com/world/nepal-bans-tiktok-disrupting-social-harmony
Nepal bans TikTok for 'disrupting social harmony'
Nepal's government decided to ban the popular social media app TikTok on Monday, saying it was disrupting "social harmony" in the country.
The announcement was made following a Cabinet meeting. Foreign Minister Narayan Prakash Saud said the app would be banned immediately.
"The government has decided to ban TikTok as it was necessary to regulate the use of the social media platform that was disrupting social harmony, goodwill and flow of indecent materials," Saud said.
He said that to make social media platforms accountable, the government has asked the companies to register and open a liaison office in Nepal, pay taxes and abide by the country's laws and regulations.
It wasn't clear what triggered the ban or if TikTok had refused to comply with Nepal's requests. The company did not immediately respond to an email seeking comment.
TikTok, owned by China's ByteDance, has faced scrutiny in a number of countries because of concerns that Beijing could use the app to harvest user data or advance its interests. Countries including the United States, Britain and New Zealand have banned the app on government phones despite TikTok repeatedly denying that it has ever shared data with the Chinese government and would not do so if asked.
Nepal has banned all pornographic sites in 2018.
https://thepostmillennial.com/oregon-voters-want-to-walk-back-legalization-of-hard-drugs?utm_campaign=64487#google_vignette
Oregon voters want to walk-back legalization of hard drugs
In 2020, voters in Oregon passed Measure 110, which decriminalized the possession of certain drugs in small quantities for personal use and shuffled revenue from cannabis taxes to resources aimed at helping addicts. Since it went into effect the following year, crime and substance use has not gone down as intended, and as a result, residents are calling for a reintroduction of criminal penalties for users.
A poll conducted by DHM Research earlier this year revealed that more than 60 percent of Oregonians want to see the decriminalization aspect of Measure 110 repealed, though support for the use of cannabis taxes to fund treatment programs has maintained popularity.
According to the poll, 51 percent of those surveyed said they believed Measure 110 has been bad for Oregon. Of those, 33 percent deemed it "very bad." Over 60 percent said drug addiction, homelessness, and crime had become worse in the time since it was adopted.
Rural voters who identified as Republicans were more likely than their Democratic urban neighbors to believe that the policy has had a negative impact on the state, though a sizable proportion of every demographic said as much.
The poll, conducted via online survey among 500 Oregon voters between April 24 and 30, also found that drug addiction and mental health were viewed as more likely root causes of homelessness than access to affordable housing.
As the Wall Street Journal reports, law enforcement officers across the state have found that contrary to what was expected, doing away with the threat of jail time has not resulted in more addicts seeking help.
Since 2021, while 6,000 tickets have been issued for drug possession, only 92 people have gotten in touch with the helpline to complete an assessment that would connect them with the necessary assistance. Those who fail to call are supposed to receive a $100 fine, however that is hardly ever enforced.
Overdoses have also continued to rise, jumping 23 percent between May 2021-2022 and May 2022-2023 to 1,500 statewide.
https://www.cnn.com/2023/11/14/sport/adam-johnson-police-arrest-spt-intl/index.html
Man arrested on suspicion of manslaughter over death of ice hockey player Adam Johnson, police say
A man has been arrested on suspicion of manslaughter following the death of ice hockey player Adam Johnson last month, South Yorkshire Police said in a statement on Tuesday.
Johnson died after sustaining a cut to the neck while playing for the Nottingham Panthers against the Sheffield Steelers in England on October 28.
A Sheffield coroner's report found that the 29-year-old "sustained an incised wound to the neck caused by the skate of another player" and later died in hospital as a result of the injury.
"Our investigation launched immediately following this tragedy and we have been carrying out extensive enquiries ever since to piece together the events which led to the loss of Adam in these unprecedented circumstances," detective chief superintendent Becs Horsfall said in a police statement.
"We have been speaking to highly specialised experts in their field to assist in our enquiries and continue to work closely with the health and safety department at Sheffield City Council, which is supporting our ongoing investigation."
The police statement added that the man arrested remains in custody.
Following Johnson's death, which the Panthers described in a statement on October 29 as a "freak accident," there has been increased focus on player safety in ice hockey, particularly on whether protective neck guards should be more widely worn.
"Adam's death has sent shockwaves through many communities, from our local residents here in Sheffield to ice hockey fans across the world," Horsfall said.
Born in Hibbing, Minnesota, Johnson started his professional career in the American Hockey League before progressing to the National Hockey League (NHL).
He featured in 13 games over two years for the Pittsburgh Penguins and also played in Sweden and Germany before joining the Panthers for the 2023-24 season.
In an online obituary, Johnson's family remembered him as a "thoughtful, patient and genuinely authentic" person who "took pleasure in the small, everyday things."
Members of the ice hockey community across the world have paid tribute to the forward, including in the city of Nottingham, where fans have laid flowers outside the Motorpoint Arena.
Police said on Tuesday that officers are supporting Johnson's family while the investigation into his death remains ongoing.