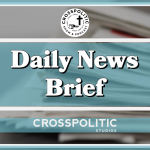 This is Garrison Hardie with your CrossPolitic Daily Newsbrief for Wednesday, November 16th, 2022. Just a reminder, that Gabe Rench, the Waterboy and I will be gone the rest of this week in Canada! So no Daily Newsbrief after today… but not to worry ladies and gentleman, assuming Gabe and I don't get arrested, I'll be back bringing you the news next week!
Club Membership Plug:
Let's stop and take a moment to talk about Fight Laugh Feast Club membership. By joining the Fight Laugh Feast Army, not only will you be aiding in our fight to take down secular & legacy media; but you'll also get access to content placed in our Club Portal, such as past shows, all of our conference talks, and EXCLUSIVE content for club members that you won't be able to find anywhere else. Lastly, you'll also get discounts for our conferences… so if you've got $10 bucks a month to kick over our way, you can sign up now at fightlaughfeast.com.
https://thepostmillennial.com/breaking-greg-abbott-to-deploy-national-guard-gun-boats-to-secure-texas-border-against-invasion-of-illegal-aliens?utm_campaign=64487
Greg Abbott to deploy National Guard, gun boats to secure Texas border against invasion of illegal aliens
On Tuesday, Texas governor Greg Abbott announced that he had invoked the Invasion Clauses of both the state and federal Constitutions in an attempt to put an end to Biden's border crisis.
In a statement posted to Twitter, Abbott explained that by treating the flow of illegal migration as an "invasion," Texas would be able to tackle the problem with unprecedented vigor.
"I invoked the Invasion Clauses of the US & Texas Constitutions to fully authorize Texas to take unprecedented measures to defend our state against an invasion," Abbott stated, adding that he's "using that constitutional authority, & other authorization & Executive Orders to keep our state & country safe."
Abbott revealed that his government will deploy both the National Guard and Texas Department of Public Safety to "repel," turn back and arrest those trying to enter the country illegally.
In addition, he expressed intentions of constructing a border wall in multiple counties, deploying gun boats, and designating Mexican drug cartels as foreign terrorist organizations.
Abbott noted that Texas does not intend to act alone in this endeavor, and will enter into agreements with other states and foreign nations to secure the border.
Over 2 million migrant encounters were recorded in Fiscal Year 2022.
https://www.foxnews.com/politics/mccarthy-wins-gop-nomination-for-house-speaker
McCarthy wins GOP nomination for House speaker
Minority Leader Kevin McCarthy won the Republicans' designation for House speaker on Tuesday, but questions remain over his ability to lock up the spot on the floor in January.
McCarthy, R-Calif., beat back a challenge by more conservative elements in the House Republican Conference represented by Rep. Andy Biggs of Arizona. The final vote tally was 188-31.
Most of Biggs' support came from members of the hard line House Freedom Caucus. Biggs had previously chaired the group, which counts more than two dozen House Republicans among its membership, between 2019 and 2022.
McCarthy, meanwhile, was able to assemble a large cross-section of the House GOP conference behind his candidacy. That included conservative hardliners like Georgia Rep. Marjorie Taylor Greene and centrists like Rep. Brian FitzPatrick of Pennsylvania.
But the number of people who opposed him could cause trouble.
"Losing 31 means he is in serious danger of not having the votes in January which would mean he'd need to drop out either that day or he could decide to before," said a senior aide to GOP leadership. "At that point, others would pounce."
To become speaker in January, McCarthy will need at least 218 votes if the entire 435-member House is seated and voting.
Currently, the potential Republican majority looks to be anywhere between 218 seats, the bare minimum needed to control the House, and 228 seats. The latter would constitute a sweep of all outstanding races, including some in which Democrats are favored, but still falls far short of the 60 seats McCarthy predicted could be possible under a GOP wave that never materialized.
https://townhall.com/tipsheet/spencerbrown/2022/11/15/key-inflation-metrics-surges-again-n2615978
Key Inflation Metric Makes Biggest Jump Since June
The October read on producer inflation showed some of the highest numbers in months on key indicators of price increases that have come as a result of the Biden administration and congressional Democrats' tax-and-spend agenda.
Month-over-month, headline PPI inflation advanced 0.2 percent in October — the same as in September — and prices upstream from consumers increased a full eight percent in the 12 months ending in October.
The core PPI number that excludes more volatile foods, energy, and trade services also saw prices increase 0.2 percent for an annual advance of 5.4 percent.
Some of the more alarming data points in the latest Producer Price Index report include the index for final demand goods, which advanced 0.6 percent in October — the largest advance since June when that metric increased 2.2 percent.
The Biden administration's war on safe, cheap, and reliable energy has also taken a toll on inflation, as seen again in October's PPI report in which most of the month-over-month increases "can be traced to a 2.7-percent jump in prices for final demand energy," the Bureau of Labor Statistics noted in its latest report.
What's more, 60 percent of October's price increases for final demand goods are attributable to the index for gasoline which jumped 5.7 percent. At the same time, prices also increased for diesel fuel, fresh and dry vegetables, residential electric power, chicken eggs, and oil and gas field machinery.
The only potential bright spot in October's PPI report is the 0.1 percent decrease seen in final demand services, its first downward movement since November of 2020. However, final demand services excluding trade, transportation, and warehousing increased by 0.2 percent.
https://thepostmillennial.com/bus-carrying-illegal-aliens-to-arrive-in-philadelphia-this-week?utm_campaign=64487
Bus carrying illegal aliens to arrive in Philadelphia this week
Philadelphia is preparing for the potential arrival of a busload of migrants coming from Del Rio, Texas, later this week.
A spokesperson for the city told Fox News that information regarding the bus and its arrival are still not clear.
Philadelphia Mayor Jim Kenney told NBC Philadelphia that the city would welcome the migrants "with open arms," though he also remained unclear of the timeline.
The city is confident that they have enough of a plan in place, including shelter, food, and clothing. There are also plans to try and expedite work permits for the migrants so that they may become self-sufficient sooner.
Other self-proclaimed sanctuary cities that have received migrant buses in the last few months have reported being overwhelmed by the influx of illegal immigrants, so much so that a public emergency was declared.
Texas Governor Greg Abbott first announced that he would be transporting busloads of migrants out of Texas back in April. He has since then sent out hundreds of migrant buses to sanctuary cities across the country.
The 300th bus filled with migrants from Texas left for Chicago last week.
The migrant buses have been dismissed by Democrats as simply a publicity stunt, but Abbott insists that the move is to relieve pressure from the overwhelmed border towns that take the brunt of Biden's failing immigration policies.
Classical Conversations
Classical Conversations supports homeschooling parents by cultivating the love of learning through a Christian worldview in fellowship with other families. They provide a classical Christ-centered curriculum, local like-minded communities across the United States and in several countries, and they train parents who are striving to be great classical educators in the home. For more information and to get connected, please visit their website at ClassicalConversations.com. Again that's ClassicalConversations.com.
https://www.boundingintosports.com/2022/11/u-s-soccer-embraces-acts-of-grave-depravity-by-making-the-traditional-crest-rainbow-colored-to-support-and-embrace-the-lgbtq-community/
U.S. Soccer Embraces Acts Of Grave Depravity By Making The Traditional Crest Rainbow Colored "To Support And Embrace The LGBTQ Community"
As reported by The Daily Mail, USMNT's Chief Communications Officer Neil Buethe explained the decision to include the rainbow crest, "As part of our approach for any match or event, we include rainbow branding to support and embrace the LGBTQ community, as well as to promote a spirit of inclusiveness and welcoming to all fans across the globe."
He added, "As a result, locations that we will manage and operate at the FIFA World Cup, such as the team hotel, media areas and parties, will feature both traditional and rainbow U.S. Soccer branding."
Buether provided another statement to Reuters explaining the rainbow crest, "Our rainbow badge has an important and consistent role in the identity of U.S. Soccer. As part of our approach for any match or event, we include rainbow branding to support and embrace the LGBTQ community, as well as to promote a spirit of inclusiveness and welcoming to all fans across the globe."
He then reiterated, "As a result, locations that we will manage and operate at the FIFA World Cup, such as the team hotel, media areas and parties, will feature both traditional and rainbow U.S. Soccer branding."
USMNT coach Gregg Berhalter also addressed the rainbow flag being displayed at the team's training facility in Qatar.
https://youtu.be/TNchAw4Bjsc -Play 6:38-
Be The Change was started in the wake of George Floyd's death. The U.S. Soccer website explains, "Back in late 2020, following the death of George Floyd and the continued importance of the Black Lives Matter movement, the U.S. Men's National Team players came together and had conversations about the social injustices that exist at home and across the world."
The message doesn't just include promotion of the violent Black Lives Matter movement that destroyed numerous cities and lives that have still not recovered to this day, the promotion of the immoral LGBTQ lifestyle that Catechisms declare as "acts of grave depravity" and "intrinsically disordered," but it also spawned into an anti-self defense campaign.
By the way, if the US really wanted to make a stand as opposed to just virtue signaling, how about you just not play? What about instead of virtue signaling, we saw some virtue doing? Just a thought. Even though homosexuality isn't virtuous…