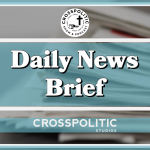 So, as most of you know, I was in Mexico last week for a family wedding, well it is good to be back in the studio, and back to the hands on the plow. Having grown up in Texas, having lived in New Mexico, it reminded me how important Mexico really is, and I would love to find good connections to build out Fight Laugh Feast Mexico, similar to what we are doing in Canada. So, if you know of any good churches or Christian leaders down in Mexico, and would love to connect them, please email me at [email protected].
Folks, we are already getting excited about Christmas around here. It is November, so that is allowed right? Well starting now, for all those who sign up for an annual Silver membership or above will get our CrossPolitic Christmas Man Box. This box will come with:
-Special Fresca Holiday T-Shirt*
-CrossPolitic Patch Hat
-3 Fight Laugh Feast Cigars (Little Anthony's)
-CrossPolitic Ceramic Camper Mug
So, go to FightLaughFeast.com, click on Shop, and make sure you select an annual membership that is Silver or above for this offer. Included in this offer is a 13 month member, meaning we will bill you in January, CrossPolitic stickers, and a signed thank you note by the CrossPolitic crew. Get this while supplies last!
Secondly, all club members will be getting a free copy of our Flight Laugh Feast Christmas magazine. I know some club members are already magazine subscribers, so if that is the case, you can just gift the magazine to your favorite friend for Christmas.
Lastly ladies, we have not forgotten about you. Actually men, here is your opportunity to buy your wife a unique Christmas present. Rowdy Christian Clothing is now carrying beautiful Fight Laugh Feast bracelets that come in brass, gold, or silver. Go to RowdyChristian.com and order them while supplies last for Christmas!
Liberals Don't Want Logic:
Play clip:
https://rumble.com/vpbc7w-the-view-hosts-cut-off-unvaxxed-conservative-guest-for-sharing-covid-facts.html?mref=22lbp&mc=56yab
Texas Dem Ryan Guillen switches to Republican Party over defunding the police, 'chaos' on the border
https://www.foxnews.com/politics/texas-dem-switches-republican-defunding-police-border
According to Fox News:
"A Texas Democrat switched his affiliation to the Republican Party over the party's left-leaning embrace of defunding the police policies and "chaos" on the southern border.
State Rep. Ryan Guillen announced in a Monday press conference that he would seek reelection to his south Texas seat as a Republican, saying the Democratic Party's far-left values are no longer in line with his own.
Specifically, Guillen cited his now-former party's backing of defunding the police and the compounding crisis at the southern border under President Biden.
"Friends, something is happening in South Texas, and many of us are waking up to the fact that the values of those in Washington, D.C., are not our values, not the values of most Texans," Guillen said.
"The ideology of defunding the police, of destroying the oil and gas industry and the chaos at our border is disastrous for those of us who live here in South Texas," he continued.
The former Democrat had won his seat by nearly 17 points in the 2020 election and has served in the Texas House for almost two decades."
YouTube Cuts Off the Best Real-Time, Legal Coverage of Rittenhouse Trial and Immediately Regrets It
https://pjmedia.com/news-and-politics/victoria-taft/2021/11/15/youtube-cuts-off-the-best-real-time-legal-coverage-of-rittenhouse-trial-and-immediately-regrets-it-n1533042
"The Rekieta Law channel, which featured multiple lawyers doing real-time analysis of the trial Rittenhouse trial, often beat the number of people watching the PBS stream. The PBS stream is one of the more reliable ones available to YouTube users and was being used by several outlets."
Well guess what Youtube did to them? Ya you guest, Youtube cut off their live feed as "Assistant District Attorney Thomas Binger began his closing statement". As you know, we are still suspended from Youtube, I think, until November 22nd. Youtube is big tech, and big tech hates the truth. So any honest attempt at live streaming a fair assessment of the Rittenhouse trial, and that was competing with platforms like PBS, will get the cancel treatment. Rekieta's media team tweeted this out:
Florida woman dies after unsuccessful suit to get ivermectin
https://thehill.com/regulation/healthcare/581735-florida-woman-dies-after-unsuccessful-suit-to-get-ivermectin
A teacher in Palm Beach Gardens, Fla., who was hospitalized with COVID-19 died following her husband's unsuccessful attempts to force doctors to treat her with the anti-parasitic drug ivermectin, according to reports from ABC News.
Tamara Drock, 47, spent 12 weeks at the Palm Beach Gardens Medical Center, as explained by her husband, Ryan Drock, per ABC News.
According to The Palm Beach Post, she was not vaccinated against COVID-19.
Ryan Drock sued the hospital in October over its refusal to administer ivermectin to his wife, ABC News reported.
Misinformation about ivermectin's ability to treat coronavirus infections has circulated widely online in recent months. However, the Food and Drug Administration (FDA) has stated that "ivermectin has not been authorized or approved for use in preventing or treating COVID-19 in humans or animals."
The agency also noted that "ivermectin is approved for human use to treat infections caused by some parasitic worms and head lice and skin conditions like rosacea."
Ryan Drock's lawsuit was rejected by Palm Beach County Circuit Judge James Nutt in October, according to ABC News's reports, as Nutt said that permitting a judge's rule to override a doctor's recommendation could set a dangerous precedent.
Nutt encouraged the Drock family to try to negotiate a deal on their own with the doctors at the hospital. A doctor at the hospital did eventually agree to administer ivermectin, though the family attorney said it was too low of a dose, per ABC.
QR code now the only acceptable form of COVID-19 vaccine proof in Alberta
According to Canada's government media, I mean Global News:
"Alberta residents will now need more than a paper record from a COVID-19 vaccine clinic if they want to sit down at a restaurant, work out at a gym or enter indoor venues like arenas or movie theatres.
Albertans hoping to enter any business that has implemented the COVID-19 restrictions exemption program — or Alberta's vaccine passport — will now need to have the QR code provided by the provincial government.
As of Monday, proof of vaccine received at the time of vaccination or those saved from MyHealthRecords is longer be accepted.
"Alberta's more secure and scannable QR code vaccine record makes it easier for Albertans to safely take part in daily activities," Health Minister Jason Copping said.""
UK "set to require three vaccinations from those eligible for booster":
https://www.theguardian.com/world/2021/nov/15/no-10-plans-booster-jab-requirement-for-people-to-obtain-covid-pass
According to the Guardian:
"Ministers are set to require three vaccinations from those eligible for booster jabs in order to qualify as being fully vaccinated in areas where people must prove their status, such as travel or avoiding mandatory isolation.
Downing Street sources said the intention was to end up in a place where three jabs, rather than two, was the requirement to obtain a Covid pass showing full vaccination – though currently only over-40s are eligible for the booster.
If the Joint Committee on Vaccination and Immunisation (JCVI) continues to recommend boosters for all adults six months after their second jab, then the requirement could be in place in England by the early spring.
News of the plan came as England's chief medical officer, Chris Whitty, also warned there was "major concern" about vaccination rates among pregnant women – saying 98% of severely ill pregnant women in hospital had not been vaccinated.
Speaking at a press conference on Monday, Boris Johnson said the concept of what constitutes "full vaccination" will need to be adjusted – and said that getting a third jab would become part of that."
Read it and Weep: California Hits All-Time High Gas Prices, and Some SoCal Stations Charge More
According to NBC LA:
"California just hit a new all-time record high for the average price of a gallon of regular gasoline, and some local gas stations around SoCal are charging even more.
At one gas station in the Mid Wilshire district, on Monday, a gallon of regular unleaded is $5.99, while a gallon of premium gas is $6.59.
California's gas prices are higher, on average, than any other state: the national price for a gallon of regular unleaded gas is $3.41.
According to AAA, the statewide average price for a gallon of regular unleaded gas is $4.68 in California as of Monday.
Other regions around SoCal were slightly cheaper than the average California price, but not by much:
-In the Long Beach/Los Angeles area, the average price for one gallon of regular gas is $4.67,
-in Orange County, the average price for one gallon of regular gas is $4.63,
-in San Bernardino County, the average price is $4.61, and
-in Riverside County, the average price is $4.59."
Closing
This is Gabriel Rench with Crosspolitic News. Support Rowdy Christian media by joining our club at fightlaughfeast.com, downloading our App, and head to our annual Fight Laugh Feast Events. With your partnership, together we will fight outdated and compromised media, engage news and politics with the gospel, and replace lies and darkness with truth and light. Go to fightlaughfeast.com to take all these actions. Have a great day. Lord bless