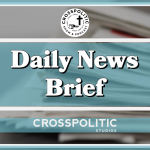 This is Garrison Hardie with your CrossPolitic Daily News Brief for Wednesday, November 1st, 2023.
Samaritan Ministries:
How are you planning to pay your medical bills in 2024? Before answering that question, here
are three reasons you should look into health care sharing with Samaritan Ministries.
One, there are no networks which means you choose the doctors and hospitals you go to, and
have a say in the treatments you receive. Two, you're part of a Christian community. When you have a medical need, fellow members send money directly to you to help you pay your shareable medical bills. And you'll do the same for them, all while praying for and encouraging one another. Three, it could be more affordable than what you're paying now. For more reasons to join the Samaritan community, visit samaritan ministries dot org slash cross politic.
https://justthenews.com/accountability/political-ethics/step-aside-hillary-joe-biden-may-become-king-email-scandals-new
Step aside Hillary, Joe Biden may become king of email scandals as new stash alarms investigators
The National Archives' stunning admission that it has located 82,000 pages of potentially government-related emails from Joe Biden's private accounts not only threatens to supplant Hillary Clinton in the annals of email scandals, it could also provide a boon to the ongoing federal and congressional investigations into the Biden family.
The admission came out Monday as part of a Freedom of Information Act (FOIA) lawsuit brought by the non-profit Southeastern Legal Foundation.
"We're duty bound to make sure that everybody's following the law here. And it sure looks like that's questionable at this moment," Rep. Scott Perry, R-Pa., a member of the House Oversight Committee that is conducting the Biden impeachment inquiry right now, said hours after the revelation.
Perry told the John Solomon Reports podcast that lawmakers in Congress must take action to ensure all the emails are preserved given the history of Hillary Clinton's team trying to delete her private emails or to destroy the devices they were stored on.
Sen. Ron Johnson, R-Wis., who first raised questions about President Biden's use of private email years ago, said the discovery of the emails should be combed for potential evidence by every investigator from Congress to the Justice Department.
Under legal pressure, the National Archives has confirmed to a court that it has located 82,000 pages of emails that Biden sent or received during his vice presidential tenure on three private pseudonym accounts. It's a total that potentially dwarfs the amount that landed Hillary Clinton in hot water a decade ago.
The total of Biden private email exchanges was disclosed Monday in a little-noticed status report filed in a Freedom of Information Act lawsuit brought against the National Archives and Records Administration by the nonprofit public interest law firm the Southeastern Legal Foundation.
The foundation brought the lawsuit seeking access to the emails after Just the News revealed a year ago that Joe Biden had used three pseudonym email accounts – during the time he served as President Barack Obama's vice president.
The status report filed Monday in a federal court in Atlanta was the first to provide an estimate of the size and scope of possible government business conducted through Joe Biden's private email accounts.
To date, there is no indication from the National Archives in the court case that any of Biden's email contain classified information. However, the president is under criminal investigation by Special Counsel Robert Hur for taking classified documents from his time as vice president and as a senator and storing them in insecure locations in the garage of his Delaware home and a think tank office he kept in Washington D.C.
Hur recently spent two days interview Biden in that investigation. President Donald Trump has already been indicted by Special Counsel Jack Smith for mishandling classified documents the FBI recovered from his Mar-a-Lago estate in Florida or that Trump returned to the Archives belatedly.
Perry said he will be inquiring whether the FBI or DOJ has ever reviewed the Biden email stash located by the National Archives for relevant criminal investigations involving Hunter Biden or Biden's handling of classified information and whether prosecutors ever considered charges for possible violations of the Federal Records Act.
You can read the full letter here in my show notes…
File
NARA – special access request (1).pdf
https://www.theepochtimes.com/us/federal-agency-makes-new-student-loan-proposal-months-after-supreme-court-order-5520324?utm_source=partner&utm_campaign=BonginoReport
Federal Agency Makes New Student Loan Proposal Months After Supreme Court Order
The Biden administration appeared to make major changes to its new student loan relief plan after the initial plan was struck down by the U.S. Supreme Court earlier this year.
On Monday, the Department of Education (DOE) released a draft text that showed that the narrower plan would allow student debt forgiveness to apply only to specific groups of students rather than being a blanket rule that would cancel debt for some 45 million borrowers under the original plan.
The first student loan proposal, announced by President Joe Biden, would have promised up to $20,000 in debt relief for low- and middle-income individuals. The Supreme Court struck that down in June.
The DOE has yet to release the full details of the plan, saying that it wants to cancel some or all student debt for borrowers whose balances exceed what they originally owed; those who have loans that entered repayment 25 or more years ago; those who used loans to attend career-training programs that led to "unreasonable" debt loads or insufficient earnings; or those who are eligible for other loan forgiveness programs but did not apply.
A fifth group is also being discussed, or "those who are experiencing financial hardship that the current student loan system does not currently adequately address," the DOE said.
The draft does not include details about how many borrowers would be impacted by the federal government's latest plan. It also did not include details about how much it may cost.
The DOE stated it will continue to refine the proposal as it goes through a federal rulemaking process. The public will be able to provide written feedback next year. The draft proposal would give the department authority to wipe away federal student loans entirely for borrowers in some categories.
The Biden administration has canceled more than $120 billion in federal student loan debt via existing student loan forgiveness programs for specific individuals.
Previously, the president called for a plan to help "as many borrowers as possible," but his administration seems to be moving away from the type of mass cancellation that he promised in August 2022. That plan was estimated to cost $400 billion. It's unclear how much the second proposal will cost.
https://www.dailyfetched.com/experts-claim-not-reading-mainstream-media-can-cause-heart-attacks/
'Experts' Claim Not Reading Mainstream Media Can Cause Heart Attacks
Not Reading mainstream media and opting for alternative sources can cause heart attacks, according to new research reported by the mainstream media.
Yes, really.
According to a pilot study led by Manchester Metropolitan University, those who do not read legacy mainstream media and opt for alternative sources of information demonstrate unhealthy symptoms of physical and mental stress, which can lead to heart attacks.
The research study used so-called "sophisticated techniques" to monitor how people use media websites to measure their reactions to online information.
The researchers claimed people with a low ID have a flawed 'threat' response when presented with misleading information in a stressful situation, which they say brings on cardiac responses and erratic reading behavior.
The study also found that participants with low IDs also lacked self-confidence.
It also claimed that reading alternative media from "unverified" sources (i.e., not reading CNN, MSNBC, BBC, ect) could negatively affect a person's health and well-being.
Senior Lecturer in Information and Communications at Manchester Metropolitan University and principal investigator on the study, Dr Geoff Walton, said:
"Those who aren't very good at making judgments about information they read or see in newspapers, TV, or social media, especially misinformation such as fake news, experience a negative physical response to it. This means that misinformation is actually bad for their physical health.
"On the other hand, those people that are very good at making judgments about information tend to have a much healthier physical response when they encounter misinformation," he said.
Woman screams as Donald Trump is sworn in as President– Play 0:00-0:10 – That was an example of the healthy response they may exhibit.
"Given the constant barrage of fake news that we come across every day of our lives, it clearly shows there is a worrying public health issue emerging."
"However, our previous research has shown that we can change this through teaching and training so that people get better at making judgments about misinformation such as fake news."
"By doing so, they will have a much better physical response, which will positively affect their well-being."
"This shows it is now time for school teachers and lecturers to be given the right tools, devised in our previous research, to develop ID in their learners."
The results will be presented at the European Conference on Information Literacy (ECIL) later this year. A peer-reviewed journal article is in preparation, and a larger study is planned.
Similarly, a WHO study from 2022 claimed reading so-called "misinformation" can have a negative effect on health.
The official website of the WHO reported:
Incorrect interpretations of health information, which increase during outbreaks and disasters, often negatively impact people's mental health and increase vaccine hesitancy, and can delay the provision of health care, a new WHO review shows.
The authors conclude that the effects of infodemics and health misinformation online can be countered by "developing legal policies, creating and promoting awareness campaigns, improving health-related content in mass media and increasing people's digital and health literacy".
The systematic review of published studies found 31 reviews that analysed fake news, misinformation, disinformation and infodemics related to health.
Misinformation was defined as false or inaccurate information deliberately intended to deceive, while disinformation also included misleading or biased information, manipulated narratives or facts, and propaganda.
The authors gathered, compared, and summarized this evidence in order to identify ways to address the negative effects of false health information on public health.
"Twitter, Facebook, YouTube, and Instagram are critical in disseminating the rapid and far-reaching spread of information," the systematic review explains.
The repercussions of misinformation on social media include such negative effects as "an increase in erroneous interpretation of scientific knowledge, opinion polarization, escalating fear and panic or decreased access to health care".
The increased spread of health-related misinformation in a health emergency is accelerated by easy access to online content, especially on smartphones.
"During crises such as infectious disease outbreaks and disasters, the overproduction of data from multiple sources, the quality of the information and the speed at which new information is disseminated create social and health-related impacts."
The authors found that social media have been propagating poor-quality health-related information during pandemics, humanitarian crises, and health emergencies at an increasing rate. They note, "Such spreading of unreliable evidence on health topics amplifies vaccine hesitancy and promotes unproven treatments."
All the more reason not to read mainstream media.