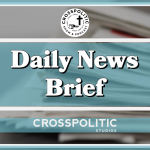 This is Garrison Hardie with your CrossPolitic Daily Newsbrief for Wednesday, November 23, 2022. I'm back ladies and gentleman! Gabe and I have made our return from Waterloo Canada, and the Church at War Conference; where we were able to fellowship with the likes of Pastor Tim Stephens, Jacob Raome, and Pastor James Coates, among a whole bevy of other rowdy Christians, who gave up their comforts, their careers, and sometimes, their families, for our King, Jesus Christ. Keep our brothers and sisters in Canada in your prayers as they make war against their wicked culture. Before I dive into the news:
Club Membership Plug:
Let's stop and take a moment to talk about Fight Laugh Feast Club membership. By joining the Fight Laugh Feast Army, not only will you be aiding in our fight to take down secular & legacy media; but you'll also get access to content placed in our Club Portal, such as past shows, all of our conference talks, and EXCLUSIVE content for club members that you won't be able to find anywhere else. Lastly, you'll also get discounts for our conferences… so if you've got $10 bucks a month to kick over our way, you can sign up now at fightlaughfeast.com.
Now this! White House shuts down reporter's Fauci question on COVID origin: 'I'm done with you'
https://youtu.be/dl77nDxM47o -Play 0:40-1:56
Whoa… order in the court ladies and gentleman!
White House press secretary Karine Jean-Pierre snapped at reporters who raised questions about the origins of COVID-19 during Tuesday's press briefing, which featured outgoing White House chief medical adviser Dr. Anthony Fauci.
During questions after the White House coronavirus response team updated reporters on the administration's vaccine efforts, Daily Caller White House correspondent Diana Glebova attempted to ask a question regarding what Fauci has done to investigate the origins of COVID-19. But Jean-Pierre shut Glebova down and rebuked her for speaking out of turn.
Then Today News Africa journalist Simon Ateba spoke up and said her question was valid and should be asked.
"You need to call people across the room. She has a valid question, she's asked about the origin of COVID," Ateba said.
Fauci, who will step down as director of the National Institute of Allergy and Infectious Diseases (NIAID) in December, has faced questions from Republican lawmakers over his agency's support for coronavirus research in China.
NIAID has provided millions of dollars in grant funding to EcoHealth Alliance, a nonprofit group that GOP critics claim has supported bat coronavirus research at the Wuhan Institute of Virology in China before the outbreak of the COVID-19 pandemic. Lawmakers interested in the lab-leak origins theory of COVID-19 want to probe whether that research was the genesis of the pandemic and whether Fauci played any role in approving money that was sent to the Wuhan lab.
https://www.foxnews.com/politics/here-where-last-uncalled-house-races-stand-two-weeks-election-day
Here is where the last uncalled House races stand two weeks from Election Day
As results from midterms elections continue to trickle in two weeks past Election Day, four critical House races in Alaska, California and Colorado still remain uncalled.
Fox News Digital breaks down the outstanding races and what is taking so long.
California
California, which has two of the four uncalled races, is a predominately vote-by-mail state, meaning every registered voter is automatically mailed a ballot 29 days prior to Election Day. With 22 million registered voters and weeks-long processing times, this means race calls can move very slowly in the Golden State.
California still has 593,925 remaining ballots to be counted, according to estimates from the California Secretary of State's report on Monday. Of the unprocessed ballots remaining, about 500,000 of these ballots were mailed in Election Officials. California permits election authorities one month to complete tallying which mean voters could be waiting as late as Dec. 8 for final race outcomes.
In California's 3rd Congressional District, Republican Kevin Kiley holds a commanding lead over Democrat Kermit Jones; however, approximately only a little over half of ballots have been counted in the "likely Republican" race. California accepts mail-ballots for the week following Election Day, although the ballots must be postmarked by Nov. 8. The ballots must also go through a signature verification process before being counted.
The second uncalled race in California lies in the state's 13th Congressional District. This toss-up race is among the tightest remaining as Republican John Duarte narrowly leads Democrat Adam Gray by less than 800 votes.
Alaska
Alaska's At-Large Congressional District still remains uncalled, held up by the vote counting process of the state's newly implemented ranked-choice voting system.
The seat has been rated by Fox News' Power Rankings as "lean Democratic" as a result of the ranked-choice system that gives incumbent Democrat Rep. Mary Peltola an advantage against her Republican opponents, former Gov. Sarah Palin and Nick Begich.
Peltola led in the first round of the vote, with Palin in second and Begich in third, but failed to secure 50%, meaning those who voted for the candidate with the least number of votes will have their second choice vote reallocated to the other candidates until one reaches 50%.
Election officials will commence the counting of second- and third-place votes Nov. 23, meaning that Alaskans may know the final outcome of the House race by end of day, if all goes as expected.
Colorado:
Colorado predominantly votes by mail, but processing is much swifter than California. In 2020, 90% of the vote was counted by Wednesday morning after Election Day, according to the Associated Press. Even so, mail-in ballots from out of state and overseas military service members can arrive as late as Wednesday as long as they were postmarked by Election Day.
Despite relatively speedier ballot processing times, Colorado's 3rd House district still remains too close to call.
Incumbent Republican Rep. Lauren Boebert was not expected to have such a close race with her Democratic opponent, Adam Frisch, in the "likely Republican" seat. The one-term congresswoman is narrowly leading the vote count by a little more than 500 votes, according to the Associated Press.
Though the race qualifies for a recount under Colorado state law, Frisch conceded to Boebert on Friday. However, the Associated Press has still not called the race as of Tuesday.
https://thepostmillennial.com/breaking-ap-fires-reporter-responsible-for-fake-story-alleging-russian-missiles-hit-poland?utm_campaign=64487
AP fires reporter responsible for fake story alleging Russian missiles hit Poland
The Associated Press has reportedly fired journalist Jim LaPorta, who was one of two bylines that ran with the false report that Russian missiles hit Poland. The only source of that story was anonymous, which goes against AP's policy.
The retracted story alleged that a senior US intelligence official said that Russian missiles "crossed into NATO member Poland, killing two people."
The story was taken down the next day and replaced with an editor's note stating that the story was false and that "subsequent reporting showed that the missiles were Russian-made and most likely fired by Ukraine in defense against a Russian attack."
AP's news values and principles state that there must be more than one anonymous source to run a story unless the "material comes from an authoritative figure who provides information so detailed that there is no question of its accuracy," the AP said.
LaPorta wrote the article along with John Leicester, who is still working with AP.
https://thenationalpulse.com/2022/11/21/gen-z-whose-votes-bolstered-democrats-in-the-mid-terms-are-suffering-massive-pandemic-induced-depression/
Gen Z – Whose Votes Bolstered Democrats in the Mid Terms – Are Suffering Massive Pandemic-Induced Depression.
Millions of Gen Zers are struggling with mental health problems, according to a new survey, which reveals many of these problems were first identified during the COVID-19 pandemic. It is further evidence of the serious health consequences caused by the social-distancing measures taken in response to the virus.
Generation Z is the third-largest population in America, after millennials and baby boomers. While Zoomers are often singled out for praise by the corporate media for racial and sexual diversity, it's also becoming clear many of them are suffering mental health issues to a far greater degree than earlier generations.
The survey was carried out by Harmony Healthcare IT, an Indiana-based data-management company. Just over 1000 individuals aged 18 to 24, with a roughly equal gender balance, were asked a range of detailed questions about their mental health.
Forty-two percent of those surveyed said they were suffering from a diagnosed mental-health problem, with 25 percent saying their diagnosis took place during the pandemic. Anxiety, depression, attention-deficit/hyperactivity disorder (ADHD), post-traumatic stress disorder (PTSD), and bulimia were just some of the conditions the respondents reported. By comparison with millennials or Gen X-ers, Zoomers are twice as likely to report struggling with emotional distress on a daily basis.
Near 70 percent said that they felt the pandemic had a negative effect on their mental health. Zoomers appear to be deeply anxious, with 85 percent saying they were worried about the future. Nine out of ten Zoomers diagnosed with a mental-health issue have anxiety and eight out of ten suffer from depression.
Particular concerns for Zoomers include personal finances, the economy, their health, the environment, politics, and the workplace. Three-quarters of Zoomers say they feel disadvantaged by comparison with older generations, and 90 percent have a hard time picturing a stable future for themselves.
Twenty percent of the study participants said they have a regular therapist, while 57 percent take regular medication and 39 percent attend therapy for mental health issues at least once a week.
Pandemic Damage.
The study is further evidence that the pandemic – in particular the social-distancing measures adopted by most governments around the world – had serious adverse consequences for the young that far outstrip any damage they might have suffered from contracting the virus.
Other studies have already substantiated the mental effects of isolation and exposure to fear and uncertainty about the virus's effects. A meta-analysis from the University of Calgary suggested that as many as one in four children worldwide are now suffering from depression and anxiety as a result of the pandemic.
These unintended effects have not just been psychological. A recent study showed children are exercising less and spending more time sitting down than ever before as a result of the pandemic. Researchers at the University of Bristol revealed that fewer than four out of 10 children were doing sufficient daily exercise at the end of 2021. Obesity rates have risen at a "staggering" pace, according to the American CDC.
The restrictions are even believed to have affected babies in the womb. A study based on a review of 250 babies born in New York between March and December 2020 suggested that the pandemic had serious adverse developmental effects on newborns, even if the mother had not had COVID-19 during the pregnancy. The researchers believe that increased maternal stress during pregnancy may be to blame, as well as reduced interactions with other infants and more stressful interactions with parents and caregivers.
It looks like the effects of the pandemic and the overzealous responses of government "experts" will continue to ramify through the increasingly unhappy lives of our younger generations, long after COVID-19 itself becomes a distant memory.
Accountable2You
Is your smartphone a tool in the service of Christ, or a minefield of distractions and temptations?
With soul-killing seductions just a few taps away, our families and churches must embrace biblical accountability on our digital devices.
Accountable2You makes transparency easy on all your family's devices, by sharing app usage and detailed browsing history—including "Incognito" mode—with your spouse, parent, or chosen accountability partner.
Accountable2You helps your family to proactively guard against temptation, so you can live with integrity for God's glory! Learn more and try it for free at Accountable2You.com/FLF
Now it's time for my favorite topic… sports! Let's just go through some scores here for the NFL, College football, and college basketball!
College Football:
#14 Utah: 17
#10 Oregon: 20
#5 USC 48
#17 UCLA 45
South Carolina 63
#9 Tennessee 38
#3 Michigan 19
Illinois 17
#4 TCU 29
Baylor 28
#1 Georgia 16
Kentucky 6
How about college basketball?
#10 Creighton 76
#21 Texas Tech 65
#17 SDSU 88
Ohio State 77
#14 Arizona 101
Cincinatti 93
#9 Arkansas 80
Louisville 54 (0-4)
NFL:
Chiefs: 30
Chargers 27
Bengals 37
Steelers 30
Cowboys 40
Vikings 3
Raiders 22
Broncos 16
Eagles 17
Colts 16
Patroits 10
Jets 3