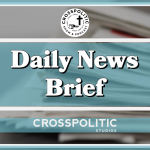 Folks, we are already getting excited about Christmas around here. It is November, so that is allowed right? Well starting now, for all those who sign up for an annual Silver membership or above will get our CrossPolitic Christmas Man Box. This box will come with:
-Special Fresca Holiday T-Shirt*
-CrossPolitic Patch Hat
-3 Fight Laugh Feast Cigars (Little Anthony's)
-CrossPolitic Ceramic Camper Mug
So, go to FightLaughFeast.com, click on Shop, and make sure you select an annual membership that is Silver or above for this offer. Included in this offer is a 13 month member, meaning we will bill you in January, CrossPolitic stickers, and a signed thank you note by the CrossPolitic crew. Get this while supplies last!
Secondly, all club members will be getting a free copy of our Flight Laugh Feast Christmas magazine. I know some club members are already magazine subscribers, so if that is the case, you can just gift the magazine to your favorite friend for Christmas.
Lastly ladies, we have not forgotten about you. Actually men, here is your opportunity to buy your wife a unique Christmas present. Rowdy Christian Clothing is now carrying beautiful Fight Laugh Feast bracelets that come in brass, gold, or silver. Go to RowdyChristian.com and order them while supplies last for Christmas!
Hiker discovers Hawaiian stream with 1.2% alcohol content
https://notthebee.com/article/hiker-discovers-a-hawaiian-stream-with-12-percent-alcohol-content
File this under Happy Thanksgiving and tell me God ain't good!
According to the Bee:
"A hiker in Hawaii's Oahu island was walking around when he sniffed out a familiar smell… alcohol.
He followed his nose and it led him to stream 120 feet beneath a freeway.
Once the hiker discovered the boozy brook, he contacted a local environmental activist, who alerted the Department of Health (way to ruin all the fun).
A sample of the water was tested and it was found to contain 1.2 percent alcohol and .04 percent sugar – which is the same amount of alcohol in many low-ABV beers.
They are looking at a spill from a Department of Transportation-owned storm pipe adjacent to the highway. The DOT has linked the spill to Hawaii's largest alcoholic beverage supplier, Paradise Beverages, which owns a warehouse across the freeway. But they are still unsure what is causing the spill."
California's Santa Cruz County mandates mask-wearing in private homes
https://www.theblaze.com/news/california-santa-cruz-county-mandates-mask-wearing-in-private-homes
According to the Blaze:
"An indoor mask mandate has been reinstated in Santa Cruz County, California, after a surge in winter coronavirus cases has led to increased hospitalizations.
The county health department is requiring that people wear face coverings in indoor settings, including in private homes. The mandate went into effect on Sunday at 11:59 p.m, after the county reported a seven-day average of 72 coronavirus cases per 100,000 people — placing it in the "substantial" transmission category, according to the CDC.
"Unfortunately, a potential winter surge appears to be a significant threat to the health and safety of our community," Santa Cruz County Health Officer Dr. Gaill Newel said in a statement.
Both people who have been vaccinated against COVID-19 and those who have not are required to wear face coverings indoors. Business and governmental entities are being told to require their employees to wear masks and to post signage at points of entry for their indoor settings to alert the public of the mask requirement."
Exemptions for sale: How a central Washington doctor helped workers dodge vaccine mandate
https://www.krem.com/article/news/investigations/covid-vaccine-exemptions-for-sale-anna-elperin-awake-health-ellensburg/281-3fdbfa97-32fb-41b4-a25b-2394b0d38afd
According to KREM:
"In Ellensburg, doctor removed her mask as she entered a small medical exam room in October and began signing a COVID-19 vaccine exemption form for a first-time patient, without asking a single question about her medical history.
The only way most workers who were opposed to being vaccinated against COVID-19 could potentially keep their jobs was to seek a religious or medical exemption before the Oct. 18 deadline. But such medical exemptions required documentation from a licensed physician, like Dr. Anna Elperin.
A three-month KING 5 investigation found Elperin repeatedly signed and sold those mask and COVID vaccine exemptions to residents across Washington state, in some cases with no questions asked. The doctor wrote exemptions for patients who did not provide a legitimate medical reason to receive one, including people who sought to evade local and state pandemic-related mandates. Charging each patient from $150 to $200 for the forms, Elperin potentially raked in tens of thousands of dollars from medical exemption sales a month and profited from state, local and private company policies intended to reduce the spread of coronavirus.
"What you just described is an 'exemption mill,'" said Dr. Gabriel Bosslet, one of three national medical ethics experts consulted for this story and an associate professor at the Indiana University School of Medicine in Indianapolis. "You hand over money, and I ask no questions and give you a piece of paper that satisfies the state that you have an exemption."
This investigation is based on the experiences of four undercover journalists who received mask and vaccine exemptions signed by Elperin this fall. Reporters also interviewed three former Awake Health employees, who said they watched the doctor sell hundreds of COVID-related exemptions without asking patients medical questions or conducting any medical exams."
Werkz: DNB
Shan and his team at Werkz specialize in concealed carry holsters for pistols with lights. They believe every defensive pistol should have a light and a holster. They currently offer holsters for 1,274 pistol and light combinations, plus can help outfit your pistol with a light. Use their holster finder at Werkz.com/CrossPolitic and be prepared to defend day and night.
Washington public schools lose over 55,000 students
https://thepostmillennial.com/washington-public-schools-lose-over-55-000-students/?fbclid=IwAR2pEJb2PMu1ReiBHYmlrill76wIMEVA2StsGX64iahMYtd0Hrbzgcp7RlY
According to the Postmillennial, I have a praise report to bring you:
"It was revealed last week in a presentation to a state Senate committee that the "November 2021 forecast is, on average, 50,334 students or 4.5 percent lower than the February forecast, and 42,036 students or 3.8 percent lower than the June forecast for the 2021-23 Biennium."
Many parents opted for private school, learning pods and home schooling. Parents told The Post Millennial that they chose other educational options. Parents cited multiple factors including that schools did not offer in-person instruction during the Covid pandemic, lack of safety on campus, teaching practices and curriculum based in critical race theory and radical, hyper-sexualized curriculum, as well as a substandard education."
And as sort of a side note at the end of the article, it says: "Less than 20 of Washington's 9,056 deaths from COVID have been children under 19."
6 Senate Democrats waffling on massive social spending bill
https://justthenews.com/government/congress/sen-blackburn-says-many-six-senate-democrats-waffling-massive-social-spending
"With President Joe Biden's massive social spending bill facing an uncertain future in the U.S. Senate, most media attention has focused on two skeptical Democrats, Sens. Joe Manchin of West Virginia and Kyrsten Sinema of Arizona.
But a prominent Republican says she senses more Democrats in the chamber who are facing tight 2022 reelection races are considering bolting from their party's $1.75 trillion signature Build Back Better legislation, which passed the House last week on a party line vote.
"Not only is it Manchin, but you've got about five or six others in the Senate that are looking at their races, they're down in the polls, or they're tied up in the polls," Sen. Marsha Blackburn told Just the News on Monday. "And the Republican ballot is up. Joe Biden, his popularity is just unbelievably low. I mean, whoever thought he would be lower than Jimmy Carter.
"It is harder every day for Democrats to support this abysmal bill," she said during an interview with the John Solomon Reports podcast. "And some of these House members who finally came around and voted for it. They might as well start cleaning their office out and heading home, give somebody their proxy to vote. They will not be reelected."
Blackburn suggested Democratic support is weakening as the CBO found the legislation will add significantly to the U.S. debt. Americans realize those costs will be passed on to them, and fears grow that a massive injection of federal spending will only worsen persistent inflation.
"All of this is going to be paid by people that are hardworking people, and Joe Biden said, 'Oh, I'm not raising a penny in taxes on anybody making under $400,000 a year,'" she said. "Well, that's not accurate. It's not accurate on a lot of different fronts. And people know this.""
The Reformed Sage: MWF Plug + Logo + Unboxing
The Reformed Sage loves biblical theology, evangelism, and coffee. They sell really cool merchandise with a strong Reformed message and amazing (no really, it is!) coffee. Their desire is that our merchandise and coffee can be a conversation starter with those around you who don't know Christ, and through conversations about a design or around a cup of Reformed Roasters sanctified beans, may it lead them to an understanding of the knowledge of God. Visit the Reformed Sage's website at www.ReformedSage.com, where you'll receive a 10% off promo code for first-time buyers!
Rittenhouse Interview with Tucker:
What would you say to Biden? https://rumble.com/vpnj9h-rittenhouse-nukes-biden-for-calling-him-a-white-supremacist.html?mref=6zof&mrefc=10
Rittenhouse Torches Media:
https://rumble.com/vpnj8d-kyle-rittenhouse-torches-the-media-for-lying-about-his-case.html?mref=6zof&mrefc=9
Closing
This is Gabriel Rench with CrossPolitic News. Support Rowdy Christian media by joining our club at fightlaughfeast.com, downloading our App, and head to our annual Fight Laugh Feast Events. With your partnership, together we will fight outdated and compromised media, engage news and politics with the gospel, and replace lies and darkness with truth and light. Go to fightlaughfeast.com to take all these actions. Have a great day. Lord bless