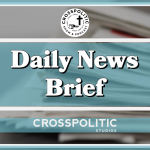 This is Garrison Hardie with your CrossPolitic Daily Newsbrief for Wednesday, November 2nd 2022. Happy hump day everyone, I hope you all have been having an excellent week thus far…
Before we get to the newsbrief:
Fight Laugh Feast Magazine
Our Fight Laugh Feast Magazine is a quarterly issue that packs a punch like a 21 year Balvenie, no ice. We don't water down our scotch, why would we water down our theology? Order a yearly subscription for yourself and then send a couple yearly subscriptions to your friends who have been drinking luke-warm evangelical cool-aid. Every quarter we promise quality food for the soul, wine for the heart, and some Red Bull for turning over tables. Our magazine will include cultural commentary, a Psalm of the quarter, recipes for feasting, laughter sprinkled through out the glossy pages, and more. Sign up today, at fightlaughfeast.com.
https://thepostmillennial.com/breaking-justice-roberts-blocks-house-committee-from-obtaining-trump-tax-returns?utm_campaign=64487
Justice Roberts blocks House committee from obtaining Trump tax returns
Supreme Court Justice John Roberts has granted an administrative stay of a lower court order that prevents the House Ways and Means Committee from accessing Trump's tax returns.
The stay is temporary and will last until the court considers a final decision.
On Monday, the former president asked the Supreme Court to block the House Ways and Means Committee from accessing his tax returns after it requested six years' worth of Trump's returns as part of an investigation into IRS audit practices of presidents and vice presidents, reports ABC News.
Trump accused the committee of seeking his taxes under dubious circumstances, with a petition to the Supreme Court reading "The Committee's purpose in requesting President Trump's tax returns has nothing to do with funding or staffing issues at the IRS and everything to do with releasing the President's tax information to the public."
In August, a federal appeals court ruled that the committee would be handed the tax returns, having first sought the returns in 2019.
NBC reports that Trump "recently failed to block the request on Thursday when the D.C. Circuit Court of Appeals shot down his request to reconsider a unanimous opinion from one of its three-judge panels approving the committee's access to the documents."
Trump says that the panel's attempts to get their hands on his returns are purely political.
https://hotair.com/john-s-2/2022/11/01/voter-registration-has-been-a-disaster-democrats-have-lost-330000-voters-in-florida-n507245
'Voter registration has been a disaster': Democrats have lost 330,000 voters in Florida
Democrats are not poised to do well in Florida next week. In fact, it looks like they may not do well in the state for some time. Since the 2020 election, Dems have lost more than 330,000 registered voters in the state while GOP registrations have surged.
The Florida Division of Elections released its voter registration report for the November election, known as book closing, earlier this month.
Taken with the reports from the general elections in 2020 and 2018, Republicans and no-party-affiliate voters show a steady increase in voter registration.
But from 2020 to 2022, Democrats lost 331,810 voters…
News 6 political analyst and UCF professor Dr. Jim Clark says the problem can be laid at the feet of the Florida Democratic Party.
The result of this large shift in registrations is that the GOP now has a registration advantage in the state for the first time.
As of last month, there were 5.3 million registered Republicans and just under 5 million Democrats in Florida, marking the first time in state history that the GOP will carry a voter advantage on Election Day.
As bad as that news is, what's even worse is who Democrats are losing.
Republicans have picked up where Trump left off. More than half of their gains in registered voters can be attributed to the 58,000 new Hispanic voters who checked "Republican" on their forms. Democrats, though, are bleeding support from these communities. The party saw a net loss of more than 46,000 Hispanic voters.
The reversal is made more stunning because Democrats entered the election cycle firmly aware of the trend and set out to address it, promising they would have dedicated staff and outreach focused on the disparate Hispanic communities that are scattered across the state…
It is also worth noting that Republicans saw a slight but sizable uptick of Black registered voters in the past two years while Democrats lost more than 71,000, a quarter of which came from Miami-Dade.
The result of all of this is that Republicans are in a position to win in Miami-Dade County for the first time in 20 years. The party has picked up 11,000 new voters in the county since 2020 while Democrats have lost nearly 58,000 voters over the same time span.
On top of the registration advantage, the GOP also has a big money advantage. CNN notes that in 2020 Michael Bloomberg committed $100 million to help Biden win Florida. This year there are no outside benefactors coming to rescue the Democrats. Meanwhile, Gov. DeSantis has raised nearly $200 million.
Florida Gov. Ron DeSantis' (R) political operation reported raising $177.4 million through Sept. 9, breaking the gubernatorial fundraising record without adjusting for inflation, a new OpenSecrets analysis of state campaign finance filings found. His reelection campaign has raised over $31.4 million since January 2021, and Friends of Ron DeSantis, his state-level PAC that is not subject to contribution limits, raked in $146 million since January 2019.
The bottom line is that even the Miami Herald doesn't see much hope for Democrats this year.
https://www.washingtonexaminer.com/news/republicans%20predicted-huge-house-win-forecast
Majority rules: Republicans predicted to have huge House win in new forecast
The Republican Party is set to experience a big win in the House of Representatives come election night, gaining a double-digit edge in the lower chamber of Congress.
The GOP needs to have a net gain of at least five seats in the House if it wishes to take the majority, but predictions released on Tuesday indicate that the party may have a 19-seat majority after election night, bringing its total to 236 seats. This estimate is based on if Republican candidates win half of the toss-up races that are in a dead heat, according to Fox News.
The majority by the GOP could be bigger or smaller, depending on voter outcome for the party. In a best-case scenario for Republicans, the party would leave election night with 249 seats, while a best-case scenario for the Democratic Party would be for Republicans to have only 223 seats after the election, according to the outlet.
The Republican Party's lead in the 2022 midterm House elections can possibly be attributed to its focus on inflation and crime, while Democrats have focused on abortion rights following the Supreme Court's decision to overturn Roe v. Wade earlier this year. An ABC/Ipsos poll conducted from Oct. 28-29 found that 26% of those surveyed ranked the economy as the most important issue, while 23% reported inflation was the most important. The poll surveyed 729 adults and had a margin of error of 3.9 percentage points.
While Republicans are expected to take control of the House, the Senate remains up in the air, as the party only won in 50 of the 100 simulated outcomes of the midterm elections for the Senate, according to FiveThirtyEight. The GOP needs to have a net gain of at least one senator if it wishes to take control of the upper chamber of Congress.
Accountable2You
Is your smartphone a tool in the service of Christ, or a minefield of distractions and temptations?
With soul-killing seductions just a few taps away, our families and churches must embrace biblical accountability on our digital devices.
Accountable2You makes transparency easy on all your family's devices, by sharing app usage and detailed browsing history—including "Incognito" mode—with your spouse, parent, or chosen accountability partner.
Accountable2You helps your family to proactively guard against temptation, so you can live with integrity for God's glory! Learn more and try it for free at Accountable2You.com/FLF
https://breakingdefense.com/2022/10/as-army-begins-electrification-push-c5isr-office-aims-to-smooth-bumps-in-the-road/
As Army begins electrification push, C5ISR office aims to smooth bumps in the road
As the Army seeks to be more energy efficient between fiscal 2023 and 2027, officials with the service's C5ISR Center told Breaking Defense they're working on a plan to make the transition, whether its to installation microgrids or the planned electrified vehicle fleet, smoother and smarter.
The Army's ambitious climate strategy, which it estimates will cost upwards of $6.8 billion over five years, follows three lines of efforts: installations, acquisition and logistics and training.
According to the strategy's implementation plan, released Oct. 5, $5.2 billion of that will go to the installation line of effort, wherein the service wants to field fully electric non-tactical vehicles and reduce greenhouse gasses. The Army also wants to operationalize 55 microgrids on its installations (20 microgrids by fiscal 2024, 15 more by FY26 and then 20 more in FY27) with a total cost of $1.6 billion. (The training portion is expected to cost far less.)
The service is currently working on implementing the first set of those tactical microgrids, which will allow the service to "interconnect" power equipment in an "interoperable and smart way," Marnie Bailey, power division chief at the Army's C5ISR Center, told Breaking Defense in an interview this week.
She added that the development of the tactical microgrid standard (TMS) has underpinned a lot of the research the Army has been doing in that area. TMS is an interoperability standard that allows devices to plug and play together, and that's what the Army wants to do with its power systems, Mike Gonzalez, expeditionary power and environmental controls branch chief at the C5ISR Center, added.
Over the next year, the Army wants to explore how to do active load management (things that consume power, like electronics) through the use of the TMS, which can monitor the loads and see how much power installations or bases are consuming on a regular basis, whether the facilities are stateside or in far-flung regions.
According to the Army's climate plan, the service plans to field an all-electric light-duty-non-tactical vehicle fleet by 2027 and is aiming for an all-electric non-tactical fleet overall by 2035.
The Army wants to reap the benefits of the technologies and, at the same time, make sure the transition to these new concepts are seamless for soldiers. As part of that, the service is engaging in "soldier touchpoints" to get feedback on what is and isn't working. Those soldier touchpoints are key to making sure the Army doesn't spend years on stuff that's not performing in real situations, Gonzalez said.
As to how the Army sees in the opportunities space over the next fiscal years coming up, both Bailey and Gonzalez summed it up in three words: intentionality, flexibility and maximizing options. It also opens up opportunities for incorporating things like artificial intelligence in the future for things like controls, Bailey added, but the focus right now remains on implementing the interoperability standards into equipment.
https://dailycaller.com/2022/11/01/fed-interest-to-pass-defense-budget/
The Government Is Set To Spend More On Debt Payments Than The Entire Defense Budget
Interest on federal debt is set to skyrocket, potentially surpassing defense spending by as early as 2025, CNN reported Tuesday.
The federal government made $475 billion in net interest payments in the fiscal year 2022 — which ended in September — up from $352 in fiscal year 2021, according to the Treasury Department. The number exceeds the $406 billion spent on transportation and veterans' benefits, and is on track to eclipse the roughly $750 billion spent on defense this year between 2025 to 2026, according to CNN, citing financial analytics firm Moody's Analytics. ('Reckless': Obama Economist Tears Apart Biden's Student Loan Forgiveness)
"Regardless of who wins the midterms or in 2024, there are really difficult decisions that will have to be made," Dan White, an economist at Moody's Analytics, told CNN. "This is really going to handcuff them."
The Federal Reserve has historically kept interest rates low in a bid to encourage economic growth and the purchase of U.S. debt by foreign investors, CNN reported. This contributed to aggressive borrowing campaigns by both the Trump and Biden administrations, which boosted the nation's debt past $31 trillion for the first time this year, that have "fast-forwarded us almost an entire generation" in terms of debt, White said.
With inflation still above 8%, far above the Federal Reserve's goal of 2%, it is unlikely that the Fed will slow its pace of interest rate hikes this week in a bid to put downward pressure on the economy and slow inflation, The Wall Street Journal reported Tuesday. As interest rate hikes push economic activity down and the cost of interest up, the U.S. might soon be in a position where it struggles to make its interest payments, White told CNN.
A recession, which economists consider increasingly likely, would make it even more difficult to make interest rate payments, since governments typically spend more on social programs during recessions, White told CNN.
Now it's time for my favorite topic… sports!
https://www.si.com/xfl/2022/10/31/xfl-unveils-cities-teams-2023-season
XFL Unveils Eight Cities, Teams for 2023 Season
Hopefully, the third time's the charm for the XFL. The newest edition of the spring football league formally announced cities, team names and logos for its new season Monday.
The XFL failed to live past its first season in 2001 and the COVID-19 pandemic shuttered the 2020 season after only a few weeks, but 2023 will be a new year. The season is set to start Feb. 18, 2023, and games will be televised on ESPN, ESPN2, ABC and FX.
ESPN's Laura Rutledge showed off the new logos, names and cities for all eight of the XFL's squads in the announcement video.
Here are the eight franchises and coaches for the 2023 XFL season:
Arlington (Texas) Renegades – Bob Stoops
D.C. Defenders – Reggie Barlow
Houston Roughnecks – Wade Phillips
Orlando Guardians – Terrell Buckley
San Antonio Brahmas – Hines Ward
Seattle Sea Dragons – Jim Haslett
St. Louis Battlehawks – Anthony Becht
Vegas Vipers – Rod Woodson