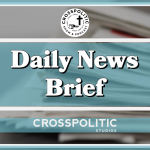 I can't wait to share all the Christmas fun we have coming. Word is we are going to have a man-crate, a nice present for the ladies, and oh our Christmas magazine issue is going to be fire!
Plug
CWWI:
Did you know that more than 75% of those raised in evangelical, Presbyterian, and Reformed churches don't pursue any kind of Christian higher education? Surprising isn't it. Cornerstone Work & Worldview Institute is seeking to provide a new, exciting, and affordable option for Christians.
Our mission is to build Kingdom culture in the workplace by equipping our students in a Trinitarian worldview and vocational competencies. Our low-cost full-time program offers integrative course modules, internships, and mentoring so our students can finish debt-free with vocational preparation, a robust faith, and financial potential to build strong godly families and homes rooted in their communities and churches long-term.
Our program is offered face-to-face in beautiful Southern Illinois or remotely, anywhere you are.
Visit our website at www.cornerstonework.org to find out more about enrolling.
Facebook is shutting down its facial recognition software
https://www.cnn.com/2021/11/02/tech/facebook-shuts-down-facial-recognition/index.html?utm_content=2021-11-02T19%3A01%3A04&utm_medium=social&utm_source=twCNN&utm_term=link
According to CNN
"Facebook said Tuesday it plans to stop using facial-recognition software that could automatically recognize people in photos and videos posted on the social network, marking a massive shift both for the tech industry and for a company known for collecting vast amounts of data about its billions of users.
Facebook, which changed its company name to Meta in late October, also said it plans to delete the data it had gathered through its use of this software, which is associated with over a billion people's faces.
The move to both stop using the software and to wipe the data that is related to existing users of the feature marks an about-face for Facebook, which has been a major user and proponent of the technology. For years, the social network has allowed people to opt in to a facial-recognition setting that would automatically tag them in pictures and videos. Pesenti wrote that more than a third of the company's daily active users had opted in to the setting — or more than 643 million people, as Facebook had 1.93 billion daily active users in the third quarter of 2021."
But wait that same CNN article also quoted Jerome Pesenti saying this:
"Facebook will still be working on facial recognition technology, however, and may use it in its products — range from social networks to a futuristic pair of picture-taking glasses — in the future.
"Looking ahead, we still see facial recognition technology as a powerful tool, for example, for people needing to verify their identity, or to prevent fraud and impersonation," Pesenti wrote.
In his post, Pesenti pointed to concerns about the appropriateness of the technology, which has come under scrutiny as it's increasingly used but, in the US, at least, barely regulated.
"We need to weigh the positive use cases for facial recognition against growing societal concerns, especially as regulators have yet to provide clear rules," Pesenti wrote."
Colin Kap: NFL is like the slave trade:
Lebron James chimes in here:
Plug
Werkz:
It is said that "Carrying a gun is not supposed to be comfortable, it's supposed to be comforting." Shan and his team at Werkz believe a holster should be pleasant, concealable, and accessible. Werkz's light-bearing holsters are designed to work with a range of different attachments so you can find the optimal carry style that suits you. <Interject Experiences Here> Use their holster finder at Werkz.com/CrossPolitic so you can carry comfortably and be prepared to defend yourself day and night.
Colonel Jeff Cooper, "Carrying a gun is not supposed to be comfortable, it's supposed to be comforting."
9,000 NYC workers put on unpaid leave due to COVID-19 vaccine mandate
https://thehill.com/changing-america/well-being/prevention-cures/579435-9000-nyc-workers-put-on-unpaid-leave-due-to
According to the Hill:
New York City Mayor Bill de Blasio (D) on Monday said some 9,000 municipal city workers were put on unpaid leave for refusing to comply with a COVID-19 vaccine mandate that recently went into effect.
Municipal workers in the city, including firefighters and police, were required to receive at least one dose of COVID-19 vaccine by Friday. Previously, New York City employees could opt to take weekly COVID-19 tests instead of being vaccinated, but the exemption no longer applies.
On Monday, de Blasio said 91 percent of the city's nearly 400,000 employees covered by the mandate have been vaccinated, while 9,000 were put on unpaid leave for refusing to comply with the mandate and another 12,000 have filed for a religious or medical exemption. De Blasio said those workers will be getting their answer on exemptions in the coming days.
Supreme Court won't block vaccine mandate for Maine health-care workers with religious objections
https://www.washingtonpost.com/politics/courts_law/supreme-court-vaccine-mandate-maine/2021/10/29/0ad60158-3903-11ec-91dc-551d44733e2d_story.html?utm_campaign=wp_main&utm_medium=social&utm_source=facebook&fbclid=IwAR0zkra_iq4_4GewPy8v-rEYcMCmDw1wk79WIegPQtzAh43mlNeJk1dWyJM
According to WAPO:
The Supreme Court on Friday turned down a request from a group of Maine health-care workers to block a state coronavirus vaccination mandate that does not contain an exception for religious objectors.
Three conservative justices dissented from the decision. While the majority did not give a reason for denying the request, Justice Neil M. Gorsuch wrote that the workers deserved an exemption.
"No one questions that these individuals have served patients on the front line of the COVID-19 pandemic with bravery and grace for 18 months now," wrote Gorsuch, who was joined by Justices Clarence Thomas and Samuel A. Alito Jr.
"Yet, with Maine's new rule coming into effect, one of the applicants has already lost her job for refusing to betray her faith; another risks the imminent loss of his medical practice."
The court twice before has refused to step in regarding vaccination requirements — Justice Amy Coney Barrett rejected a request from Indiana University students and Justice Sonia Sotomayor declined to halt a New York City mandate for public school teachers. Neither justice provided a reasoning.
But both the university and the school system provided a religious exemption.
Nine pseudonymous health-care workers asked the court to block a requirement that they be vaccinated by Friday to keep their jobs. Represented by the religious legal organization Liberty Counsel, the workers said Maine was an "extreme outlier" in allowing only a medical exception for refusing the vaccine, and not an additional one based on religious objection, as they said 47 other states have done.
"Almost every other state has found a way to protect against the same virus without trampling religious liberty — including states that have smaller populations and much greater territory than Maine," they said in their request to the Supreme Court.
"If Vermont, New Hampshire, Alaska, the Dakotas, Montana, Wyoming, California, and the District of Columbia can all find ways to both protect against COVID-19 and respect individual liberty, Maine can too."
The Supreme Court's liberal justices, along with Chief Justice John G. Roberts Jr., have generally been content with allowing local officials to set rules for vaccinations and other emergency requirements related to the pandemic.
Barrett has joined the conservatives when religious issues have been at stake.
Closing
This is Gabriel Rench with Crosspolitic News. Support Rowdy Christian media by joining our club at fightlaughfeast.com, downloading our App, and head to our annual Fight Laugh Feast Events. With your partnership, together we will fight outdated and compromised media, engage news and politics with the gospel, and replace lies and darkness with truth and light. Go to fightlaughfeast.com to take all these actions. Have a great day. Lord bless