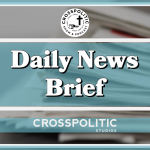 This is Garrison Hardie with your CrossPolitic Daily Newsbrief for Wednesday, November 30th, 2022. Happy hump day everyone! I hope y'all have been having a good week… and before we get to the news, do you want your kids to be able to take on our wicked culture, and be dangerous? Look no further than NSA.
New Saint Andrews:
Today's culture shifts like sand. But New Saint Andrews College is established on Christ, the immovable rock. It is a premier institution that forges evangelical leaders who don't fear or hate the world. Guided by God's Word, they take the world back because they're equipped with the genius of classical liberal arts and God-honoring wisdom, thanks to a faculty dedicated to academic rigor and to God's kingdom.Find out more, at nsa.edu/
https://thepostmillennial.com/white-paper-revolution-spreads-anti-ccp-protests-break-out-worldwide-as-chinese-students-demonstrate-in-key-cities?utm_campaign=64487
WHITE PAPER REVOLUTION SPREADS: Anti-CCP protests break out worldwide as Chinese students demonstrate in key cities
Following days of ongoing protests in China, the "White Paper Revolution" has spread outside of the country, with protestors across the globe, many of Chinese descent, standing in solidarity with those in China protesting their country's "Zero Covid" policy.
In the US, college students at University of California Berkeley, NYU, and Columbia University gathered on their campuses, carrying white sheets of paper as those in China have been doing. The blank, white pages are a symbol of protest against Chinese censors.
At Berkeley, students set up a candlelight vigil for the victims of a fire in a Urumqi apartment building. At least 10 people died in the fire after months of a strict Covid lockdown saw residents locked inside of their homes by officials. Lockdowns were blamed for the inability of fire fighters to put out the blaze fast enough, in which a 3-year-old was among the casualties.
Protestors on Berkeley's campus set fire to a masked Winnie the Pooh stuffed animal, representing Chinese President Xi Jinping.
Students from NYU gathered in New York City's Washington Square Park to protest in solidarity with Chinese citizens stepping up in their own country, setting up another candlelight vigil.
Protestors in the square chanted "no lockdown, but freedom. No lies, but dignity. No Cultural Revolution, but reform. No supreme leaders, but votes. No slaves, but citizens. Twitter user Indy posted the footage.
https://twitter.com/i/status/1597033132615602176 – Play Video
At Columbia University in New York City, protestors used facemasks to cover the face of a statue that sits iconically before the schools largest library.
Protestors held a banner that read, "Chinese Community Party, Step Down! Give Me Liberty of Death!"
Demonstrations were also seen in Tokyo, Japan, with Chinese students protesting outside of the city's Chinese Embassy while holding white sheets of paper.
In London, England, protestors chanted "down with the party, down with Xi Jinping, Free China," flying the flag of East Turkestan, the region of China where the apartment fire broke out.
Protests had sparked in China following the Urumqi apartment fire last week. Chinese citizens took to the streets in major cities like Shanghai and Beijing in opposition of the country's "Zero Covid" policy, which issues strict restrictions for those found to be positive for the virus, including separating them from those who test negative, like family members.
https://thepostmillennial.com/desantis-slams-apple-as-vassal-of-the-ccp-after-it-removes-airdrop-from-chinese-iphones?utm_campaign=64487
DeSantis SLAMS Apple as 'vassal of the CCP' after it limits AirDrop on Chinese iPhones
Apple has beed accused of being vassals for the Chinese Communist Party by Florida Governor Ron DeSantis after the tech giant restricted its AirDrop feature amid White Paper Revolution protests breaking out across the country. Chinese citizens are demonstrating against the CCP's lockdown policies.
The criticism comes as Apple and Google consider pulling Twitter from their respective app stores in response to owner Elon Musk's new free speech policies, which include dropping restrictions around so-called Covid disinformation. They have been encouraged to do so by some American journalists, including those at the Washington Post. Musk has said he is a free speech absolutist, and believes the platform should be open to discourse and should not engage in censorship.
The AirDrop feature is a vital tool for those in authoritarian countries, as the feature uses direct connections between phones rather than using any internet signal to communicate. On November 9, Apple released its new iOS. The update made it so that iPhones sold in mainland China can only receive messages from people for just 10 minutes before the function stops working.
Gov. DeSantis made several comments about China during a media appearance on Tuesday, where he accused Apple of being a "vassal of the CCP," and warned that "nuking" Twitter off the app store would be anti-free speech.
https://rumble.com/v1xw06a-desantis-slams-apple-for-being-a-vassal-of-the-ccp..html – Play Video
Yesterday, Musk said that he was prepared to "go to war" with Apple over the prospect it pulling the app. In a tweet on Tuesday, Musk said that it is a "real problem" that Apple and Google "effectively control access to most of the Internet via their app stores."
Protests in China have raged on across several cities in respose to extreme measures taken by the CCP under President Xi Jinping. On Monday, National Security Council Coordinator for Strategic Communications John Kirby was asked why the Biden administration had not responded more strongly in support of the ongoing people's protests in China against that country's authoritarian regime.
Kirby said, "We're watching this closely as you might expect, we would. And again, we continue to stand up and support the right of peaceful protest. And I think we're gonna watch this closely and we'll see where things go."
Kirby said that President Biden would not be speaking on behalf of protestors, and that the protestors are "speaking for themselves."
Speaking of Big Tech:
https://thepostmillennial.com/google-youtube-spend-millions-to-launch-global-fact-check-fund?utm_campaign=64487
Google, YouTube spend MILLIONS to launch Global Fact Check Fund
On Tuesday, Google and YouTube announced that they will be providing a $13.2 million grant to the nonprofit Poynter Institute's International Fact Checking Network with the goal of launching a new "Global Fact Check Fund," set to launch in early 2023.
The move, which marks the companies' largest fact-checking grant to date, comes as they continue to ramp up their fight against "misinformation" online.
According to Google and YouTube, the grant will "support [the Poynter Institute's] network of 135 fact-checking organizations from 65 countries covering over 80 languages."
The companies justified their decision by noting that "helping people to identify misinformation is a global challenge."
"The Global Fact Check Fund," they explained, "will help fact-checkers to scale existing operations or launch new ones that elevate information, uplift credible sources and reduce the harm of mis- and disinformation around the globe."
Organizations are expected to use the funding to "incorporate new technologies, create or expand digital footprints, optimize verification tools, and increase their capacities to deepen audience engagement through innovative storytelling formats such as audio, video, or podcasts."
"The world needs fact-checking more than ever before," IFCN executive director Baybars Örsek said. "This partnership with Google and YouTube infuses financial support to global fact-checkers and is a step in the right direction, and while there's much work to be done, this partnership has sparked meaningful collaboration and an important step.
In recent years, investments in programs aimed at tackling mis- and disinformation online have grown in tandem with peoples' interest and awareness in the subject.
According to data from Google, in October 2022, interest in mis- and disinformation across the world reached its highest point since 2004, when records began, with the most pressing topic being the Covid-19 pandemic.
During the pandemic, big tech's fact-checking apparatus went into overdrive as companies struggled to keep up with information that seemed to be changing on a daily, if not hourly basis.
YouTube has been criticized for its crackdowns on those who shared ideas that opposed the mainstream, many of whom have had their views vindicated in the months since.
https://www.based-politics.com/2022/11/29/biden-rushing-to-track-the-20-billion-we-gave-ukraine/
Biden rushing to track the $20 billion we gave Ukraine
Republicans, who are poised to take control of the House in January, have promised to audit the immense amount of money our Congress has been shipping off to fight another country's war. Among the goals of the audit would be determining how much of the money ended up in the "wrong hands" as previous tracking efforts proved the Biden administration only inspected a small fraction of the funds.
Republicans are not without allies across the aisle in this effort. As it turns out, there are still a few, truly and consistently, anti-war folks left on the Democrat's bench who share the GOP's concern over our involvement in this conflict.
"The taxpayers deserve to know that investment is going where it's intended to go," Rep. Jason Crow, D (CO), said. "In any war, there can be missteps and misallocation of supplies."
According to reports, only 10% of the 22,000 weapons the US gave Ukraine between February and November 1 have been inspected.
The threats of an audit have led to a lot of handwringing by warmongers in both parties, as well as overseas. Members of Parliament have worried out loud that these investigations may lead to the US cutting its funding to Ukraine altogether…which would be, umm, ideal.
While we should absolutely not be involved in this proxy war that is threatening global peace, spurring an energy crisis, and deepening the recession many countries including our own are experiencing, a basic audit of the funds is the bare minimum here. It is outrageous that we're sending billions of dollars to this cause at all, much less without any idea how they are being utilized.
Some Congressional leaders, namely Rand Paul, have been working to mandate such oversight for some time and have largely been opposed by both Republican and Democrats.
To enter a war, the US is supposed to require a vote by all members of Congress. That hasn't happened in over two decades while, at the same time, we have invested trillions of taxpayer dollars and given up thousands of American lives involving ourselves in conflicts that don't pertain to us and that the American people never got to vote on.
https://thepoliticalinsider.com/monkeypox-gets-canceled-who-says-name-is-racist-changes-it-to-mpox/
Monkeypox Gets Canceled: WHO Says Name is Racist, Changes It to 'Mpox'
In what seems to be another foray into left wing "logic," the World Health Organization (WHO) announced on Monday that they would no longer use the term "monkeypox" because of "racist and stigmatizing language" over usage of the term.
WHO released a statement which read in part, "Following a series of consultations with global experts, WHO will begin using a new preferred term 'mpox' as a synonym for monkeypox. Both names will be used simultaneously for one year while 'monkeypox' is phased out."
The trend of renaming diseases is not a new one. Political correctness was front and center for WHO as far back as 2015 when they released "Best Practices for the Naming of New Human Diseases."
At the time, WHO stated that new disease names should be assigned, "with the aim to minimize unnecessary negative impact of disease names on trade, travel, tourism or animal welfare, and avoid causing offense to any cultural, social, national, regional, professional or ethnic groups."
An earlier announcement was made in June after approximately thirty scientists declared there was, "urgent need for a non-discriminatory and non-stigmatizing nomenclature for the monkeypox virus."
The Biden administration, in their never ending search for perfect political correctness compliance, had already privately urged a name change, arguing that calling it monkeypox could be hampering vaccination efforts.
Fight Laugh Feast Magazine
Our Fight Laugh Feast Magazine is a quarterly issue that packs a punch like a 21 year Balvenie, no ice. We don't water down our scotch, why would we water down our theology? Order a yearly subscription for yourself and then send a couple yearly subscriptions to your friends who have been drinking luke-warm evangelical cool-aid. Every quarter we promise quality food for the soul, wine for the heart, and some Red Bull for turning over tables. Our magazine will include cultural commentary, a Psalm of the quarter, recipes for feasting, laughter sprinkled through out the glossy pages, and more. Sign up today, at fightlaughfeast.com.
Now it's time for my favorite topic… sports!
https://www.boundingintosports.com/2022/11/nhl-denies-the-truth-and-reality-embraces-and-promotes-transgender-idol-worship/
NHL Denies The Truth And Reality, Embraces And Promotes Transgender Idol Worship
The National Hockey League made it abundantly clear they now worship at the altar of transgenderism when they recently declared that they deny reality by claiming that men can become women and women can become men.
The organization posted to Twitter their support of a Team Trans Draft Tournament that was held in Middleton, Wisconsin.
They wrote, "The NHL is proud to support this past weekend's Team Trans Draft Tournament in Middleton, Wisconsin. This was the first tournament comprised entirely of transgender and nonbinary players, with around 80 folks participating!"
The organization took it a step further when they responded to a user who asked, "So, men playing on womans team?"
The league responded, "Trans women are women. Trans men are men. Nonbinary identity is real."
This tweet and the celebration of the tournament are not only a denial of reality, they are promoting other people to embrace in this denial of reality.
This statement of idol worship comes a little over a month after the NHL embraced anti-white racism where they claimed in their Accelerating Diversity & Inclusion report that the organization's teams are too white. In order to address what they view as a problem they revealed plans to reduce the percentage of white people that work for them.
https://twitter.com/i/status/1582493338296532992 – Play Video
Welp, there you go… hockey is dead. What do you make of the NHL worshiping at the altar of transgenderism and encouraging others to join in their idolatry?