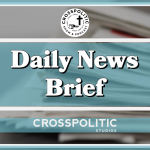 This is Garrison Hardie with your CrossPolitic Daily News Brief for Wednesday, November 8th, 2023.
Dropwave
Do you have a podcast, or thinking about starting one? Does your church have a podcast feed for sermons? Then Dropwave.io is for you. Cancel culture is like walking on a thin glass bridge over the Grand Canyon. Every step you take could get you killed, I mean canceled. Since the beginning CrossPolitic has been working on being antifragile, so no matter what happens, our content can still be delivered to your tv and to your podcast. This past year, the Waterboy and his friend Jeremi, have been working on building a podcast hosting solution for rowdy platforms like CrossPolitic, so that you can be confident your podcast will never fall through that glass bridge. Dropwave offers seamless onboarding for shows that have been around for years to easy to use solutions for starting your own podcast. Dropwave will track all your show's downloads by city, state, and country, and it offers network and enterprise packages for solutions like the Fight Laugh Feast Network. Free to speak, Free to podcast, free to start your journey now at www.Dropwave.io.
https://www.breitbart.com/economy/2023/11/07/bloomberg-u-s-debt-interest-bill-soars-past-1-trillion-a-year/
Bloomberg: U.S. Debt Interest Bill Soars Past $1 Trillion a Year
The combination of high levels of debt and higher interest rates has pushed the annualized interest cost of government debt past $1 trillion, an analysis from Bloomberg showed Tuesday.
This amounts to a doubling of interest costs over the past 19 months, according to Bloomberg. It is the equivalent of 15.9 percent of the Federal budget for fiscal year 2022.
The worsening metrics may reignite debate about the US fiscal path amid heavy borrowing from Washington. That dynamic has already helped drive up bond yields, threatened the return of the so-called bond vigilantes and led Fitch Ratings to downgrade US government debt in August.
"There will be further increases to Treasury coupon auctions and T-bills outstanding going forward," Bloomberg Intelligence strategists Ira Jersey and Will Hoffman wrote in a research note. "Besides deficits of over $2 trillion in the foreseeable future, climbing maturities following the increase of issuance from March 2020 will also need to be refinanced."
The Congressional Budget Office estimates that the cumulative deficit for the 2024–2033 period will total $20.2 trillion, or 6.1 percent of GDP. Deficits are expected to be at least 5.5 percent of GDP every year for the coming decade. Since 1973, the federal government budget deficit has averaged 3.6 percent of GDP.
https://dailycaller.com/2023/11/07/van-jones-biden-retire-2024-election-drop-out/
'It's Time': CNN's Van Jones Says Biden Needs To Consider Retiring
CNN's Van Jones said Tuesday that President Joe Biden needs to consider retiring following a poll from The New York Times/Siena College.
The Sunday poll found president Donald Trump leading Biden by a substantial margin in five out of six key swing states. Biden holds a slight edge within the margin of error over Trump in Wisconsin.
Jones argued Biden is in a tough position. Video Plays
Several pundits have questioned whether Biden should drop out of the race, with CNN's David Axelrod saying the president needs to decide whether staying in the race is "in his best interest or the country's."
Director of Defending Democracy Together Bill Kristol posted on X that Biden needs to make an act of "personal sacrifice."
"It's time. President Biden has served our country well. I'm confident he'll do so for the next year. But it's time for an act of personal sacrifice and public spirit. It's time to pass the torch to the next generation. It's time for Biden to announce he won't run in 2024," Kristol wrote.
https://hotair.com/karen-townsend/2023/11/07/future-darwin-award-winner-tried-to-target-jewish-children-in-americas-midwest-n590580
Future Darwin Award Winner Tried to Target Jewish Children in America's Midwest
A woman in Indiana plowed her car into a building she thought was a Jewish school. The police describe her as a terrorist and she was arrested at the scene.
Not only was her intention to hurt or kill Jewish school children in their school in Indianapolis but she was completely mistaken about her target. The 34-year-old terrorist woman, allegedly backed her vehicle into a building associated with Black Hebrew Israelites on Friday. She admitted to the police that she specifically targeted the building because she was offended by a Hebrew Israelite symbol in front. This psycho thought she was entitled to try to harm children because she was offended by a symbol in front of the building, apparently.
There were several adults and children in the building at the time. However, they were not who the woman thought they were. She said, "Yes. I did it on purpose." She kept describing the building as the "Israel school" and she spoke about "her people back in Palestine." According to the Anti-Defamation League, the Israelite School of Universal and Practical Knowledge is a sect of the Black Hebrew Israelites. It is an extremist group that is anti-Israel. The Southern Poverty Law Center (I know) has designated them as a hate group. So, ironically, the unhinged and offended the woman plowed into the building used by a group who hate Israel as she does.
She is Darwin Award material. An investigation is underway. There may be additional charges brought against her.
The Jewish Federation of Greater Indianapolis said Safe Indiana, a Jewish community security program, is working with cops to probe the incident.
"Safety and security for our community is of the utmost importance, and we are more secure and prepared than ever before," the federation said in a statement.
"Although a Jewish facility was not targeted, solely due to ironic misidentification, this is yet another reminder to maintain security protocols, remain vigilant of suspicious activity and to (report promptly) to the appropriate authorities."
These random acts of terror seem to be increasing. FBI Director Christopher Wray recently warned of lone wolf attacks. Wray said Hamas inspired terrorists pose a threat not seen since the days of ISIS. She confessed that she was motivated to do the attack after watching news coverage of the Israel-Hamas war. She is originally from Amman, Jordan.
Wray said that while Hamas is assessed to have no capabilities inside the US, other actors – possible radicalized individuals or small groups – could take inspiration from the terror group in a way similar to ISIS.
Speaking to the Senate's Homeland Security Committee, he said: "We assess that the actions of Hamas and its allies will serve as an inspiration, the likes of which we haven't seen since ISIS launched its so-called caliphate several years ago.
"In just the past few weeks, multiple foreign terrorist organizations have called for attacks against Americans and the West."
He said: "Here in the United States, our most immediate concern is that violent extremists – individuals or small groups – will draw inspiration from the events in the Middle East to carry out attacks against Americans going about their daily lives."
She was charged with a preliminary charge of criminal recklessness. Her first court appearance is scheduled for today, November 8.
https://www.catholicnewsagency.com/news/255928/vatican-hospital-offers-to-treat-critically-ill-baby-denied-life-support-in-britain
Vatican hospital offers to treat critically ill baby denied life support in Britain
The Vatican's pediatric hospital has offered to treat 8-month-old baby Indi Gregory after a British court ruled that she be removed from life support against her parents' wishes.
Gregory, who was born in February, suffers from a rare degenerative mitochondrial disease and has been receiving life-sustaining treatment on a ventilator at the Queen's Medical Centre in Nottingham, England.
After England's high court ruled that it was in the child's "best interests" to be taken off life support, Gregory's parents appealed to take her to Rome for treatment, an appeal that was denied by a British judge over the weekend.
The Italian government decided in an emergency meeting on Monday to grant the critically ill child Italian citizenship and to cover the cost of her medical treatment at the Vatican's Bambino Gesù (jay-zoo) hospital.
"They say there isn't much hope for little Indi, but until the very end, I'll do what I can to defend her life," Italian President Giorgia Meloni wrote on social media on Nov. 6. "And to defend the right of her mamma and papa to do all that they can for her."
The Bambino Gesù hospital has previously offered medical treatment to other critically ill children, including Alfie Evans in 2018 and Charlie Gard in 2017, both of whom were ultimately denied the chance to travel to Italy by U.K. courts and died days after being removed from life support.
Christian Concern has published a letter from the president of the Bambino Gesù hospital outlining "a detailed treatment plan" for the child, which includes "life-sustaining treatment and palliative care to ensure Indi's survival and comfort while the treatments take effect."
Andrea Williams, chief executive of Christian Concern and the Christian Legal Centre supporting the Gregorys' case, has noted that this is believed to be the first time that a parent's appeal against an order to withdraw life-sustaining treatment has been rejected by the Court of Appeal without a hearing.
"The law is there to protect life and the most vulnerable in our society. What is happening in this case sets a very worrying precedent with regard to that principle," Williams said.
"It is very concerning that a child can be held against the parents' wishes when they have alternative treatment available."
With the newly granted Italian citizenship, the child's parents, Dean Gregory and Claire Staniforth, can appeal to the Italian consulate in Britain to request that their daughter be airlifted to Italy for treatment, according to Reuters.
Simone Pillon (pee-lone), an Italian lawyer assisting the Gregory family, wrote on Nov. 7: "We are working to find an agreement between the two countries to satisfy the family's request and treat Indi in Rome."
In response to the Italian government's decision, Dean Gregory, Indi's father, said: "My heart fills up with joy that the Italians have given Claire and I hope and faith back in humanity. The Italians have shown us care and loving support and I wish the U.K. authorities were the same."
https://nypost.com/2023/11/06/news/texas-southern-tuba-player-punches-heckler-in-the-stands-video/
Marching Band turns into Marching Hands?
Texas Southern band member punches heckler in the stands, continues playing –
He didn't miss a beat.
A Texas Southern University tuba player swiftly knocked out an obnoxious heckler during a football game Saturday before carrying on playing his instrument.
Video taken from the stands during Saturday's game between Texas Southern and Jackson State shows the college band's tuba player bouncing along to the music while a fan starts yelling at him.
A Jackson State fan can be seen in the footage aggressively yelling at the tuba player, who is attempting to continue playing with the band.
Seeming to have had enough of the outburst, the Texas Southern tuba player says something to the man before swiftly punching him four times in the face.
The Texas Southern band member then returns to his instrument as if the altercation never happened.
In one recording of the incident, the band member can be heard telling the aggressive fan, "F–k off, b—h."
It's unclear whether the heckler, who stumbled back several feet in the stands, sustained any injuries from the scuffle. It's also unclear whether police responded to the incident or if any action was taken against the band member.
Texas Southern University ended up losing to Jackson State, 21-19.
https://www.outkick.com/field-hockey-teammate-issues-bold-statement-against-miaa-for-allowing-male-players-to-compete-against-women/
FIELD HOCKEY CAPTAIN SLAMS MASSACHUSETTS LAW ALLOWING BOYS ON GIRLS TEAMS AFTER BRUTAL INJURY TO HER TEAMMATE
Men competing against women in sports spawned another tragic story on Thursday when a female field hockey player suffered significant injuries to her face after taking a shot from a male opponent.
The female high schooler played on Dighton-Rehoboth High School's team, and now the co-captain / teammate of her squad is speaking up and calling for policy change to prohibit men from competing against women to avoid further incidents.
Kelsey Bain, who plays on Dighton-Rehoboth and is the co-captain of the field hockey team, posted a letter on X, directed at the MIAA to change the association's policy that allows men to compete against women.
"This is a letter I sent to the MIAA in response to the recent Swampscott vs. Dighton-Rehoboth field hockey incident," Kelsey Bain posted on X, including the three-page notice.
Women's rights activist and OutKick host Riley Gaines shared Bain's statement on social media.
The man played for Swampscott High School, who played Dighton-Rehoboth in a playoff field hockey contest on Thursday. Under the MIAA's ruling — the Massachusetts Interscholastic Athletic Association — men can compete against women if a sport does not offer their gender's league.
The man's shot knocked several of the girl's teeth out and caused serious facial injuries. Video of the hit shows the girl writhing in pain and screaming.
To prevent these incidents from continuing, Kelsey Bain is stepping into the discourse, understanding that the association will not budge on the issue unless they are challenged.
Dighton-Rehoboth Superintendent Bill Runey put out a statement, identifying that the opponent was indeed a man and relaying the horror of the team personnel after one of their own suffered a brutal injury.
Runey said,
"Last night, a female field hockey player for the Dighton-Rehoboth Regional High School girls' field hockey team sustained significant facial and dental injuries when she was struck in the face by a shot in the third quarter versus Swampscott in an MIAA state playoff contest.
"The shot was taken by a male member of the Swampscott girls field hockey team. This injury required hospitalization. The player, her family, teammates, and coaches remain in my prayers."