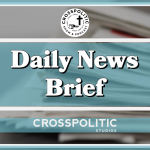 Good morning ladies and gentleman, this is Garrison Hardie with your CrossPolitic Daily News Brief for Wednesday, November 9th, 2022. The midterm elections are still in full swing in some states, as results are still trickling in… let's get to the news:
As things stand now according to the Associated Press:
The GOP leads the democrats with 47-46 seats taken. 51 is needed for majority.

In the house, the GOP leads with 199 seats to the democrats 174 seats. 218 seats are needed for majority.

In Arizona, currently democrat Katie Hobbs holds a slim lead over Republican Kari Lake, with 66% of the vote reporting.

In Oregon, Tina Kotek the democrat, has a slim lead over Republican Christine Drazen, with 67% of the vote reporting… and Drazen for those of you who remembered even had the support of one of the Nike founders.
https://townhall.com/tipsheet/spencerbrown/2022/11/09/who-will-republicans-hold-accountable-for-tuesday-night-n2615702
Republican Voters Deserve Answers and Accountability
There's no way to sugarcoat it — Republicans got bamboozled in the midterms. All the polls that we reported showing Republican candidates surging in the final weeks of their campaigns, the race ratings from the Cook Political Report, and the overconfident statements from GOP leaders were all significantly overly optimistic about what we all watched play out on Tuesday night.
There were GOP victories — Ron DeSantis and Marco Rubio in Florida, J.D. Vance in Ohio, Ted Budd in North Carolina, Brian Kemp in Georgia, Jen Kiggans in Virginia, to name a few — but conservatives were sold a false bill of goods from the leaders tasked with delivering GOP majorities. Those promising great success in order to consolidate power, in a drapes-measuring move, hoping to land a leadership position in a new Republican majority may be the worst offenders who owe the Republican electorate the most answers.
Among them are the leadership of the Republican National Committee, including Chairwoman Ronna McDaniel, the chairs of the National Republican Congressional Committee — Rep. Tom Emmer (R-MN) — and National Republican Senatorial Committee — Sen. Rick Scott (R-FL), and the House Republican Leader — Rep. Kevin McCarthy (R-CA).
In an election year that favored Republicans purely for its timing as the first midterm of the Biden administration, an advantage that should have been helped by a president with chronically underwater approval, inflation above eight percent, surging crime and drug overdose crises, a wide open border, and so many more reasons, there's no reason Republican candidates should have performed as poorly as they did.
https://redstate.com/bonchie/2022/11/09/breaking-pennsylvania-senate-race-called-n655867
Pennsylvania Senate Race Called for Fetterman
Democrat John Fetterman has won the Pennsylvania US senate election against Republican Mehmet Oz. The race ended up close, but Fetterman's overperformance with blue-collar voters pushed him over the finish line. He will now head to Washington, DC, in January as part of what will almost certainly remain a Democrat-controlled Senate.
What else can you say? The Republican Party lost to a man who is not cognitively all there. As Matt Walsh put it: The Republican Party outside of Florida has no message. No discipline. No leadership. No courage to confront the important issues head on. That's why they're losing to literally brain damaged candidates. We need a total overhaul.
But I think I like Jeff Durbin's take better: "Our nation won't see meaningful and lasting change apart from Christ through any election. Transformation comes through regeneration and repentance. Hope is in the King and not the legislature. Red without His blood is meaningless. Conservative without Christ is futile."
https://www.axios.com/2022/11/09/nevada-senate-election-results?utm_medium=social&utm_campaign=editorial&utm_source=twitter
Results in Nevada Senate race delayed due to paper ballots
Nevada's midterm election results have been delayed, according to local election officials, leaving the state's high-stakes Senate race outcome in the balance as of early Wednesday.
Driving the news: Two counties where the vast majority of Nevada voters reside aren't expected to start counting some mail-in ballots until Wednesday, The Nevada Independent reported.
In Clark County, a shortage of election workers was causing the delay, while Washoe County received large volumes of mail and drop-off ballots, per the Independent, which spoke to county officials.
Nevada state law also allows mail-in ballots to arrive days after Election Day so long as they are postmarked by Nov. 8, per Forbes.
Nevada's race is one of four key Senate battlegrounds that remained uncalled early Wednesday. Georgia, Wisconsin and Arizona are also unresolved.
What they're saying: "Clark is not counting drop boxes tonight, but, to be clear, we said all along that we would only have some of the results on election night," Jennifer Russell, a spokesperson for the Nevada secretary of state, told NBC News Tuesday. "By law, Nevada counties have until Nov. 12 to receive mail ballots."
"We're all used to elections where it was as simple as plugging in USB sticks and running the results," Bethany Drysdale, a spokesperson for Washoe County, told the Reno Gazette Journal. "We can't do that now because there are so many paper ballots. It's going to take longer. This is the new normal for election night."
https://www.foxnews.com/live-news/2022-midterm-elections-voting-results-predictions-candidates-updates
Key races across the country still being called, House, Senate majorities still up for grabs
Georgia Senate results: Warnock, Walker tell supporters to hang tight with race too close to call
The United States Senate race in Georgia does not have a clear winner as neither incumbent Democrat Sen. Raphael Warnock nor his Republican challenger Herschel Walker have claimed an outright majority of the vote so far.
As of Wednesday morning, the race is too close to call, according to the Fox News Decision Desk, with more than 3.8 million ballots cast and Warnock leading Walker by approximately 35,000 votes. Warnock holds 49.42% of the vote, with 1,935,464 votes in his favor, and Walker has 48.52% with 1,900,168 votes. Third-party candidate Chase Oliver has 80,895 votes with 97.94% of precincts reporting.
Georgia law requires a candidate to surpass 50% of the vote to win an election, and a runoff between the top two vote-getters will be held on Dec. 6 if no candidate meets that requirement.
Stacey Abrams, after election loss, vows 'I won't stop running for a better Georgia'
Georgia Democratic gubernatorial candidate Stacey Abrams lost to Gov. Brian Kemp for the second time on Tuesday, but indicated that she does not plan on exiting the political arena.
Abrams gave a concession speech on Election Night after results showed that she had lost to Kemp in a race that was not particularly close.
Abrams famously declined to formally concede to Kemp in 2018 after a narrow defeat, claiming at the time that the election was rigged by voter suppression. This time around, she made no such claim and only looked to the future.
Alabama election results: Republican Katie Britt becomes state's first female elected senator
Republican Katie Britt has made history by becoming the first woman to be elected to the U.S. Senate from Alabama.
The self-described 40-year-old "mama on a mission" is projected by Fox News' Decision Desk to defeat Democrat Will Boyd after, so far, capturing around two thirds of the vote.
Republican George Santos flips Democratic House seat in New York
Republican George Santos flipped New York's 3rd Congressional district Wednesday and secured another House seat for the GOP.
Santos defeated Democrat Robert Zimmerman, who was vying to fill the Long Island seat after Democrat Rep. Tom Suozzi announced he would be retiring to take a stab at New York governor.
Suozzi came in a distant third in the Democratic primaries in the governor's race, but Santos secured his place in Congress by running on cutting taxes, boosting border security and rallying against cashless bail.
The Associated Press called the race shortly after 1:30 a.m. once the Republican held a lead of 54.2% of the vote over Zimmerman's 45.8%, with 90% of the votes already counted.
It's worth noting that Santos is a homosexual… so we need to be praying for his repentance on that front.
'Squad' rolls to easy victories in House races
Perhaps the worst news of the day… The progressive House members collectively known as the "Squad" easily won reelection in their respective elections on Tuesday.
Reps. Alexandria Ocasio-Cortez, D-N.Y., Ayanna Pressley, D-Mass., Ilhan Omar, D-Minn., Rashida Tlaib, D-Mich., Cori Bush, D-Mo., and Jamaal Bowman, D-N.Y., were all projected by The Associated Press as winning by wide margins.
Bowman, who represents New York's 16th Congressional District comprising parts of the Bronx and Westchester County, had the slimmest margin of victory and yet still was leading 65%-34% against Republican challenger Miriam Flisser, with more than 91% of results reporting.
Ocasio-Cortez, Omar, Pressley, and Tlaib were the founding members of the "Squad," who gained notoriety as freshman lawmakers after the 2018 election for pushing the Democratic House conference to the left. Bush and Bowman joined the informal group after winning election in 2020.
Westminster Effects:
Have a guitarist in your life? Consider giving the gift of musical dominion this Christmas with Westminster Effects. Westminster Effects exists for the glory of God and the tone of his people and features guitar pedals such as the 2716 , the signature pedal of Seth Morrison of Skillet, the Geneva Amp Sim, the Spurgeon Reverb, and the O$teen Di$tortion. Use coupon code FLF all month long for 10 percent off all pedals at westminstereffects.com.
Kentucky voters reject constitutional amendment declaring no right to abortion
Voters in Republican-leaning Kentucky have rejected a proposed amendment to the state constitution that would have denied any right to abortion.
The result of Tuesday's election comes months after the Supreme Court overturned the right to abortion in a decision that has led to near-total bans in a dozen states, including in Kentucky.
The ballot question had asked Kentuckians if they wanted to amend the constitution to say: "To protect human life, nothing in this Constitution shall be construed to secure or protect a right to abortion or require the funding of abortion."
The outcome highlights a gap between voters and the state's Republican-controlled Legislature, which added the proposed amendment to the 2022 general election slate a year ago in a move some thought would drive more conservative voters to the polls.
While seen as an important win for abortion-rights advocates, the amendment's defeat will have no practical impact on the right to an abortion if a sweeping ban on the procedure approved by lawmakers survives a legal challenge presently before the state Supreme Court.
Michigan voters pass measure protecting abortion rights, other pregnancy-related decisions
The people of the state of Michigan voted in favor of a new measure that protects abortion and other decisions related to reproduction and pregnancy.
Proposal 3 amends the state constitution by adding rights to abortion and contraception. It states that everyone has a "fundamental right to reproductive freedom," defining this as including — but not being limited to — "prenatal care, childbirth, postpartum care, contraception, sterilization, abortion care, miscarriage management, and infertility care."
The measure also allows the state to regulate abortion after the time a fetus becomes viable.
The approval of the proposal came months after the Supreme Court overturned Roe v. Wade, which gave states the power to protect or ban abortion. The decision in June lead to near-total bans in a dozen states and was a hot topic leading up to the midterms.
The passing of the proposal puts a definitive end to a 1931 ban on abortion that had been blocked in court, but could have been reviewed.
Opponents to the measure said protecting abortion rights could have far-reaching effects on other laws in the state, such as one requiring parental notification of an abortion for someone under age 18.
Legal experts said changes to other laws would only happen if someone sued and won, a process that could take years and has no certainty of success, The Associated Press reported.
Cornerstone Work & Worldview Institute:
Cornerstone Work & Worldview Institute offers a gap year training program to strengthen the faith and character of young Christian men and women. Their students participate in core worldview classes to learn to think God's thoughts after him and workshops in business and vocational preparation while developing godly habits. Students will grow in understanding and maturity with the aim for them to go out and take dominion over the tasks the Lord calls them. To strengthen churches. To build households. To start businesses. To cultivate excellence. To seek first the kingdom. To be confident in their faith and competent in their labor. Enrollment opens January 2023. Visit them online at cornerstonework.org for more information.
Now it's time for my favorite topic… sports!
https://www.boundingintosports.com/2022/11/brooklyn-nets-reportedly-have-6-demands-including-sensitivity-training-that-kyrie-irving-must-meet-in-order-to-be-reinstated/
Brooklyn Nets Reportedly Have 6 Demands Including Sensitivity Training That Kyrie Irving Must Meet In Order To Be Reinstated
A new report claims the Brooklyn Nets have at least six demands Kyrie Irving must meet in order for him to be reinstated for the team after they suspended him for sharing a movie link to his Twitter account.
Irving was indefinitely suspended after he shared an Amazon link to the film Hebrews to Negroes: Wake Up Black America The Movie to his Twitter account.
Following the suspension announcement, Irving apologized for sharing the movie link.
Now a new report from The Athletic's Shams Charania claims the Nets have six demands Irving must meet in order to return to the team.
Charania wrote on Twitter, "Sources: Nets have delivered Kyrie Irving six items he must complete to return to team: – Apologize/condemn movie – $500K donation to anti-hate causes – Sensitivity training – Antisemitic training – Meet with ADL, Jewish leaders – Meet with Joe Tsai to demonstrate understanding."
It's unclear how legitimate these demands are given Irving had previously announced in a joint statement with the NBA and the Anti-Defamation League that he would donate $500,000 to the Anti-Defamation League.
The ADL rejected Irving's donation with the organization's CEO Jonathan Greenblatt responding to Irving's apology. YouTuber Ryan Kinel of Sports Wars reacted to this list of demands and the actions the Brooklyn Nets and the NBA have taken against Irving.
WARNING: A few spots of language:
Nets Have LIST OF DEMANDS For CANCELLED Kyrie Irving To Return To Team | This Is Crazy-Play 0:00-1:58
That about sums it up…