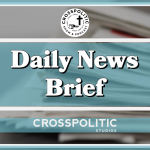 This is Garrison Hardie with your CrossPolitic Daily News Brief for Wednesday, October 12th, 2022. I just got back from our Fight Laugh Feast Conference in Knoxville TN, and we announced while we were out there, where our next conference will be at the Ark Encounter next year! So stay tuned for when registration will open up, and we hope to see you and your family out in Kentucky, October of next year.
Also,
FLF Magazine:
We are on a mission to make magazines great again. So, subscribe to our Fight Laugh Feast magazine. This is a quarterly mini-book like experience, packed full of a variety of authors that includes theologically-driven cultural commentary, a Psalm of the quarter, recipes for feasting, laughter sprinkled throughout the glossy pages, and more. Sign your church up, sign your grumpy uncle up, and while you are at it…sign up the Pope, Elon Musks, and Russel Moore.
Disclaimer: This magazine will guarantee various responses and CrossPolitic is not held liable for any of them. Reading the whole magazine may cause theological maturation, possibly encourage your kids to take the Lord's Supper with you, and will likely cause you to randomly chuckle in joy at God's wondrous world. Sign up today! Four issues and $60 per year, that is it. Go to fightlaughfeast.com right now to sign up!.
Now, here's what you may have missed over the weekend.
https://www.dailywire.com/news/colorado-officials-incorrectly-sent-out-30000-voter-registration-postcards-to-noncitizens
Colorado Officials 'Incorrectly' Sent Out 30,000 Voter Registration Postcards To Noncitizens
Colorado officials claim they accidentally sent approximately 30,000 postcards last month to noncitizens instructing them how they could register to vote.
First reported by Colorado Public Radio News, Democratic Secretary of State Jena Griswold's office said department employees had sent the postcards on Sept. 27 after comparing a list of 102,000 names provided by the Electronic Registration Information Center, a nonprofit organization aiming to improve U.S. voter rolls and advocating residents to vote.
"The Department has become aware that approximately 30,000 EBU [Eligible But Unregistered] postcard mailers were incorrectly sent to ineligible Coloradans," a spokesperson for the Colorado Secretary of State's Office told local media. "The office is undertaking an internal review of the incident and will take any corrective action that is warranted."
Griswold insisted noncitizens would not be allowed to register to vote.
The postcards, which the office printed in English and Spanish, read, "A message from Colorado Secretary of State Jena Griswold . . . Our records indicate that you or your household may be eligible to vote, but do not appear to be registered at your current address."
The mailers did include that to vote that residents must be 18 years old by Election Day, a United States citizen, and a Colorado resident for at least 22 days before the upcoming election, according to Colorado Public Radio News.
Griswold's office said they plan on sending out correction mailers to the noncitizens, "reminding them that only those that meet the above requirements are eligible to register."
According to local media, while the office had compared the list of potential unregistered voters to local DMV records, the data had included noncitizen drivers with Colorado driver's licenses which the state issues for noncitizens to drive legally.
The National Council on State Legislatures website shows Colorado as one of at least 17 states, along with the District of Columbia, that issue driver's licenses to non-U.S. citizens.
However, the system did not distinguish their eligibility to vote.
Sean Morales-Doyle, director of the Voting Rights Program at the Brennan Center for Justice, told The Journal that the system making a mistake indicates it works.
Griswold is up for reelection in the November midterms, where she will face Republican Pam Anderson, the head of the state's county clerks association.
https://www.theepochtimes.com/exclusive-cdc-wont-release-review-of-post-vaccination-heart-inflammation_4786038.html?utm_source=partner&utm_campaign=BonginoReport&src_src=partner&src_cmp=BonginoReport
CDC Won't Release Review of Post-Vaccination Heart Inflammation
The U.S. Centers for Disease Control and Prevention (CDC) will not release its review of post-COVID-19-vaccination heart inflammation.
The CDC has been performing abstractions on reports of post-vaccination myocarditis, a form of heart inflammation, submitted to the Vaccine Adverse Event Reporting System.
But the agency is saying that federal law prevents it from releasing the results.
The abstractions "are considered medical records which are withheld in full from disclosure," the CDC told The Epoch Times in a recent letter, responding to a Freedom of Information Act request.
One of the exemptions in the act says that agencies can withhold materials that are "specifically exempted from disclosure by statute, if that statute (i) requires that the matters be withheld from the public in such a manner as to leave no discretion on the issue; or (ii) establishes particular criteria for withholding or refers to particular types of matters to be withheld; and (B) if enacted after the date of enactment of the OPEN FOIA Act of 2009, specifically cites to this paragraph."
The CDC pointed to the Public Health Service Act, which was enacted in 1944, and says that vaccine injury reports and other information that may identify a person shall not be made available to any person except the person who received the vaccine or a legal representative for that person.
The information sought is available through the CDC website without details that would identify patients, the agency also said.
The CDC said that it does not have a formal definition of "abstraction" but that it means the process of reviewing medical records, including autopsy reports and death certificates, and recording data in a database. "Please note that this definition means that any abstracted data, because they originate from medical records, is also considered medical records," a CDC records officer told The Epoch Times in an email.
Refusing to release the data raises concerns about transparency, according to Barbara Loe Fisher, co-founder and president of the National Vaccine Information Center.
"The stubborn refusal of officials heading up federal health agencies responsible for protecting the public health to come clean with Americans about what they know about COVID vaccine risks is stunning," Fisher told The Epoch Times in an email.
Fisher noted that the CDC has funded electronic medical record systems that collect personal health information and that the agency shares the data with a number of third parties, such as contractors and researchers.
Fisher called for a congressional probe into what she described as "the disturbing lack of transparency on the part of federal agency officials, who granted COVID vaccine manufacturers an Emergency Use Authorization (EUA) to widely distribute the vaccines in December 2020 and have recommended and aggressively promoted the vaccines for mandated use ever since."
In response to a separate Freedom of Information Act request, the CDC initially said that it did not perform any abstractions or produce any reports on post-vaccination myocarditis. That request was for reports between April 2, 2021, and Oct. 2, 2021.
The agency also falsely said that a link between myocarditis and the messenger RNA COVID-19 vaccines was not known during that time.
A possible link between those vaccines, made by Pfizer and Moderna, became known in early 2021. Many experts now acknowledge the link is likely or definitely causal.
Dr. Rochelle Walensky, the CDC's director, said in a press conference in April 2021 that the agency had not detected a link between the vaccines and myocarditis. The basis for that statement remains unclear.
The CDC still hasn't released the results of the data mining, to The Epoch Times, Sen. Ron Johnson (R-Wis.), or a nonprofit called Children's Health Defense. The agency also declined to provide results from a different monitoring system, V-safe, to a nonprofit called Informed Consent Action Network, which then sued the agency and just recently received the first tranche of data.
The FDA, meanwhile, has refused to release the results of a different type of analysis on the VAERS data, claiming it cannot separate the results from protected internal communications. The agency is also withholding autopsies conducted on people who died after getting COVID-19 vaccines, pointing to exceptions laid out in the Freedom of Information Act.
Along with Johnson, several other lawmakers are pressing at least one of the agencies to release the data, asserting that not doing so is illegal.
https://www.breitbart.com/politics/2022/10/10/nike-co-founder-phil-knight-donates-1-million-to-republican-oregon-gov-candidate-christine-drazan/
Nike Co-Founder Phil Knight Donates $1 Million to Republican Oregon Gov. Candidate Christine Drazan
Knight's donation to Drazan's campaign comes after he donated $3.75 million to Independent candidate Betsy Johnson, signaling his strong dislike for Tina Kotek.
Republican strategist Rebecca Tweed told KGW Knight's donation said the two donations are not meant as an endorsement of either candidate but rather an attack against the Democrat candidate.
The donation comes as Christine Drazan stands within striking distance of unseating Kotek in a deep blue state that has not elected a Republican governor since Vic Atiyeh in 1982.
As Breitbart News reported last week, a recent Emerson College poll showed the Oregon House Republican leader actually leading Koteck by two points – 36 percent to 34 percent.
A new Emerson College Polling survey shows former Oregon House Republican leader Drazan ahead of former state House Speaker Tina Kotek (D)–36 percent to 34 percent. Nineteen percent of those polled plan to vote for former Democrat state senator-turned independent Betsy Johnson. The poll was conducted between Sept. 30 – Oct. 1 with 796 very likely Oregon voters. The survey's Credibility Interval (CI), similar to a margin of error, is ±3.4 percentage points.
KGW political analyst Len Bergstein concurred with Rebecca Tweed that Phil Knight's donation should be seen as a knock against Kotek by potentially putting Drazan on the path to victory.
"As soon as he sees some polls that say 'wait a minute, there's a chance that Drazan could win,' he's saying well maybe my money could make the difference to push her over the top," said Bergstein.
"This is not a normal election. We're having fun watching it because we have three original candidates for governor and a lot of interesting twists and turns in the race already," Bergstein added.
Armored Republic
The Mission of Armored Republic is to Honor Christ by equipping Free Men with Tools of Liberty necessary to preserve God-given rights. In the Armored Republic there is no King but Christ. We are Free Craftsmen. Body Armor is a Tool of Liberty. We create Tools of Liberty. Free men must remain ever vigilant against tyranny wherever it appears. God has given us the tools of liberty needed to defend the rights He bestowed to us. Armored Republic is honored to offer you those Tools. Visit them, at ar500armor.com
https://thepostmillennial.com/bidens-railway-deal-to-avert-strike-spiked-by-union?utm_campaign=64487
Biden's railway deal to avert strike spiked by union
Nearly a month after President Biden announced that a deal had been reached between railroad companies and their unions, the deal has fallen apart, raising concerns for a possible strike.
The Brotherhood of Maintenance of Way Employees Division of the Teamsters, one of the nation's largest railroad unions, rejected the deal on Monday, expressing discontent with the number of paid sick days, according to the Washington Post.
Officials said that members of the third-largest union rejected the proposed five-year contract in a 56 to 43 percent split. Both sides have agreed to continue with negotiations until at least November 19.
Railroads are currently expected to continue operating normally.
The deal included a 24 percent increase in pay by 2024, as well as $1,000 annual bonuses for employees over five years. The plan ensured that healthcare co-pays would not increase in price, but included only one paid sick day compared to the 15 days union leaders pushed for.
The deal followed two years of negotiations between the rail carriers and unions, which prompted the White House to appoint an emergency board in July to mediate between the two groups.
In September, Biden applauded the tentative deal reached, calling it "an important win for our economy and the American people."
Now, it's time for my favorite topic, sports!
Let's catch up with what's happening in the world of football shall we?
First in the college ranks:
#3 Alabama 24
Texas A&M 20
#2 Ohio State 49
Michigan State 20
#1 Georgia 42
Auburn 10
#15 NC State 19
Florida State 17
Texas 49
OU 0
#13 TCU 38
#19 Kansas 31
#7 USC 30
WSU 14
NFL:
Giants 27
Packers 22
Chargers 30
Browns 28
Jets 40
Dolphins 17
Bills 38
Steelers 3
Cowboys 22
Rams 10
Chiefs 30
Raiders 29
So that's what you may have missed over the weekend:
This has been your CrossPolitic Daily News Brief. If you liked the show, hit that share button for me down below. If you want to come to our conference next year, if you want to sign up for a club membership, or sign up for a magazine subscription, you can do all of that at fightlaughfeast.com. As always, if you'd like to email me a news story, ask about our conference, or become a corporate partner of CrossPolitic, email me, at garrison@fightlaughfeast.com. For CrossPolitic News, I'm Garrison Hardie. Have a great day, and Lord bless.