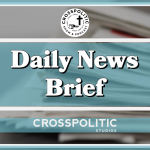 This is Garrison Hardie with your CrossPolitic Daily News Brief for Wednesday, October 19th, 2022. Happy hump day everyone! I hope your week is going well, and before we get to the news, are you looking to move to Moscow? Then I need to tell you about Story Real Estate!
Story Real Estate:
Home. It's where you build your legacy. Where traditions are started, seeds are planted, meals are shared, and stories are told. Home is where you prepare to go out into the world. Finding the home that's perfect for your family is a big job.
Story Real Estate is Moscow's top real estate team. They give people real estate advice all over the country. Family homes, investments, land, new construction, or commercial— they know real estate.
If you've thought about a move to Moscow or anywhere in the country, reach out to get connected with a Story Real Estate agent. Wherever you're going, they can help guide you Home. Visit storyrealestate.com.
https://dossier.substack.com/p/the-cdc-will-vote-thursday-to-permanently?utm_source=twitter&sd=pf
The CDC will vote Thursday to permanently shield Pfizer and Moderna from COVID vaccine injury liability
A CDC committee will convene this week and likely vote Thursday to deliver permanent legal indemnity to Pfizer and Moderna, through the process of adding the drug companies' mRNA injections to the child and adolescent immunization schedules.
By adding the shots to the childhood schedule, the CDC's Advisory Committee on Immunization Practices (ACIP) will transfer liability for vaccine injuries to the federal government's National Vaccine Injury Compensation Program (VICP), allowing for Pfizer and Moderna to finally bring an FDA approved shot to the market without opening itself up to lawsuits. Moreover, it will act as another windfall for companies that have already brought in hundreds of billions of dollars in revenues, by requiring these vaccinations for children who attend public schools.
In March 2020, the federal government invoked the PREP Act, which gave Pfizer and Moderna a tort liability shield due to the declared "public health emergency," which the government is reportedly going to revoke in early 2023. The companies' emergency use authorization shots have since been protected by the federal government through this 2005 congressional action.
A draft agenda published by the CDC shows what will be on the schedule for Wednesday and Thursday's meetings.
The Health Resources & Services Administration has clarified what needs to happen for a vaccine to become liability free:
"For a vaccine to be covered, the Centers for Disease Control and Prevention (CDC) must recommend the category of vaccine for routine administration to children or pregnant women, and it must be subject to an excise tax by federal law."
The Dossier has reported extensively on the coordinated effort by Big Pharma and the Biden Administration to delay the rollout of an FDA approved COVID vaccine, with legal experts suspecting the process is in place to protect Pfizer and Moderna from legal liability from vaccine injuries.
Once described as the cure to the coronavirus, the novel mRNA shots have resulted in catastrophic failure, with a side effect profile exponentially higher than advertised. Thanks to a fraudulent, deceptive marketing campaign, assisted by top federal officials and high-profile pharmaceutical executives, the drugmakers and the federal government convinced millions of Americans to take shots that were much more dangerous (especially for young men), and much less effective than advertised.
Over the course of COVID Mania, Pfizer and Moderna have raked in hundreds of billions of dollars in liability free dollars, enriching their executives and board members beyond their wildest dreams. Thanks to Big Pharma's successful regulatory capture of Government Health, and corrupt bureaucrats' willing compliance, it looks like the mRNA drug cartel will be completely off the hook when it comes to compensating the countless Americans who were harmed by their junk products.
https://www.theepochtimes.com/boston-university-defends-controversial-study-on-covid-hybrid-strain-with-80-percent-mortality-rate-in-mice_4803917.html?utm_source=partner&utm_campaign=BonginoReport
President Joe Biden plans to release even more barrels of oil from the federal government's strategic reserves to keep gas prices low before the midterm elections.
Biden's latest decision marks more than 200 million barrels set for release in less than two years as president, more than all previous presidents combined according to the Wall Street Journal.
Despite Biden's historic oil releases to bring down the cost of gasoline, the OPEC+ nations announced their decision in October to cut oil production by two million barrels a day.
The president expressed his disappointment with OPEC+ and Saudi Arabia's decision, despite administration officials working behind the scenes urging them to delay their cuts until after the midterm elections.
Biden recently campaigned in California where gas prices are nearly seven dollars a gallon.
When asked about prices approaching seven dollars a gallon in the state, Biden replied, "Well, that's always been the case here."
Despite gas prices rising again, Biden continues taking credit for gas prices declining from record highs in the Summer.
"[A] lot of it is the result of getting the cost of living at the gas pump down by more — now even in California now — by more than a dollar nationally and — since the start of summer," he said during a speech on Americans suffering from higher costs.
https://www.dailyfetched.com/china-cuts-off-natural-gas-supplies-to-europe-just-in-time-for-winter/
China Cuts Off Natural Gas Supplies to Europe, Just in Time for Winter
Communist China has told state-owned energy-importing companies to cease sending natural gas supplies to European nations already facing a catastrophic winter.
According to Bloomberg, the Chinese Communist Party's National Development and Reform Commission also told the state-owned energy giants CNOOC, PetroChina, and Sinopec to halt shipments of liquified natural gas to foreign buyers in Europe and Asia.
China scooped up excess Russian gas since the war in Ukraine, as Europe faces an unprecedented energy crisis.
The communist nation has managed to build up an excess of liquified natural gas amid lockdowns to comply with Beijing's zero-Covid agenda.
As Russia reduced shipments to the European Union in response to the bloc's support of Ukraine and sanctions on Moscow, China began reselling its surplus LNG cargo to the EU at inflated prices.
According to estimates, some four million tonnes of liquid natural gas was resold by China, which accounts for approximately seven percent of Europe's imports during the same period.
The Chinese government has not given a specific reason for halting the supply of natural gas supplies on the open market.
However, the move could be an attempt by Xi Jinping to aid his ally Vladimir Putin in putting the squeeze on Europe at a crucial moment.
Despite falling gas prices in Europe from their high in August, the European Union is still considering placing a price cap on imported LNG.
Russia's state-owned Gazprom responded by threatening to cut off all shipments to Europe, forcing the EU to reach out to countries like China selling on the international market.
The EU globalists have rushed towards their green agenda and forestalled domestic energy production, specifically Germany, which banned fracking for its own natural gas in favor of cleaner alternatives.
The move, however, has just left the bloc beholden to Russia to meet its energy needs and, ironically, China to meet its green goals – given that almost all solar panels are made in China.
Last year, the head of the green lobbyist group, admitted: "Everybody knows what's going on in China, and when facilities are based there, you have to accept that there's a high possibility that forced labour will be used."
https://www.theepochtimes.com/boston-university-defends-controversial-study-on-covid-hybrid-strain-with-80-percent-mortality-rate-in-mice_4803917.html?utm_source=partner&utm_campaign=BonginoReport
Boston University Defends Controversial Study on COVID Hybrid Strain With '80 Percent' Mortality Rate in Mice
Boston University issued a statement Tuesday defending its research of a COVID-19 Omicron strain when they took the variant's spike protein and attached it to the original COVID-19 strain, leading to a higher mortality rate in a certain species of mice, triggering concern among lawmakers.
"The Omicron S-bearing virus robustly escapes vaccine-induced humoral immunity, mainly due to mutations in the receptor-binding motif… while Omicron causes mild, non-fatal infection, the Omicron S-carrying virus inflicts severe disease with a mortality rate of 80 percent," the preprint study said.
Meanwhile, Emily Erbelding, director of the National Institute of Allergy and Infectious Diseases's division of microbiology and infectious diseases, told Stat News that the Boston University's grant application didn't specify that researchers wanted to perform this work and the group did not say it was performing experiments to possible enhance a COVID-19 variant. An investigation is now underway, she said.
Boston University issued a lengthy statement defending its research and said critics have misrepresented the goals of the study while refuting allegations that the study involved gain-of-function research, which can make a pathogen more deadly or transmissible.
"The research was reviewed and approved by the Institutional Biosafety Committee (IBC), which consists of scientists as well as local community members," the statement from Boston University said. "The Boston Public Health Commission also approved the research. Furthermore, this research mirrors and reinforces the findings of other, similar research performed by other organizations, including the FDA. Ultimately, this research will provide a public benefit by leading to better, targeted therapeutic interventions to help fight against future pandemics."
Certain reports about the study were "false and inaccurate," Boston University official Ronald Corley said in a statement. A report from the Daily Mail, he alleged, took the "80 percent" line out of context.
Club Membership Plug:
Let's stop and take a moment to talk about Fight Laugh Feast Club membership. By joining the Fight Laugh Feast Army, not only will you be aiding in our fight to take down secular & legacy media; but you'll also get access to content placed in our Club Portal, such as past shows, all of our conference talks, and EXCLUSIVE content for club members that you won't be able to find anywhere else. Lastly, you'll also get discounts for our conferences… so if you've got $10 bucks a month to kick over our way, you can sign up now at fightlaughfeast.com.
Now before we go… it's time for my favorite topic, sports!
https://www.boundingintosports.com/2022/10/report-nascar-to-review-bubba-wallaces-attack-on-kyle-larson-at-las-vegas/
Report: NASCAR To Review Bubba Wallace's Attack On Kyle Larson At Las Vegas
A report claims NASCAR will review Bubba Wallace's attack on Kyle Larson that occurred during the race at Las Vegas Motor Speedway on Sunday.
Now for those that never watch NASCAR, myself included, Bubba Wallace was the gentleman who claimed he found a noose in his garage at a NASCAR racetrack, a race baiting move… but it turned out to be just a regular noose used to open the garage door… anyways:
During the race, Kyle Larson got loose underneath Bubba Wallace, but appeared to save the car. There does not appear to be any contact made between the two drivers at this point.
However, Wallace slammed hard into the wall and bounced down the track into Larson. Larson then dived hard down into the track to avoid Wallace who chased him down the track and purposely clipped Larson in the rear quarter panel sending him spinning up the track into Christopher Bell and the outside wall.
Here's the commentator's take live at the race:
Kyle Larson, Bubba Wallace make contact, cause wreck at Las Vegas-Play Video 0:00-2:03