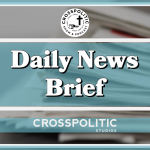 Do you love the CrossPolitic Daily News Brief? Would you consider becoming a Fight Laugh Feast Club Member? Go to FLF Network dot com and click "join the club." We are committed to bringing the sword of God's word to everything on this planet. This is what we mean by rowdy Christians. God's word cuts all our folly, slices through all our pride, and confronts all our sin. This is considered very rude and unseemly to all the fleshly elites. And we are not sorry at all. In fact, we plan to do it more. So if you want to help us make the ungodly squirm, become a club member today. Go to FLF Network dot com and click on "join the club." And we promise not to stop being rowdy.
127 Washington State Patrol employees let go because of vaccine mandate
https://www.khq.com/news/127-washington-state-patrol-employees-let-go-because-of-vaccine-mandate/article_829db9fc-30dd-11ec-bb28-4726bc8c3a54.html
25 firefighters file lawsuit against Spokane mayor, fire chief over vaccine mandate
https://www.krem.com/article/news/health/coronavirus/firefighters-lawsuit-city-of-spokane/293-5398a3d4-194d-4448-9111-b25420a365a8
But then there is this:
Roll Clip: https://www.king5.com/article/news/health/coronavirus/vaccine/reports-wsu-football-coach-nick-rolovich-fired-after-refusing-to-get-covid-19-vaccine/281-e6fde806-5132-4411-a089-c38c2856ab0f
Props to Nick Rolovich and his four assistant coaches that followed his lead. The news, along with the president of WAZU, keep pushing the narrative that Coach Nick would not follow the University's requirements. But what actually happened, is that WSU, and probably the Governor for that matter, refused to grant him a religious exemption. That is criminal and I hope he sues, wins, and buys his former Athletic Director a backbone.
My friend, Steve Deace, texted me this article, so hold onto your hats:
Marine veteran wants to sue Walmart after pharmacist denied him access to ivermectin
https://www.theblaze.com/news/marine-veteran-sue-walmart-pharmacist-ivermectin
According to the Blaze:
"A retired marine from Albert Lea, Minnesota, wants to take Walmart to court after a pharmacist refused to fill his doctor's prescription for ivermectin to treat his case of COVID-19.
Bill Salier, a Marine Corps veteran who served in Somalia and a former U.S. Senate candidate, shared his story Monday on the "Steve Deace Show," describing how a local Walmart pharmacist refused to fulfill a doctor's prescription for ivermectin for both him and his wife, who had each come down with COVID-19.
Salier, 53, told BlazeTV host Steve Deace that he began feeling sick on Oct. 1, and after testing he was found positive for COVID-19. After his diagnosis, Salier said he attempted to receive monoclonal antibody treatments by applying through the Minnesota Resource Allocation Platform, but his requests went unanswered.
"We never so much as heard a word back, not even in acknowledgement that the requests had been put in," Salier said.
Failing that, Salier obtained a doctor's prescription for ivermectin…
"The prescription was sent in to our local Walmart, here in Albert Lea, Minnesota, and it was refused to be filled by the pharmacist. This pharmacist contacted my wife, telling her that he would not fill it. My wife stated that he did not have the right to stand between our physician's prescription and the patent, he asserted that he did have that right and he refused to do so," Salier said.
Salier says he and his wife were left in "limbo" after the pharmacist continued to deny them access to ivermectin, even after their physician called him to discuss the matter.
"We were faced with either continuing to suffer and quite possibly ending up in the hospital," he told Deace, explaining that they decided to take a risk and purchased a horse paste version of the drug that is not intended for human consumption and could be dangerous if overdosed.
"I was forced with this decision and I was either going to lay there, suffer, and be at life's peril of losing my time with my family, or I was going to eat that horse paste. And down the hatch it went," Salier said.
Fortunately, Salier did not overdose and reported to Deace that "within eight hours" he began to feel relief from his COVID-19 symptoms.
Now, he says he wants a reckoning with Walmart and the pharmacist who denied him access to ivermectin.
"If you ever wanted to find out what it is to punch a Marine in the face and what type of response you're gonna get, well, America, you're about to see the type of response that you get. Because if you take on me and my family, and you stand between our physician and the health care that they have prescribed to me as a life-saving thing — in my opinion that is what it did — then you have got a fight on your hands and I am coming for that fight."
Salier is partnering with We the Patriots USA, a nonprofit organization that defends civil liberties, to raise money to file a federal lawsuit against the pharmacist and Walmart."
Mission First Coffee: "Calling all coffee lovers! Mission First Coffee is a company owned and run by friends of ours that offer specialty coffee shipped directly to your doorstep. 10% of every order goes to Paul Washer's HeartCry Missionary Society. With a no-questions-asked, money-back guarantee, you know the coffee is going to be good. Head over to missionfirstcoffee.com to try it out yourself and support missionary work around the world!"
Pfizer took hard line in push for profit
https://www.washingtonpost.com/world/2021/10/19/secret-vaccine-contracts-with-governments-pfizer-took-hard-line-push-profit-report-says/?utm_campaign=wp_main&utm_medium=social&utm_source=facebook&fbclid=IwAR1RfM15QG2VKhlQ6eoKuRuV5yVBOScKDlzq2uFOAaL-_1wp6Dkn5kA4ndQ
According to the Washington Post:
"The coronavirus vaccine developed by Pfizer and BioNTech has proved a success. First to receive emergency use authorization in the United States, the Pfizer shot has become the world's most popular, with 3.5 billion doses purchased. Sales could double in 2022, according to projections.
Analytics firm Airfinity this week predicted Pfizer will sell $54.5 billion worth of coronavirus vaccine next year, almost twice the value of Moderna's sales.
In the article I could only find one country and its related pricing:
"Brazil signed a $1 billion contract with the drug giant for 100 million doses. "
"Pfizer has formalized 73 deals for its coronavirus vaccine. According to Transparency International, a London-based advocacy group, only five contracts have been formally published by governments, and these with "significant redactions.""
John Piper finally chimes in on the vaccine debate, and the title of his post is: "A Reason to Be Vaccinated: Freedom"
https://www.desiringgod.org/articles/a-reason-to-be-vaccinated-freedom
He begins the article with:
"My aim in this article is to encourage Christians to be vaccinated, if they can do so with a good conscience and judicious medical warrant."
And because I really do like John Piper, I am not going to read the rest of the article to you and further damage the respect I have for him…Ugh.
The Biden administration is rolling back its awful bank-account-monitoring proposal but the new plan is pretty bad too
https://notthebee.com/article/the-biden-administration-is-rolling-back-its-awful-bank-account-monitoring-proposal-but-the-new-plan-is-pretty-bad-too
According to Not the Bee:
"We all know that for months now the Biden administration has had grand designs for closely monitoring pretty much every single private bank account in the United States.
Well, the backlash to that plan was so strong that Washington Democrats have retreated to an alternative proposal, but frankly that one stinks too:"
According to the Wall Street Journal:
https://www.wsj.com/articles/irs-bank-reporting-democrats-11634658560
"Democrats are trying to salvage the Biden administration's proposal to expand annual bank-account reporting to the Internal Revenue Service, fighting uphill against mounting opposition from the financial-services industry and Republicans.
Sens. Ron Wyden (D., Ore.) and Elizabeth Warren (D., Mass.) will detail an updated version of the tax-compliance plan on Tuesday that will include a $10,000 annual threshold before reports are required, according to prepared remarks from Mr. Wyden. That is an increase from the administration's broader floor, which would include accounts with at least $600 in inflows, outflows or transactions."
Dont we have a right to privacy? Should the number not be $10,000 or $600, but zero, zilch, zip?
Portland sets new homicide record, uses traffic barrels to combat drive-by shootings
https://www.foxnews.com/us/portland-oregon-sets-new-homicide-record
According to Fox News:
"The number of homicides in Portland has now surpassed its previous annual record of 66, set in 1987 – and there are still more than two months to go in the calendar year.
As of Tuesday, Oregon's largest city has recorded 67 killings so far this year, three-quarters of which have been carried out by firearms, according to the Associated Press. The total number of shootings – around 1,000 – has also left an additional 314 people injured.
Nationally, homicides increased by nearly 30% from 2019 to 2020, based on FBI data. However, in Portland, deadly violence is increasing at a faster rate than nearly all major cities, with an 83% increase in homicides in 2020, according to the Associated Press.
Portland has seen more homicides in 2021 than some larger cities, including San Francisco, and it's had twice as many slayings as its larger Pacific Northwest neighbor, Seattle. Other hard-hit Western cities include the Albuquerque, New Mexico, metro area, which has about 679,000 residents and has seen a record 97 homicides this year.
Portland police have struggled to quell the violence, with the bureau 128 officers below authorized strength. Since August 2020, about 200 officers have left the department. Many, in their exit interviews, cited low morale, lack of support from city officials and burnout from months of racial justice protests, which often ended in plumes of tear gas and confrontation but have largely died down since last summer."
Closing
This is Gabriel Rench with Crosspolitic News. Support Rowdy Christian media by joining our club at fightlaughfeast.com, downloading our App, and head to our annual Fight Laugh Feast Events. With your partnership, together we will fight outdated and compromised media, engage news and politics with the gospel, and replace lies and darkness with truth and light. Go to fightlaughfeast.com to take all these actions. Have a great day. Lord bless